Follow the Lucasfilm Studio Showcase live from Star Wars Celebration 2023
Find out the latest Star Wars news as it happens, live from London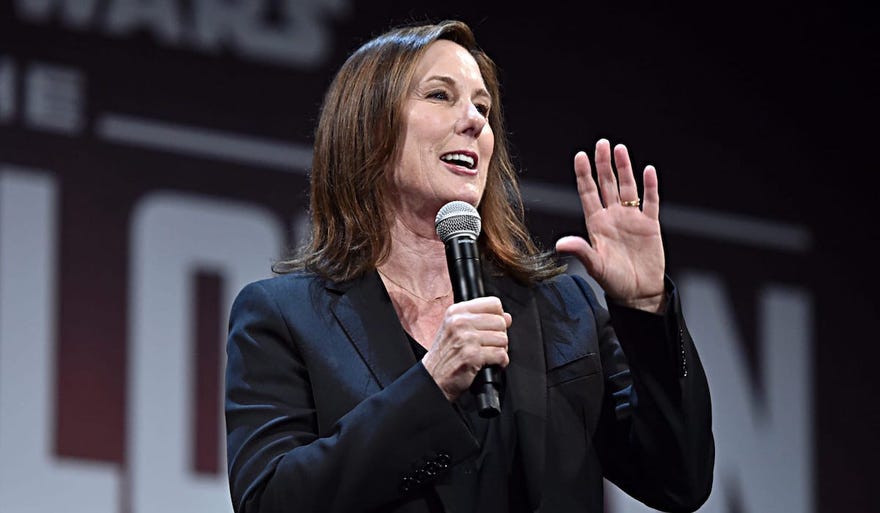 Live and direct from London, England, welcome to Star Wars Celebration 2023, and specifically, welcome to the Lucasfilm Studio Showcase — the first big panel of the show, and one sure to be filled with all kinds of news of upcoming projects from a galaxy far, far away… and maybe a galaxy or two much much closer, as well. (I mean, we do have an Indiana Jones movie coming this summer, after all…)
Exactly what we should expect from the 90-minute panel remains a mystery, although the official description promises "special guests to discuss the many current and upcoming Star Wars adventures, including The Mandalorian, Andor, and more" — but it wouldn't be a Star Wars Celebration panel if there weren't some surprises up the sleeve of Lucasfilm to make the whole thing a once-in-a-lifetime experience for everyone in the room.
The panel is scheduled to run from 11am local time — that's 6am Eastern, or 3am Pacific for those of you in the U.S. who aren't sure about the math — until 12:30pm UK time (7:30 Eastern, 4:30 Pacific) on Friday, April 7. Popverse will be live-blogging the panel as it happens, so bookmark this page and follow along, or simply come back after it's all done to read everything in one fell swoop.
Keep track of this panel and all SWC news via our coverage of the entire weekend at Star Wars Celebration 2023.
Our live coverage of this event has finished.
Hello from London! We're ten minutes away from the official start time of the Lucasfilm Studio Showcase here at Star Wars Celebration Europe. Are you excited? I'm excited.
The room is still filling up ahead of the panel proper; according to warm-up man DJ Elliot, the room holds 4,500 people. Just thinking about that many people makes me nervous.
We're running a little behind, but DJ Elliot is currently teaching thousands of people how to fistpump, so there's that.
I'm not saying that something big is going to happen here, but the audience has been told twice now that everyone's wristbands guaranteeing access are important enough that they should be kept on at all costs. Mysterious teases indeed.
Team Popverse is currently arguing over which of the original trilogy is the best movie. I'm not going to name names, but some people are making some bad choices.
And. We're. Off. You ready?
First up: A sizzle reel featuring scenes from Andor, Obi-Wan Kenobi, Mandalorian and more. "Freedom is a pure idea," runs the voiceover. Mando with the darksaber and Star Wars: Rebels getting big cheers from the crowd.
Kylo Ren and Anakin Skywalker also getting big cheers. The fans, they like those sulky boys.
The sizzle reel ends intercutting fans at previous celebrations with Star Wars characters. "This is the way," runs the voiceover.
Ali Plumb is the host for the panel; he's just introduced Kathleen Kennedy to the stage to much applause.
"We are so excited to be back in London," says Kennedy. "We have a ton of stuff to share with you guys."
The UK location for the event is a chance to thank people who've worked on the Star Wars productions in this country. Kennedy is now calling out specific Lucasfilm talent who've worked on movies and shows, with each name getting applause. "I never get a chance to do this," she says.
"I think you're gonna have a blast," teases Kennedy.
We're starting with Andor. Here's Tony Gilroy, Diego Luna and the rest of the cast of the show. The room is going wild. Yes, B2EMO is here. He's saying that he's very pleased to meet everyone, and there was a scream or two.
Gilroy says, "the last time we came, we were a secret. We'd never shown anything to anybody. It was baffling." Says that the show now feels like it's part of the community in a really big way. "We're really doing what we've been doing for the last three years. We're trying as best as we can to finish it out."
Even before Diego Luna gets a chance to speak, the audience goes wild. He says it means a lot to be in London. "The first Celebration I went to was in 2016 for Rogue One, and it was here where everything started for me."
Luna says that London has been his second home for close to ten years. "We're really happy to be here, because it means we're still doing Andor."
Denise Gough is telling the crowd that there's a woman who's been sharing videos of herself dressed as Dedra walking in and out of rooms... but the costume isn't exactly right yet. "It has to be perfect for Dedra," she jokes.
Luna says that the prison sequence of Andor season one was a big one. The last scene shot for the first season was the jump. "It was basically that scene where Andy decides to stay." "There are memes of me with a rubber ring around me, which I've been enjoying greatly," adds Andy Serkis.
"He writes very intense scenes and scenarios and then we have to make it," jokes Luna.
"Physically, we started shooting in November. We're about halfway?" says Gilroy about where production is for Andor season 2. Shooting finishes in August, and then there's another year's worth of post-production. He believes that it'll debut in August 2024.
"If you know your ending, it really helps," Gilroy says about Andor. "We know exactly where we're going, and it means we can go full force." Likens the show's production to the prison break in season one. "It was a decision born of survival, but creatively it's been amazing."
And now Luna is telling the audience he's brought something for us to see. "You're going to see a tiny little thing that shows you that we're actually working," he jokes, before thanking the fans for their love. "We want you to be the first ones to see this little thing."
It's a teaser, showing the characters from the first season. "Everyone has their own rebellion, right?" asks a voiceover. "If we do not stand together, we will be crushed," Mon Mothma tells someone we can't see; post-logo, we get to see Andor himself, looking unusually well-groomed. In disguise, perhaps?
"We hadn't watched that! We just watched that for the first time with all of you," tells Adria Arjona. "You know where we're going," Luna tells the crowd. "You saw the Death Star blow up in the opening [sizzle reel]." Serkis has just started a "One way out!" chant with the crowd.
The Andor cast has left the stage. Where can we go from here...? Here's Leslye Headland, creator and showrunner of The Acolyte.
There's a new logo for the Acolyte on screen.
Headland is citing her Star Wars bona fides, naming Timothy Zahn's novels and the prequel trilogy as important moments for her personally. Kennedy is saying, "I had the good fortune a couple of days ago to look at four of her finished episodes. I was blown away by what I've seen."
The Acolyte is set between The High Republic and the Prequel Trilogy. "I really wanted to delve into the Star Wars universe and tell the story from the perspective of the villains." Says that the series was pitched as "Frozen meets Kill Bill." "This is when the bad guys are outnumbered," she explains, "This is when they're the underdogs."
"This is the furthest back we've been in live action," says Headland. There's a Wookiee Jedi Master in the series. "You'll learn a little bit more about who's playing him in a little bit," she teases.
Headland says that she's looking at the inspiration for George Lucas' original Star Wars movies with this series, and looking at martial arts movies and Japanese Samurai stories. The "war" part of "Star Wars" is represented by interpersonal conflict in this series, she adds.
Amandla Stenberg is saying that the emotional conflict is what drew her to the project. "I love the blurred lines between reality and magic," she says. "For a show like this, set in this particular time period, it feels special."
Lee Jung-jae plays a Jedi Master in the series. "It was the first time of me touching a lightsaber, and I'm still shaking from the experience," he says through an interpreter. "I'm also a fanatic for Star Wars, and my heart is jumping because I'm with the Star Wars family today."
Joonas Suotamo is playing the Wookiee Jedi master in the series, marking his second Wookiee role. "I'm so beyond excited, because ever since I was a kid, I wanted to be a Jedi," he says. "You see this cast in front of you here. It was just a joy to be joining this crew."
"It's so exciting [and] nervewracking" to be part of Star Wars, says Jodie Turner-Smith. "It felt like I had really big shows to step into." Says that she was called to do the project, and calls it "an opportunity of a lifetime." "I'm excited. I wanna vomit a little bit," she jokes.
Manny Jacinto admits that he says "We're doing Star Wars, baby!" whenever he feels anxious on set. "It's a huge honor to be able to do this with this cast," he admits. "It's a dream. I cry every day."
Dafne Keen says that it's "really fun and really intense" to do the physical training for the project. "It's very intense, it's a lot of us with sabers. We get to say we use sabers," she adds. There was three months of intense training. "It feels so good to feel so prepped." "You should see the moves that she has now," teases Charlie Barnett. Is that a tease for something...?
Oh, here's an Acolyte tease. The crowd goes WILD. "It's just for you guys in this room," she says. "They're still shooting," adds Kennedy. Filming wraps in May. And here's a clip.
"Close your eyes. Your eyes can decieve you," says a Jedi Master to a group of trainee Jedis. "You must not trust them." This is intercut with a character in a hood walking through a cantina... and now we're in an intense, wonderful fight scene.
"This isn't about good or bad. This is about power, and who is about to use it," says a character, before we see a group of Jedi facing an unseen foe with their lightsabers drawn. It looks genuinely great.
And the Acolyte crew leaves the stage, to a standing ovation from the crowd. (It's worth it.)
Jon Favreau and Dave Filoni are on stage, joined by Rick Famuyiwa. They get a standing ovation from the very start.
"We came to Celebration and showed stuff when we were just starting out," says Favreau. "To come back here as the story is starting to culminate, this is the crowd that we want to be here with." (Culminate?)
Pedro Pascal appears via video. "I miss you all so much," he says, telling Star Wars fans are the best fans in the world.
Filoni is comparing the ways in which the Mandalorians have been portrayed in live action and animation, and saying that the complexity has made the Mandalorians more interesting as a whole.
Favreau is talking about how important Famuyiwa is to The Mandalorian; he's been directing for the show since its second episode, and now he's co-executive producer of the show. "I'm excited about the storytelling that we're doing," he says. "I can't wait to see what happens when these last few come out." Now there's a tease.
The return of Ahmed Best is being discussed. "I remember being at Star Wars Celebration in Chicago in 2019 and hearing the outpouring of affection when Ahmed Best walked out on stage," Favreau says. Filoni said that the actor who saved Baby Grogu "had to be someone who cared about Star Wars as much as you guys." "The appreciation when he appeared onscreen was such a special moment," adds Favreau, saying that seeing the fans reaction was as much fun as the story itself.
What's coming after The Mandalorian Seaosn 3? "Things have been building over the last two seasons of the show, and the Book of Boba Fett," Famuyiwa says. We get to see the beginning of the next episode as a teaser.
I'm purposefully not describing this one because it'll be streamed next week and I'm not going to spoil anything, but I will say this: I'm always happy to see this particular droid any and every time it shows up.
One more tease: there was just a name dropped in this opener that got the audience screaming in appreciation. (Too tease-y? I blame the vibe from everyone onstage.)
"We shall be rid of the Mandalorians once and for all!" yells a character I'm not going to name, as the teaser finishes to applause in the room. "LONG LIVE THE EMPIRE!" yells Giancarlo Esposito as he walks on stage. Katee Sackhoff, Carl Weathers, and Emily Swallow have also shown up.
"It's been amazing to have people finally see what we've created," says Sackhoff of the reception of the third season.
Favreau is announcing that everyone watching this panel at the show will get to see the next episode of The Mandalorian tonight at 6pm.
"Please keep what you're going to see tonight secret," the crowd is being told. "A lot's going to go down in this episode," Favreau is saying, which suggests that something is going to happen. People with wristbands for this panel will also get an exclusive Mandalorian Season 3 poster, which recalls the Special Edition posters for the original trilogy.
And now we're talking Skeleton Crew. Favreau and Filoni are still on stage; the show is in post-production, they say. "It's a story about a group of kids - I think we can all relate to that," Filoni says, saying that the adventure they end up on is a lot more than the kids can handle. "I heard about the idea when I was working with Jon Watts when I was acting, working on Spider-Man," Favreau says. He admits that he invited Watts to work on The Mandalorian, and Watts counter-pitched with the idea of Skeleton Crew.
"Watts really got the tone" of the classic Amblin movies from the 1980s, Kennedy says, saying that it's "very much the vibe" of the series. The line-up of directors for the series is Jon Watts, David Lowery, Daniels, Jake Schreier, Bryce Dallas Howard, and Lee Isaac-Chung. "We have a great list of people from all different walks of cinema," Favreau says.
Jon Watts and Chris Ford are here via video message. They're apologizing for not being here, but they're busy at ILM shooting spacecraft from the show. They're ALSO introducing Jude Law, who just walked on stage.
"It's great to be here," says Law, who is sporting a very fetching mustache. He talks about loving the movies since he was six years old. "It was a total pleasure," he says about working on the series. "It was a dream come true."
"My first onesie I ever wore as a baby just said Star Wars on it," says one of the cast of the show, whose names were unfortunately obscured by a screaming excited crowd. There are three of them, they're all about 11 years old and they're charming as all get out. All of them were basically introduced to Star Wars by overexcited fathers, which I think says something about Star Wars and dads.
"I was learning from them every day," Law says about working with the younger cast members. Oh, wait. Are we going to see a trailer for the show? Yes, we are. (There is applause and cheers.)
The trailer starts with the kids in school, being taught by a robot. "Don't you ever want to do anything... exciting?" asks one of the kids.
"They're not going to just turn up. We need to find them," says an adult about the presumably missing kids, who are off on a starship somewhere else. "If you are hearing this, we just want you home," says one of their parents through a broadcast. Jude Law's character appears at the end of the trailer... and apparently he's a Jedi...?
"I think that's everything!" jokes Favreau. The applause for the mention of Ahsoka is deafening.
"I don't think I need to tell anybody in this room how talented this guy is," Kennedy says about Filoni; the applause makes it clear that thousands of people clearly agree. Kennedy says that it was clear that Filoni really loves film. "It was just inevitable that he would make this transition to live action," she says.
"Everybody who works at Lucasfilm has this guy's number," Favreau adds. "He deeply, deeply, deeply cares." Filoni is unique in making sure that people's inspirations stay intact, while still finding space for them to fit inside the Star Wars mythos and feeling.
"Everything that's come out of all the TV stuff we've done together... just know that guiding me the whole time, and the trusted collaborator with everyone you've seen coming in and off the stage, is Dave Filoni," Favreau says. Filoni is clearly touched.
Oh, here's Rosario Dawson. I wonder what she's up to these days...? "We've got some great surprises for you," Dawson says, before immediately saying that she wants to see some footage from the show. "Am I putting too much pressure on you?" she jokes. We're starting with a poster for the show, which shows Ahsoka's face -- and a release date of August 2023.
"August? That's very soon!" says Dawson.
Dawson says that her scenes with Luke Skywalker in Book of Boba Fett was written as scenes with Plo-Koon so she didn't know she was going to meet Luke.
"It's only been three weeks since my heart stopped racing," Dawson says, before teasing that if the show does well, "maybe we'll get a second season!" Cue much applause.
Natasha Liu Bordizzo comes onstage, accompanied by a still of her as the live action Sabine. It looks great.
"I think we were looking for someone," Dawson says about where we last saw Ahsoka and Sabine. "We're poised for adventure." "I made a promise to someone, and I feel like I want to fulfill that obligation," teases Bordizzo.
And here's Mary Elizabeth Winstead, who is polite enough to say "thank you for having me." She can officially tell people that she is, indeed, playing Hera. The still is revealed and the room went loudly crazy. "I'm very lucky to be playing her," Winstead says.
"I was completely immersed in who she is, and completely taken away from myself, which was amazing," says Winstead.
"These characters have lived so long in animation, and the only reason I get to do this is because the fans have supported them in animation," Filoni says about so many of the Rebels cast making the jump to live action. "Thank you to all the fans for believing in them."
It's the first teaser for Ahsoka.
It begins wth a very Star Wars sting. "Something's coming. Something dark," says Ahsoka in voiceover. "I sense it." And we get to see... a Sith or two...? And Mon Mothma? And Thrawn from the back, it looks like... being referred to as heir to the Empire.
"Warrior, Outcast, Rebel, Jedi" is how the tagline describes Ahsoka. Based on the reaction in the room, I think this show just might be a hit.
Really, the cheers for this cast and crew as they walk offstage is something. I guess people really like this Ahsoka character or something.
Kennedy says that this year marks the 10th anniversary of Star Wars shooting at Pinewood here in the UK. She's talking about the "lived-in feeling" that has been central to Star Wars since the very beginning, and says that she wants to honor Neal Scanlon -- as the screen lifts to reveal a whole host of characters in costume and classic puppets and aliens from the series.
"The real truth is, if you look at all of these characters, they look like someone you might know," Scanlon says, talking about where the designs for the iconic aliens and creatures come from.
"I would imagine a lot of people in this room have been waiting to hear what we're doing with Star Wars movies," Kennedy says. TV is where Star Wars is exploring a lot of different storylines, but now theyre looking to broaden the timeline -- there's a new graphic, incliding The Old Republic, Fall of The Jedi, Reign of The Empire, Age of Rebellion, and more.
James Mangold is going to direct a movie about the first Jedi. Dave Filoni will also take threads from the Mandalorian in a movie spin-off, and a new movie is also coming set 15 years after Star Wars: The Rise of Skywalker, as the New Jedi Order gets rebuilt.
Mangold likens his movie to a Biblical epic, like the Ten Commandments. "A story just started forming," he said. "We came up with an incredible story about the dawning of the Force."
"I'm just excited that I get to make a movie!" says Filoni. He's citing the non-canonical Expanded Universe as additional material for the movie that will spin out from The Mandalorian.
Sharmeen Obaid-Chinoy is talking about her movie. "I've always been attracted to the hero's journey, and the fact that the world needs many more heroes." She's talking about meeting real life heroes fighting oppressive regimes. "That's why I'm attracted to the promise of a new Jedi Order, and immersing myself in a Jedi Academy with a powerful Jedi Master." But who...?
Obaid-Chinoy introduces Daisy Ridley. Yes, Rey is back in the new movie. People are losing their minds. "Hello, Celebration!" says Ridley, who's clearly having fun.
"My heart is pounding," Ridley says. "I am so, so thrilled to be at Celebration with all of you in London." She adds, "I am very thrilled to be continuing this journey."
"We have so much more than we are going to be sharing over the next several months. This is just an introduction," says Kennedy.
We're somehow not done yet... although we are done with Star Wars. James Mangold is staying on stage for the reveal of the Indiana Jones and the Dial of Destiny poster. And here's a video message from Harrison Ford. "Hello, Star Wars Celebration!" he says, with his trademark mix of exhaustion and heart. He's talking about his love of Indiana Jones as a character, and thanking fans for going along with "my final ride as Indiana Jones." He's introducing Mads Mikkelsen and Phoebe Waller-Bridge, live and in person.
The rest of this liveblog will just be about how much I love Phoebe Waller-Bridge. I'm sorry, everyone.
Mads Mikkelsen jokes that he's playing Indiana Jones. All he can actually say about his character is, "he's a good guy... in his own mind." Waller-Bridge plays Helena, Indy's "nefarious god-daughter."
Helena and Indy are "antagonist but have more similarities than either of them would care to admit," Waller-Bridge says.
"Just being part of an Indiana Jones movie is a dream come true," says Mikkelsen, saying that watching the first movie was one of his first movie memories.
Filming locations includes Italy and Morocco, as well as Glasgow, Scotland, Mangold says. Sallah is back from the original trilogy, the director says, but he's not the only character from those movies who'll show up...
"There's no better feeling in the world" than making Harrison Ford laugh, says Waller-Bridge, describing doing so as "a challenge."
It's time for the final trailer of Indiana Jones and the Dial of Destiny!
The soundtrack of this trailer is Sympathy for the Devil by the Rolling Stones, while Helena reveals that she's looking for a dial that could change the course of history... not that Indy is in favor of such a pursuit. "Hitler made mistakes, and with this, I will correct them all," says Mikkelsen's character, about the dial.
The crowd is applauding the trailer, as well they should.
There's more! We get to see "three or four minutes of the movie. How about five or six minutes of the movie?" Six minutes from the middle of the movie! See you in six minutes, everyone.
Friends, there's little I love as much as a good Indiana Jones movie. And that looks like it's going to be a very good Indiana Jones movie.
(It was a chase scene, with Phoebe Waller-Bridge and Harrison Ford at odds as they chase after Mads Mikkelsen, who has stolen the eponymous dial.)
And the panel is over -- but, really, if that wasn't enough for everyone, what could you even want? Thank you for reading along, and keep your eyes on Popverse as we keep on Star Wars Celebration-ing for the rest of the weekend.