Star Wars Celebration Tales of the Jedi - Live Coverage!
Popverse brings you live coverage from the Celebration Stage for the Tales of Jedi panel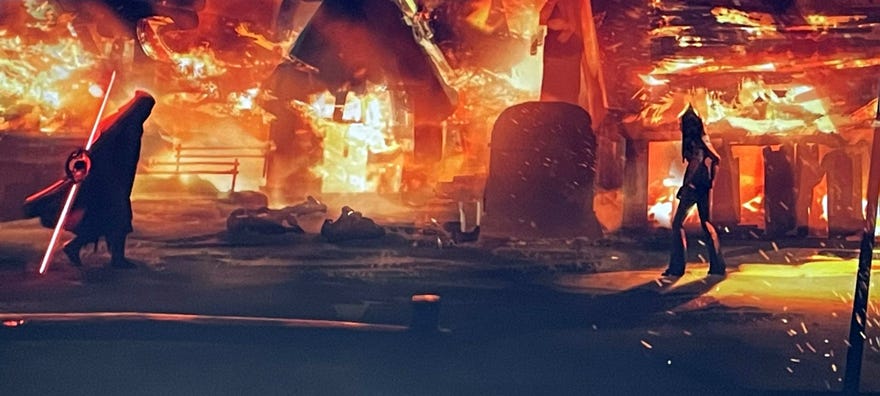 The Popverse team has taken the halls of Star Wars Celebration by storm, and we're having a really stellar time wandering around the convention floor, sitting in on the most exciting panels, and checking out (and sharing with you) all the amazing experiences that Celebration has to offer.
Join us as we sit in on a panel about the new animated Star Wars anthology shorts. The panel will be hosted by Amy Ratcliffe and will feature Dave Filoni! Make sure to stay tuned as we bring you live coverage on this page.
The official panel description from the Star Wars Celebration website reads, "Introducing Tales of the Jedi, animated anthology shorts. Hosted by Amy Ratcliffe with special guest Dave Filoni."
Popverse will be liveblogging the entire panel as it happens, so keep an eye on this page to follow along with what's happening at Tales of the Jedi live, or come back later to this page to read a moment-by-moment breakdown of all of the best bits of the panel.
---
If you want to follow along with Popverse as we romp around Star Wars Celebration and share the coolest stuff, check out the roundup of our Star Wars Celebration 2022 coverage.
Our live coverage of this event has finished.
We are in our seats, ready to hear some exciting news! Keep an eye on this page for LIVE coverage.
There is currently a dance competition happening on stage. There is Spice Girls playing.
Pre-show dance competition has come to a sudden death danceoff.
Okay, but the dancing is actually really incredible!!
Host Amy Radcliffe has walked onto the stage!
Dave Filoni has joined the panel!!
"This is just a little thing I did for multiple reasons... when I fly back and forth to work on The Mandalorian, I would write these little stories on the plane, just to pass the flight." He showed one to Carrie Beck, and she said, "Would you like to make this?"
Beck found the money, and "You can't just do one, cause it's a short. So then I had to write more tales," Filoni shares.
Filoni talks about returning to animation, "I love my animation team, and I love the work that I've done there."
"I'll be more forthcoming about this, because I've been cagey all day about other stuff," Filoni shares about who might show up in Tales of the Jedi.
"I chose Ahsoka of course," Filoni says, "The other character that I chose, who I've always been interested in is Count Dooku"
"He was a Jedi, and that is so important in understanding how all the politics unfold in that era," Filoni explains about his interest in Dooku. "The two characters really show you two paths and two choices, and there are three stories each." about Ahsoka's stories and Dooku's stories.
Younger Qui-Gon Jinn will also be in the show!
Filoni announces that Qui-Gon will be voiced by LIAM NEESON
"There was six of these to write, and I am very busy doing all these other things, and I was worried I wasn't going to make it to the finish line... so I asked for some help... from Charles Murray." Charles Murray will also direct an episode of the show.
In Tales of the Jedi, there will be three separate tales following Ahsoka over different parts of her life.
Anakin will also be in the series.
Looks like someone/something is about to be shown??
We are going to watch ONE show. I will be back in a mo with some first thoughts.
We are going to watch ONE show. I will be back in a mo with some first thoughts.
I'm back! Thanks for waiting.
I won't go into spoilers, but this episode was titled Life and Death, and it covered the story of baby one-year-old Ahsoka going with her mother on a hunting trip
The animation was really interesting and there was some really cool lighting!!
The score was also really cool!
Someone else is coming out-- the voice of Ahsoka's mother, Janina Gavankar has joined the panel
Janina Gavankar has apparently worked for Floni before, when she puppeteered the nostrils of that Mon Calamari dock worker who wore the cable knit sweater (who her friend had been the main puppeteer of)
"I'm not talking about anything spoiler-y, so I'm thrilled," Filoni jokes, as the panel talks about the cable knit sweater in more detail.
"I don't know, I don't know. How did we get to this question?" Filoni answers, when Gavankar asked whether the role of Ahsoka's mother was really a sort of stand-in for Filoni himself.
"I don't deal in absolutes," Filoni responds to the assumption that the planet shown in this short is Shili, "See how I bend like a reed in the wind"
"I get emotional about being a part of a collective of humans who cares so deeply about making something small and careful and new." Janina Gavankar says about being part of this project.
Filoni describes how he's been influenced by Miyazaki's work, including on Airbender and in this project as well.
"I cannot allow your emotions to move me," Filoni says in response to crowd wanting to see more of the shorts in this panel.
"I want there always to be these animated shows, and they have to feel authentic, and they have to feel like part of Star Wars," Filoni shares.
"What George and I always wanted to do is the way it looks now," Filoni shares about his excitement about the recent developments in animation technology. "Nothing is every perfect when it begins. You do your best, and then you do better."
Filoni calls Rotta the original cute baby, even before Grogu and baby Ahsoka. He says that Rotta got the "short end of the slug"
"If I had chosen to shown a Dooku short, we wouldn't be talking about the cute things today," Filoni adds to the baby conversation.
They are about to share the trailer for TAles of the JEdi.
Mace Windu will be in the show!
Thanks so much for following along with Popverse's coverage of The Tales of the Jedi panel. To keep up with our reporting this weekend,
check out our news roundup.
(it's Yaddle, not Yoda), as we had previously blogged by accident.