Star Wars Celebration The Bad Batch Season 2 - Live Coverage!
Popverse brings you live coverage from The Bad Batch season 2 panel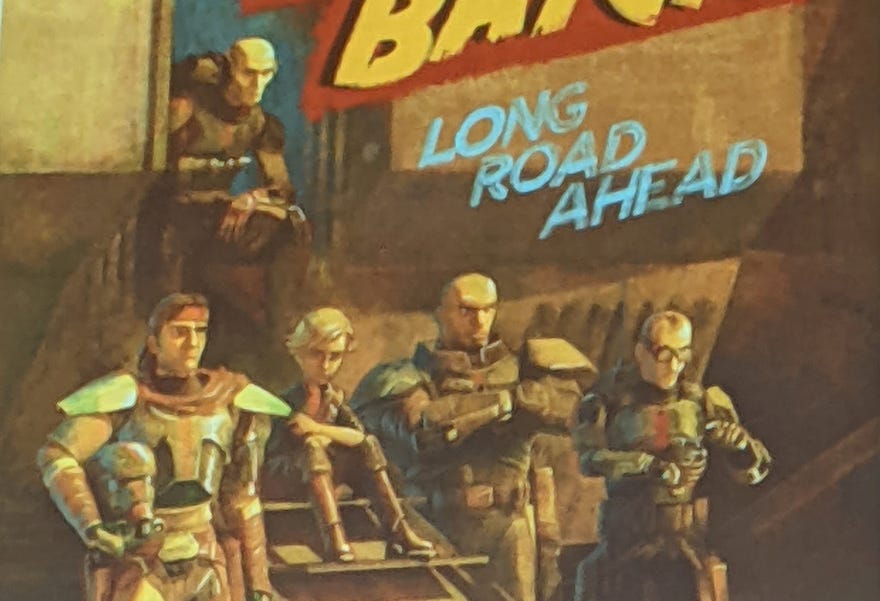 The Popverse team has taken the halls of Star Wars Celebration by storm, and we're having a really awesome time running around the convention floor, attending panels, and checking out (and sharing) all the amazing experiences that Celebration has to offer.
Join us as we sit in on a panel all about Star Wars: The Bad Batch season 2! This panel will feature executive producer and supervising director Brad Rau, executive producer and head writer Jen Corbett, actors Dee Bradley Baker, Michelle Ang and more! Make sure to stay tuned as we bring you live coverage on this page.
The official panel description from the Star Wars Celebration website reads, "Strap in kid, you're not gonna want to miss this view." Join host David Collins as he invites Star Wars: The Bad Batch executive producer and supervising director Brad Rau, executive producer and head writer Jen Corbett, story editor Matt Michnovetz, actors Dee Bradley Baker (the Bad Batch) and Michelle Ang (Omega) to discuss highlights from the first season of the acclaimed series as well as some exciting hints of what's to come in season two!"
Popverse will be liveblogging the entire panel as it happens, so keep an eye on this page to follow along with what's happening at The Bad Batch panel live, or come back later to this page to read a moment-by-moment breakdown of all of the best bits of the panel.
---
If you want to follow along with Popverse as we romp around Star Wars Celebration and share the coolest stuff, check out the roundup of our Star Wars Celebration 2022 coverage.
Our live coverage of this event has finished.
We are in our seats-- can't wait for this Bad Batch panel to start!
We were just shown a Season One recap of The Bad Batch!
Dave Filoni has just entered the room to a standing ovation!
"Something that is very important to us is legacy," Filoni shares about bringing together a new animation team as he tranfered to live action. Supervising Director Brad Rau, Head Writer Jennifer Corbett, Story Editor Matt Michonovetz, Dee Bradley Baker (Clone Force 99), Michelle Ang (Omega) make up our panel.
"We wanted to do a show about what happens to the clones post Order 66," Jennifer Corbett shares about when the show was meant to be set, and the identity crisis that the show delves into regarding the clones.
Matt Michonovetz shares, "Rampart was somebody we wanted to do, who is not your standard Imperial, somebody ambitious... we got a great character out of him."
When asked whether Crosshair can be redeemed, Brad Rau responds, "Does he want to be redeemed right now?"
"I really enjoyed getting to pair Omega and Hera," Jennifer Corbett answers when asked about her favorite moment on season one, as Omega finally gets to hang out with another kid.
Michonovetz's answer about his favorite moment of season one, "There's one moment early on in season one... which I feel like sums up the show... it's when Omega gets off the ship and sees dirt for the first time." He says that it's all about these characters getting out of their comfort zones.
"I really love Omega's experience with all of the wild, crazy animals... she finds a way to talk to them and empathize with them when everyone's all freaking out," Michelle Ang shares about her favorite moments, "One of the standouts for me is when she is talking to Crosshair, before, when she knows what's about to happen, and she says 'it's not your fault.'"
"I really love when Wrecker prepared a little room on her ship which is hers, and it's such a touching gesture..." Dee Bradley Baker shares, as well as the cafeteria scene before the food fight, when Omega gets up on the table and sees herself as part of this group.
They have brought a script and are going to do a little runthrough on stage!
I'm going to try to upload some of the video here later, but it's gonna be a bit shaky!
Who came up with the name of The Bad Batch? Rau says, "That was an interesting session, wewerr in the writers room... it was sort of a joke, and we settled on The Bad Batch" which was a sort of "Dirty Dozen" type of name, "and it stuck"
When asked about how the season finale came about (Kamino specifically) Jennifer Corbett answers, "I think we knew at the beginning, when breaking season one that it would end with the fall of the city... to write it is one thing, but to hear it and see it is another thing."
Looks like we're going to get a sneak peek of season 2! After a little time has passed, the "team has a new look"!
There's a bit of an action scene, they're on a water planet.... But I don't know if I want to spoil any more! There are some very cool-looking creatures that Omega has to fight though!!
I'm also hoping to post an image of the new costume designs, but we've just got to wait for the wi-fi!
Just had a new poster reveal! (Image coming soon)
The trailer was great, with lots of exciting teasers about what's to come, and more of those same themes of found family that we loved in the first season.
The world of The Bad Batch has changed a lot from the first season, and there's a lot of adapting for the team to do.
Dip out if you dont want a spoiler
SPOILERS: Commander Cody is back AND PALPATINE IS GOING TO BE IN SEASON 2
Thanks so much for following along with Popverse's live coverage of The Bad Batch panel here on the last day of Star Wars Celebration. To see our coverage of the rest of the weekend,
check out our coverage roundup.
That's all for us folks! We'll be covering the closing celebration live too, so make sure to check out the www.thepopverse.com in a few hours!
(We'll try to get that video up later)