"It's all about the condition": A peek into Star Wars trading cards with someone who has been collecting them since the '70s
Nearly five decades of collecting Star Wars trading cards
Michael Alcorn, like many Star Wars fans, collected Star Wars trading cards as a kid, but also like many Star Wars fans, at some point his collection disappeared into storage. This sort of story usually has a somewhat sad ending with rain damage or, even worse, cards disappearing forever, but this isn't a sad story. It's a happy one.
Decades later (about five years ago), Alcorn actually uncovered his collection, which, in storage, had remained pristine, which is quite important as the original Star Wars trading cards were printed poorly. "Everybody has these cards," Alcorn says, "but it's all about the condition."
Starting with his collection, Alcorn began to sell and trade, and was then nudged by people to start doing shows. A friend of his, Marc Draven (a tattoo artist who happens to work at the Tattoo Pavilion), told Alcorn that he should try out Star Wars Celebration, which is how Alcorn found himself on the show floor of the ExCel center at Celebration Europe this year with his booth Gramps Vintage Star Wars Cards.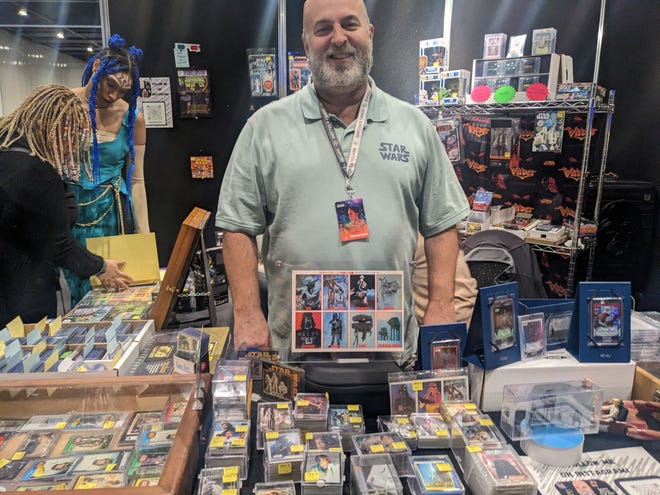 Now for those who aren't already immersed in the world of Star Wars trading cards, the whole thing began in 1977 with the first Star Wars movie. The first series of cards (the blue ones) were released by the collectible company Topps, with each card featuring a still from the film. This release expanded to four more series (for a total of five), each series featuring different colored borders. The most sought after card in these series, not surprisingly, is the first blue series card showcasing Luke Skywalker in (of all things) his Stormtrooper costume.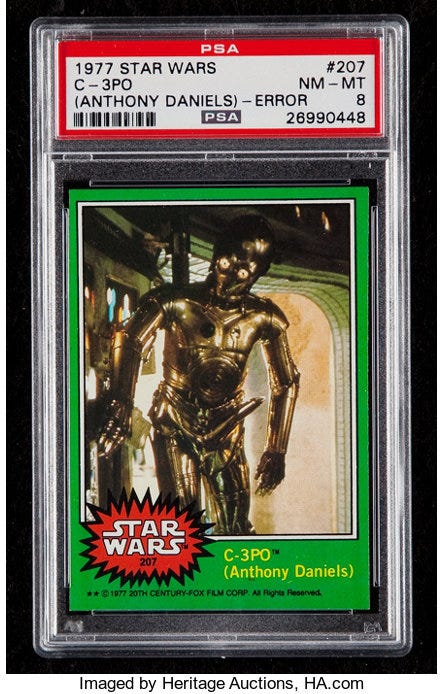 Another interesting collectible to keep an eye out for is the infamous green C3P0 "error card." This card is considered an error because the way that the still is presented looks like we're seeing C3P0's -cough- little 3P0. Later on, the card was re-released with an edited version of the image, but the original card is very sought after. Alcorn has one on display in his booth.
As for holy grails, Alcorn has already got his full original trading card set at home for himself (all 330 cards and 55 stickers), and that one's not for sale (though he does have a similar set for sale in his booth).
Though collectible cards may seem like a niche market, Alcorn's booth seemed busy every time I walked past it this year, and he says that the card market is exploding, especially with the new stuff that Topps is putting out to correspond with the newer films and television shows. Alcorn specifically noted new collector interest in "shiny" cards, numbered cards, and autographed cards. Though it's been five decades since Topps began their Star Wars trading cards, things don't look like they're slowing down any time soon, Alcorn thinks, "Topps understands what they're doing."
In defense of Ewoks: Revisiting Star Wars' Return of the Jedi on its 40th anniversary.