How Disney's acquisition of Star Wars rocked the Clone Wars cast, according to the actors themselves
"There was only five people in the company in all of Lucasfilm that actually knew that Disney was buying Star Wars."
Sith Lords can't stop a Jedi Knight, but they do have one weakness – corporate buyouts. Back in 2013 Star Wars: The Clone Wars animated series was going strong. Since its premiere in 2008, the series had been appointment viewing for Star Wars fans. During a panel at Florida Supercon 2023, the voice cast for Clone Wars recalled the mood at the time.
"We were well into season 7 when the series was cancelled. We were under the assumption that we were going to make 8 seasons of the show," Ashley Eckstein recalls.
"I had been told that we were going to go as long as George (Lucas) wanted to go," Matt Lanter adds.
"Originally George said he wanted to make 300 episodes," James Arnold Taylor says.
"I had heard we were going to keep doing it until George didn't want to do it anymore. Which at that time sounded like it was going to be a while," Lanter recalls
But that all changed when, in 2012, George Lucas sold Lucasfilm to Disney. It was a shock to everyone, especially actors of Star Wars' main project at the time. In 2013 Disney cancelled Clone Wars as part of their strategy to take the saga in a new direction.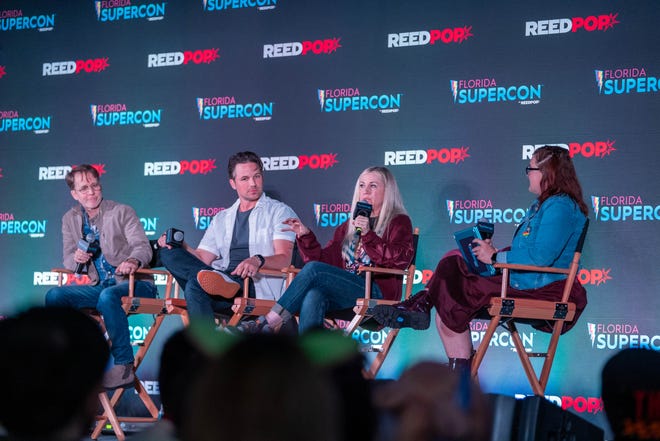 "Keep in mind, when Disney bought Star Wars, it was a shock to everyone," Eckstein says. "Nobody knew. Apparently, there was only five people in the company in all of Lucasfilm that actually knew that Disney was buying Star Wars. It sent ripples through the galaxy, and it was devastating when the show was cancelled. It was never our plan."
However, fans continued to fight for the show's survival. Star Wars fans continued to share their love for the show on social media, during fan events, and everywhere they could. Disney took notice, and in 2020 the series returned. The 7th and final season premiered on Disney+, giving the series closure.
"The fans saved the show," Taylor says. "We recorded in the same place we always had, which was wonderful. We had a great time. It was short lived, that was the only problem. It wasn't a lot of episodes. But when we did it, things were great. We did these scenes, and Dave said we got it on the first take, but let's do it a few more times. It's so much fun having you guys in here again."
The cast was then asked if there were any changes in how they produced the show after the Disney acquisition. "Mickey was in the room," Taylor jokes.
"Creatively it felt the same for us. I'm sure there's a lot of different things going on above our heads, but I think for us it was the same," Lanter shared.
"When the show came out, we were supposed to have all these premieres and events," Eckstein reveals. "They were going to take 'Siege of Mandalore' and screen it in movie theaters. It was such a bummer that it was cancelled. I think that would have been a little different with Disney behind it."
Unfortunately, the COVID-19 pandemic cancelled those plans. However, Eckstein was thankful that Clone Wars was around to help Star Wars fans while the world was going through a stressful time.
"I'm so glad that Clone Wars was there for everyone during COVID. Leave it to our show to provide hope when it was needed most," Eckstein says.
---
Look for the full Star Wars: The Clone Wars panel from Florida Supercon 2023 later this month on Popverse.