A complete guide to the ongoing Star Wars comic saga
Everything you need to know to read Star Wars comics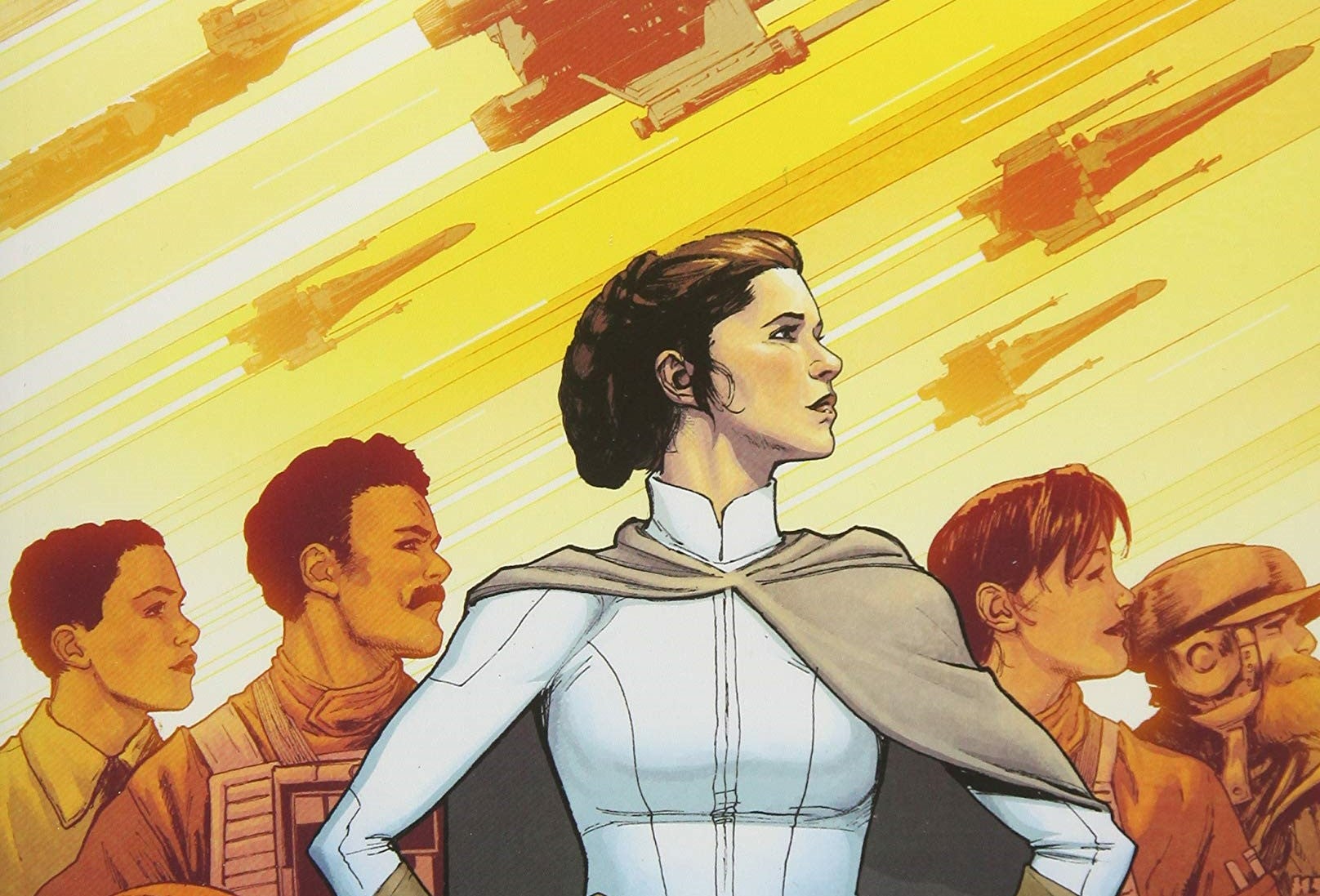 If you've been showing up to opening weekend of every movie and tuning in for every new episode on Disney+, we've got news for you: you still might be missing the best Star Wars stories being told right now. Since 2015, Marvel has been publishing some of the most exciting stories in the Star Wars galaxy ever told, set across every era of the franchise.
Many of these titles are designed to be enjoyed on their own, telling a self-contained story against the backdrop of Sith, smugglers, Jedi and Jar-Jar. Some of these self-contained volumes are among the greatest Star Wars has to offer, like Charles Soule's 2017 Darth Vader series, or Charles Soule's Poe Dameron, or… pretty much anything by Charles Soule. But the heart of the comics are an interwoven series of multiple books and intricate crossover storylines set during the original trilogy, which can be difficult to follow if you haven't been on board for the past seven years. Luckily, we've got you covered.
There are two different ways to read and collect Star Wars comics: you can go issue by issue, most accessible on digital resources such as ComiXology or Marvel Unlimited, or you can check out trade paperbacks, which collect a number of issues in one convenient volume. Whichever way you prefer to read comics, we'll have you covered here by listing both volumes and issue numbers of story arcs wherever possible.
Here's our guide on how to get caught up with the onungoing Star Wars comic book saga from the Marvel relaunch until today.
FROM A NEW HOPE TO THE EMPIRE STRIKES BACK
If you really want to get into the "core" Star Wars comics, the ones which involve ongoing, continuously developing storylines, you can divide the line into two distinct eras. Most of the ongoing Star Wars comics from 2015-2019 are all set in the three years between Star Wars Episode IV: A New Hope and Star Wars Episode V: The Empire Strikes Back.
There are three major titles involved in the 2015-2019 period of Star Wars comics: the flagship 2015 Star Wars series, the 2015 Darth Vader series, and the 2016 Darth Vader spin-off, Doctor Aphra. If you don't know who Doctor Aphra is, that's okay: it just means you're about to meet your new favorite character.
STAR WARS VOL. 1: SKYWALKER STRIKES
Jason Aaron, John Cassaday
This is the story of our heroes from A New Hope's very next mission all together after the first film, doing their best to kick the Empire while it's down a Death Star by crippling their factories. Notable for the first face-to-face encounter in canon between Luke and Darth Vader.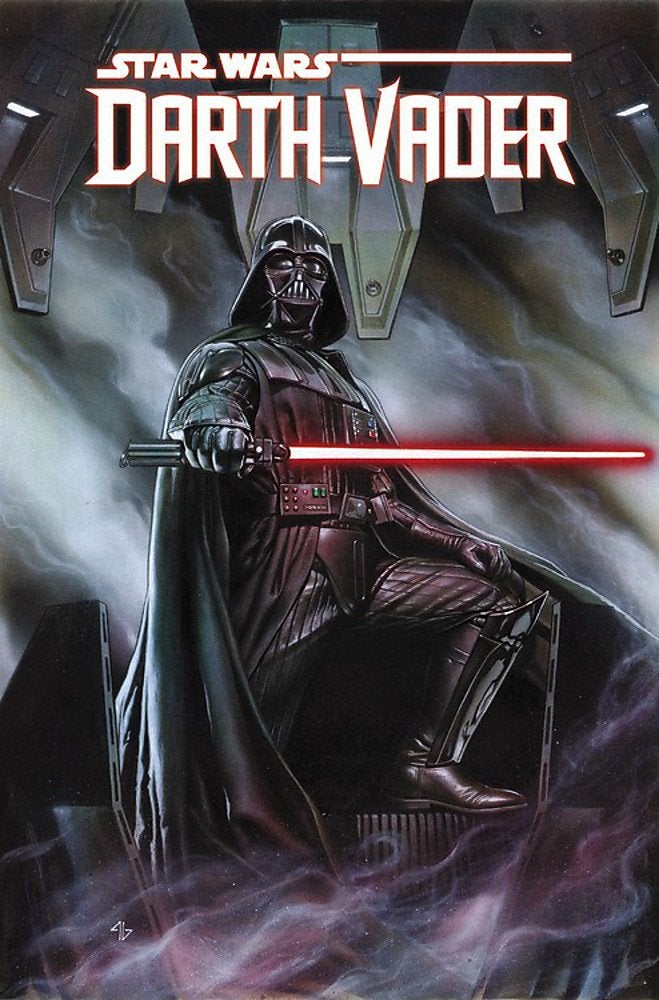 DARTH VADER VOL. 1: VADER
Kieron Gillen, Salvador Larroca
Simultaneously to the events of "Skywalker Strikes," Darth Vader suffers an embarrassing demotion after the destruction of the Death Star. In a bid to regain his former status, Vader encounters the roguish Doctor Aphra, a chaotic archaeologist who specializes in homicidal droid repair and restoration. It also features what might be the best scene in any Star Wars comic ever made, when Boba Fett shares a world-changing secret with the Dark Lord of the Sith.
STAR WARS VOL. 2: SHOWDOWN ON THE SMUGGLER'S MOON
Jason Aaron, Simone Bianchi, Stuart Immonen
In pursuit of further Jedi training, Luke Skywalker ends up in a gladiatorial arena run by Grakkus the Hutt, while Han and Leia catch up with one of Han's old exes – smuggling ace, Sana Starros. Also features a story from the journals of Old Ben Kenobi.
DARTH VADER VOL. 2: SHADOWS AND SECRETS
While dodging the ever-watchful eye of the Emperor's agents, Vader and Aphra set out to discover what the actual deal is with that kid who blew up the Death Star. Could he really be who Boba Fett claims? (Yes. We know this.)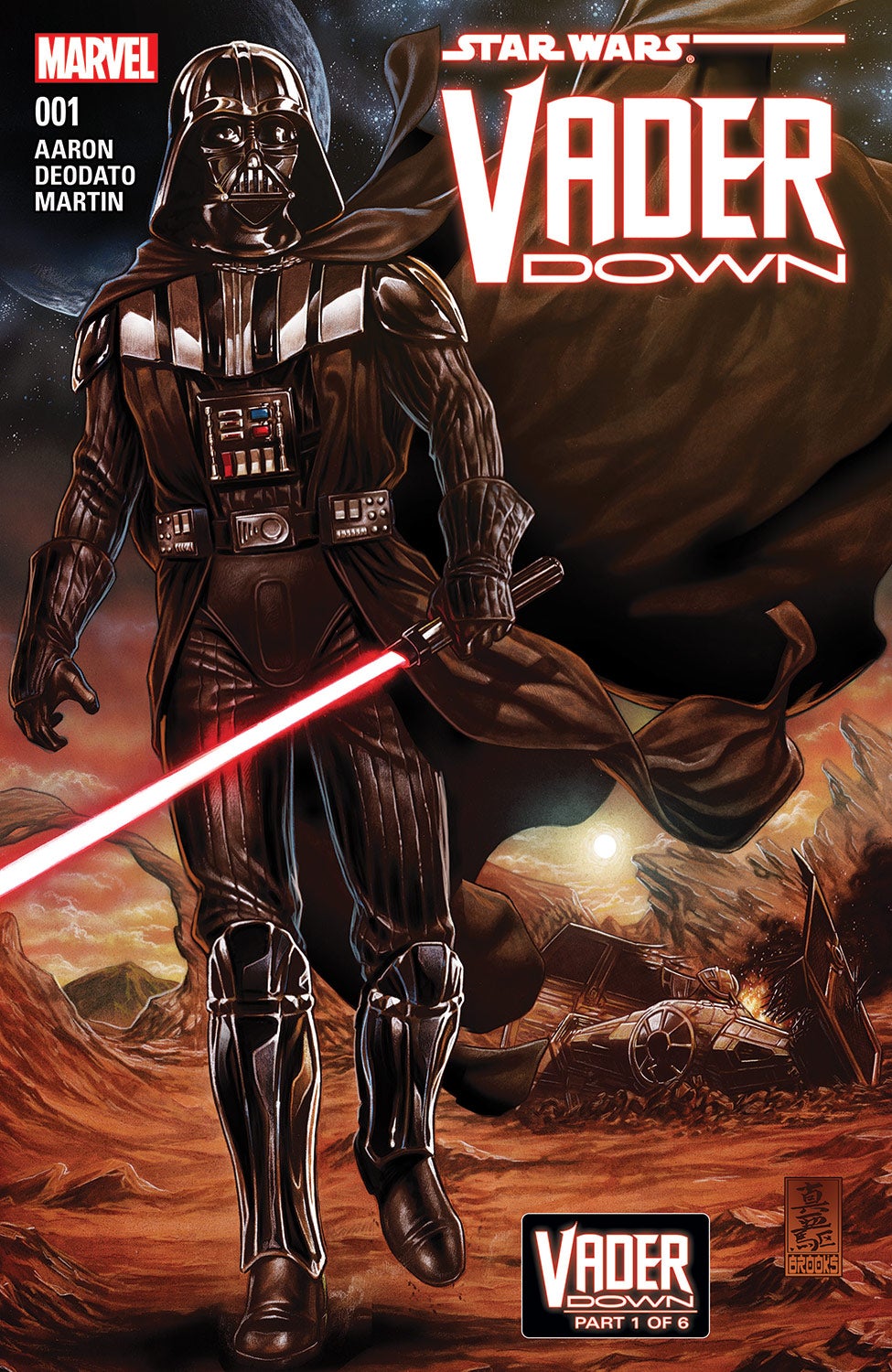 Star Wars: Vader Down #1
Darth Vader (2015) #13
Star Wars (2015) #13
Darth Vader (2015) #14
Star Wars (2015) #14
Darth Vader (2015) #14
Star Wars (2015) #14
Jason Aaron, Kieron Gillen, Mike Deodato Jr, Salvador Larroca
Here we are at our first big crossover story! A bad tip from Aphra leads Darth Vader right into an ambush by the Rebel Alliance, giving the Rebellion their first real shot at taking down the Empire's most terrifying enforcer. But Vader isn't about to go down easy. Or, as you know if you've seen Empire Strikes Back, at all yet.
Star Wars (2015) Annual #1
Star Wars (2015) #15-19
Jason Aaron, Kieron Gillen, Mike Mayhew, Angel Unzueta, Leinil Francis Yu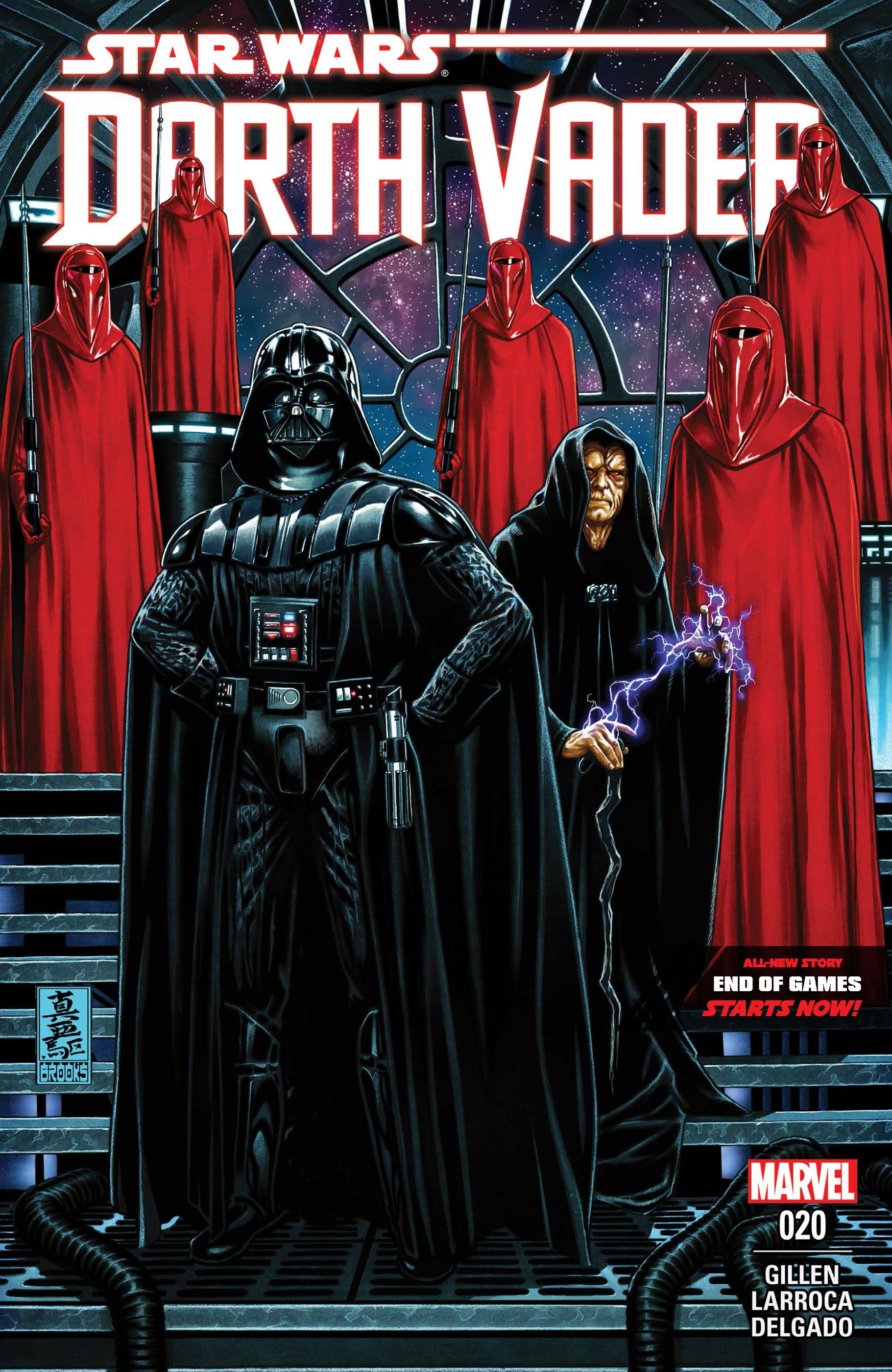 Vader has evaded the Rebellion's clutches, but they did snag his ally Doctor Aphra as a consolation prize. The Rebellion escorts her to their most secure P.O.W. facility just in time for one of the inmates to break out and start killing everybody.
DARTH VADER VOL. 3: THE SHU-TORUN WAR
Darth Vader (2015) Annual #1
Darth Vader (2015) #16-19
Kieron Gillen, Salvador Larroca
To rebuild an Empire, you need resources to exploit. Luckily for Vader, the politically intricate planet Shu-Torun has ore to spare – so long as Vader can cut through the red tape with something finer than a lightsaber. Here, Vader makes an ally of Queen Trios, who will be important later when author Kieron Gillen makes his move over to the main Star Wars title.
DARTH VADER VOL. 4: END OF GAMES
Darth Vader (2015) #20-25
Kieron Gillen, Salvador Larroca
Final volume of the 2015 Darth Vader series. Vader discovers and dispatches the genetically enhanced candidates commissioned by The Emperor to replace him, and violently terminates his working relationship with the liberated Doctor Aphra. DV is back on top, baby!
STAR WARS VOL. 4: LAST FLIGHT OF THE HARBINGER
Jason Aaron, Chris Eliopoulos, Mike Mayhew, Jorge Molina
Everybody loves a good heist story, and this happens to be one. All your favorite original Star Wars heroes, plus a couple new ones, unite to pull off the Rebel Alliance's most daring act of thievery yet: they're going to steal a Star Destroyer. Also featuring another tale of Old Ben Kenobi.
STAR WARS VOL. 5: YODA'S SECRET WAR
Star Wars (2015) #26-30
Star Wars (2015) Annual #2
Jason Aaron, Kelly Thompson, Salvador Larroca
A flashback, standalone Yoda adventure set some time before The Phantom Menace. Honestly pretty skippable, unless you're really into tributes to Willow.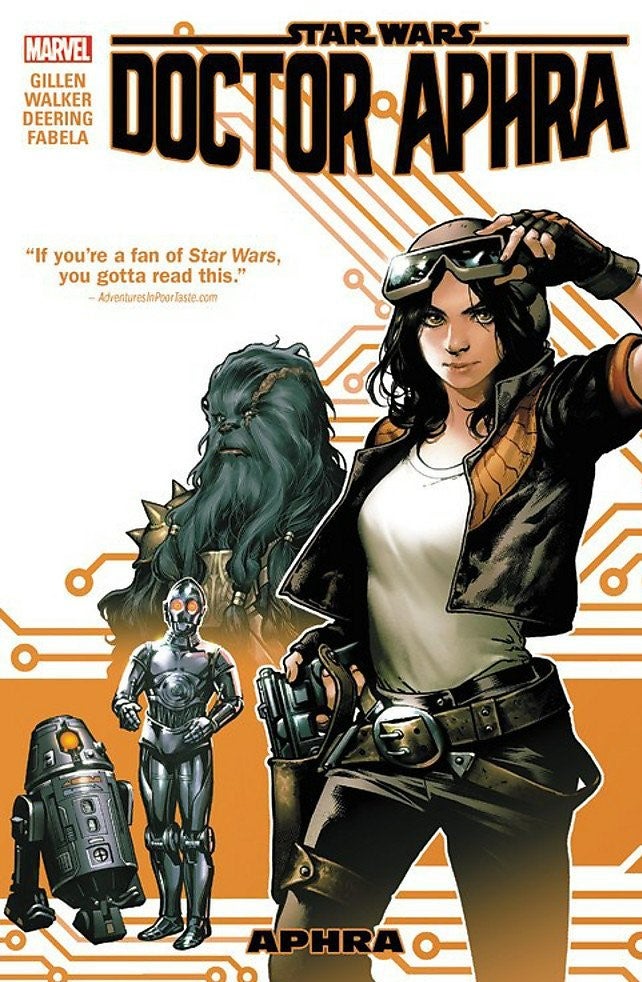 Kieron Gillen, Kev Walker
Somehow, improbably, Aphra made it through her internship with Vader with her life AND her own spin-off. This first story arc teams Aphra up with her estranged father who left her behind to pursue ancient Jedi artifacts, to find an ancient Jedi artifact.
The Screaming Citadel #1
Star Wars (2015) #31
Doctor Aphra (2016) #7
Star Wars (2015) #32
Doctor Aphra (2016) #8
Kieron Gillen, Jason Aaron, Marco Checchetto, Salvador Larocca, Andrea Broccardo
Our second major crossover story! In Luke's quest for Jedi lore and Aphra's quest for cool and highly dangerous old stuff she can sell, the unlikely duo gets tangled up with… space vampires, basically.
DOCTOR APHRA VOL. 2: DOCTOR APHRA AND THE ENORMOUS PROFIT
Doctor Aphra (2016) #9-13
Doctor Aphra (2016) Annual #1
Kieron Gillen, Kev Walker, Marc Laming
Aphra takes her ill-gotten gains to a very swanky auction, for sale to the highest bidder. Which seems like a pretty good deal, until her old boss shows up. The one with the mask and the cape.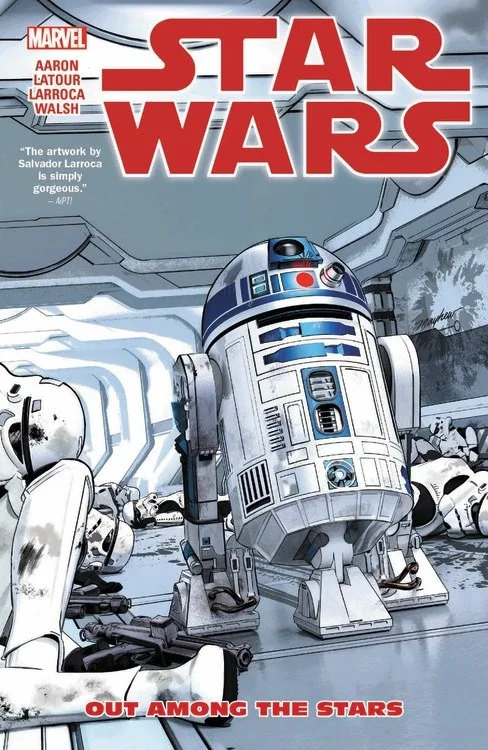 STAR WARS VOL. 6: OUT AMONG THE STARS
Star Wars (2015) #33-37
Star Wars (2015) Annual #3
Jason Aaron, Jason Latour, Salvador Larroca
A nice, breezy collection of one-shots. Luke and Leia get stranded on a desert island, Lando and Sana Starros pull off a scam on Coruscant, Han and Chewie go back to smuggling, and R2-D2 stages a daring rescue to retrieve C-3PO from the Empire.
DOCTOR APHRA VOL. 3: REMASTERED
Doctor Aphra (2016) #14-19
Kieron Gillen, Si Spurrier, Emilio Laiso
The tables are turned as Aphra's homicidal former droid companion, Triple Zero, forces Aphra to start doing his own dirty work.
DOCTOR APHRA VOL. 4: THE CATASTROPHE CON
Doctor Aphra (2016) #20-25
Si Spurrier, Kev Walker
Si Spurrier celebrates the launch of his solo run on Doctor Aphra by putting her back in jail. But this time it's an Imperial jail, so it's much worse.
DOCTOR APHRA VOL. 5: WORST AMONG EQUALS
Doctor Aphra (2016) #26-31
Doctor Aphra (2016) Annual #2
Out on the lam from the Empire, Aphra is stuck with a bomb implanted in her throat by a mad scientist that will go off in 10 hours unless she can get it removed, or if she gets too far away from Triple Zero, the droid who wants to kill her. This one's a real treat for fans of Cornelius Evazan, that one guy who told Luke "My friend doesn't like you" in that cantina once.
STAR WARS VOL. 7: THE ASHES OF JEDHA
Kieron Gillen, Salvador Larroca
Gillen moves from Vader and Aphra to the main event and does so in style by uniting Luke and his allies with the remnants of Saw Gerrera's Partisans from Rogue One. Leia makes an ally of Queen Trios, who I told you to remember from that one Darth Vader story. She switches sides to the Rebellion, which I'm sure will be fine.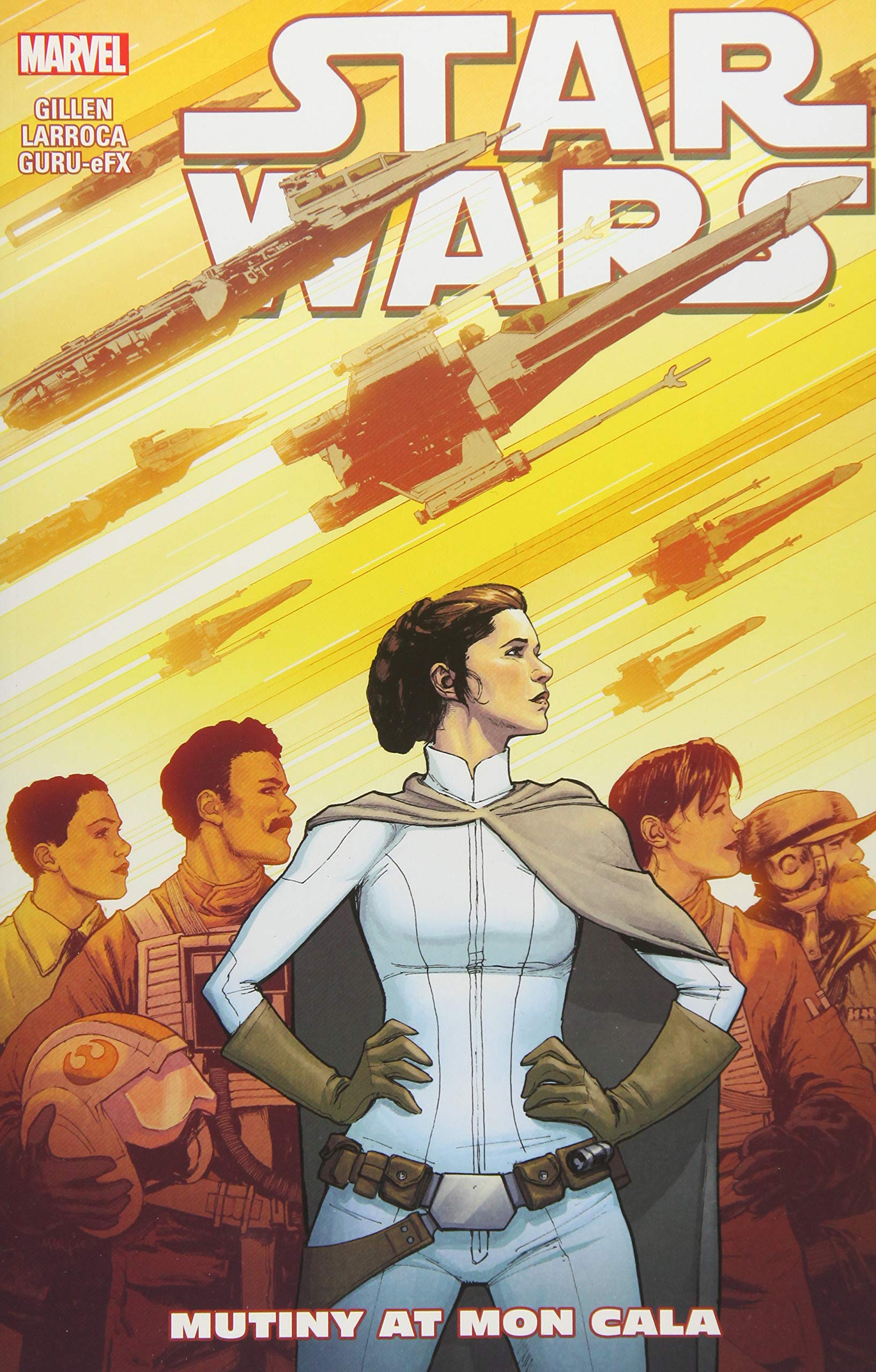 STAR WARS VOL. 8: MUTINY AT MON CALA
Kieron Gillen, Salvador Larroca
The Rebel Alliance moves to liberate the Mon Calamari homeworld from the Empire, which as a planet of the Galaxy's best shipbuilders is a pretty big deal to have in their pocket. Hey, maybe this whole Rebellion might work out after all!
Star Wars (2015) #50-55
Star Wars (2015) Annual #4
Kieron Gillen, Salvador Larroca
It doesn't work out.
Kieron Gillen, Andrea Broccardo, Angel Unzueta
After a betrayal by an ally that absolutely nobody saw coming, the Rebels are forced to go on the run. Luke and Han each flirt with a potential romance on the worlds they find temporary refuge on, but there's no time for love on the battlefield.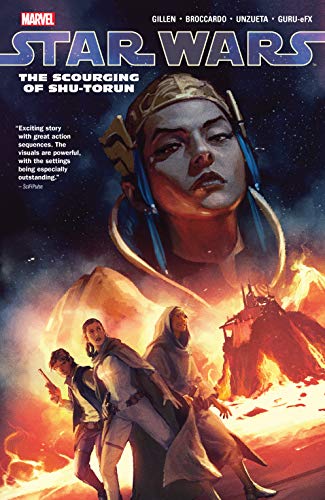 STAR WARS VOL. 11: THE SCOURGING OF SHU-TORUN
Kieron Gillen, Angel Unzueta, Andrea Broccardo
The Rebellion regathers their forces to strike back against the friend who sold them out to the Empire. Smart readers can probably guess who that is by now.
DOCTOR APHRA VOL. 6: UNSPEAKABLE REBEL SUPERWEAPON
Doctor Aphra (2016) #32-36
Si Spurrier, Wilton Santos, Caspar Wijngaard, Andrea Broccardo, Cris Bolson
Aphra is contracted by the Rebellion to retrieve "The Farkiller," a superpowered sniper rifle which can kill a target from a hundred kilometers away. Now all she has to do is decide how she actually wants to use it.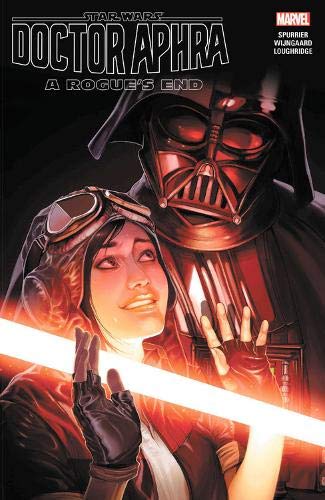 DOCTOR APHRA VOL. 7: A ROGUE'S END
Doctor Aphra (2016) #37-40
Doctor Aphra (2016) Annual #3
Si Spurrier, Caspar Wijngaard
Good thing Aphra just did all that work with the Rebels, because now she gets the chance to rat them all out to Darth Vader. But will she? Well, that depends on whether she's learned anything at all in the past 40 issues.
STAR WARS VOL. 12: ROGUES AND REBELS
Greg Pak, Phil Noto
Vader doubles down on his search for Luke Skywalker, Han gets jealous of Leia's ex, and C-3PO saves a planet. By god, that Phil Noto art.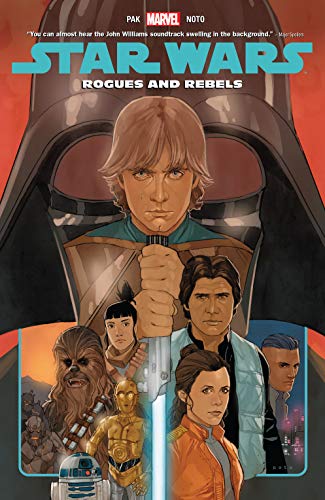 STAR WARS VOL. 13: ROGUES AND REBELS
Greg Pak, Phil Noto
I know 8 issues is a lot to put in a single trade but this could have been one book, guys.
Han Solo: Imperial Cadet #1-5
Robbie Thompson, Leonard Kirk
Okay, so this series is technically a Solo movie tie-in, set during the major time skip after the film's first act, but (a) it's an extremely fun look at Han Solo's time in the Empire, and (b) it introduces Han's squadmate-turned-cyborg Beilert Valance, who's going to become very important very soon.
Robbie Thompson, Marc Laming, Cris Bolson
Years after Solo, and right before Empire Strikes Back, we catch up with Valance, who's now a hardened bounty hunter. He joins a group of assassins on a mission to assassinate Darth Vader. Good luck with that.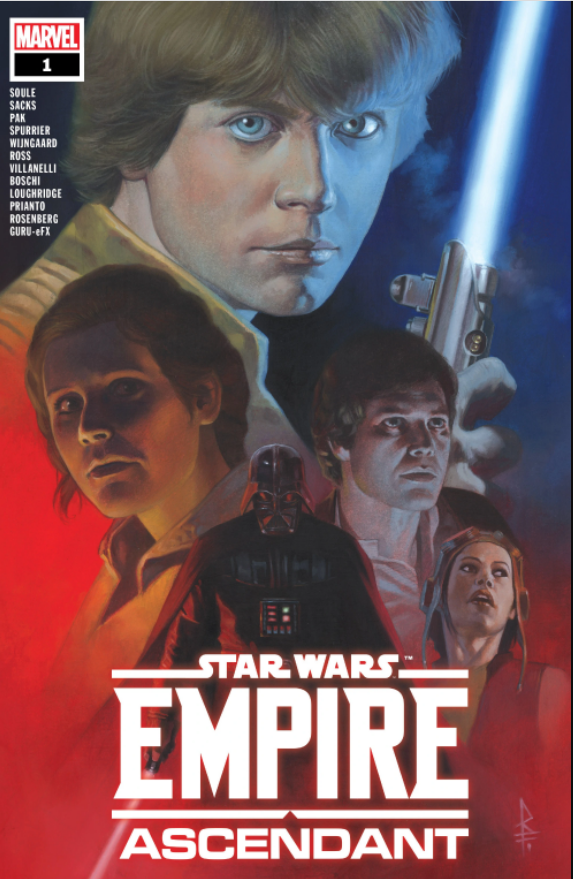 Charles Soule, Luke Ross, Greg Pak, Roland Boschi, Ethan Sacks, Paolo Villanelli, Si Spurrier, Casper Wijngaard
This is a special one-shot issue that you've already seen pieces of if you're collecting the trades. Regardless, this anthology issue serves as a bridge between our two big eras of Star Wars comics so far, epiloguing all that's come before and prologuing all the new stories to come. For more information on this very specific period, please consult the 1980 film Star Wars: The Empire Strikes Back.
AFTER THE EMPIRE STRIKES BACK
In 2020, a soft line-wide relaunch moved the ongoing timeline to the year between Empire Strikes Back and Return of the Jedi, with Han Solo frozen in carbonite and Lando Calrissian playing his roguish understudy, which is where we are now. And this time, the number of titles to keep track of at any given time multiplies from two to four: relaunched volumes of Star Wars, Darth Vader, and Doctor Aphra now all running simultaneously, with the addition of Bounty Hunters starring our new old friend Beilert Valance. Once the War of the Bounty Hunters begins, these titles knit tighter together than ever before, so it's important to stay on top of it. Don't worry, we'll get you through this.
STAR WARS VOL. 1: THE DESTINY PATH
Charles Soule, Jesús Saiz
Right after Empire leaves off, Luke is still reeling from the revelation of his parentage. But even as the Rebels have narrowly escaped Vader's trap on Cloud City, the late Grand Moff Tarkin's protege Commander Zahra is in hot pursuit.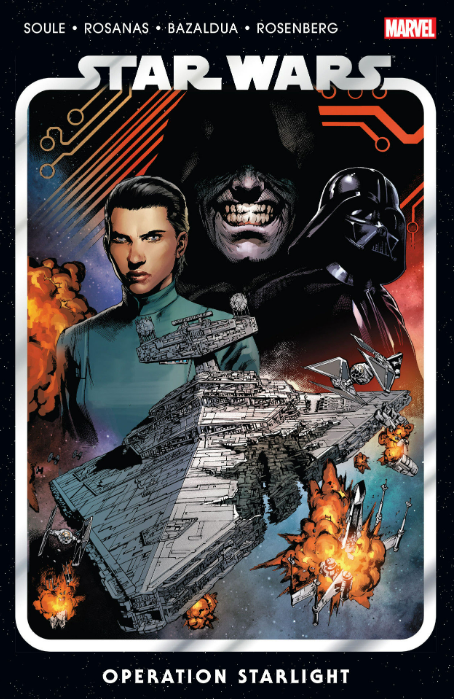 STAR WARS VOL. 2: OPERATION STARLIGHT
Charles Soule, Ramon Rosanas, Jan Bazaldua
Even as Commander Zahra continues to close in on her, Princess Leia attempts to rally the Hoth-scattered Rebellion back together and rebuild.
DARTH VADER VOL. 1: DARK HEART OF THE SITH
Greg Pak, Raffaele Ienco
Equally reeling from his own encounter with his son, Vader is confronted by another face from his past – the face of his wife, as worn by her body double handmaiden Sabé. With Sabé as his momentary unlikely ally, Vader begins to plot the undoing of his master.
DARTH VADER VOL. 2: INTO THE FIRE
Greg Pak, InHyuk Lee
Sensing his attempts at treachery, Palpatine sets Vader to undergo a series of trials on Mustafar in order to prove himself once again. There, Vader must fight for his life against the Emperor's personal assassin, Ochi of Bestoon. He's the guy who eventually goes on to kill Rey's parents, has that knife that's also a map, and dies before the Sequel Trilogy begins. You remember him.
DOCTOR APHRA VOL. 1: FORTUNE AND FATE
Alyssa Wong, Marika Cresta
After cutting ties with everyone from her old life for their own good, Aphra assembles a new crew of lives to ruin in pursuit of a new treasure – and runs afoul of the wealthy and influential Imperial Tagge clan in the process.
BOUNTY HUNTERS VOL. 1: GALAXY'S DEADLIEST
Ethan Sacks, Paolo Villanelli
Beilert Valance lands his own series! Well, it's a team book of original characters, but he's in it. When Valance's former mentor and betrayer of the Bounty Hunter's Guild, Nakano Lash, resurfaces after years of laying low, every hunter is out to collect the price on her head. But for Valance, this is about more than credits.
BOUNTY HUNTERS VOL. 2: TARGET VALANCE
Ethan Sacks, Paolo Villanelli
Now with a price on his own head, Valance turns to the few people in the galaxy left he can trust – and comes head-to-head with his personal rival, Dengar.
DOCTOR APHRA VOL. 2: THE ENGINE JOB
Doctor Aphra (2020) #6-10
Alyssa Wong, Joshua Swaby
Only the wrath of the Tagge family can reunite Aphra with her former flame, smuggler extraordinaire Sana Starros. Wait, didn't I say she was Han Solo's ex way up in Star Wars Vol. 2? Yeah, I did. It's complicated.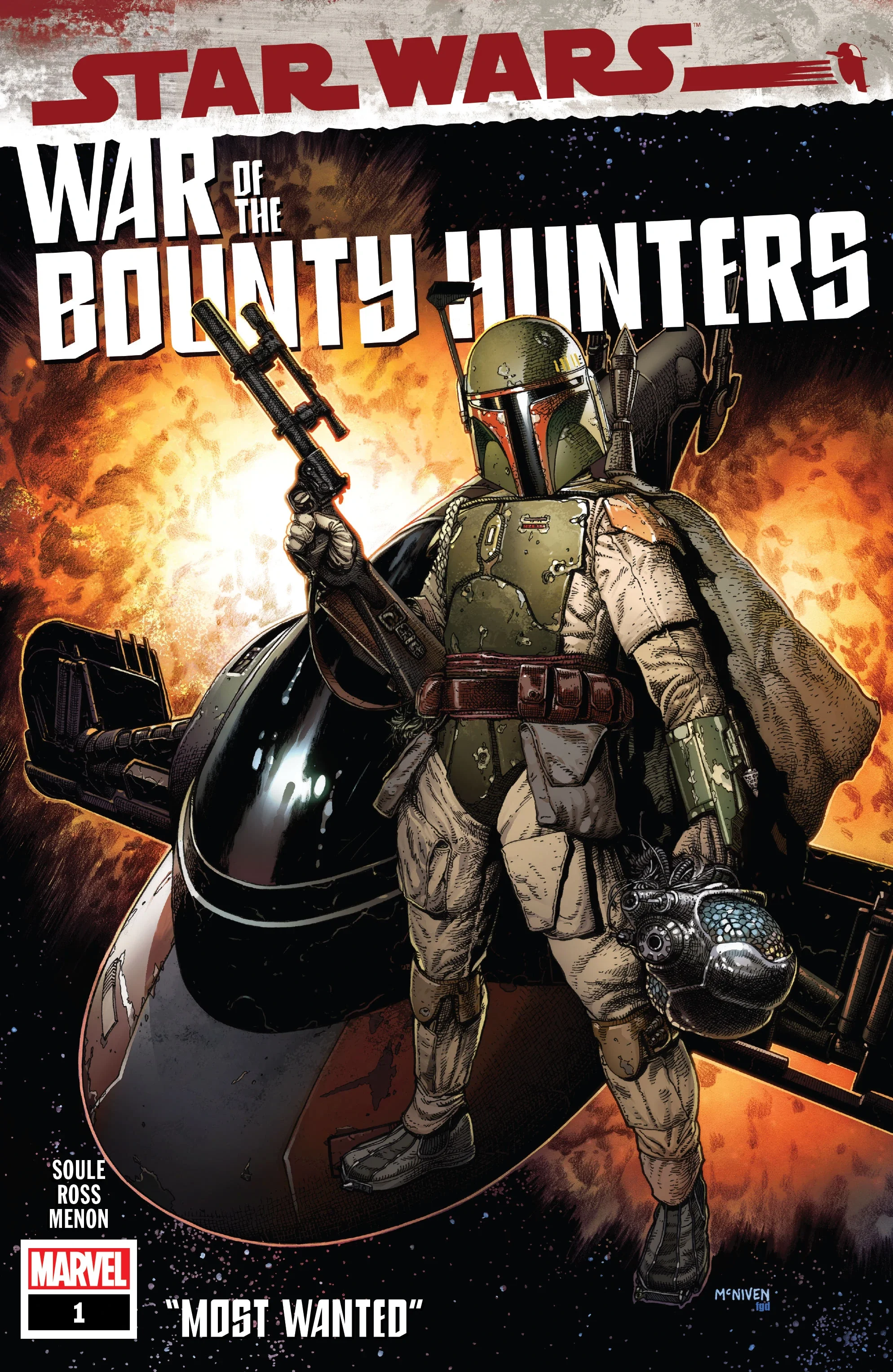 WAR OF THE BOUNTY HUNTERS
Well, here we go. Chuck your neat little trades out at this point, because this is the part where all of the ongoing comics we've been dealing with here meld into one sticky gumbo. The trades keep each of the plots separate, but it's best to follow them all at once if you're able. War of the Bounty Hunters is the beginning of a galaxy-wide gang war between multiple factions for control of the galaxy's underworld, with our heroes in each of these four books all caught in the crossfire. Here's your reading order to follow all the developments and surprises:
That brings us up to "Crimson Reign," a similarly twisty ongoing crossover story which looks like the second leg in a trilogy of treachery. We'll come back to update you on the right reading order once that part of the journey is over. But until then, well… you've got plenty of reading to do.
---
If all this Star Wars comics reading have inspired you to have a whole TV and film watchthrough, check out Popverse's guide on how to watch all Star Wars television and film in chronological order.