How to shop for the Star Wars fan in your life at Galaxy's Edge at Disney World and Disneyland
What do you get the Star Wars fan who has everything? Here are some do's and don'ts on what to pick up if you're shopping theme parkside.
Picture this. You've booked a trip to a Disney theme park right before the holidays. Congratulations: you've just given yourself the perfect opportunity for gift shopping. Disney souvenirs in general make easy crowd pleasers when looking for a unique present for someone special in your life. But for Star Wars fans, Disneyland and Disney World's Galaxy's Edge is a destination for treasures you can't find anywhere else. Practically anything you can acquire in the theme park is something that would be difficult to impossible to find outside of it without secondary mark-up prices, so you're in a prime position to win points with the Jedi, Sith, or Mandalorian in your life.
The problem, though, is also one of Star Wars' greatest assets: the nature of the franchise is so broad, and accounts for so many flavors of fandom, that the things that no two fans like about Star Wars are exactly alike. You've got your original trilogy devotees, your prequel enthusiasts, your expanded universe epicureans. If you're not exactly sure what the Star Wars fan in your life is into, it can be difficult to shop for them without giving away the surprise entirely. Well, don't worry: we're here to help guide your aim through The Force for a shot that's one in a million.
Star Wars Galaxy's Edge: avoid the high shelf items (mostly)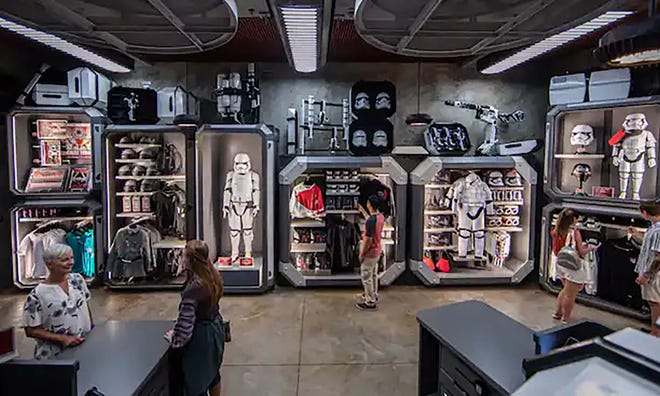 Let's face it: your trip to Disney is already costing you a lot, and you don't want to blow your budget on gifts. And when it comes to Galaxy's Edge, you shouldn't. You'll find a lot of beautiful, detailed, and very expensive items for sale through the park, from Stormtrooper helmets to detailed busts to Twi'lek sculptures. But the more expensive the item is, the more specialized it is. You don't want to blow $350 on a TIE Fighter pilot helmet if the Star Wars fan you're shopping for is a Rebel sympathizer. Unless you're absolutely sure you see something you know they'll want, the best policy is to avoid the high priced items until they get to visit the park for themselves. (There is one exception to this… and you might be able to guess it. We'll get to it later.)
This goes for clothing and costume items as well – don't try to guess at whether your Star Wars fan is a Padme or a Leia. Besides, there are better resources for Star Wars cosplay than the off-the-rack items available at Disney. The Star Wars cosplay scene is one that values DIY.
Here are some Galaxy's Edge merch you can order online:
Star Wars Galaxy's Edge, the budget option: ditch the Yoda, get a soda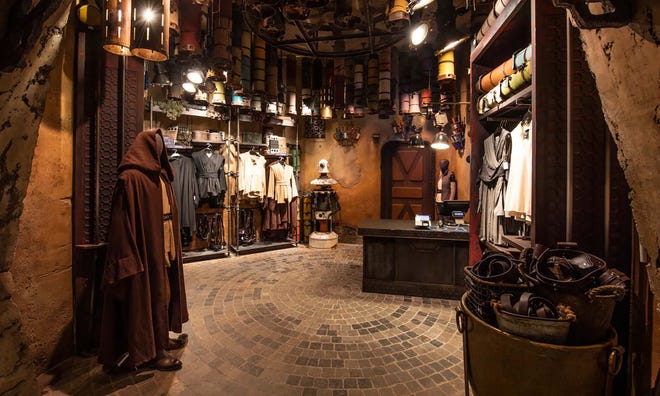 One of the best parts of Galaxy's Edge is the care and detail that goes into the immersive nature of the park. Every aspect is designed to feel like you've stepped onto a trading outpost in the Outer Rim of the Star Wars Galaxy. Even the food and beverages reflect this: bottles of water and soda are distributed in special containers with the Star Wars "Aurabesh" writing on them to make them feel like authentic beverages from right out of Star Wars. If nothing else, the least you can do is bring back a Galaxy's Edge bottle of Sprite or Coca Cola. It's only 5 dollars, and one of the most unique favors that the park has to offer. For your money, it's the easiest way to make your Star Wars fanatic happy when you return from hyperspace.
Star Wars Galaxy's Edge, the mid-range option: Toydarian toymaker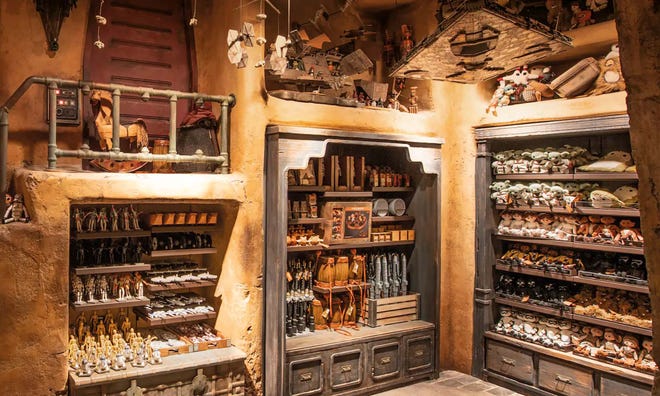 If you'd like to be a little more adventurous in your gift-giving, the absolute best place for variety is Toydarian Toymaker. Toys have been an integral part of Star Wars fandom since the very beginning, and Galaxy's Edge goes a long way to capitalize on that. What makes the toys here so special is that they're no mere replicas or action figures: they're actually designed as toys might look if the inhabitants of the Star Wars galaxy bought them for themselves. For a range of $15-$45, lovingly made character plushes and stuffed animals can be found here that are unavailable anywhere else. A particularly lovely treat are the starship toys for sale with wooden and metallic details which give them a unique toylike detail exclusive to Galaxy's Edge. Any one you pick up is a winner, but you can never go wrong with a Millennium Falcon.
While you're there, you may as well pick up a deck of Sabacc cards for just 15 dollars. Authentically modeled off the game as played in the franchise, this deck comes with everything you need to master the game that won Han Solo the Falcon from Lando Calrissian. It's a challenge any Star Wars fan would be excited to learn.
Star Wars Galaxy's Edge, the nuclear option: the legacy lightsaber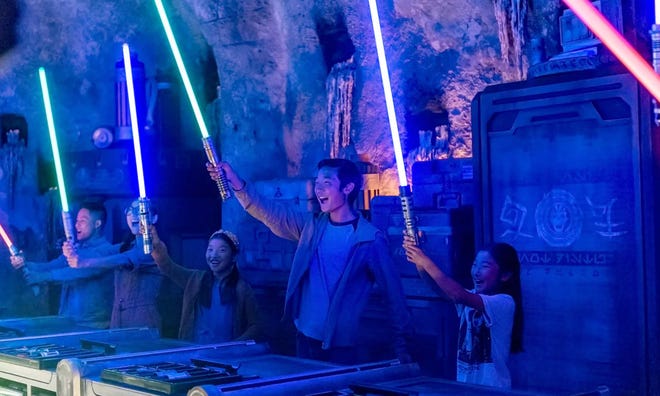 We've kept the budget pretty reasonable until now, but if you're really looking for a surefire way to impress the Star Wars fan in your life, there's only one real choice: that holy grail of Star Wars artifacts, the favored weapon of the Jedi for a more civilized age: the Lightsaber.
Galaxy's Edge offers two varieties of Lightsabers: expensive Custom Lightsabers which you can build yourself from an array of parts for a unique weapon all your own, or Legacy Lightsabers, which present themselves as replicas of sabers belonging to the most iconic characters of the franchise. Skip the Custom Lightsabers in this case: that's something that a Star Wars fan would want to build for themselves. If you're shopping for someone else, your best option is to pick a pre-existing Legacy Lightsaber, most of which start at around $100-$120.
The list of available Legacy Lightsabers is always changing and expanding, so take a look through the list of names attached to each one, and see if any jump out at you as one your Star Wars collector has brought up before. If not, you still probably have time to find an innocuous way to ask them who their favorite Force user is. If you have a match, you have a gift! If not, and you have no idea who that character is, ask them if that's a Jedi or a Sith. If it's a Jedi, your safest option is Obi-Wan Kenobi. If it's a Sith, a Darth Vader Lightsaber will do you. If they try to give you a long answer in the vein of "Well, it's complicated…" just go with a Mace Windu. Everybody loves Mace Windu.
Here's a list of Star Wars lightsabers you can buy right now:
And that's all you need to know to start your Star Wars shopping trip! Just remember that next time, the greatest gift you can offer is to bring that Star Wars fan along with you. The merchandise at Galaxy's Edge is great, but nothing beats the experience of being there.
---