Star Wars: Skeleton Crew - Here's everything you need to know to get lost in space in the next Star Wars show
Have you ever wondered what Goonies would look like in the Star Wars universe? Skeleton Crew promises to deliver those tween 80s vibes!
As Ahsoka demonstrated, there's a lot of potential in a good "Lost in Space" style story — even if the characters don't necessarily have to get lost in an entirely different galaxy for things to work. No wonder, then, that Star Wars is already going back to that well immediately after Ahsoka, with the upcoming new series Star Wars: Skeleton Crew.
Rumored since early 2022, the series — set in the post-Return of the Jedi universe about a group of kids trying to find their way home — was officially unveiled during Star Wars Celebration 2022, and revealed to be set in the same time period as Mando and Ahsoka. Shooting began in summer 2022, and wrapped in January 2023, meaning that it's possible that the show's going to arrive sooner than you might think.
Here's what we know about Skeleton Crew so far.
Who is in the Skeleton Crew cast?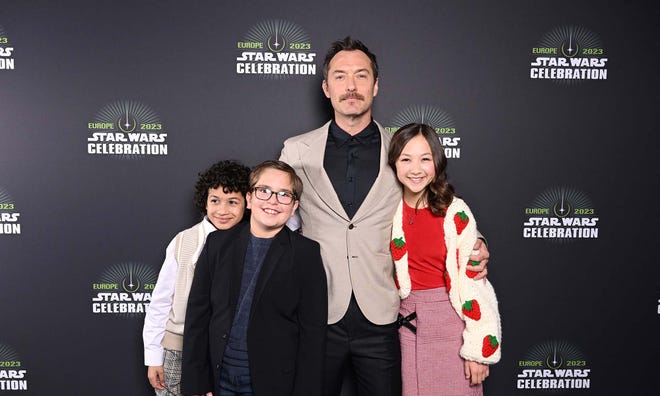 At Star Wars Celebration Europe in early 2023, Jude Law took the stage during the Lucasfilm Studio Showcase to introduce some of his young co-stars. The actors introduced on the panel included Ravi Cabot-Conyers, Kyriana Kratter, and Robert Timothy Smith.
Additional actors confirmed for the show are Ryan Kiera Armstrong, Tunde Adebimpe, Kerry Condon, and Jaleel White.
Hold up, Yon-Rogg is in the house?
To be clear, this is not some sort of Disney/MCU/Star Wars multi-movie-dimensional caper. But yep, Jude Law, aka Albus Dumbledore, aka Gigolo Joe, aka Graham from The Holiday is in this series.
But we have no idea what role he's playing. In the trailer shown during Star Wars Celebration Europe, he's shown holding a lightsaber... so, presumably he's a a Jedi. But he has a knack for surprises in movies, so let's not get too far ahead.
What do we know about the other Skeleton Crew characters?
Honestly, next to nothing. Four of them are kids, played by Ryan Kiera Armstrong, Ravi Cabot-Conyers, Kyriana Kratter, and Robert Timothy Smith. They get lost in space. That's it.
What is the Skeleton Crew synopsis?
Set in the same period as the majority of the Disney+ Star Wars shows to date, Skeleton Crew is understood to be a '80s Amblin Entertainment-style story about "four kids who find themselves lost in in the vastness of the galaxy trying to find their way home..."
Co-creator Jon Watts originally pitched the miniseries to Jon Favreau on the set of Spider-Man: No Way Home. Favreau had been wondering if Watts might consider directing something in the Star Wars universe. Watts replied that he had a pitch for a whole series, which apparently has a Goonies-meets-Star Wars vibe that sold everyone at Lucasfilm.
"Skeleton Crew's tone is an adventure," series co-creator Christopher Ford told Entertainment Weekly. "We wanted it to be a lot of fun. But of course, along with adventure comes the downside of it, which is danger. And when the kids are in danger, it's extra fraught. So we played with that, but overall we wanted it to be just a fun adventure."
Interestingly enough, fans foundLucasfilm's copyright filing for the first episode of the show online, and that filing contains a slightly more detailed synopsis: "In the first episode of the Skeleton Crew we are introduced to four kids who make a mysterious discovery on their seemingly safe home planet and get lost in a strange and dangerous galaxy. Finding their way home, meeting unlikely allies and enemies, will be a great adventure than they ever imagined."
Who's on the Skeleton Crew creative team?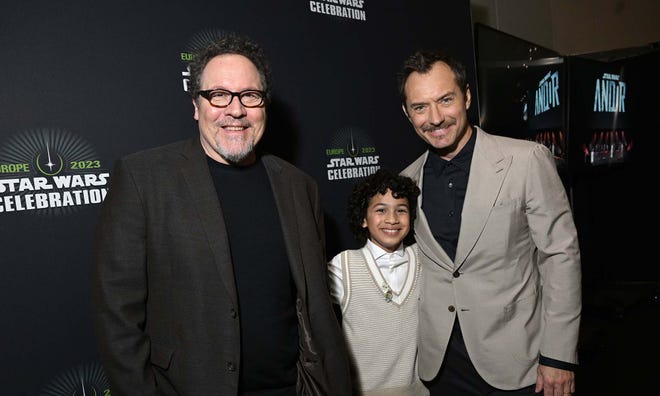 The series is created by director Jon Watts and his frequent writing collaborator Christopher Ford. Watts is also onboard to direct at least one episode, woth Everything Everywhere All At Once filmmakers Daniel Kwan and Daniel Scheinert, aka "the Daniels," also slated to direct at least one episode. At Star Wars Celebration Jon Favreau and Dave Filoni revealed that the rest of the directors on the series would be David Lowery, Jake Schreier, Bryce Dallas Howard, and Lee Isaac Chung.
The series is executive produced by Mandalorian helmers Jon Favreau and Dave Filoni.
How many episodes of Skeleton Crew will there be?
Skeleton Crew is currently listed as a mini-series of 8 episodes.
When is Skeleton Crew's release date?
While no release date has been given, the series was expected to be released sometime in 2023; recent reports have suggested that it might be pushed to early 2024, in line with other such delays that have been occurring across Disney's schedule in recent months.
The same leaked copyright filing mentioned above that provided the (slightly) more detailed plot synopsis gave a placeholder release date of "1/2024," suggesting a January 2024 debut was likely - however, nothing has been officially announced by Lucasfilm or Disney+, so consider that January date very unlikely until anything more official has been offered.
Is there a Skeleton Crew trailer?
A first look at the Skeleton Crew trailer was shown at Star Wars Celebration Europe, but the trailer has not been revealed to the public yet. However, if you're not afraid of spoilers... the trailer does reveal that Jude Law will be presumably be playing a Jedi in the show. Or, at least, someone who knows his way around a lightsaber.
Where does Skeleton Crew fit in the Star Wars timeline?
Here's a handy summary from Austin Gorton about the overall Star Wars timeline.
Skeleton Crew takes place in the same time period as The Mandalorian and Ahsoka, roughly nine years after Return of the Jedi.
So will the shows intersect in some way?
While Skeleton Crew and Ahsoka are both considered completely their own thing, Favreau has hinted that there may be crossovers between characters from the two. He has also expressed interest in seeing Skeleton Crew characters in The Mandalorian Season 4. Interestingly enough, some people think that Ahsoka has already laid groundwork for Skeleton Crew in a very subtle, quiet way that will only become obvious later...
Where can I watch Skeleton Crew?
Disney+ is the one and only place you'll be able to find this cool new Star Wars series. But you'll also be able to find lots of great content about it right here on Popverse.
---
All the new and upcoming Star Wars movies and TV shows on the horizon.