Star Wars: Tusken Raider costumes are expensive! Here's how to make your own
Hey Star Wars fans, here a full (free!) guide into creating your very own Tusken Raider cosplay.
The latest live-action Star Wars series The Book of Boba Fett is in full swing on Disney+, and over the course of the first couple of episodes, we've been reintroduced to a handful of familiar faces from other stories around the universe in the form of characters like Boba Fett and Fennic Shand, who appeared in The Mandalorian.
But the breakout stars of this season isn't just Fett and his new companion: it's a tribe of Tusken Raiders who captured and took him in shortly after his escape from the Sarlacc. Their return and unexpected treatment in the series means that they're ripe for costuming.
Spoilers ahead for the first three episodes of the series!
In the opening minutes of the show's first episode, "Stranger in a Strange Land", we finally get an answer to how Boba Fett returned from his apparent fate when he fell into the mouth of the Sarlaac in Return of the Jedi: after getting his bearings, he uses his flamethrower to punch a hole in the side of the creature, and crawls out, only to have his armor stolen by a group of Jawas, and left to die on the surface.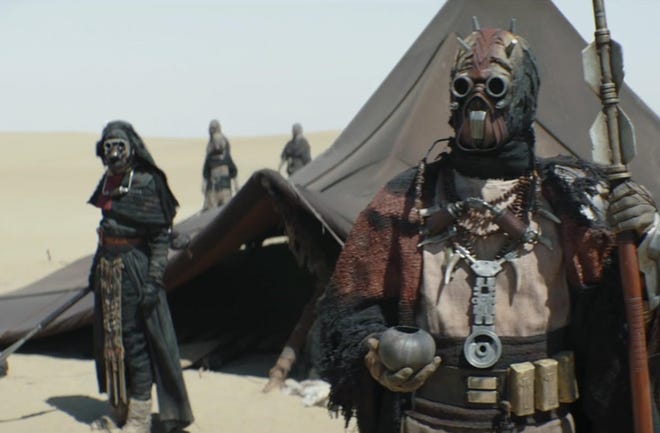 Shortly thereafter, a tribe of Tusken Raiders takes him into their custody, and he eventually wins them over when he saves a child from a desert creature, and helps them fight back against some smugglers.
Tuskens have been a long-standing part of the Star Wars universe, and for decades, fans have dressed up as the nomadic desert raiders. With this series and an appearance in The Mandalorian's second season, they've made a bit of a comeback. Clad in tan robe, a helmet, and carrying some dangerous-looking weapons, they command an impressive presence on a convention floor. And unlike some of the other Star Wars costumes out there, they're relatively comfortable and easy to put together.
Two of the major Star Wars costuming groups, the 501st and Rebel Legions, allow members to join with the costume, and have set up a ton of resources for aspiring builders to construct their own. A good place to start with the costume is to check out each group's Costume Reference Libraries for the costume type.
The 501st also has a specific detachment outfit that is specifically dedicated to not only the various Tusken Raider variants, but to Jawas and "other desert dweller costumes," which is a useful place to find tutorials and how-tos, even if you aren't planning on joining the group itself. One site in particular, StudioCreations, features an excellent tutorial.
In broad strokes, a Tusken costume contains a handful of basic items: a helmet, inner and outer robes, a rebreather, boots, bandoliers, and weapons.
The Helmet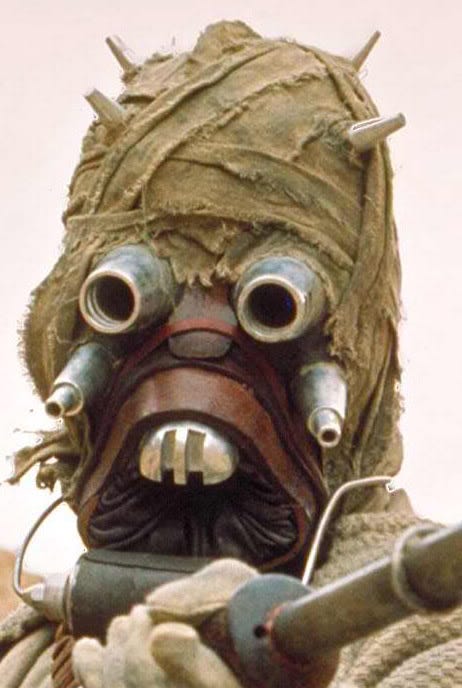 The helmet is the most distinctive part of the Tusken costume: wrapped in cloth, it features narrow eye-tubes, tusks (known as Blood Spitters), headspikes, and a snout wrapped in leather.
There are a couple of ways to approach this as a build: some makers like StudioCreations and DHPFX sell kits that include a vaccuformed ABS plastic face-mask and components that you can assemble, while tons of makers have put up files for the various components on Thingiverse for cosplayers to print out and assemble themselves, while others have gone and machined the metal parts directly from metal.
Those various components are mounted on the helmet: four spikes go on the head, while the eye tubes, tusks, and mouth are attached to the face. The snout is wrapped in leather or a leather-like material, and the entire thing is wrapped in dyed and weathered fabric strips.
Respirator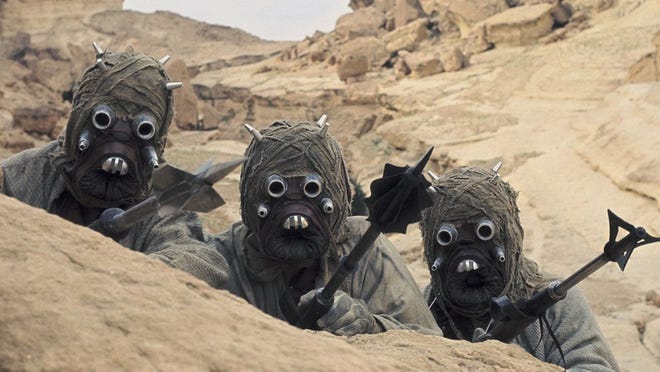 Outside of their helmet, Tuskens wear a breathing device that goes around their neck: it's a round cylinder that's wrapped in leather (or similar material), and which features a tube that's connected at each end. This is a component that can be constructed out of a pipe (about two inches in diameter, and three-to-four inches long) that is wrapped in leather (or similar material). At each end is a cap, upon which a thin pipe or thick, stiff wire is connected that goes around the neck.
Robes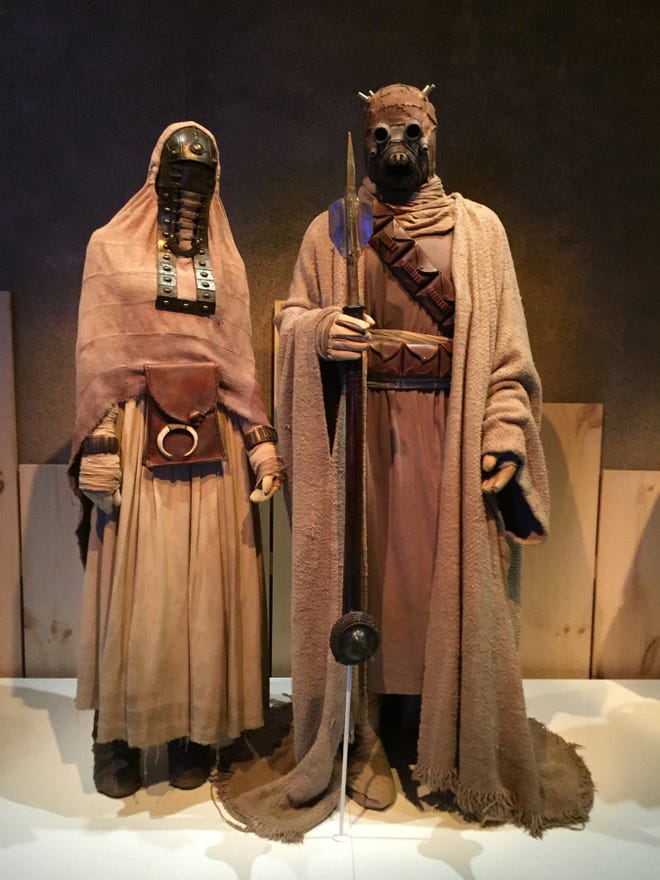 The Tuskens wear two sets of flowing robes that extend from shoulder to foot that's designed to conceal one's skin from view.
The inner robes are typically made out of a cotton-based fabric, and in Brandon Alinger's definitive book Star Wars Costumes: The Original Trilogy, costume designer John Mollo noted that they were essentially Arab robes which had essentially been recycled from prior productions. Typically, these are dyed tan (soaking the fabric in tea is one reliable method.) Over that outfit goes a sash made of the same fabric, anywhere from five to seven inches wide, and is closed in the back.
The outer robes are made of a rougher fabric, and the 501st Legion's CRL notes that it's "constructed similar to a poncho; a rectangular piece of fabric draped over the shoulders with a center front opening from next to the hem." StudioCreations notes that you might be able to find the right look with certain fabric blankets (not burlap), and features a rough tutorial on their website for how to construct the robes. These robes are also dyed a tan color.
Hands, arms and feet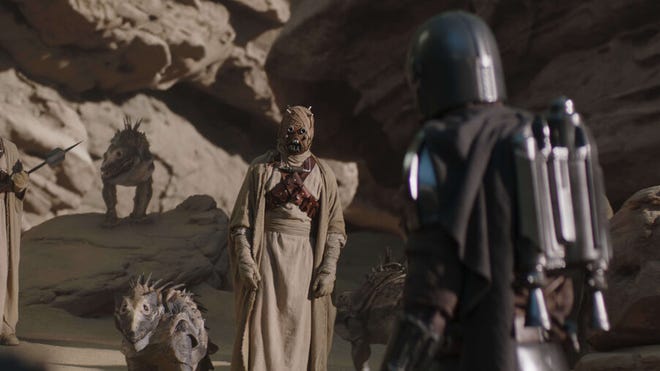 For one's limbs, the costume features wrappings: you can take any pair of slip-on boots (mud boots seem to work well), which are then wrapped with the same rough fabric strips used for the helmet. A cosplayers then wraps their arms in a strip of the same style fabric from wrist to their upper arm, to the point where the end will be concealed in the robe. For their hands, a pair of weathered cloth or leather gloves will be sufficient.
Bandoliers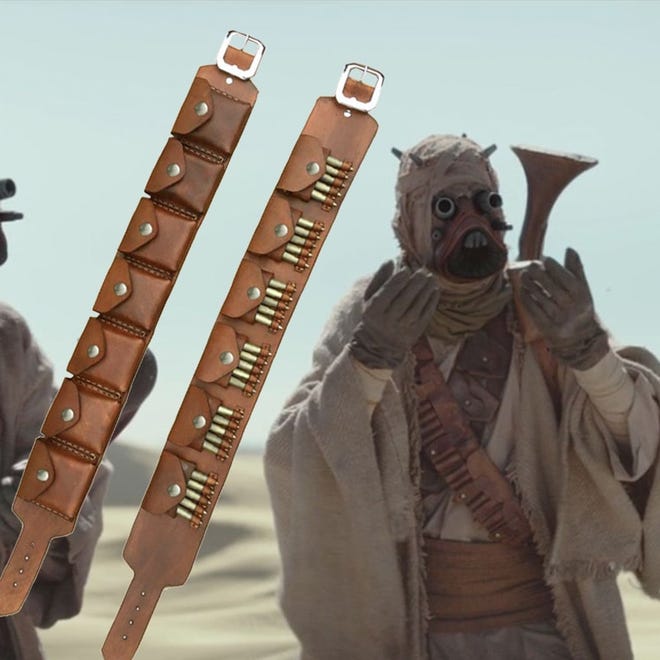 The tuskens wear a handful of bandoliers: these can typically be found on military surplus sites, and different variations of the character might require different styles. According to the 501st, the Tuskens in A New Hope use British 1903, Martini Henry, and Turkish Ottoman style bandoliers, while the ones seen in Attack of the Clones use Swedish bandoliers — two crossed across the chest (under or over the outer robes), and one across the waist.
Weapons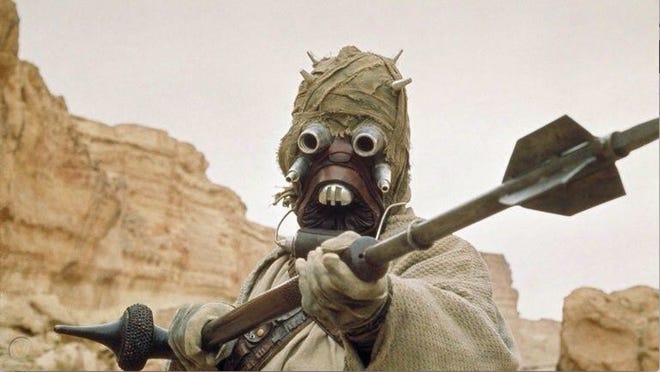 The Tuskens carry a couple of different types of weapons: a Tusken cycler blaster rifle and a Gaffi stick.
The Gaffi stick is the character's most distinctive weapon, and there are a handful of ways to tackle this project: some fellow 501st members have constructed their own out of pipes and plastic components, bought resin kits from other builders, printed them up with a 3D printer, and at least one of my fellow 501st members picked up a solid metal.
The rifle can be approached the same way: a cosplayer can construct one out of a combination of wood, EVA foam, or piping, or print up the components with a printer.
The Book of Boba Fett variants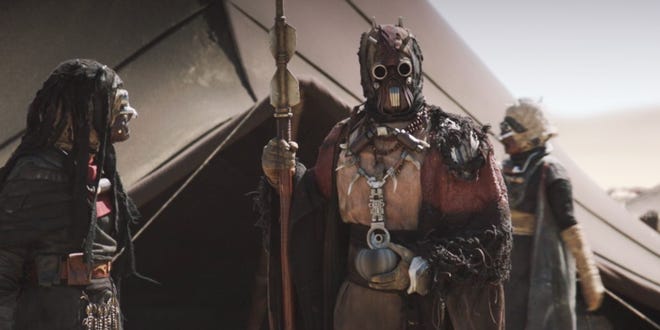 Much of the documentation out there for building a Tusken Raider is based on the character's appearances in A New Hope and Attack of the Clones, both of which were pretty similar (Attack of the Clones also introduced a female and child versions of the character). When the characters appeared in the opening episodes of The Mandalorian's second season, they maintained a similar look and feel: they were clad in tan robes and featured much of the same equipment.
While the stylings of the costumes are similar, the Tuskens seen in The Book of Boba Fett, feature a considerable about of variation between characters. For many of the background Tuskens, they have a mix of black and tan robes: some feature head wrappings of both colors, some are completely black, and others have a mixture of outer and inner robes.
Others feature different variations in how they wear their bandoliers: a couple have them worn in the same way, while others simply wear one over their shoulder or around their waists. In a couple of instances, I spotted a couple with different wrappings around their shoulders, or with outer robes fashioned like long skirts.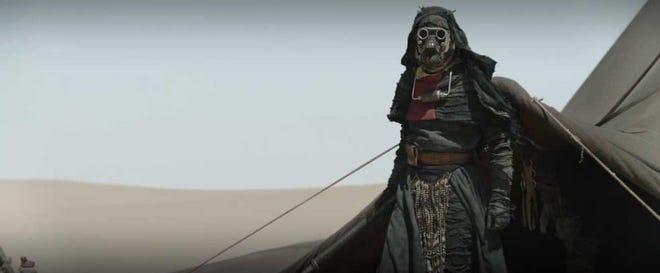 The show's second episode also features a couple of new face characters: one fighter who trains Boba Fett is clad entirely in black, with a leather belt and pouch, and a sort of beaded loin-cloth. Her outer robes feature some slightly different shoulder wraps with a red stripe over the chest, skirt-like outer robes, and wraps that hang loose from her head.
The child Tusken character features a simplified version of this: the same basic helmet and rebreather setup, but with a rough black top and pants, clasped at the waist with a leather belt, pouch, and wrapped boots.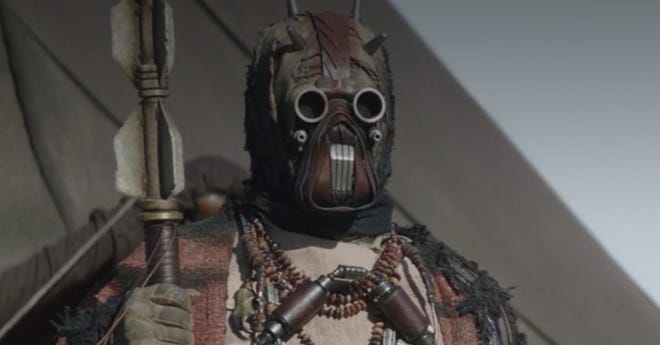 The tribe's leader is considerably more complicated than the others while they seem to have the same basic structure there's a lot of extra parts to this costume:
Their outer robe features two colors: brown that blends into black
Their helmet features a different snout covering and a leather band over the center of their head.
Their rebreather features two cylinders, which lay flat on their chest and point out to the sides (I can't tell exactly how it's attached to their neck)
They have a number of different necklaces made of brown and tan beads, as well as an ornamental one that's made of silver.
Their belt is made of leather, with two silver buckles and a pouch (over a brown cloth waist wrap)
Their gaffi stick is tall, appears to be made of wood, and is used almost like a staff.
Undoubtedly, there'll be better images coming of these characters in the months and years ahead as Lucasfilm releases more reference photos or books, as fans take screenshots, or as the costumes go on display at conventions. Groups like the 501st and Rebel Legions haven't released updated standards for their members, but those reference guides are all but certain to be on their way in the months ahead.