Remembering Steve Dillon: How Dillon's family honors their father, brother, and friend with a touring exhibit of his work
Steve Dillon's family pay tribute to him - and make room for others to remember his greatness
In 2016, comics lost a true original with the passing of British comics artist Steve Dillon, who had come up through the ranks of Warrior and 2000AD. He was best-known to US audiences as the artist on DC/ Vertigo's Hellblazer and as the co-creator of the same imprint's Preacher series.
A physical tribute to Steve Dillon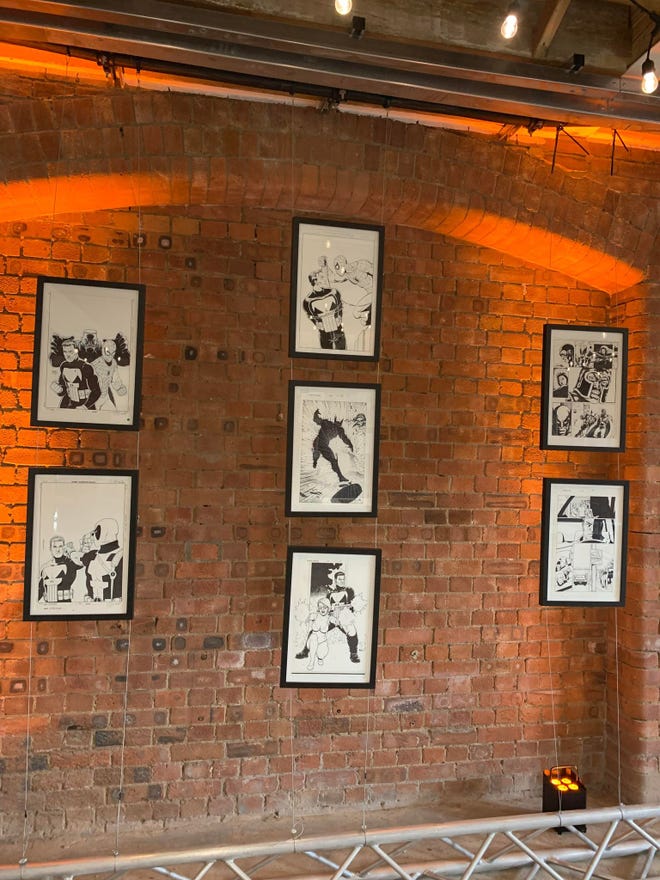 The wheels have been in motion over the past couple of years to create a physical tribute to the man's body of work very much due to Dillon's daughter-in-law Tanya Dillon, who is married to Steve Dillon's son. That tribute recently wrapped up its debut exhibition at North London's Worldly, Wickedly and Wise.
When we caught up with Tanya at Steve Dillon's old stomping grounds of Luton (just north of London), she admitted to us that she was caught unawares by the attention to her efforts creating an exhibition of Dillon's work.
"I didn't expect it to get this big. It wasn't ever intended to be anything other than a one-off show," she told us.
"I believe you know Jeff [Chahal, Brief Encounters UK retail owner] who was just here one day, and he said 'I've just opened up this gallery-- so how about we do an exhibition of Steve's work?' It got such a good review from day one there with so many people messaging me to say 'I'd love to come but I can't make it to Northampton so is this going anywhere else?' At first I thought it was a crazy idea, but then the more and more messages that I got online, I began to think: 'This could have legs to it as there's enough people who want to see it.' And Northampton's a slightly more difficult place to get to than London or somewhere else with good train links.
I know lots of people from Luton who wanted to come, but they didn't have cars. So I thought: 'Let's bring it to Luton because Luton is where Steve was from.' Because lots of people who knew him knew a little bit about what he had done but had never seen his work. So we thought it would be nice for them to see what he did," she explained to us.
Steve Dillon was a very unassuming figure, his daughter-in-law confirmed: "Lots of people weren't aware of the level of his success so we took it to Luton and it has done very well, so we are just rolling with the momentum at the minute."
Steve Dillon's exhibits on tour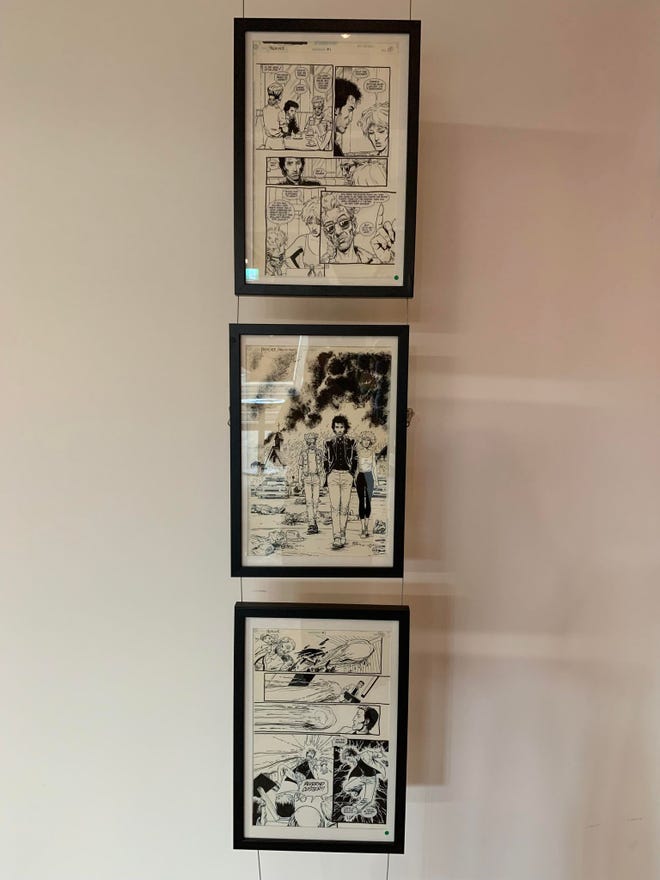 While the initial exhibition just closed in North London, there'll be other places you can see the exhibit.
The Steve Dillon exhibition is booked for a two-day display ar Bristol's Lawless on May 27 and 28 of 2023. And it isn't just Bristol that will be seeing the exhibition in 2023.
"Next year we have an exhibition in Rome. In fact a gallery from there contacted me and said they would like to do something. So we have a few things in the pipeline now," Tanya revealed to us.
And there are plans afoot for other places as well, she informed us.
"I know lots of people want us to come to Scotland and Dublin too. Steve lived in Dublin, and we've got family over there so that makes sense. So probably Dublin and Glasgow will happen too as well as somewhere up North."
They have also considered somewhere further afield like New York, and Dillon admitted that this is still something they'd like to do.
"When I started talking about this with Glynn [Dillon, Steve's younger brother and fellow artist], Northampton had started and it was going really well. So he said 'Why don't you take it on tour?' and at the time I wasn't sure. And Glyn said that we should do the final show in New York because he loved the city. I've actually had people messaging me about venues there, and I've even had someone from Australia message me because an Australian convention would be happy to host it too. I said to them that New York won't be for a year or two because I can only do a couple a year," she explained.
What goes into choosing the art to represent Steve Dillon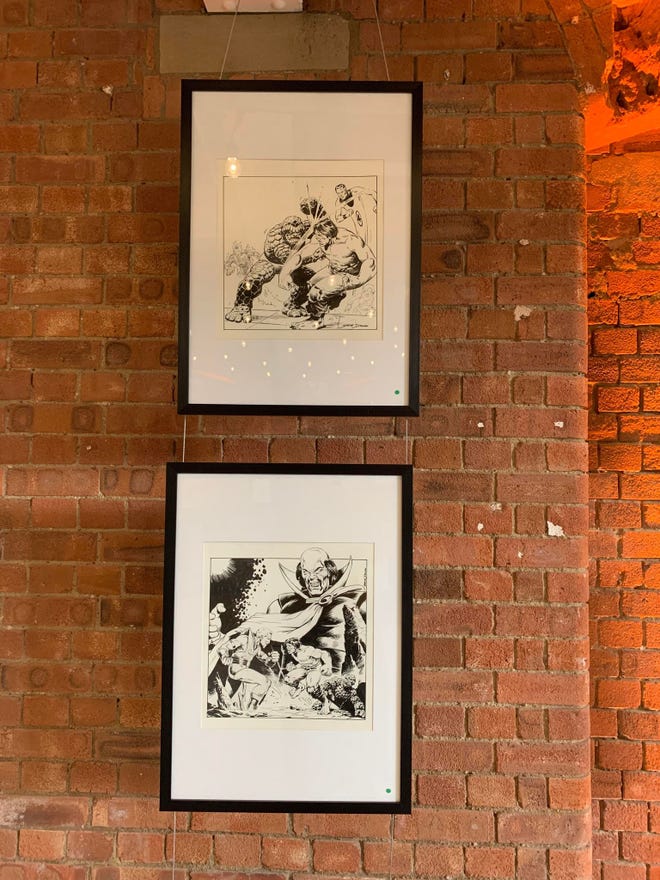 The process for choosing which art to show in the exhibition threw up a few challenges since Steve Dillon was an artist with a long and varied career.
"I suppose we wanted a variety of pieces, but for me it was important to show the older stuff. People have seen a lot of the newer work as it's been knocking around the last couple of years. But the older stuff, he stored away. So people hadn't seen it before, and it was only after he passed away when we started to go through things. My mind was blown. This stuff just sat in our houses, between Steve's three sons, and it needed to be seen. Really. Some of these pieces were created back in 1978 when he was only sixteen years old and they haven't been seen since then. So we went from the Doctor Who stuff all the way through his career because there's a target audience for everything. So there's 2000AD fans and Marvel UK fans, then there's Preacher stuff, and the exhibition spans a lot of different target audiences, which is nice," she pointed out.
There are a number of reasons visitors will want to visit this exhibition, Dillon sees.
"Some people have said that this exhibition has been nostalgic for them and it takes them back in time. They remember exactly where they were and how old they were when they first saw these pieces of art. For me, it's all about that."
One of the other main motivating factors for the exhibition has been to remind people of just how significant Steve Dillon was as an artist.
"His legacy is always going to be there, but whenever I go onto comic forums online, there is talk of amazing artists like Brian Bolland and others. It would be sad if Steve was to be forgotten, and he had so much more left to give. I feel like his time's not up yet," she shared.
The Dillon family legacy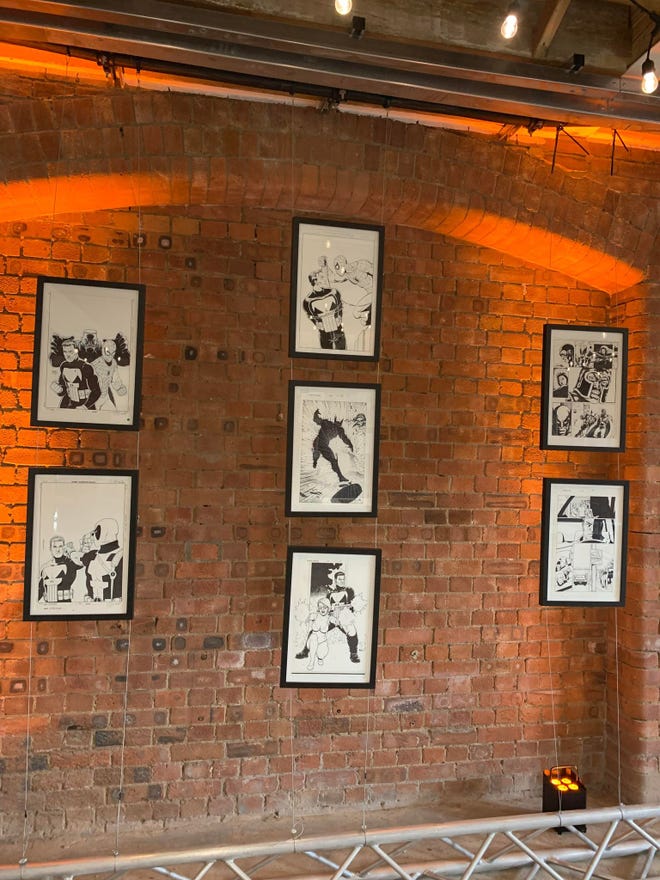 Steve wasn't the only member of the Dillon family with a connection to comics and art. His younger brother Glyn began his career drawing for British anthology Deadline (the home of Tank Girl) and Shade The Changing Man at Vertigo. He also wrote and drew acclaimed original graphic novel The Nao Of Brown which was published by SelfMade Hero. He is now best known as a costume designer on the recent run of Star Wars films and TV shows. For him, seeing his older brother being remembered in this way is touching.
"It is always nice to see comic art in a gallery space anyway, and he fully deserved it. It is nice to be able to celebrate him with things like this," Glyn Dillon told us.
Steve and Glyn's dad is also a talented artist as well:
"I think the males in the family are all quite good at drawing. My dad was a signwriter back in the '60s when there was much more of a demand for that kind of thing. But also at his studio where he worked, he was a pictorial artist, and anything that involved any artwork, he would do that," Dillon shared.
When Steve Dillon passed away in October 2016, the comics industry lost a huge talent but thanks to the efforts of his daughter-in-law Tanya and this travelling exhibition, his name and his body of work will continue to be remembered around the world. Let's raise a glass to one of the best modern British comic artists: Steve Dillon.