Steve from Blue's Clues, the hero no one knew they needed
Blues Clues' Steve Is a reminder good still exists in the world
Pouring over 'Best of' lists about the '90s, spending what little is left after rent on Funko Pops, and having an emotional breakdown over a video released by the guy who once starred on a show meant for preschoolers over a quarter of a century ago. All of the above is what collectively bonds 30-somethings. The latter though, we're not sure Steve Burns knew just how much his sentimental video as his Blue's Clues character would mean to a group of adults in 2021 but it made us all feel a certain type of way in unison and made us not only respect the OG friend of a blue pup even more but also allowed us warmly embrace the power of kindness during a time when it felt like there wasn't much left in the world.
"Look at how cute it is when your brother answers Steve!" my mom yelled to me one day when I was home from school with her and my younger sibling. I'm not sure why this Blue's Clues moment is a core memory of mine, but it is and from that point on - I was a fan of the show because hey, those notepad drawings were art and the songs were bops. After that, I'd watch when I could and came to accept Steve, Blue, and all the rest of the Nick Jr. show gang as fond members of my pop culture family. Then, of course, came that fateful day in 2002 when Steve said farewell and Joe took his place.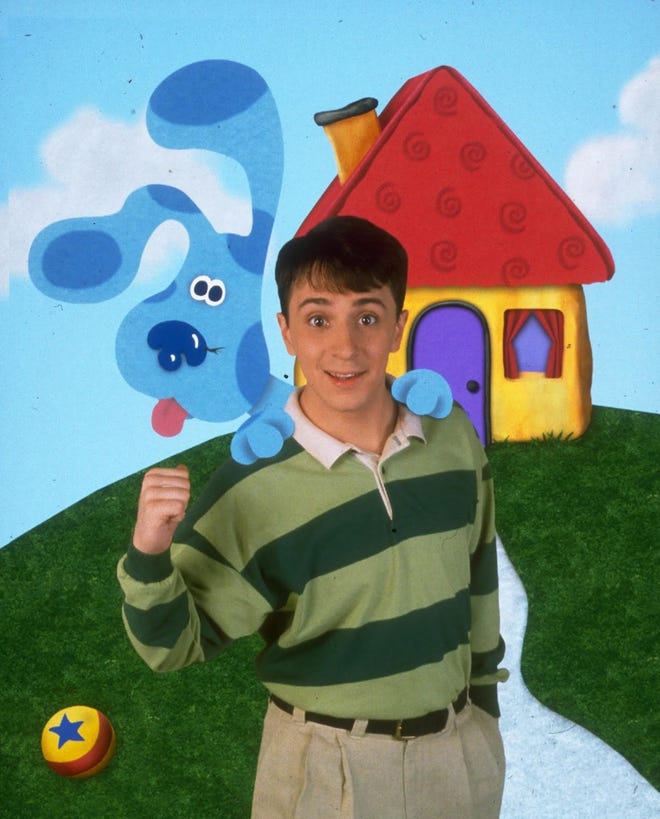 In many ways, it felt like we were being forced to grow up. Steve was always there, and he was now on his way to college and soon we'd be too. At first, it felt like a betrayal. Not going to lie, I remember a lot of people being more upset than they should've been but looking back, our feelings were valid. In hindsight, perhaps we should not have expected this real-life man to be on a show with an animated dog for the rest of his life. So we begrudgingly bid farewell to Steve and moved on with our lives, but in the back of our heads, we continued to hum the mail song to liven the mood when our student loan papers were delivered and wondered if our salt and pepper shakers were coupling up when we weren't looking.
That's the power Steve and Blue's Clues had on an entire generation. Yes, the show didn't run as long as the likes of Sesame Street, but in the grand scheme of things, there is a generation of kids who looked at Steve Burns the same way many look at LeVar Burton in regards to Reading Rainbow and Bill Nye. Burns became this educational TV icon, but unlike the two aforementioned PBS kings, we didn't really see Steve after he left the show. He went on with his life as did we - and what a life it's been in recent years.
To say we were not hurting as a human race the past few years would be insane because well, we don't need to recap the chaotic whirlwind of despair. Just Google "2020" and "2021" and you can see the dumpster fire yourself. It was rough and at times no one was saying what we needed to hear. There was little to no reassurance that things were going to be okay until one day in 2021 when a video emerged. I'd like to say out of nowhere but it was right around the time Blue's Clues was going to be celebrating its 25th anniversary, so yes - marketing was behind it but the sentiment was all too real.
Dressed in the iconic green striped shirt, there he was again - Steve! In less than a minute Steve Burns was once again just Steve with the animated background we'd grown up with, talking to us, reminding us that even though he'd gone away all those years ago, he'd never stopped thinking of us. Clearly, we hadn't stopped thinking of him either because the video quickly went viral as we shared through tears.
It'd been almost 20 years since Steve Burns waved goodbye, and there he was just popping in to say hello and give fans reassurance that they mattered. I'm not sure how much that would've hit if we'd been living normally. However, with the weight of the world getting heavier by the day at that time, Steve Burns offered a particular group of people a level of much-needed kindness and it did not go unnoticed or unappreciated. 30-somethings, millennials, whatever you want to call this particular generation surround themselves more so than others in nostalgia for a multitude of reasons I won't get into here, but it's true. While the generation before us lives for "Live, Laugh, Love" decor and the one after does TikTok dances, we happily reside in memories constructed of our childhood pop culture. So when Steve, a core part of that, came through with this quick yet poignant video, we cheered in the blue light haze of our laptops, and in that moment Steve went from childhood comfort to adulthood hero.