Steven Universe turns 10, and Rebecca Sugar and the cast talk about the show's origins (and feelings!)
Watch the highlights of the Steven Universe: The Movie panel from New York Comic Con 2019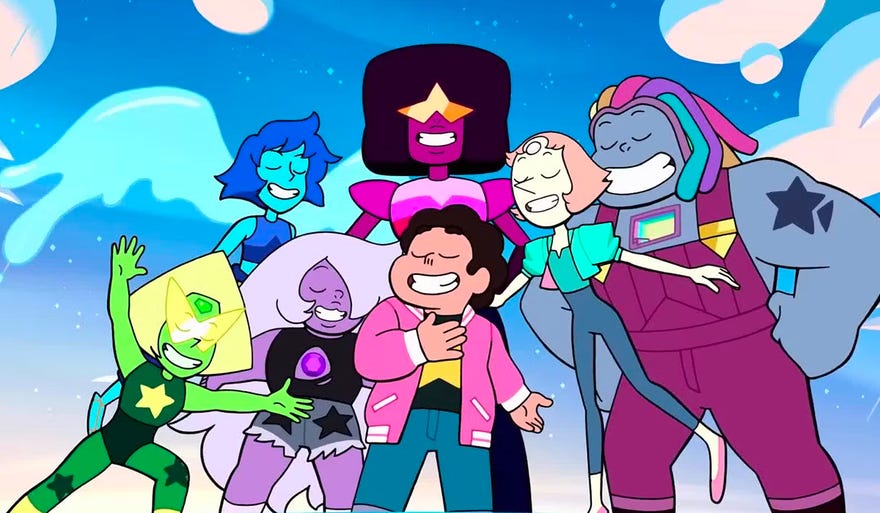 Somehow, this weekend sees the 10th anniversary of Cartoon Network's Steven Universe — the coming-of-age story about a young boy who is part-alien, part-human, and all heart — with the series having debuted back on November 4, 2013 before going on to win not just a GLAAD Media Award for Outstanding Kids & Family Program, but a Peabody Award for Children & Youth programming for its final official season in 2019.
The show, created by Adventure Time veteran Rebecca Sugar, won over a devoted fanbase during its five season (and a movie, and a sequel season) run, and with good reason: it was beautiful, hilarious, and thrilling all at once, with a willingness to explore unusual themes for animated shows, including those touching on gender, relationships, and trauma. (All served up with no small amount of humor and some great music, too.)
Here at Popverse, we're celebrating the anniversary by sharing highlights from a 2019 New York Comic Con panel for Steven Universe: The Movie, featuring Rebecca Sugar (writer and series creator), Michaela Dietz (Amethyst), Estelle (Garnet), Deedee Magno (Pearl), and Sarah Stiles (Spinel). Hear them talk about the creation of the characters, Steven's clothing choices, and — of course — how Rebecca Sugar is so good at making us feel things that even the coolest of cool have to admit to tearing up a little.
Watch the video below — and feel free to share your favorite Steven Universe episode in the comments below. (It's "Steven's Lion," isn't it? It is.)
---
Former Adventure Time storyboarder Sophie Yanow talks about her career.