We've just learned much more about the upcoming Stranger Things play
A trip to Hawkins which requires you to go to London.
The Stranger Things play which serves as a prequel to the famous Netflix TV series has just dropped plenty of juicy new details. We'd known about this long-anticipated production for a while, but Netflix and Sonia Friedman Productions had to lock down everything ahead of its late-2023 debut in London. Now, we've finally received the full rundown ahead of the first previews starting on November 17.
First of all, the streamer shared a three-minute featurette which takes fans and casual viewers behind the curtain to witness how Stranger Things was adapted into a stage play. This is part of the 'Stranger Things Day' celebrations shared by the official accounts. You can watch it below:
Stranger Things: The First Shadow takes place in Hawkins, 1959, which is described as "a regular town with regular worries." Characters such as Jim Hopper and Joyce Maldonado (David Harbour and Winona Ryder in the TV series, respectively) are part of the play, but the focus is put on "new student Henry Creel" and his family, who are seemingly haunted by "shadows of the past." Of course, fans of show know that learning more about Henry Creel's origins is a massive deal (we won't spoil it here if you haven't watched season 4), but sadly, you'll have to make a trip to London and grab some seats as soon as possible if you want to learn about it all first-hand.
The play is directed by Stephen Daldry (of Billy Elliot fame on the movie side of his career) and written by Kate Trefry (Stranger Things), with co-direction by Justin Martin. The cast includes Shane Attwooll (Chief Hopper), Kemi Awoderu (Sue Anderson), Chase Brown (Lonnie Byers), Christopher Buckley (Bob Newby), Ammar Duffus (Charles Sinclair), Gilles Geary (Ted Wheeler), Florence Guy (Karen Childress), Max Harwood (Alan Munson), Michael Jibson (Victor Creel), Oscar Lloyd (James Hopper Jr.), Louis McCartney (Henry Creel), Isabella Pappas (Joyce Maldonado), Matthew Pidgeon (Principal Newby), Calum Ross (Walter Henderson), Maisie Norma Seaton (Claudia Yount), Patrick Vaill (Dr Brenner), Lauren Ward (Virginia Creel), Ella Karuna Williams (Patty Newby), and Anika Boyle, Faith Delaney, and Imogen Turner (alternating the role of Alice Creel).
Stranger Things creators and showrunners the Duffer Brothers crafted and developed the story alongside Jack Thorne (Harry Potter and the Cursed Child) and Kate Trefry, so you can expect a prequel story that perfectly matches what was already teased in the series. Production opens on December 14 at London's Phoenix Theatre, with previews beginning November 17. You can get more information, including tickets and schedules, by visiting the official site.
On top of all these details, here's the full poster: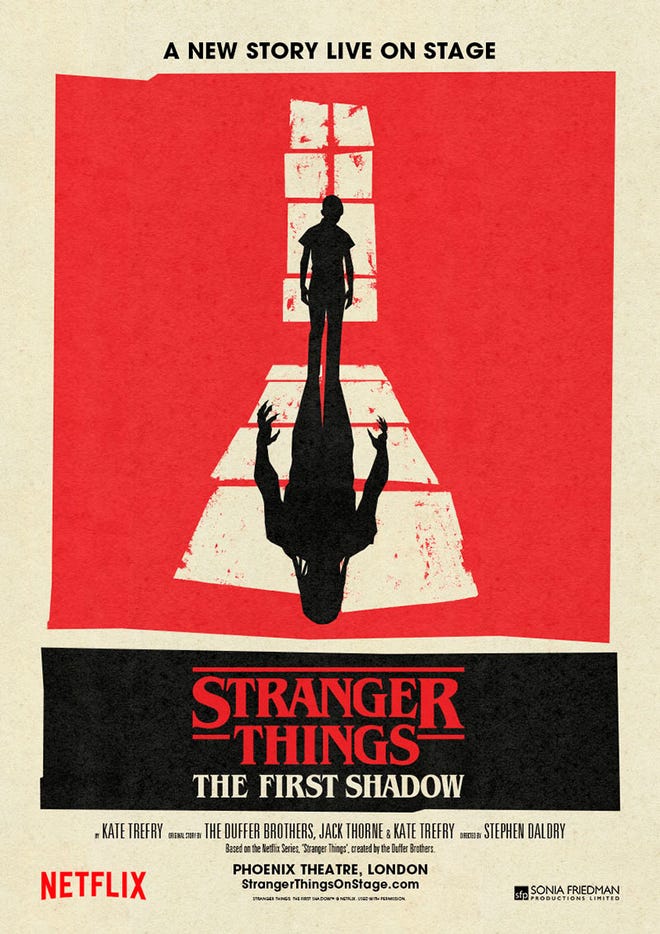 ---
While you wait for the fifth (and final) season of Stranger Things, you can also check out
the just-released, four-issue spinoff comic
from Dark Horse Comics which picks up story threads from season 4.