DC's Harley Quinn, Joker, and the Suicide Squad are starring in their own anime
DC is partnering with a major Japanese studio for a Suicide Squad anime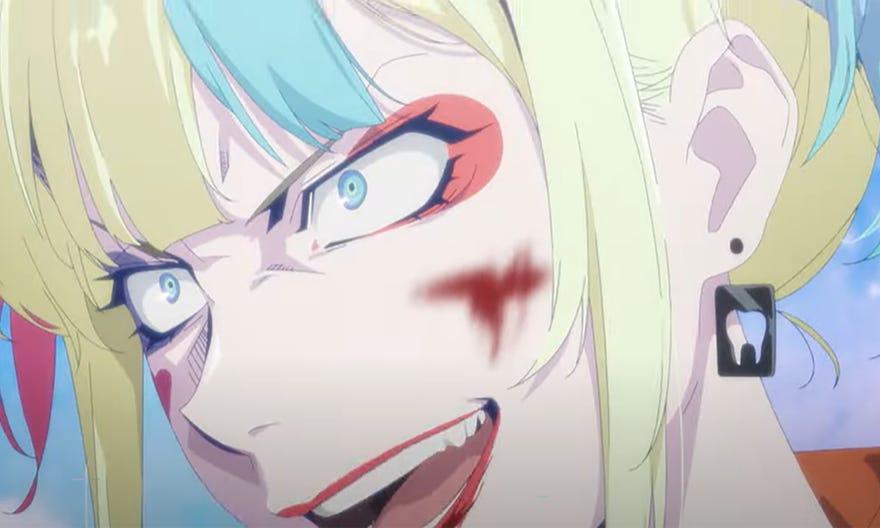 Some of your favorite DC heroes (and villains) are about to star in their own anime, as announced just now at Anime Expo 2023.
Suicide Squad ISEKAI will be an authentic anime starring DC's anti-hero Task Force X, and produced by WIT Studio - the famed anime studio who created the anime Attack on Titan and Spy X Family.
Popverse is live on the scene, liveblogging the entire Warner Bros. Japan X WIT Studio panel where this was announced.
"After our big success on Batman Ninja, we decided to take on this series, says Warner Bros. Japan's Hiroyuki Omori, who is an executive producer on Suicide Squad ISEKAI. When asked rhetorically by the panel host if this is a dream, he replies "this is not a dream. This is a made-in-Japan, totally original story set in an Isekai world."
What is the Suicide Squad ISEKAI cast?
Confirmed to be in the Suicide Squad anime are Harley Quinn, Deadshot (we gathered from Harley's pin in the concept art, which features crosshairs), Amanda Waller (seen in the trailer), and the Joker.
Among the character designs shown are a particularly arresting version of Harley Quinn with a black crown that reads 'Suicide Squad.' Harley's outfit looks punk meets skater girl meets motorcycle outfit.
The Suicide Squad anime's Joker has silvery-green hair, and wears a dress shirt, suit vest, and black gloves. Another design includes him in a purple suit, and a third in a knight vest with pinstripe trousers.
"Joker is a difficult character for us to tackle, because I think everybody has their favorite version of the Joker," says the director. "We were wondering which iteration of Joker we wanted to base on. We actually decided to make it totally original and not copy any specific iteration."
What is the Suicide Squad ISEKAI plot or story?
"Who has ever thought about mixing these two?" said one of the screenwriters, Tappei Nagatsuki, said in a written message. "But this is sure to be a dream project. Crazy villains go on a rampage in ISEKAI! It's nothing more, nothing less, and it can't be anything else!"
"This project is taking place in both Gotham City and Isekai world," says director Eri Osada, adding that they are playing with visual techniques to create contrast in those two realms. "Because it is Isekai, I got the express permission for DC characters to use magic."
What is the Suicide Squad anime release date?
The release date of Suicide Squad ISEKAI has not been announced yet. We would presume this would be a 2024 release at the earliest.
Is there a Suicide Squad anime trailer yet?
Yes! HEre is the Suicide Squad ISEKAI teaser which debuted at Anime Expo:
Who is working on SSuicide Squad ISEKAI?
WIT Studio is creating the Suicide Squad anime, in consultation with Warner Bros. Japan and DC. Eri Osada is directing Suicide Squad ISEKAI, based on a script by Tappei Nagatsuki and Eiji Umehara. Akira Amaon is doing the character designs for the Suicide Squad anime.
How does the Suicide Squad anime connect to DC Studios plarger plans?
Is this connecting to James Gunn's 10 year plan for DC? It's too early to say, although at Anime Expo WIT Studio president George Wada said Gunn has yet to reach out to him but that he hopes Suicide Squad Isekai will surprise him.
Osada calls the writers a "perfect combination when it comes to writing this scenario. I'm very very confident, and it is very reassuring to work with them."
---
Keep track of this and all the other DC movies with our superhero movie release schedule.