Marvel's Summer of Symbiotes: Breaking down the new and unusual symbiotes Marvel is introducing this summer
Breaking down some of the crazy Venom variants we'll be meeting in Summer of Symbiotes
If you love tongues, fangs, and symbiotic aliens, then you're going to love the summer of 2023. Marvel will be celebrating the 35th anniversary of Venom's first appearance with an event called 'Summer of Symbiotes'. Kicking off this May, the event will feature symbiote chaos throughout Marvel's various titles and show Venom getting the Spider-Verse treatment with a series called Extreme Venomverse.
Marvel previewed their Summer of Symbiotes publishing slate at C2E2, which included some exciting new characters. "We can't have a publishing push called Summer of Symbiotes without introducing some new awesome faces," Marvel editor Devin Lewis shared. "One of our goals was to try as many new things as we could. To try to put some new toys on the board, and to take you guys by surprise."
With that in mind, let's break down some of the new faces and returning favorites that were spotlighted.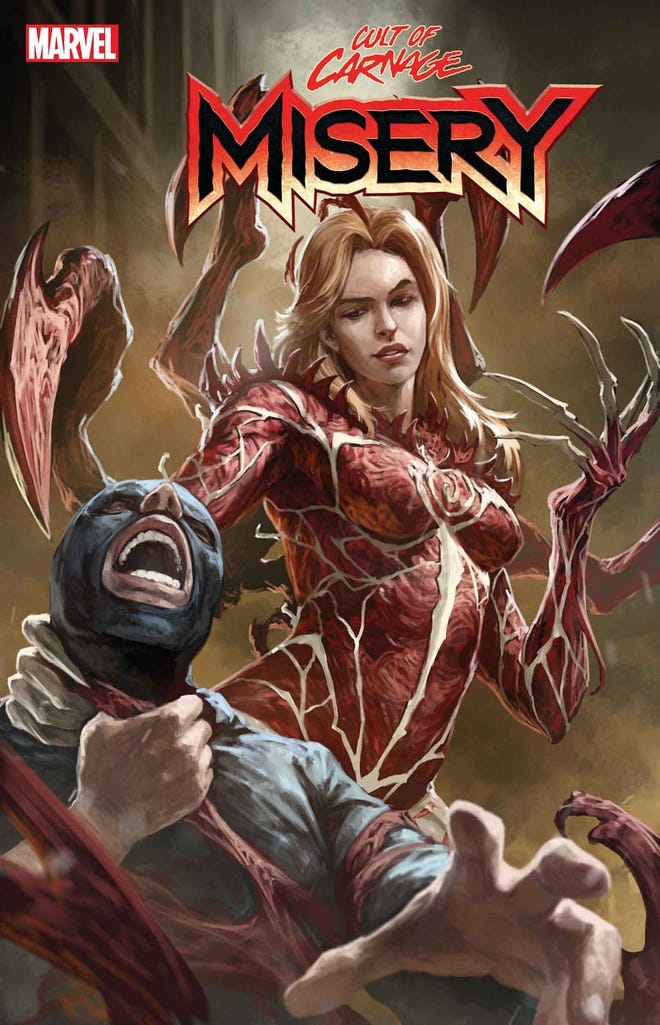 Misery
One of the newest symbiotes will be bonded to Liz Allan, one Spider-Man's oldest supporting characters. Liz was one of Peter Parker's classmates during the original Stan Lee and Steve Ditko run. She later married Peter's friend Harry Osborn and became a successful businesswoman in her own right. Liz is currently a single mother, raising her son Normie and adopted son Stanley.
The next phase of Liz's life begins in the limited series Cult of Carnage: Misery, which began May 3. "Liz Allan is going to be Misery," series writer Sabir Pirzada said at the C2E2 panel. "Liz Allan has a publishing history as long as Peter Parker himself, so it's really fun to shine a light on her, and embrace her whole history, and find her at a very interesting time in her life. Harry Osborn is dead, she is a single mom to Normie and Stanley, and all she wants is to provide a normal life for them. But her last name is Osborn, so that Is not going to happen."
According to Pirzada, Liz bonds with her symbiote to protect her two sons. "Her company has all these symbiote strands in its lab, so she's going to take matters into her own hands."
Grace
During the panel, some preview images were shown from Cult of Carnage: Misery. One of the images contained a monkey who was bonded with a symbiote. This monkey, named Grace, was a test subject in Alchemax Labs, the company that Liz owns. They've been running some experiments to try to figure out how to weaponize and generate some regenerative properties out of the symbiotes, and that has not been going well," Pirzada teased.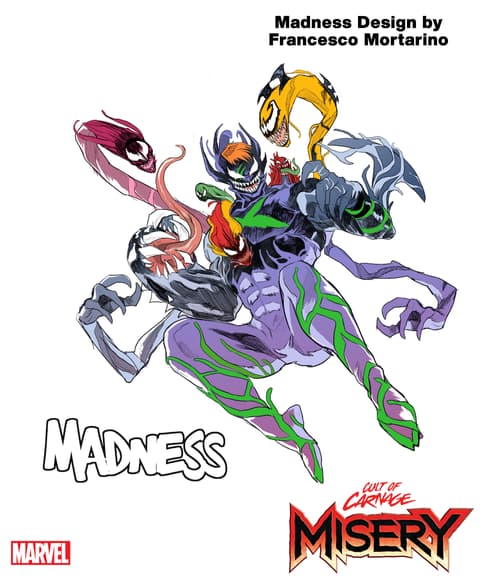 Madness
"We're going to be introducing an all-new villain to the symbiote universe who is called Madness," Devin Lewis said. "As longtime readers know, way back in the day Venom ate a puddle of toxic sludge. As a result, it kind of upset Venom's stomach a little bit, and a bunch of heads popped out on his shoulders. This is a little bit of a love letter to that moment in Venom's history. I'm hoping you're going to see a lot of him in the Marvel U."
Flexo
The next symbiote spotlighted was Flexo, a character who dates back to Marvel's Golden Age. Flexo is a reinforced robot who was first seen in Mystic Comics #1 (1940). The android was absent from comic books for decades until he was revived for the 2012 limited series Marvel Zombies Destroy. Now the machine will be getting his own symbiote.
"If you want to learn a little more about Flexo, you can go back to older issues," Lewis said. Flexo will cross paths with Eddie Brock over in Venom. "Al [Ewing] has picked him up and has done some really incredible things with him. They're not only going to blow your mind, but they're going to bend your mind a little bit. He's taken this character to some awesome and scary places."
According to Lewis, Eddie Brock and Flexo will be going on a time travel adventure in Venom #22. "We don't need to get into why, but Flexo and Venom find themselves in World War II."
Toxin
Devin Lewis also teased the return of Toxin. The symbiote had bonded with a teenage boy named Bren Waters during the 2021 event King in Black. Bren will be making a return in Venom #23, with some changes. "I know a lot of people have tweeted me about this, it is still Bren Waters in that Toxin symbiote. He is a little bit different, having been bonded with a symbiote for a year," Lewis shared.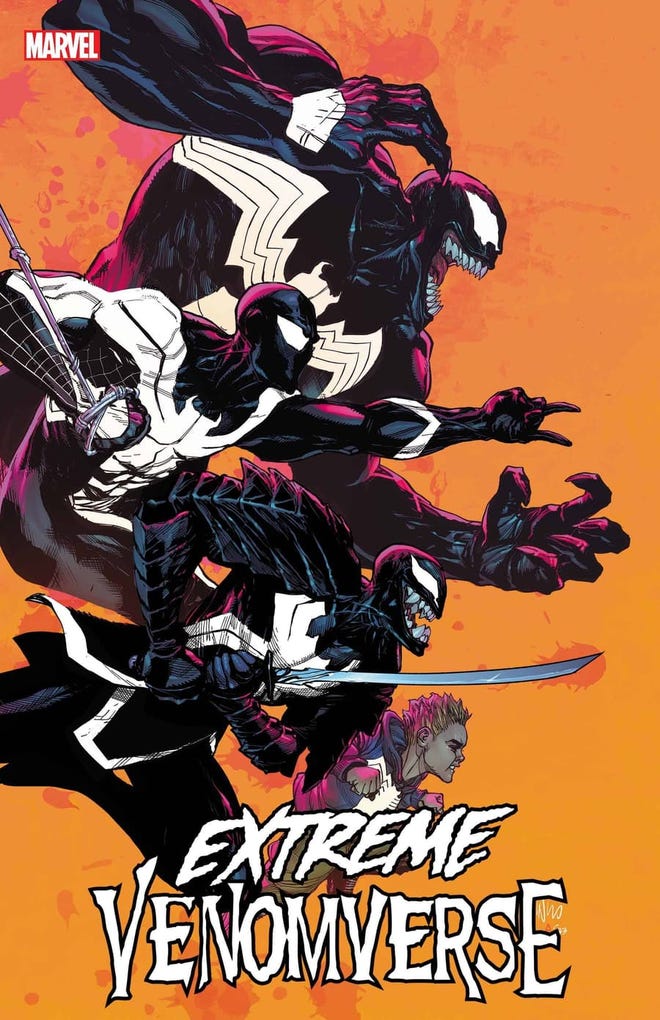 Samurai Venom
The limited series Extreme Venomverse was also previewed. The comic will give Venom the Spider-Verse treatment, introducing fun multiverse variants of the symbiote. Devin Lewis pointed out the Samurai Venom who could be seen on the cover of Extreme Venomverse #1. "There's also a Samurai Venom, in a story from Leonardo Romero and it is amazing," Lewis shared.
Eddie Brock as Spider-Man
Extreme Venomverse will also contain a story from Ryan North and Paulo Siqueira that puts a twist on Marvel history "The conceit of this story is that in the moment where Peter Parker rejected the symbiote in the bell tower, the strain on Peter's body from repelling the symbiote became too great. In that moment Peter died. Left with his sense of guilt and responsibility, the symbiote found a willing host in Eddie. It's an emotional, kickass, heartfelt, gut punch story that I think you're going to love."
Life Model Venom
Extreme Venomverse writer David Pepose took the opportunity to talk about a new Venom variant that he had created. According to Pepose, he had been inspired by a cyborg version of Spider-Man he had seen in the '90s. "Devin knows that I love '90s comics, so when he called with this idea, I had to run with it, Pepose shared. "There's a moment in Venom's past where we bond the symbiote with something else, specifically a SHIELD life model decoy that they built to cage and harness symbiotes. Of course, things do not go according to plan."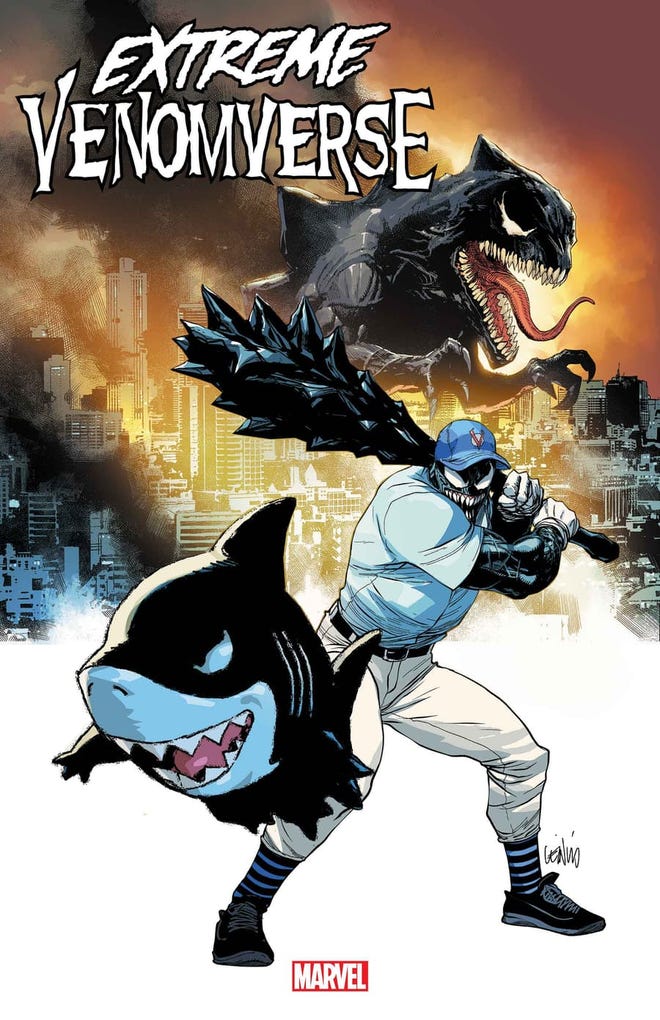 Venomized Jeff The Land Shark
It doesn't matter how cute you are, nobody is safe from being Venomized. The fan favorite character Jeff the Land Shark will be getting his own symbiote in Extreme Venomverse #5. "Kelly Thompson and Gurihuri are reunited. Jeff gets a symbiote all his own," Lewis teased. How much trouble can a tiny land shark cause with a symbiote? It's Jeff, so most likely a lot.
Major League Venom
It's Venom at the bat! Another symbiote featured on the Extreme Venomverse #5 cover seemed to be dressed like a Major League Baseball player. Lewis and the rest of the panel dubbed this symbiote Major League Venom. "There's a pet project of mine that I've loved for years. What that story looks like, you're going to find out," Lewis said. The story will be written by Jordan Blum.
This briefly caused the panel to debate if Eddie's allegiance was to the Yankees or the Mets. "I bet Eddie is a Giants fan, because he's from San Francisco," Lewis concluded.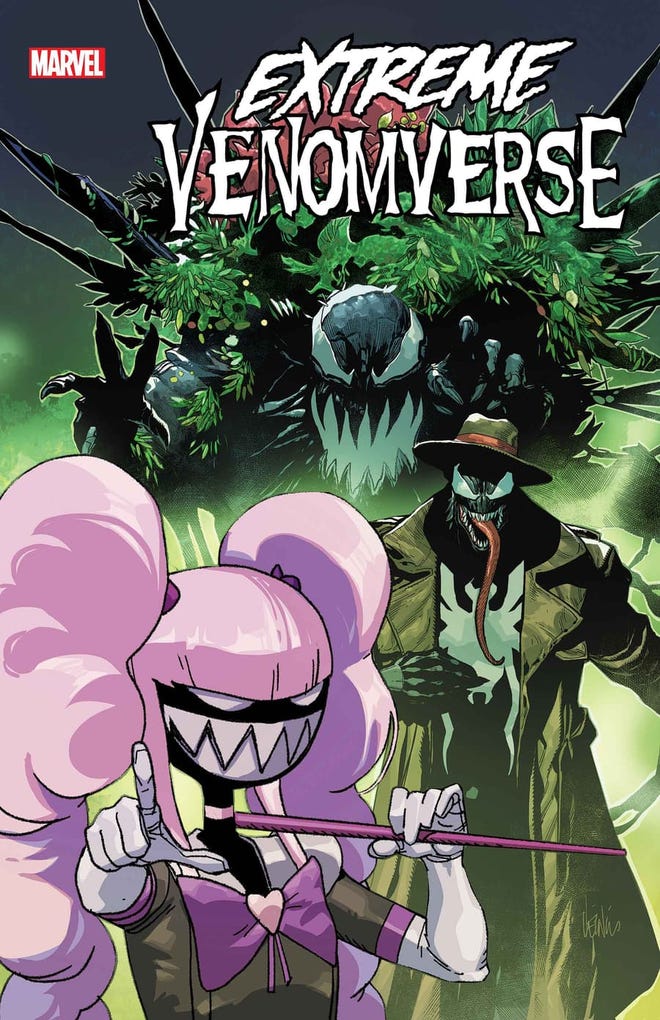 Venomblom
Lewis then pointed to a giant plant version of Venom on the cover of Extreme Venomverse #4. This character is named Venomblom, and they were developed by comic book industry superstar Peach Momoko. "That's from Peach Momoko, and it's unbelievable," Lewis said. "It's a character she has wholly created. Peach is currently doing amazing things on Demon Wars. She is bringing that same energy, style, and her voice and vision to her Venom story. It's one of the most gorgeous stories I've ever seen."
Billy?
The cover to Extreme Venomverse #4 features a Anime inspired symbiote who looks like a demonic young girl. This character is so mysterious that Marvel didn't share her codename during the panel or in the solicitations. "That's a character that we're going to call Billy for now," Lewis said. "You'll have to read the story to discover their secret codename. She's a symbiote unlike anything you've ever seen, in a story from Alyssa Wong and Ken Niimura."
This seems to be the tip of the iceberg. Other images shared included a Venomized version of Spider-Man Noir and a dinosaur. By the end of the summer, it seems like every animal, vegetable, and mineral will have their own symbiote. Marvel is going all in on symbiotes, and things are going to get wild. For more symbiote madness, keep your eyes peeled here to Popverse as we continue our coverage of Venom, Carnage, and all of their new symbiote siblings.
---
Keep track of Marvel's other big summer event with our Ultimate Invasion guide.