Superman: The Man of Steel and his son have The Talk
With Jon and Clark Kent reunited at last, the two Supermen have a frank discussion about Jon's sexual orientation in an overdue and honest father-son talk
In more ways than one, Jon Kent has been forced to grow up faster than he or his parents Clark Kent and Lois Lane anticipated. Whisked away by his Kryptonian grandfather Jor-El, Jon spent much of his teenage years trapped on Earth-3, imprisoned by his father's morally inverted doppelganger Ultraman. Shortly after Jon returned, his father had his own extended time off-world to overthrow the extraterrestrial despot Mongul from his domain on Warworld. Finally reunited, Jon and Clark have an overdue talk in Superman: Son of Kal-El #17, by Tom Taylor, Cian Tormey, and Ruairi Coleman, with Jon coming out to his father as bisexual.
A touching moment between father and son, the heartfelt conversation highlights the series' strengths and the emotional possibilities within the dynamic between the two Supermen. Jon's bisexuality is one of the most buzzed-about elements from Son of Kal-El, with the character's coming out receiving major news attention and online commentators addressing Jons sexual orientation. Here's how Jon comes out to his father, why this discussion was a long time coming, and how Jon's bisexuality has informed his development as the DCU's new Superman.
Jon and Clark have the Talk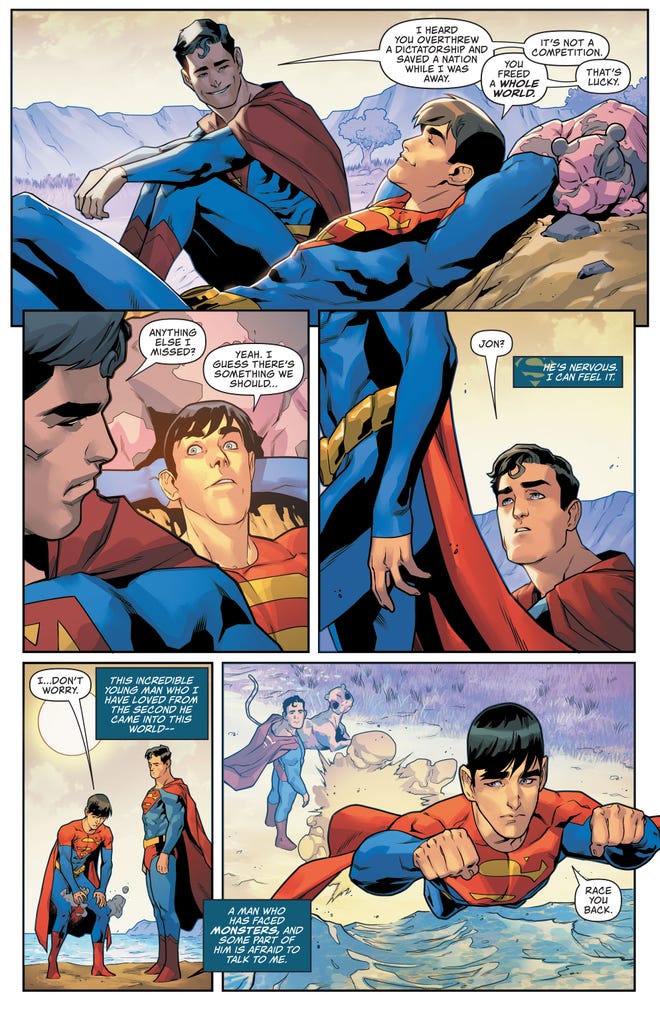 As Jon and Clark revel in being reunited after so much uncertainty and time apart, the two race each other across the cosmos to another planet. After reaching their destination, Jon considers telling his father about his sexual orientation but nervously decides to simply race Superman back to Earth instead, with Clark immediately picking up on his son's anxiety. The matter isn't revisited until Jon has something of a bedside confession shortly thereafter, following an incident where Jon temporarily loses his powers while confronting a mysterious new enemy.
As Jon recovers under Doctor Mid-Nite's effective medical care, Superman witnesses his son visited by his boyfriend Jay Nakamura, who is an aspiring superhero in his own right. In a private moment, Jon admits to Clark that, while he never anticipated his father would reject him over his sexuality outright but that he would detect even the briefest trace of disappointment or disapproval that would forever taint their normally harmonious relationship.
Quick to point out that his analogy doesn't sync up completely with Jon's experiences, Clark recounts that he was afraid to reveal his true self and powers to his parents growing up for fear that they wouldn't accept him. This led to a lonely childhood for the future Man of Tomorrow due to this conscious repression. Clark assures Jon he doesn't view anyone less for being who they truly are and with who they truly love, with the father and son even closer together as they face the future side-by-side.
A Superman for a better tomorrow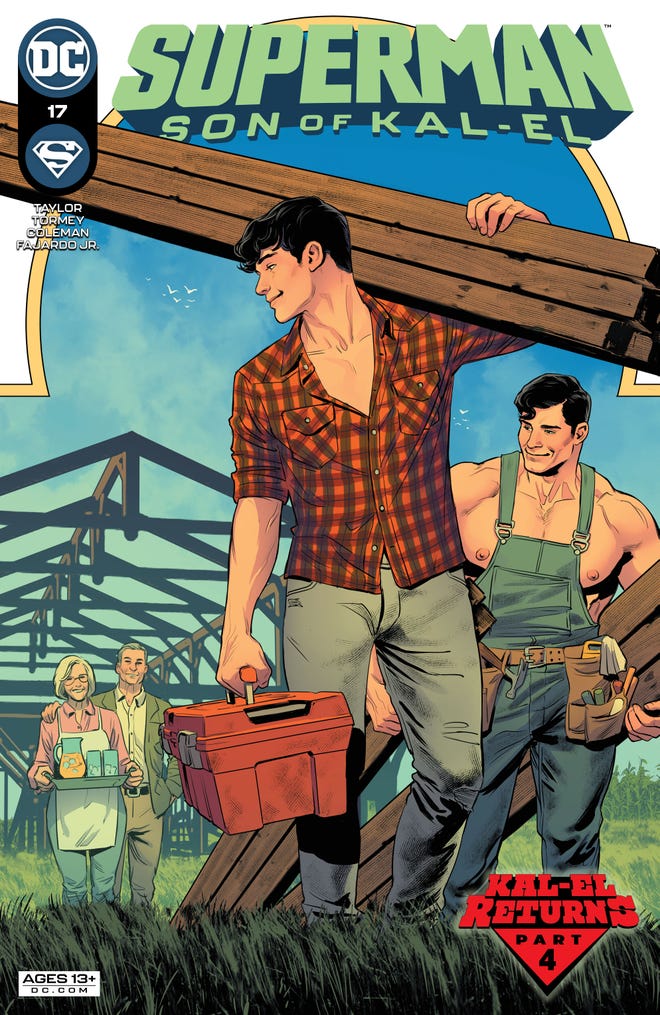 Ever since he inherited the mantle of Superman while his father was on Warworld, Jon has quickly proved himself to be a much different superhero than Clark. Much more proactive than his father had been, Jon was more willing to stand up to corrupt government officials and corporations while directly confronting unjust political leadership around the globe. Whereas Clark exercised restraint in where and how he applied his as Superman due to otherworldly origins, Jon's status as a native of Earth led him to take a more hard-lined approach to heroism, addressing injustice wherever he saw fit.
Jon's romance with Jay blossomed in Superman: Son of Kal-El #5 by Taylor and John Timms as Jay helped Jon get control of his powers. Eventually keeping their relationship out of the public eye, Jon and Jay openly kissed after overthrowing the villainous Bendix in Superman: Son of Kal-El #15 by Taylor, Tormey, and Scott Hanna, with their romance documented by bystanders present, effectively making it public in the DCU with the happy couple not particularly minding being publicly outed.
The Fan Reaction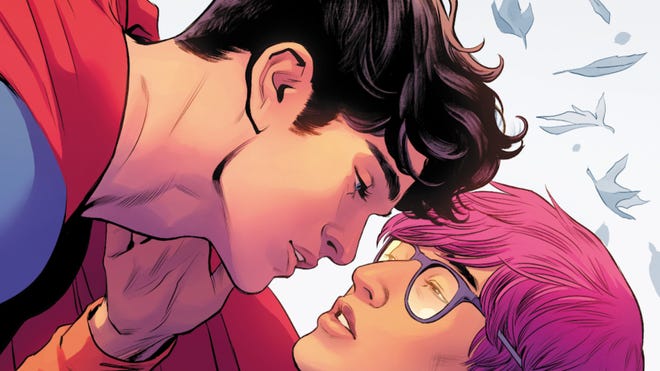 The revelation of a bisexual Superman was a creative decision not without an amount of vocal controversy. Both Arizona State Senator Wendy Rogers and former Superman actor Dean Cain would accuse Jon's bisexuality as a prominent example of a major pop culture icon turning towards a force social justice agenda, with Rogers apparently confusing Clark for the bisexual Superman in her tweet – observing that Superman should always love "Louis Lane" – while Cain felt the decision was neither bold nor brave and that Jon's agenda against climate change and corporations ignored other real-world issues.
In the face of online commentators labeling Superman: Son of Kal-El as a commercial failure, Taylor and DC pointed out that Superman: Son of Kal-El was an "unprecedented" sales success, leading to reprints of the first several issues. This toxic vitriol was reignited with the announcement that Superman: Son of Kal-El would end with its 18th issue, with Taylor describing the move as a rebranding of the series while citing strong sales figures for the series' digital performance.
Fathers and sons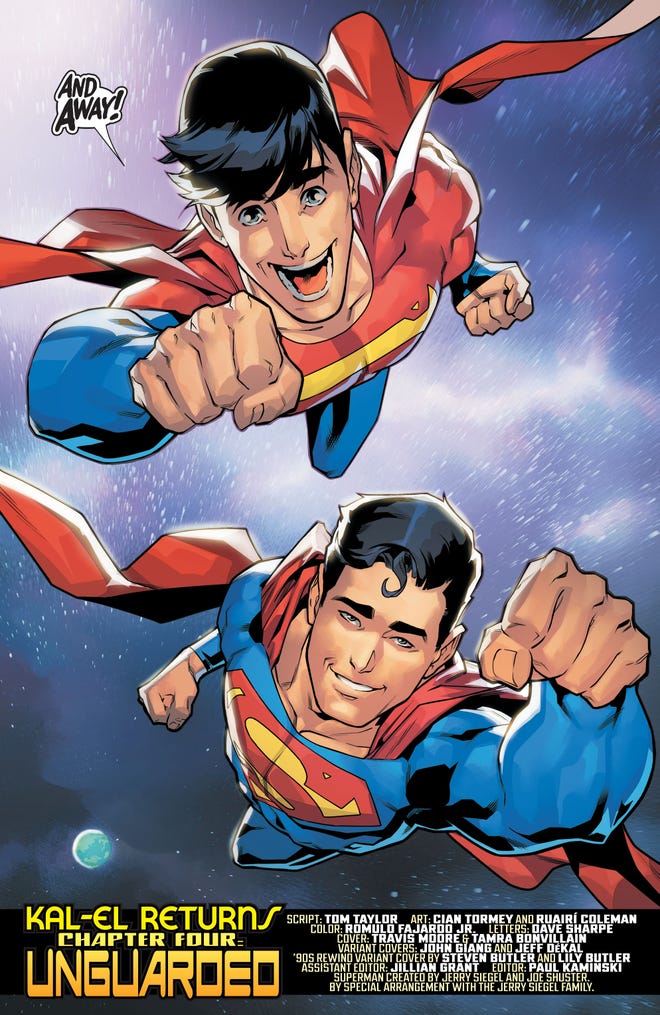 When Jon Kent stepped up to become a superhero, he largely echoed his father's own footsteps, from partnering up with the son of Batman to becoming a prominent member of the Legion of Super-Heroes. When Jon assumed the mantle of Superman, he was filling a void left by his father while making the iconic superhero role his own in contrast to how Clark approached saving the world on a daily basis with his more socially conscious direction in the role.
In the time that Clark was away liberating Warworld from Mongul, Jon not only put his own stamp on the Superman legacy but had his own coming-of-age journey as he learned more about himself and his sexual identity. After Jon came out as bisexual with his boyfriend Jay, most of the DCU learned that the new Superman is queer, with the exception of one of the most important people in Jon's life – his father.
Reunited at last, Jon and Clark have finally had the talk about Jon's burgeoning sexuality and the two have grown all the closer for it. Of all the familial dynamics throughout the DCU, the father-son bond between Clark and Jon Kent is one of the strongest and that firm foundation continues to endure as Jon becomes his own man and one that is completely honest and open with himself. Jon Kent is a Superman for a new generation with his own mission and, with his father's blessing, he has received the biggest vote of confidence to continue to be his best, true self.
Written by Tom Taylor, illustrated by Cian Tormey and Ruairi Coleman, colored by Romulo Fajardo, Jr., and lettered by Dave Sharpe, Superman: Son of Kal-El #17 is on sale now. The story continues in Superman: Son of Kal-El #18, on sale Dec. 13.
Where is the young Superman going in 2023? Jon Kent leaves the Superman nest in 2023 with new Adventures of Superman series.