Rest easy, here's what you need to know about That Time I Got Reincarnated as a Slime
Everything you need to know about the light novel-turned-manga-turned anime hit That Time I Got Reincarnated as a Slime
One of the latest manga/anime franchises to catapult itself into international success is the fantasy series That Time I got Reincarnated as a Slime. After making its debut as an online light novel series created by Fuse and Mitz Vah, the story has since been adapted into manga and anime, with the core series receiving several spinoffs of its own.
And with That Time I Got Reincarned as a Slime continuing to thrill fans around the world with no signs of slowing down, here is a guide behind the popular franchise and its steady expansion into new mediums.
That Time I Got Reincarnated as a Slime publishing history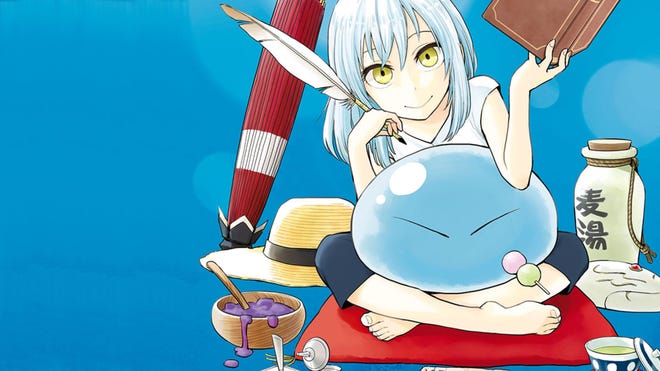 That Time I Got Reincarnated as a Slime was launched in 2013 by Fuse, with illustrations by Mitz Vah. As a light novel, the format saw a greater emphasis on prose, with Mitz Vah's artwork offering readers a glimpse into the strange fantasy world and its characters. With both its original author and artist using pseudonyms, the creative team's actual backgrounds remain largely under wraps to the general public.
That Time I Got Reincarnated as a Slime saw a print release by Micro Magazine starting in 2014, with the online, free-to-read format concluding in 2016. An official English language translation was published in North America by Yen Press starting in 2017. As of November 2021, there are currently 19 volumes of the light novel series in all, with Fuse hinting that the novel series will end with its 22nd volume.
An adaptation of the main series in the traditional manga format began in 2015, by Fuse and artist Taiki Kawakami, published through Kodansha. An official English language translation is published and distributed in North America by Kodansha USA, with the first volume debuting in 2017. As of March 2022, there are currently 20 volumes of the main manga series.
In 2016, the spinoff manga series That Time I Got Reincarnated as a Slime: The Ways of the Monster Nation saw Fuse team up with artist Shō Okagiri. Launched by Micro Magazine and receiving an official English language release by Yen Press, the spinoff ran for eight volumes before concluding in January 2021, with the final North American translated volume set for publication in July 2022.
A second manga spinoff series, The Slime Diaries: That Time I Got Reincarnated as a Slime, was launched by Fuse and the artist Shiba in 2018. Published in Japan and North America by Kodansha, The Slime Diaries ran for five collected volumes, with the spinoff series concluding in March 2021.
A third spinoff series, That Time I Got Reincarnated (Again!) as a Workaholic Slime, was launched by Fuse and artist Shizuku Akechi in 2018 through Kodansha. The story was collected in two volumes after ending its run in 2019.
The fourth and most recent spinoff series, That Time I Got Reincarnated as a Slime: Clayman's Revenge, by Fuse and artist Wataru Kajika began its serialized run through Kodansha's monthly shōnen manga magazine Monthly Shōnen Sirius on April 26, 2022.
The Story So Far in That Time I Got Reincarnated as a Slime…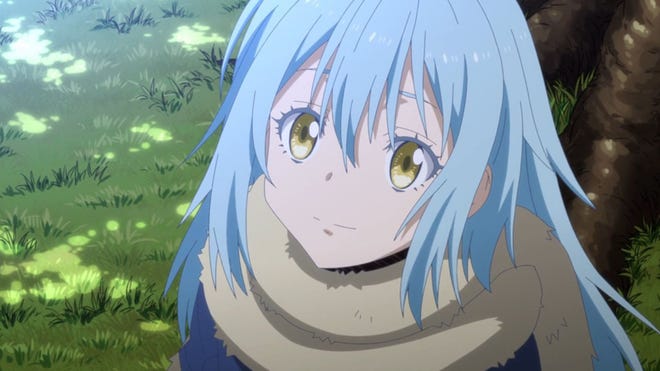 That Time I Got Reincarnated as a Slime begins with Satoru Mikami, a typical salaryman in modern-day Tokyo, being abruptly murdered by a stranger. After hearing an ominous set of indecipherable commands, Satoru learns he has been reincarnated in a strange, medieval fantasy world as a lowly slime creature. As Satoru acclimates to his new lease on life in this bizarre realm, he discovers he can mimic the appearance and abilities of certain things that he devours.
After earning the name Rimuru Tempest, the newly reborn slime consumes the mythical storm dragon Veldora and becomes the de facto leader of the Great Forest of Jura in this fantasy world. Monsters and humans alike attempt to take advantage of this power shift, with Rimuru leaping into action to defend a village of goblins from a pack of dire wolves, earning the allegiance of both and learning he can use his magic to upgrade them individually. Over the course of the series, Rimuru takes on more and more responsibility and leadership roles in this world, making plenty of innocent mistakes along the way.
Rimuru encounters a masked adventurer named Shizu, discovering that the young woman was a Japanese girl from World War II transported into this fantasy world by the villainous Demon Lord named Leon Cromwell. Using Shizu's body as a vessel, Leon had her possessed by a fire elemental named Ifrit to carry out his destructive bidding. While Shizu suppresses Ifrit from taking total control through her mask, she begs Rimuru to absorb her before she loses herself completely. Rimuru complies and is able take on human form after this, in a genderless facsimile of Shizu's body.
As RImuru's list of allies grows, he faces his first major test when an army of orcs threaten the communities in the Great Forest of Jura under his protection. This leads to a fearsome showdown, with Rimuru eventually learning the orcs are being manipulated by a shadowy Demon Lord known as Clayman. Now with the orcs joining his alliance, Rimuru leads the newly formed Jura Tempest Federation while rival kingdoms seek to eradicate this nation of monsters, with Clayman and Leon continuing to lurk in the shadows.
For all the medieval fantasy action, That Time I Got Reincarnated as a Slime has a noticeable sense of humor about itself and the world that it introduces to audiences. However, there are still plenty of genuine emotional moments in the story as Rimuru makes new friends across the fantasy kingdom.
That Time I Got Reincarnated as a Slime anime adaptation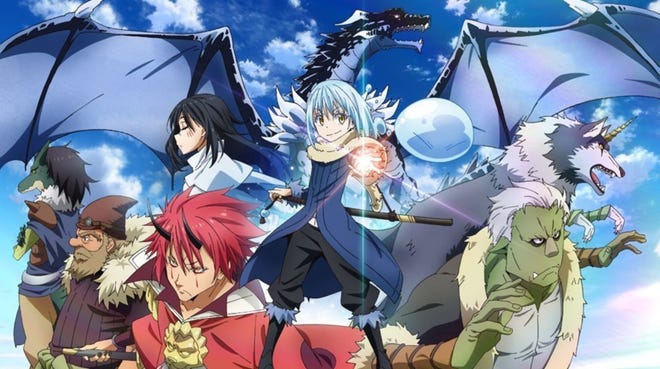 An anime adaptation of That Time I Got Reincarnated as a Slime, produced by the Japanese animation studio Eight Bit and directed by Yasuhito Kikuchi, premiered in October 2018 and concluded March 2019. Running for 24 episodes and five short specials, the first season of the That Time I Got Reincarnated as a Slime anime series streamlines that light novel/manga story to present a more briskly paced adaptation. The first season concludes with Rimuru training Shizu's students at the Kingdom of Ingrassia's Freedom Academy only to discover that there was a threat lurking among them looking to upend the fragile peace.
Production on a second season was delayed by the COVID-19 pandemic before premiering in January 2021 and concluding September of that year. Featuring the same creative team as the first season, the anime series returned to center on the intrigue and tension between rival kingdoms in the fantasy world. Rimuru found himself as the head of the Tempest Kingdom, a nation of the allied monsters, and attempted to broker peace while the Kingdom of Falmuth went on the offensive. This has led to Rimuru and his friends becoming targeted by the cunning Demon Lord Clayman, resulting in an epic war of swords and sorcery.
A spinoff anime series adapting The Slime Diaries, also produced by Eight Bit and directed by Yuji Haibara, aired in 2021 from April to June. That Time I Got Reincarnated as a Slime is available to stream in North America through Crunchyroll, with the first season divided into two installments for its home video release.
Multimedia Future of That Time I Got Reincarnated as a Slime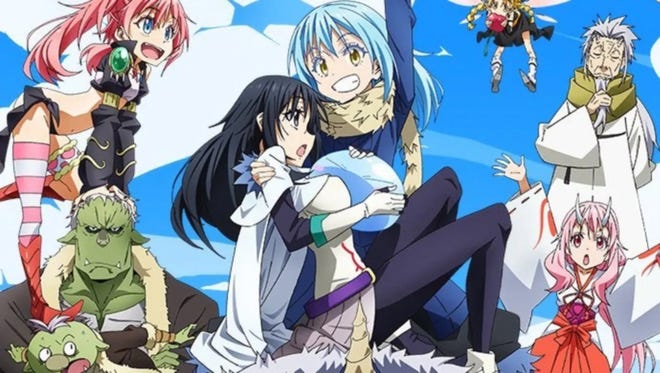 Following the conclusion of the anime series' second season, news came that it will be receiving a continuation anime film November 2022. Titled That Time I Got Reincarnated as a Slime: Scarlet Bonds, the franchise's first film has Rimuru and his friends travel to the land of Razha where they encounter a mysterious girl with powerful abilities. Meanwhile, Rimuru's ogre friend and confidant Benimaru finds himself targeted by a vengeful swordsman named Hiro, promising a heated confrontation.
Scarlet Bonds is canonical to the events of the anime series, with the main voice cast returning to reprise their fan-favorite roles. The film features an all-new story written by Fuse himself, to bring the franchise its most epic tale yet.
In addition to the anime series and film, That Time I Got Reincarnated as a Slime has been adapted into a mobile game by Bandai Namco Entertainment, That Time I Got Reincarnated as a Slime: ISEKAI Memories. Released worldwide in 2021, the game has players build their kingdom while engaging in RPG combat with characters and moves straight from the anime.