The Adventure Zone Vol. 4 is Coming: How to Get on the Battle Wagon Now
Whether you are an Adventure Zone fan or looking to get into the series, I welcome you heartily and cannot wait to begin this journey.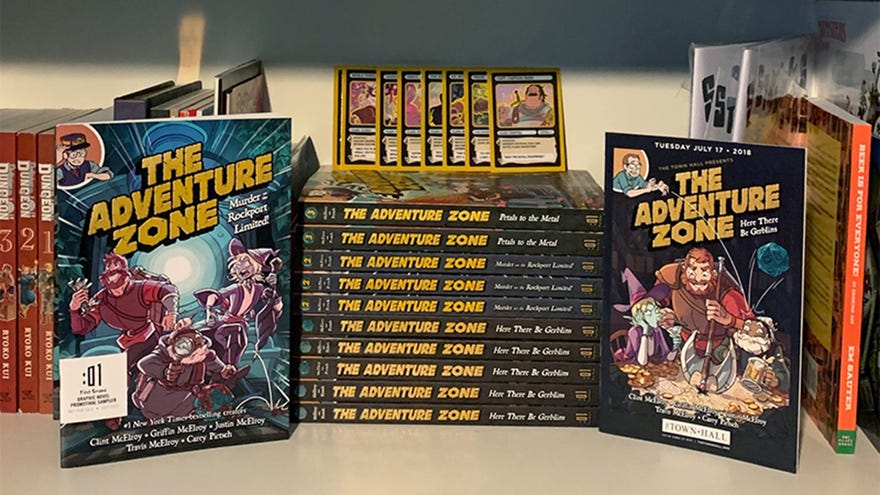 If you're here, you're probably already a fan of The Adventure Zone, and may I say "Hail and Well Met" to you all. For anyone who opened this thinking, "Maybe I should get into this New York Times triple best-selling graphic novel," I welcome you heartily and cannot wait for you to begin this journey.
A quick recap: The Adventure Zone (TAZ for short) began as a podcast including three brothers and their Dad exploring comedy and storytelling through a loosely played version of Dungeons and Dragons. Your DM and best friend Griffin McElroy is the storyteller that brings to life a world for Justin, Travis, and Clint to play in. In this story you'll meet a sassy and egotistical flip Wizard named Taako, and a headstrong quick to rush in Fighter/Rogue named Magnus Burnsides, and a truthful yet forgetful Cleric named Merle Highchurch. Fans everywhere attached themselves to these characters, including the eventual graphic novel co-adaptor Carey Pietsch. The story evolved and Griffin's weaving of narrative with his band of unforgettable NPCs, the 69 episode long campaign swept thousands of podcast listeners away.
So of course, it had to be brought to life visually.
Carey Pietsch has now illustrated for Here There Be Gerblins (Vol. 1), Murder on the Rockport Limited (Vol. 2), and Petals to the Metal (Vol. 3), each of which has hit New York Times best seller status. The love and care that Carey and her evolving team of creatives put into adapting this series is unmatched. Comic creation truly takes a village. The third book had some great talents working on it, including lettering from Tess Stone, flatting from Megan Brennan, Ensley Chau, Leigh Davis, Suzanne Geary, Luke Healy, Hien Pham, and Cassandra Tassoni.
If you're interested in the process of how to bring an audio medium into a printed book, watch their panel including book editor Alison Wilgus, Carey and the McElroys (they come in at 33:10). You'll get some great behind the scenes insight on how the team chooses what pieces of the podcast to keep without losing too much of the flavor/humor of the story, and the challenges of working within a page count. Bonus, you'll get to see some preliminary sketches from Carey that may only be legible to her.
One of the joys of being a fan of the McElroy podcasts is you can catch Carey sliding in goofs from their other podcast "My Brother, My Brother and Me." She can truly capture the essence of the McElroys in every page and it is appreciated by fans everywhere.
So Let's Talk Book Three: Petals to the Metal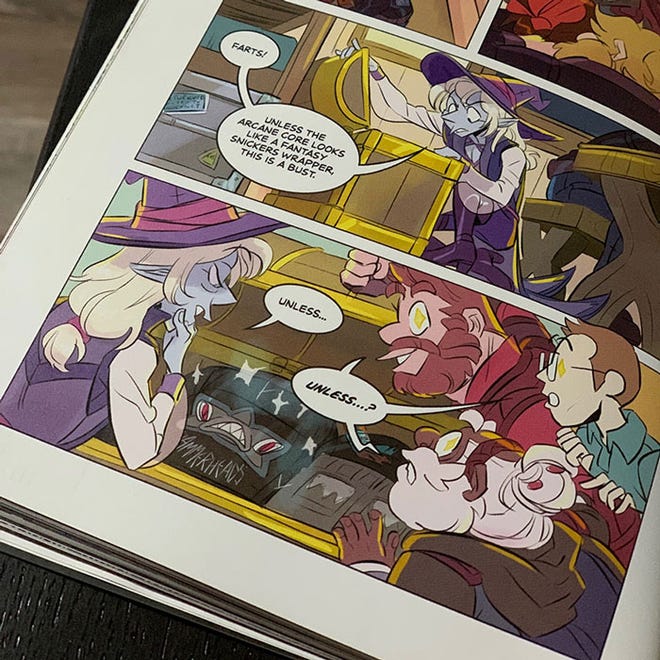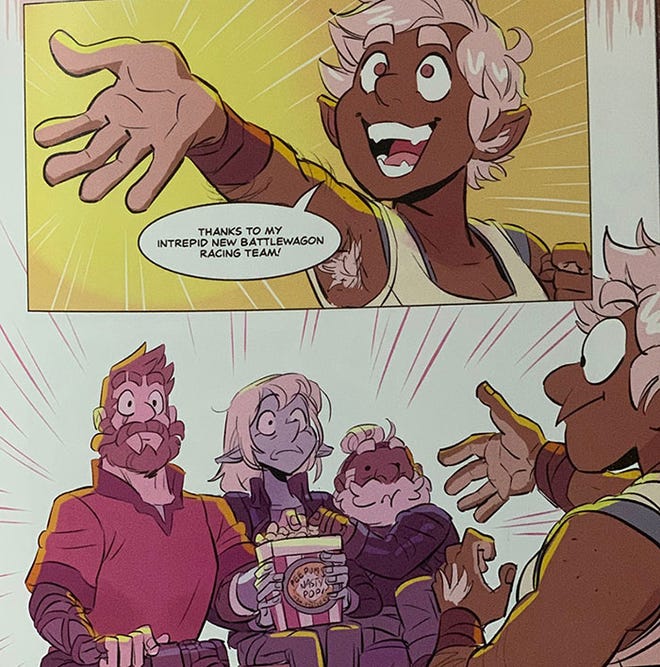 This book has the privilege of not needing a ton of exposition in the front end, so we get to jump right into Taako, Magnus, and Merle's next adventure. In this case, it's finding the Gaia Sash for The Director of the Bureau of Balance, before it and its user destroys the town of Goldcliff.
I found this arc to be one of the more challenging ones to follow on the podcast because it needed to describe so many different battle wagons and the actions of flying/jumping/drowning during the high octane race that ensued. Imagine high-fantasy Mad Max. Translating this to a visual medium solved that for me. I was able to see each of the wagons and their eventual demise and also see the introduction of none other than extra cool Garyl the Binicorn. This was also the first book to make me cry from how touching the end was to take in visually, but I won't spoil that for you. It's a romance you need to experience.
The amount of jokes from this arc are endless, with Merle flirting with massive vines overtaking a building to the dismay of his real-life sons, the unfortunate pantsing of Magnus in the fantasy elevator, and the return of fan favorite character G'nash from Book 1. However, we do get one of Taako's greatest and more serious lines in this chapter, which has since become a fan favorite.
What We Have to Look Forward to in Book 4: Crystal Kingdom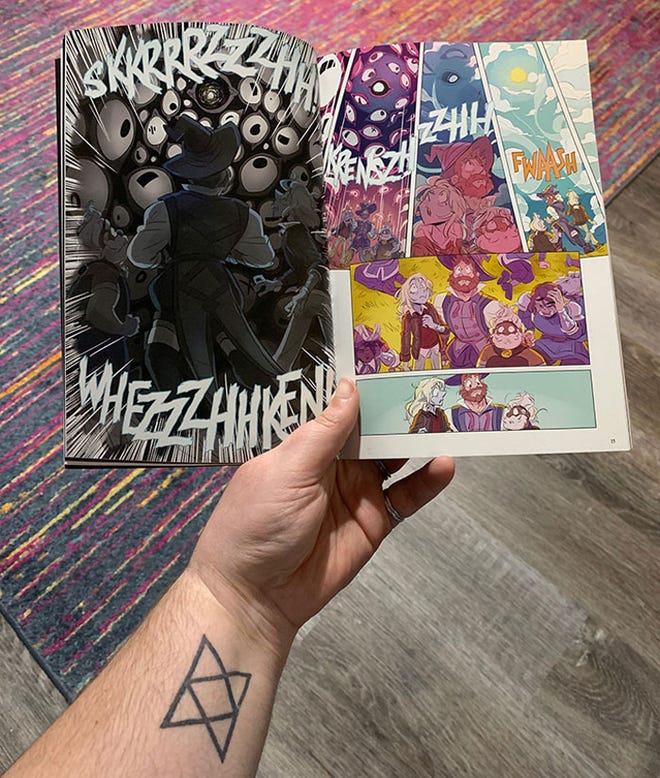 There are a lot of important characters being introduced in this arc, including Lucas Miller, a genius scientist who has a relationship to the Bureau of Balance that is somewhat unclear and is in desperate need of saving during this chapter, NO-3113 (pronounced Noelle), a helpful robot that accompanies Taako, Magnus, and Merle through Lucas' Lab, and Upsy, one of Lucas' early creations that in descriptions is a nightmarishly friendly talking elevator. (Griffin has a thing for fantasy elevators.) Not to be outdone, we'll also meet Kravitz who plays a very important role in Taako's journey through the rest of the Balance storyline.
What we did get a very small taste of in Petals to the Metal was the "phenomenon" with all the eyeballs, and the first introduction of the "red robes." We'll begin to see more and more of these in future books, and I am so excited to see how each of these entities evolve. Emotions will continue to run high, and equally so, Tres Horny Boys will continue to stumble their way through Griffin's puzzles.
Have I hooked you? If so, you can pick up the first set of graphic novels from Bookshop here. The Adventure Zone: Crystal Kingdom comes out next summer. If you can't wait until then, you can listen to the podcast version of it at McElroy.family or wherever you find podcasts. To get even more McElroys make sure to tune in to the NYCC x MCM Metaverse panel, The Adventure Zone Graphic Novel - The Crystal Kingdom.