The Marvels movie buzz prompts sellout of a quintessential Captain Marvel comic (but more is coming!)
Comic-based movies sell comic books. Surprising, huh?
Comic-based movies sell comic books.
Surprising, huh?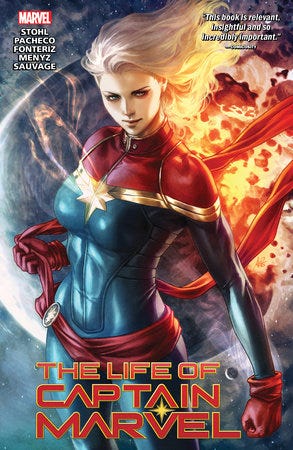 On the eve of the release of Marvel Studios' The Marvels, the company's comic publishing division - the R&D department of the big engine that is Marvel - informed retailers that one of the character's core comic book collections had sold out.
2018's The Life of Captain Marvel by writer Margaret Stohl and artists Carlos Pacheco and Marguerite Sauvage is the book in question. Originally created to coincide with the release of the original Captain Marvel movie, it was expertly created to be the quintessential modern Captain Marvel primer - not just with story, but some amazing art to boot.
Good news through, Marvel is rushing a new printing out - to hopefully get here before the holidays.
That dosn't neccesarily mean your local store is out of them, or even an online bookseller like Amazon - they likely have copies, but if they wanted more in the next few weeks there might be a bit of a delay.
As of this writing, Amazon has copies of The Life of Captain Marvel in stock - and digital editions that'll never sell out.
---
For more on this movie, read our massive guide to The Marvels ending - from the final moments, to the credits, to th mid-credits scene, and even that post-credits scene you might miss. Spoilers, obviously.