The next film by anime icon Makoto Shinkai has been confirmed worldwide theatrical release
After wowing audiences with the films Your Name and Weathering with You, writer/director Makoto Shinkai's next film has already finalized a worldwide theatrical release
After wowing audiences with the films Your Name and Weathering with You, writer/director Makoto Shinkai's next film has already finalized a worldwide theatrical release.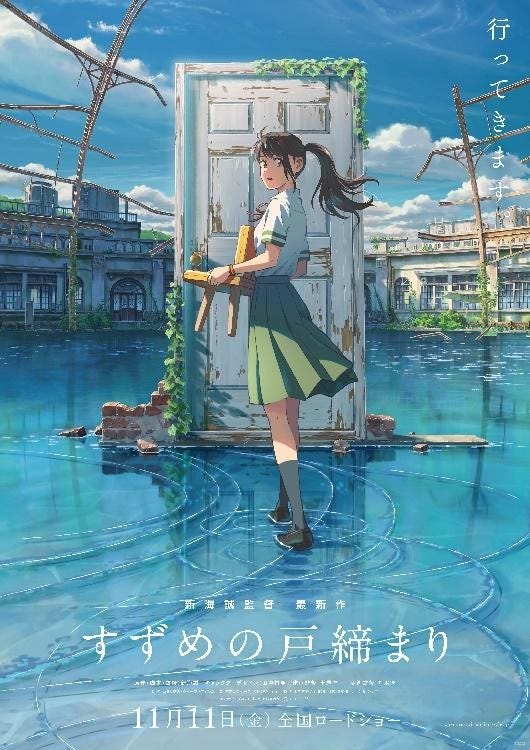 Under the tentative name of Suzume no Tojimari (Japanese for 'Suzume's Locking-Up'), the film was previously set for a November 11 theatrical debut in Japan. Now, Crunchyroll has acquired near-global distribution and marketing rights for Suzume no Tojimari, with a plan to release it theatrically outside of Japan in early 2023.
"Suzume no Tojimari is a coming-of-age story for the 17-year-old protagonist, Suzume, set in various disaster-stricken locations across Japan, where she must close the doors causing devastation," reads Crunchyroll's description of the film. "Suzume's journey begins in a quiet town in Kyushu (located in southwestern Japan) when she encounters a young man who tells her, 'I'm looking for a door.'
"What Suzume finds is a single weathered door standing upright in the midst of ruins as though it was shielded from whatever catastrophe struck. Seemingly drawn by its power, Suzume reaches for the knob… Doors begin to open one after another all across Japan, unleashing destruction upon any who are near. Suzume must close these portals to prevent further disaster."
Here is a trailer for the film:
Crunchyroll has big plans for Suzume no Tojimari, with company president Rahul Purini mentioning "we can't wait to see the world's reaction and reception to it in cinemas, festivals and for awards consideration."
Shinkai is no stranger to awards, as his 2019 film Weathering With You was Japan's entry in the 2020 Academy Awards' international feature film category. It was also nominated in four categories for the big animation awards group, the Annies, that year.
Suzume no Tojimari will debut in Japanese theaters on November 11, with the worldwide release scheduled for early 2023.