Winter, spring, summer or fall, a new Dan Watters and Sebastián Cabrol comic is going to make you re-examine them all
BOOM! Studios warns that The Seasons Have Teeth this April (Exclusive)
In the heart of winter, many of us have already started looking forward to the changing of the seasons… but would that still be the casein each season was personified by a giant, unknowable, creature? A new series from BOOM! Studios is asking such important questions.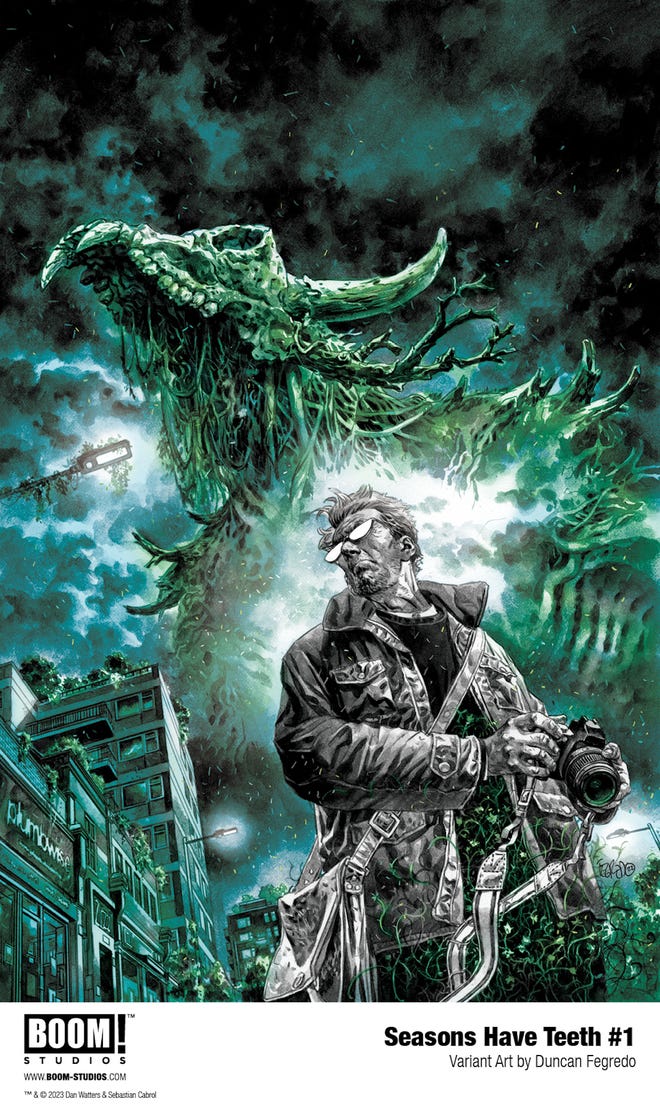 The four-issue The Seasons Have Teeth comes from creators Dan Watters (known for his Lucifer and Arkham City work at DC, as well as Image's Home Sick Pilots) and Sebastián Cabrol (who worked on the Anthony Bourdain-written Hungry Ghosts), and takes place in a world where seasons aren't just periods of time or changing weather systems, but something altogether more terrifying… and potentially glorious.
The publisher's advance description of the title runs as follows: "In a drab, colorless world, the seasons bring change. Andrew, a retired conflict photographer, lives a life steeped in regret, pain, and sorrow. When the seasons arrive–each one embodied as powerful god-like creatures–everything for Andrew begins to change. As he risks everything to track down Spring, Summer, Autumn, and Winter, he can't help but hope that capturing the perfect picture of each will help him find his redemption…and maybe–just maybe–bring color back to his world."
"Dan has created an incredible landscape filled with both mystical and earthly creatures," says Cabrol, via a statement from the publisher. "It's a unique take on something so marvelous as the idea of wild and sentient seasons. As an artist I'm having a great time exploring this world."
Watters adds, "I'm overjoyed to be writing this book for Sebastián. From the dark depths of winter to the joys of summer, he brings such wonderful nuance to both human emotion and monsters — and in The Seasons Have Teeth we are bringing you both in abundance."
The series will launch in April 2023 with a first issue featuring covers from Qistina Khalidah, Duncan Fegredo, and Sebastian Fiumara, with other artists to be revealed at a later date. You can see those three covers, along with design work from Cabrol, below.
---
Revisit what Dan Watters had to say about his Sword of Azrael series for DC last year.