The webtoon company Tapas Media is getting even bigger
Tapas Media is growing to include web novels, audio books, and more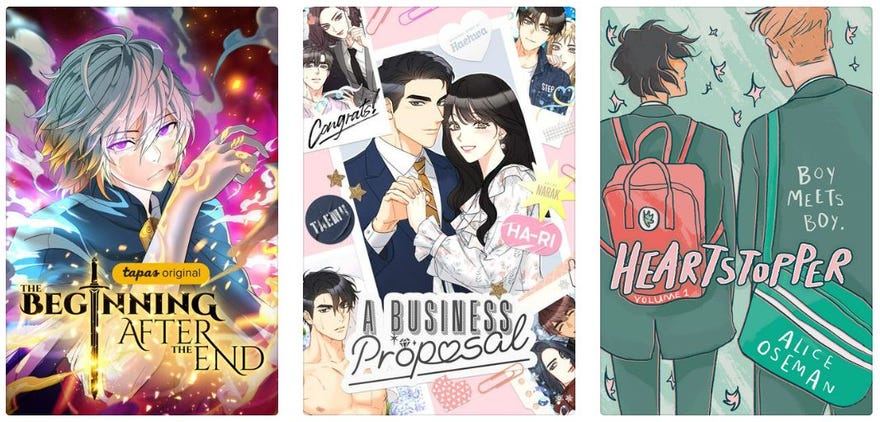 The webtoon juggernaut Tapas Media will be getting even bigger in the coming months - and might even get a new name to go with it.
Tapas Media's parent company Kakao Entertainment has announced plans to merge their North American webtoons platform with its sister company Radish Media. Radish Media is a mobile fiction platform offering serialized prose, much in the same way Tapas does with comics. In addition to that, Tapas is also absorbing another sister company, Wuxiaworld, another mobile fiction platform - but one which specializes in the Chinese fiction genre of wuxia, which means 'martial heroes.'
This merger is intended to accelerate Kakoa's North American growth and put it all under the banner of one name. The name, which has not been finalized, will be the hub for digital storytelling in webtoons, mobile fiction, and mobile fiction with an emphasis on wuxia fiction.
Tapas founder/CEO Chang Kim will stay the course as CEO of this new company.
"I'm very excited by the challenge presented by the super competitive global entertainment market, and I know this merger positions us well with the momentum we need to solidify all our capabilities and maintain our competitive edge as a content IP powerhouse," Kim says. "We look forward to continuing our innovative journey in storytelling and reaching new audiences with compelling stories across multiple categories."

As of time of publication, Popverse has confirmed that the merged company intends to keep the three websites/apps seperate - Tapas Media, Radish Media, Wuxiaworld - but I would imagine some shared content between the three platforms.
"The agreement will provide a major leap forward for Kakao Entertainment in the burgeoning K-content industry and offer exciting new opportunities in the North American storytelling market," says Kako CEO Jinsoo Lee. "Tapas, Radish, and Wuxiaworld each bring a huge lineup of content IPs to the table, and when we put them under one banner with Kakao Entertainment's proven ability to generate and monetize original stories, it will pave the way for unparalleled growth and generate more success stories."
Part of Tapas' early success has been in standardizing the web novel-to-comics model - something which happened sporadically in Japanese manga. Tapas achieved success in this model with webtoons such as Solo Leveling, A Business Proposal, and What's Wrong with Secretary Kim?.
What does this merger mean for people enjoying Tapas, Radish, and or Wuxiaworld? Expect some of your favorite Radish or Wuxiaworld webfiction to be adapted/expanded into webtoons, and probably some original Tapas webtoons expanded into web novels.
Another potential groundbreaking idea is in-house audiobook adaptation, which Radish is working on for its web novels, being expanded to also include audiobook adaptations of Tapas webtoons - perhaps even Alice Oseman's Heartstopper, which recently debuted as a live-action Netflix series. While this adaptation would loose the art aspect of storytelling, it would provide another access point for people - especially in terms of accessibility for those of us with visual impairment.
Stay tuned for news on what this new umbrella company will be called, and what it will be publishing in the near future.