This Encanto Dress Is Both Stunning and Accurate To The Disney Film
Meet Philip Odango, the man behind this famous Encanto dress.
Disney's Encanto has officially taken over social media, and we couldn't be more excited about it! From the lively music written by Lin Manuel Miranda to the stunning animation of Colombia, this film is beloved by all! But, the true heart of this film is the characters. Their ability to laugh, cry and grow together as a big family is exceptionally relatable to audiences. So much so, some individuals are bringing the characters to life through cosplay.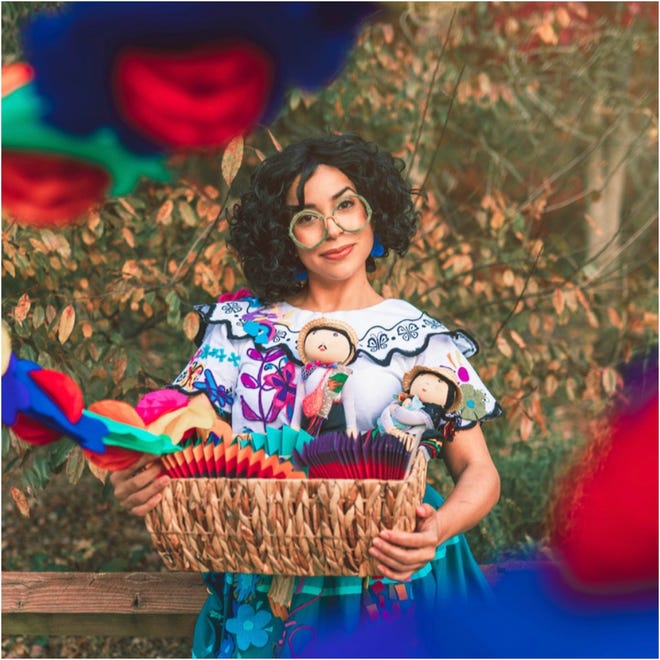 If you haven't seen the film yet, this is what it is about: In the hidden hills of Colombia lives the family Madrigal who all have magical capabilities! All except Mirabel, who, despite her relationship, has no extraordinary gift to give her village or family.
Despite that, Mirabel keeps a smile on her face and a song in her heart, plus a few dance moves! However, all is not well, and their Casita begins to crack. Now, it is up to the not so spectacular but brave Mirabel to save the day!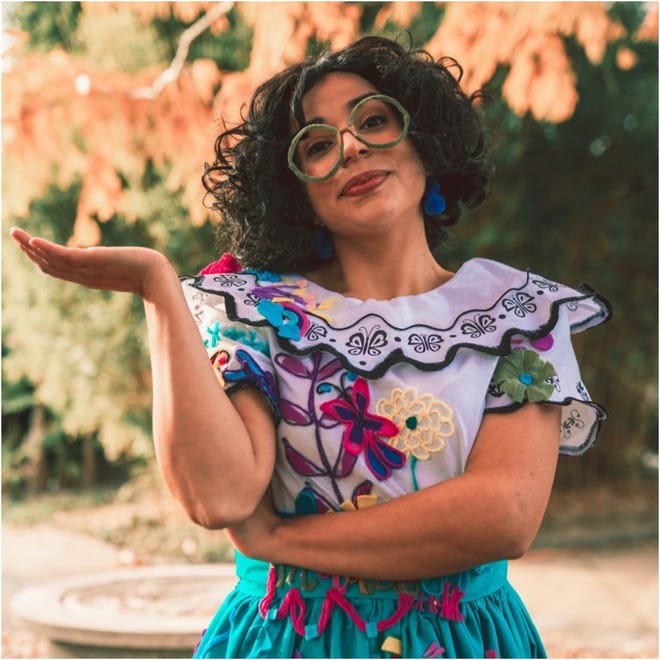 In celebration of the film, costume maker Philip Odango collaborated with Colombian-born American cosplayer, performer, and non-profit leader Angelica Michelle to create a magical concept that would bring Mirabel Madrigal to life! Their collaboration has gained critical acclaim from directors, actresses, and several cosplayers that we just had to know how Philip Odango made this dress!
So, we interviewed this extremely talented individual, and boy, howdy did they deliver. This has to be one of the most in-depth dress descriptions we've ever received in our inbox, and we are beyond stoked. So, get ready to learn some magic with Philip Odango.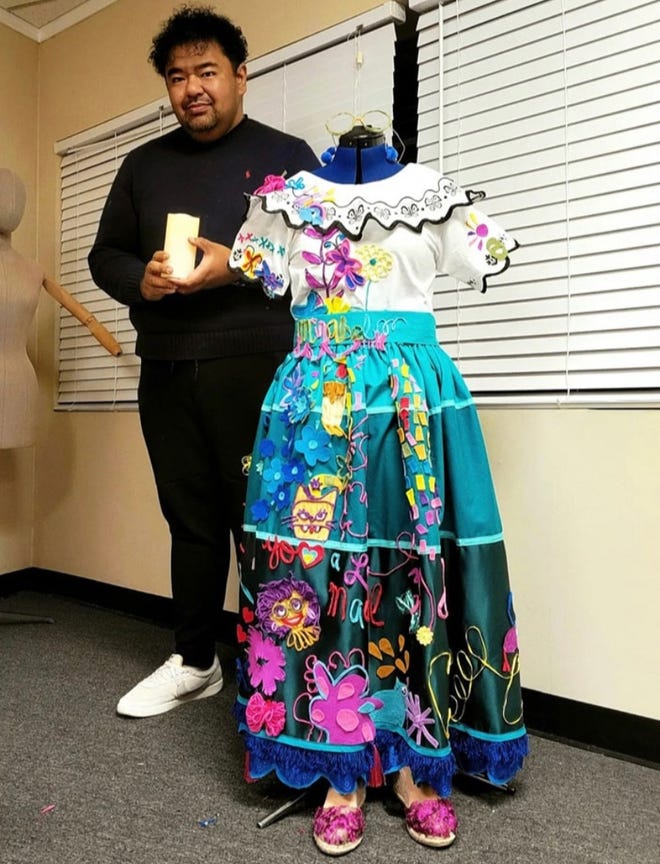 Before we begin, meet the man behind the dress Philip Odango. He's a world-class, award-winning designer who has a flair for style and craftsmanship in all things creative. He's an owner of a project management company and creative consultancy. He wears several hats, including but not limited to: marketing, theatre, event production, community engagement experience, and authoring the Cosplay Professional Development Series of books.
But, holy cannoli, he doesn't stop there! Philip Odango has also been a teacher of his services through classes, workshops, and panels at conventions, universities, and makerspaces. The designer and cosplayer shares his enterprise and infamous saying, "cosplay your way."
With so much under his belt, Philip Odango continues to shock his audiences with innovative ways of self-expression and creativity through crafting ingenious cosplays. He does it all, folks! We could go on, but we have an interview to get to, so let's get to it and learn about all things magical with Mirabel's glorious costumes.
Cosplay Central: Okay, we are simply obsessed with this cosplay. Can you give us as many details as possible about this costume?
Philip Odango: "Mirabel Madrigal's costume is composed of her blouse, skirt, hair, shoes and glasses. I sought dramaturgical advice and historical costuming insight from Disney Encanto's Lead Costume Designer Neysa Bové and Assistant Production Manager Lorelay Bové during the costume production process. This cosplay collaboration extends beyond just making and wearing the costume; it is an expression of cultural identity and I wanted to get authentic elements correct.
I learned that Abuela Alma and Abuelo Pedro left their village around the 1890's-1900's, and when she goes into the Encanto, they are left "stuck in time," but really it is the 1950s. They had no access to outside culture other than what Abuela and other townspeople brought, hence her costume feeling more Victorian; since there is no electricity, Mirabel sewed her clothes by hand.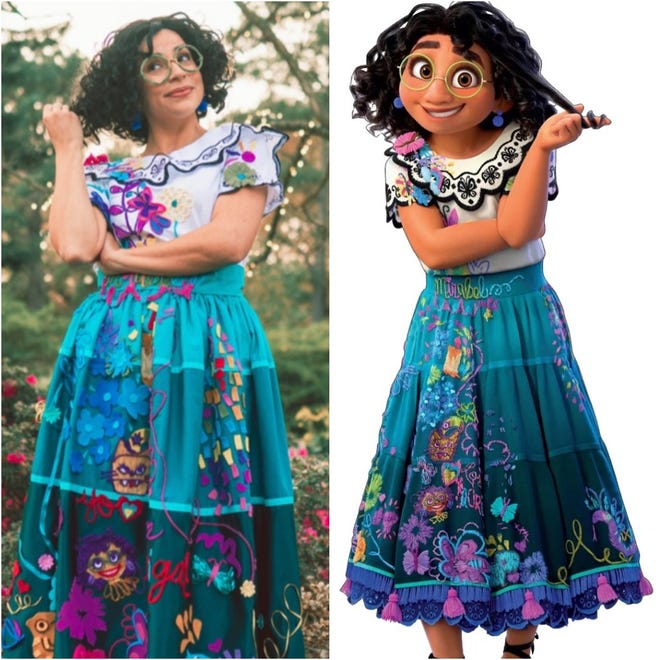 Making something look "simple" is not always easy. I could have just created iron-on transfers or made dye-sublimated fabric with pre-printed designs. Still, since Mirabel handmade her clothes using what's around the Casita, I wanted to honor that. There are over 200 individual appliqués on the skirt alone, made of felt and yarn, which were hand-stitched or attached with fabric glue.
The process took over 100 hours, not including the time to research and color match and make sure nothing flew off during fantasy princess spins. My references included art provided by Neysa Bové, toys, trailers, illustrations, and Disney Parks' face character. Each of those had something a little different in their designs and lighting conditions.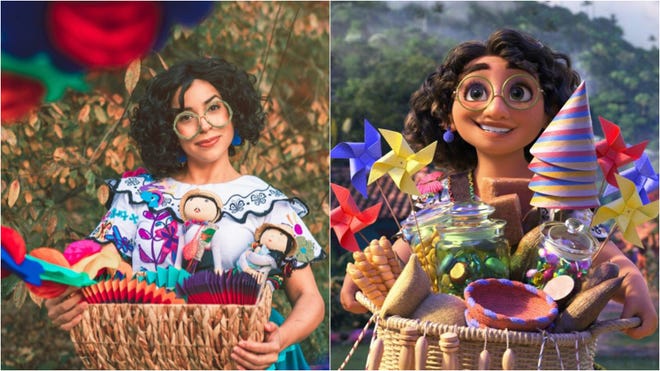 I designed the 3" waistband as a separate piece from the skirt since the skirt can actually fit a US dress size 2 to 24. The skirt top hem is 2" ruched on 1" elastic which I kept long unfinished ends so they can be cinched in and tied and tucked away and then covered by the waistband. Perfect if you have princess parties and diverse sizes of Mirabel performers. You can keep an assortment of waistband extensions.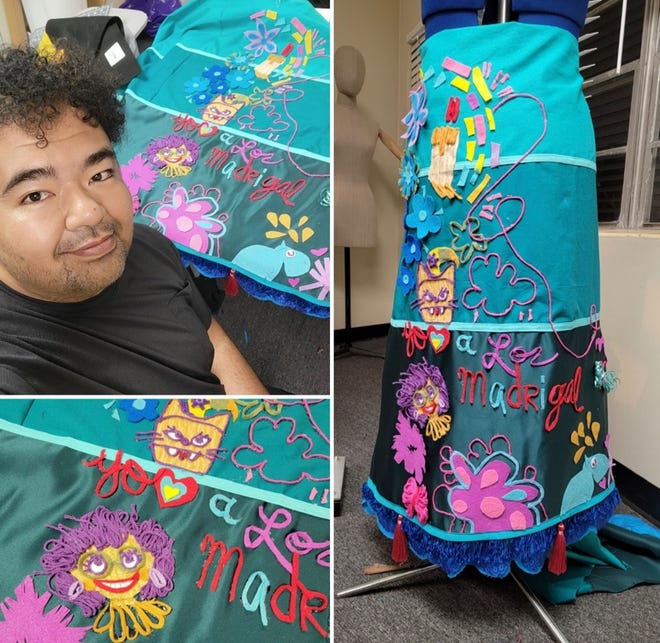 The skirt is 16ft all the way around when laid flat, basically a 3ft x 16ft mural canvas of appliqués. Because I wanted more control over how the skirt drapes and folds, I chose to go with a box skirt silhouette and added two additional triangle panels to give it that faux circle skirt effect when it lifts during dance turns
Blouse neckline and sleeves are hand-scalloped, then I satin-stitched 'imperfect' felted trim all around. I recreated the blouse butterflies and sleeve designs into vector format and created vinyl transfer iron-on pieces using my Cricut Joy.
Mirabel's round glasses are made from floral wire and Worbla thermoplastic. Earrings are made from blue felt pom poms. Shoes are thrifted espadrilles with added embroidered fabric.
This costume was made for performance, so I chose fabrics that were used in historical dance costumes in Velez, Colombia, which are cotton, lace, and satin.
We then filmed her live-action performance of "Waiting On a Miracle" at Norfolk Botanical Gardens.
CC: What or who inspired the making of this cosplay?
PO: This passion project is made in celebration of my friend Angelica Michelle (https://www.instagram.com/angelmichelle19), a Colombian-born American cosplayer, singer, and non-profit leader. "Encanto is important to me because representation matters!" says Angelica Michelle. "The themes of Encanto are incredibly poignant and related to my life experiences. As a person of color adopted from Colombia into a white family and white environment, it was easy to grow up with identity issues. Encanto's themes of belonging, family, and the lesson that "you are more than your gifts" is one that I needed to hear." For the cosplay photoshoot, Angelica brought her authentic dolls from Colombia, from where she was adopted nearly 30 years ago.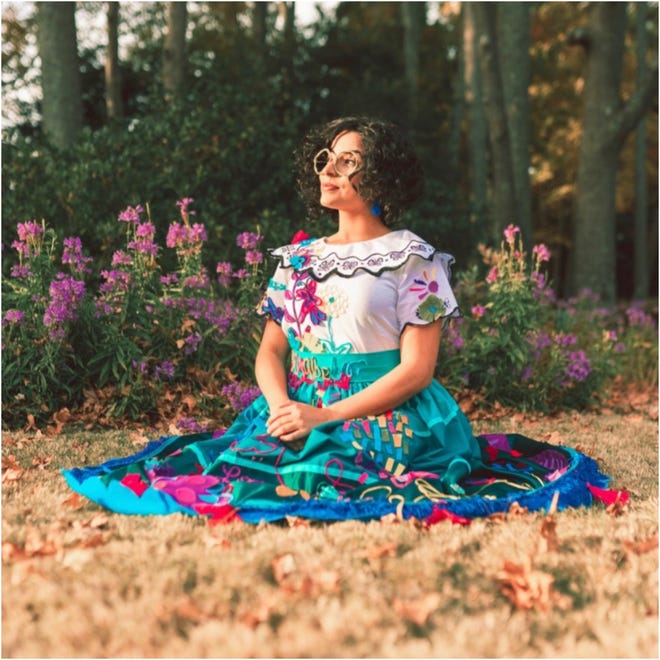 CC: What does this film, Encanto, mean to you as an individual?
PO: Encanto highlights the generational traumas that many families of color have integrated into the fabric of their culture through no fault of their own. So often, different regional heritages can get lumped all together in the same category, in this case, "Latin."
However, that is the danger when attention isn't paid to the details: cultural approximation. For example, we had conversations about the influence of Spanish colonization on indigenous culture: present-day Colombia and The Philippines were colonized by the Spanish at nearly the same time, the early 1500s.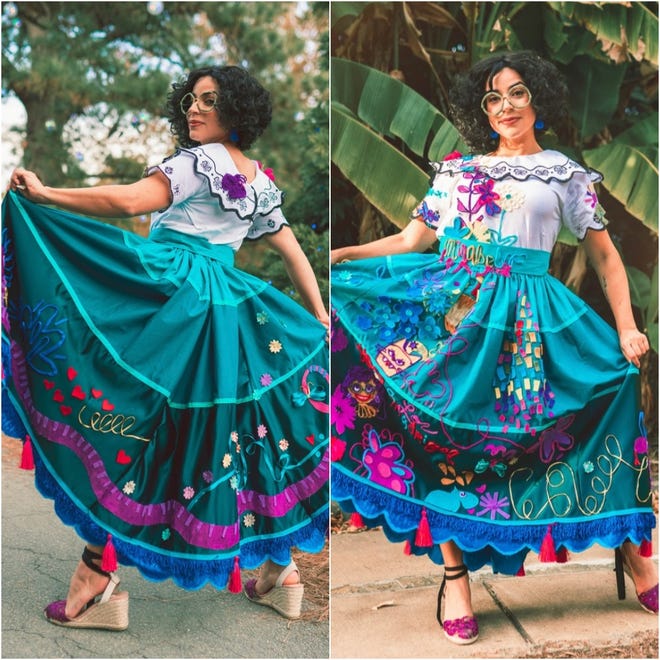 I challenged myself to research historical facts, fabrics, silhouettes, and dance movements and to connect with authorities who worked on the film itself to educate myself on specific Colombian cultural influences. Obviously, they did not use Cricut machines during the Victorian era; however, this cosplay challenged me to do my best to respect the culture of my friend and her story.
I am thrilled that our cosplay project has been warmly received by many Colombians online, and celebrated by Disney Encanto's directors Jared Bush and Byron Howard, and shared by Mirabel herself, Stephanie Beatriz.
I look forward to bringing Mirabel's sisters – Luisa and Isabel – to life later this year.
We cannot wait for those beautiful cosplays to grace our screens later this year. To stay up-to-date with Philip Odango, visit his website canvascosplay.com.