This Month in Comics History, December 2022
Scrooge McDuck, Batgirl, and Streak the Wonder Dog, oh my!
Happy holiday season, my fellow comic historians! This month in 'This Month in Comics History,' we complete our review of the most significant and interesting developments in our field through 2017, 2012, 2007, 2002, 1997, 1972, 1947, and occasionally, when applicable, 1922. (And boy, is it applicable this month.) As the New Year's Ball descends to mark the end of the year, let's cast our gaze a bit further back. Look just over the horizon behind us, and you'll see the actual, for real, no foolin' resurrection of Jean Grey, the dissolution of Spidey's marriage, the first day on the job for Gotham Central, the origin of Disney's most popular original comic book character, and a very special birthday. Excelsior!
5 YEARS AGO: DECEMBER 2017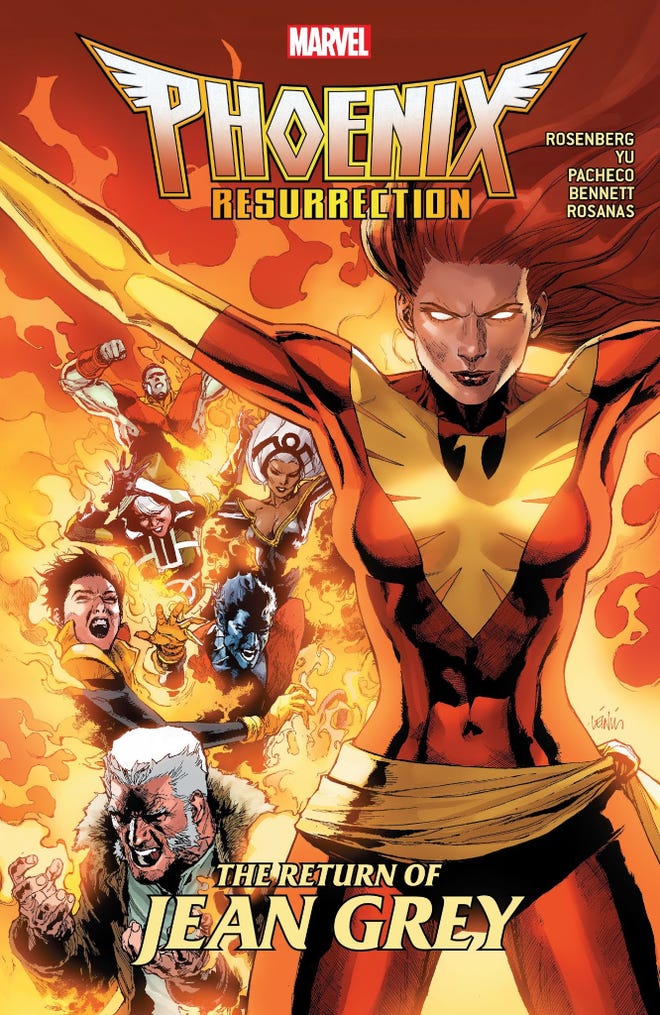 14 years after the death of Jean Grey in New X-Men #150, Phoenix Resurrection: The Return of Jean Grey delivers its titular promise. Though she had made sporadic returns in the interim through time travel or other supernatural forces, The Return of Jean Grey marked the permanent resurrection of the original Marvel Girl – or, at least, long enough so that recent X-Men comics could make all resurrection cycles for mutants on Krakoa nearly instantaneous.
Bocchi the Rock! by Aki Hamaji debuts in Manga Time Kiara Max, a slice-of-life rock band manga currently enjoying a popular anime adaptation.
Marvel resurrects its Marvel Two-in-One team-up series for the first time since 1983, this time highlighting various configurations of two members of the Fantastic Four at a time.
Christopher Priest and MD Bright's White Man Can't Jump-inspired superteam Quantum and Woody is resurrected for a second, and to date, final time by Valiant.

Image credit: Marvel Comics

A jaded Tim Drake from a dark future travels to the present to kill the son of Superman in 'Super Sons of Tomorrow.'
10 YEARS AGO: DECEMBER 2012
15 YEARS AGO: DECEMBER 2007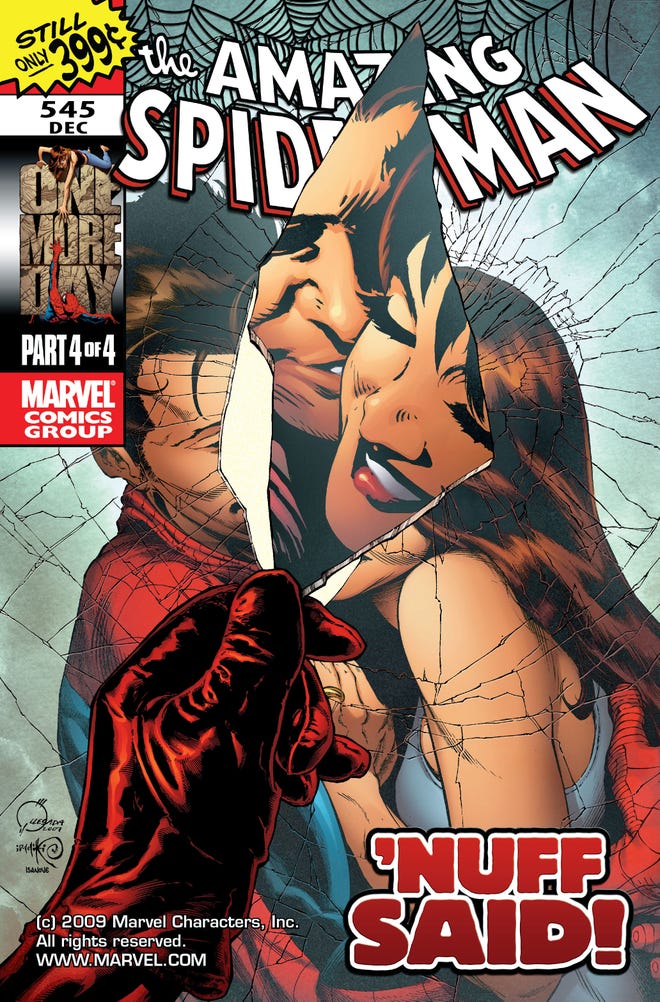 In Amazing Spider-Man #545, the conclusion to 'One More Day,' Peter Parker takes Mephisto's deal to save his Aunt May's life, and his 15 year marriage to Mary Jane is erased from history.
Marvel's multiverse-hopping Exiles series comes to an end after 100 issues, with Blink, Thunderbird, and Nocturne leaving the team. The series would relaunch the following month as New Exiles, featuring new incarnations of Rogue and Mystique.
In Booster Gold #5, Booster goes back in time to the one bad day of The Killing Joke in an attempt to save Barbara Gordon, and learns that sometimes the past can't be changed.
The Night Owls, perhaps the most successful series from DC's short-lived Zuda webcomics imprint, debuts online. Created by Peter and Bobby Timony, The Night Owls was an occult detective series set in Prohibition-era New York City. The series would see multiple print editions, and nominations for three Harvey Awards among other honors.
Off the success of the summer's video game adaptation of The Darkness, the comic launches for a third time with Phil Hester and co-creator Marc Silvestri.
20 YEARS AGO: DECEMBER 2002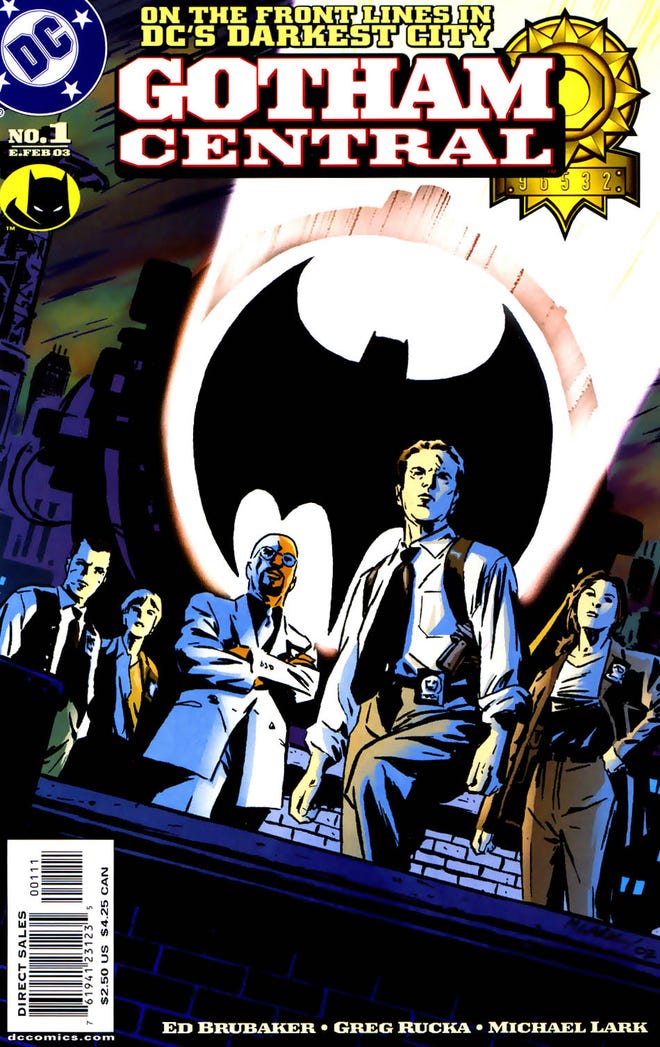 Greg Rucka, Ed Brubaker, and Michael Lark launch Gotham Central, giving us a street eye view of Gotham with the city's Major Crimes Unit. A revolutionary mixture of Law and Order and Detective Comics, Gotham Central brought a grounded perspective on both comic book vigilantism and supervillainy and real issues plaguing law enforcement through a superhero lens.
Mark Millar and Chris Bachalo's Ultimate War pitches the Ultimate Marvel Universe's mutants against its humans, with the X-Men on one side and The Ultimates on the other.
Batman and Catwoman rekindle a long dormant romance in Batman #610, chapter 3 of Jeph Loeb and Jim Lee's 'Hush' storyline.
Batgirl: Year One debuts, providing a definitive story for Barbara Gordon's earliest nights in tights.
One of the earliest popular tabletop roleplaying webcomics, Noah J.D. Chinn's Fuzzy Knights launches telling the story of a Dungeons & Dragons-loving party of stuffed animals. DnD creator Gary Gygax was a reader, and helped promote the trade paperback editions.
25 YEARS AGO: DECEMBER 1997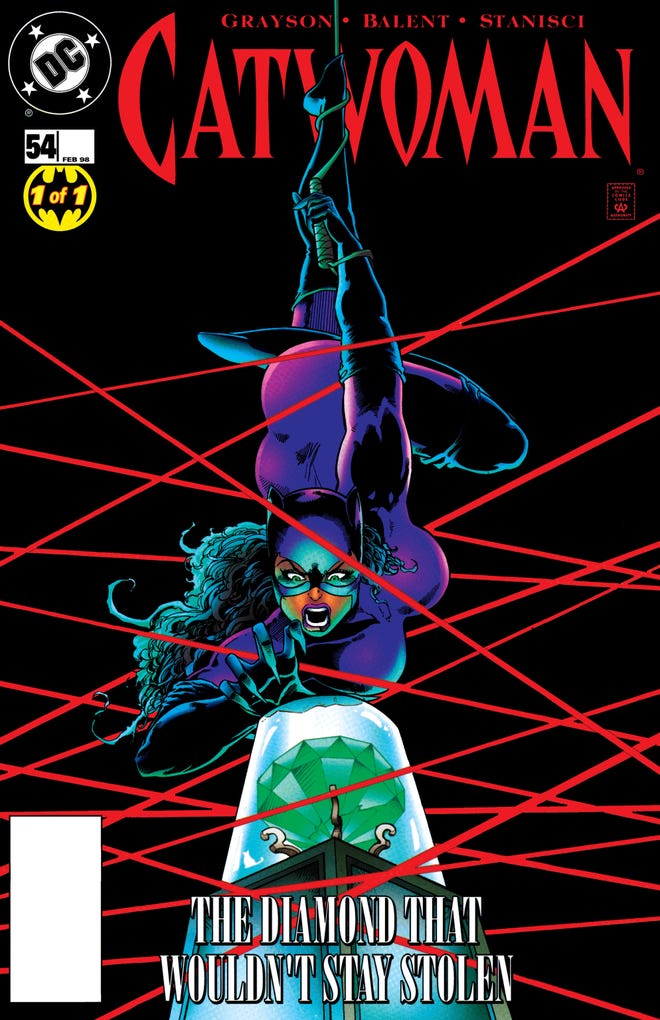 Devin Grayson begins her award-winning run on Catwoman with issue #54, earning the only Lulu Award for women in the comics industry ever awarded to DC talent. Though her tenure was only 18 issues, Grayson's success on Catwoman would make her a fixture in the DC Universe for the next decade on titles like The Titans, Batman: Gotham Knights, and Nightwing.
After nearly a year with a reimagined look and set of powers in his 'Electric Superman' era, Superman is split into two separate entities in a battle against Toyman and Cyborg Superman – the hotheaded Superman Red, and the coolly logistical Superman Blue. The two Supermen would have to work together for the next few months, until they were re-fused into the traditional Superman in April of 1998, electric no more.
DC's 'New Year's Evil' line showcases a series of one-shot comics spotlighting some of the villains in the DC Universe, from the most notorious, like Darkseid, The Rogues, The Scarecrow, and Mr. Mxyzptlk, to the biggest threats of the day, like Gog and Prometheus, to the most obscure like Dark Nemesis and The Body Doubles.
DEO agent Cameron Chase gets her own 'X-Files in the DC Universe' series, Chase, by Dan Curtis Johnson and JH Williams III. Though it would only run for ten issues, Chase has since remained a fixture of the DC universe whenever the government has to interface with the weird.
Shonen Magazine publishes Itsudatte My Santa!, a Christmas story by Ken Akamatsu about a boy named Santa who was born on Christmas Eve, and consequently hates Christmas. Akamatsu's next manga, Love Hina, would be released the following year and change the romance genre forever.
50 YEARS AGO: DECEMBER 1972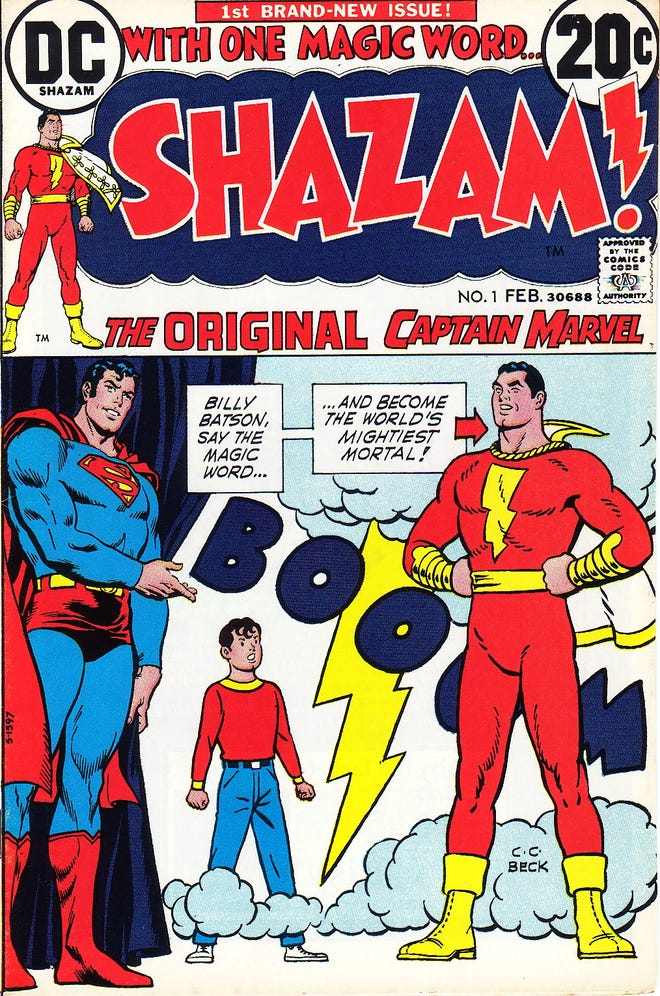 Billy Batson is back in print for the first time since Fawcett Publications closed its doors in 1954. After a trademark infringement lawsuit against Fawcett led to its ultimate bankruptcy and demise, plaintiff DC Comics purchased the rights to Fawcett's characters to join the ranks of Batman, Superman, and Wonder Woman. 50 years ago this month, Shazam! #1 presented Captain Marvel under the new management of DC Comics – still contained within his own universe dubbed 'Earth-S,' continuing from the Fawcett stories which preceded it.
DC publishes their very first issue of Secret Origins, which reprints the origin stories of Superman, Batman, Hawkman, and The Flash as originally featured in Action Comics #1, Detective Comics #33, Flash Comics #88, and Showcase #4.
DC does their best to get away with an ersatz Popeye crossover in Action Comics #421 when the Man of Steel meets Captain Strong, a crusty sailor with an appetite for a seaweed with alien spores which grants him super strength. Captain Strong would continue to play a minor supporting role in sporadic Superman stories until Crisis on Infinite Earths, and would return to continuity in 2015 as part of Amanda Conner and Jimmy Palmiotti's Harley Quinn.
Jim Starlin begins his tenure on Captain Marvel with issue #25, co-plotting a classic run now remembered as 'The Thanos War'.
Harvey Comics introduces Jackie Jokers, a stand-up comedian, to expand their stable of characters like Casper the Friendly Ghost, Hot Stuff, and Richie Rich. Jackie's solo series is canceled after 4 issues, but he lives on as a supporting character to Richie Rich.
75 YEARS AGO: DECEMBER 1947

Scrooge McDuck appears for the first time in Four Color Comics #178, 'Christmas on Bear Mountain.' Created by the pre-eminent Donald Duck comic book artist Carl Barks, Scrooge bore the avian visage and manner of his inspiration, Ebenezer Scrooge of Charles Dickens' A Christmas Carol. Scrooge's haggard demeanor and storied past which earned him his fortune would make him second in popularity through the Donald Duck comics to only Donald himself, and would eventually become a household name through the animated adaptations of his adventures, DuckTales
Having infamously sold their creative rights to Superman to National Publications (later known as DC Comics) for $130, Jerry Siegel and Joe Shuster attempt to strike gold again with another original character with Magazine Enterprises – a comedic superhero they call 'Funnyman.' But unlike their smash hit hero for Action Comics, Funnyman fails to find an audience, and ends his run after 6 issues.
Black Canary graduates from supporting Johnny Thunder character to starring in her own feature in Flash Comics #92 – replacing Johnny Thunder's feature. This same month, in Comic Cavalcade #25, Black Canary demonstrates the ability to control a flock of black canaries. This ability will never be shown again.
DC Comics launches their longest-running teen comedy title, Leave it to Binky. Along with later volumes Swing with Scooter and A Date with Debbi, Binky was DC's attempt to compete with emerging teen comedy publications at the time like Archie Comics. Binky would run for 82 issues, until its cancelation in 1977.

Green Lantern #30 introduces Alan Scott's crime fighting canine, Streak the Wonder Dog.
100 YEARS AGO: DECEMBER 1922
Stanley Martin Lieber is born on December 28th into a family of Jewish Romanian immigrants in Manhattan, New York City. Lieber would be hired as an assistant at Timely Comics in 1937, and get his first comic book writing credit in 1941 on Captain America Comics #3. He submitted the piece under a pseudonym he'd use for the rest of his career: Stan Lee.
'Nuff said.
---
Pretty much all of Vertigo Comics has been added to DC Universe Infinite Ultra