This Month in Comics History, March 2023 - Lore Olympus, Dragon Ball goes west, and The Night Gwen Stacy Died
When America met Frederic Wertham, Iron Man joined the Guardians of the Galaxy, and Batman and Robin met Frankenstein.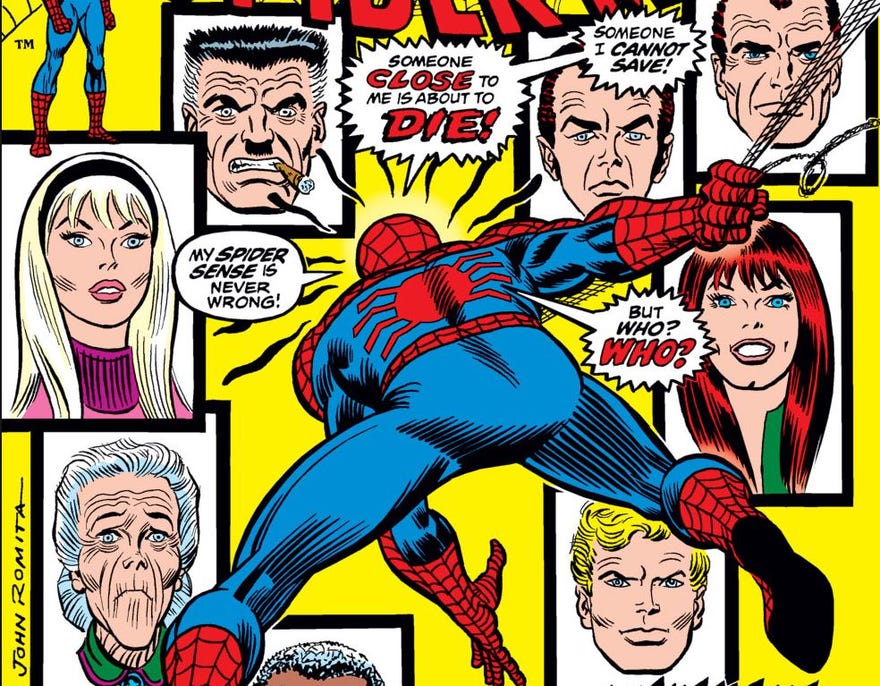 Welcome back, comic book historians, as the inexorable march of time moves us to the aptly named March of 2023. It's the end of the first quarter, when the weather outside and the industry we love begins to defrost and the direction of the year truly begins in earnest. As we begin to heat up, so does our scope and ambition for comic history: in addition to covering milestones in Eastern and Western print and webcomics alike, don't be surprised if we start covering some important moments in comic book convention history across the world as well.
It may be hard to believe that it's been ten years since Jonathan Hickman and Nick Dragotta took us East of West, 25 since an earthquake tore Gotham City apart, and 50 since the night Gwen Stacy died. If it helps, we can attest that temporal linearity since 2020 has been a fake idea, and give all of you permission to just tell people you're tw years younger than your biological age. But while experience is subjective, history is not.
Let's take a look at this month's milestones! (Although, not Milestone. That was 30 years ago, which we don't cover in this column.)
Five years ago back in March 2018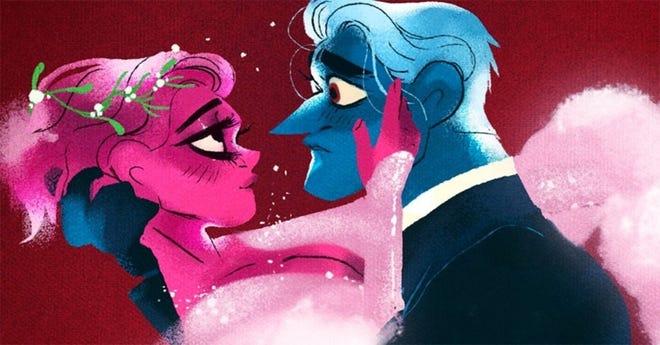 WEBTOON conquers the west with the debut of Lore Olympus, Rachel Smythe's Greek mythology inspired romance comic and the platform's most popular series to date with over 1.2 billion views.
Also happening this month back in 2018…
Gege Akutami's Jujutsu Kaisen publishes its first chapter in Weekly Shonen Jump, and quickly becomes one of the world's best-selling manga. This action-packed story about skilled manipulators of 'cursed energy' has been adapted over five short years into an anime, a video game, a stage play, and an upcoming theme park ride in Universal Studios Japan.
Jeff Lemire and Andrea Sorrentino's Gideon Falls draws readers into the mystery of the Black Barn.
Norman Osborn returns as the Green Goblin in Amazing Spider-Man #797.
What do you get when you cross a Hulk with a Wolverine? The answer: Clayton Cortez, aka 'Weapon H,' the Totally Awesome Hulk spin-off which debuted five years ago this month.
10 years ago back in March 2013

In anticipation of the upcoming film, Guardians of the Galaxy relaunches with a new #1 issue by Brian Michael Bendis and Steve McNiven, introducing Iron Man to the team alongside Starlord and the MCU lineup.
Also happening this month back in 2013…
Jonathan Hickman and Nick Dragotta's apocalyptic western East of West explores a fractured United States divided into six nations, and the avatar of Death's personal quest for peace.
Ultron takes control of the Marvel Universe in the 10 part Age of Ultron event.
Bruce Wayne grieves for the loss of his son Damian in the all-silent issue Batman & Robin #18.
Franco-Belgian company Dupuis, publisher of major European comics like Lucky Luke and The Smurfs, acquires competitor Marsu Productions.
15 years ago back in March 2008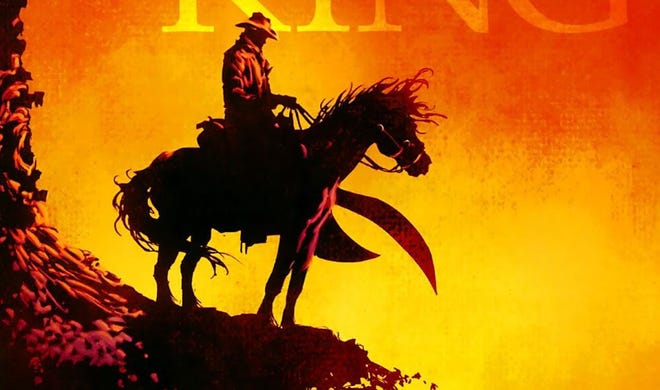 Marvel's The Dark Tower: The Long Road Home continues the early adventures of Stephen King's Dark Tower cycle protagonist Roland Deschain, set some time after the events of Book Four, Wizard and Glass, which shares the story of his origin, and before the events of the series proper.
Also happening this month back in 2008…
Andrew Hussie launches Problem Sleuth, his first long-form webcomic, on his website MS Paint Adventures. A text adventure-style story, each new entry was generated based on prompts by readers. The widespread internet success of Problem Sleuth would be a predecessor to his most ambitious project, the multimedia phenomenon of Homestuck.
Duane Swierczynski and Ariel Olivetti give the time-traveling mutant Cable his second ongoing series, taking Nate Summers 40 years into the future.
His memories restored, Wolverine embarks on a quest to recover his past in Brian K. Vaughan and Eduardo Risso's Logan.
She-Hulk, Colossus, Nighthawk, and Blazing Skull join forces against the Sons of the Serpent as the Last Defenders.
20 years ago back in March 2003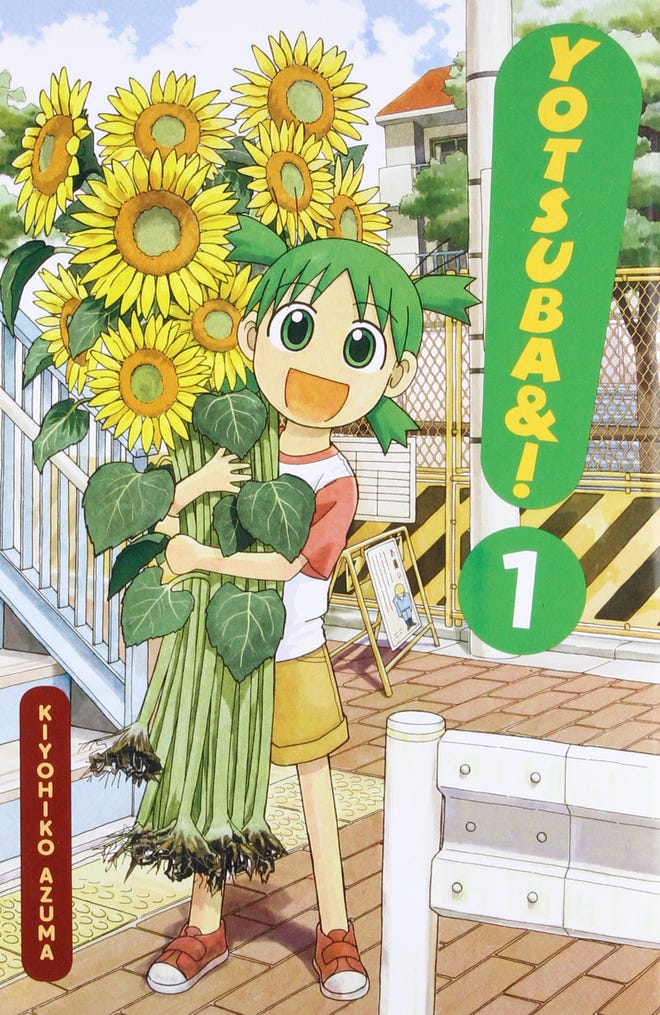 Azumanga Daioh creator Kiyohiko Azuma begins Yotsuba&!, a slice-of-life comedy manga about a cheerful and curious young girl exploring the world around her and finding joy in everything. The series has run for over 100 chapters, and enjoys ongoing readership.
Also happening this month back in 2003…
Jim Keefe publishes the final Flash Gordon newspaper comic, previously in continuous publication since 1934.
Jim Starlin's Marvel: The End envisions a final battle between Thanos and the Marvel Universe for all of creation when The Mad Titan absorbs the heart of the universe.
In Fantastic Four #67, Doctor Doom makes a pact with the demons The Haazareth Three for supreme power. All it costs him is the life of Valeria, his one true love.
The first Toronto Comic Con, not to be confused with rival Toronto Comicon, is held at the Toronto Hilton Hotel. Jim Starlin and Michael William Kaluta are the guests of honor. They were acquired by Wizard Entertainment in 2010, and held their last event in 2012.
25 years ago back in March 1998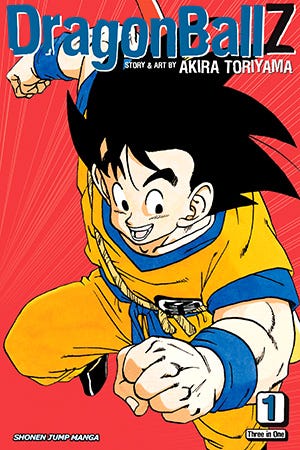 Viz Media begins publishing the Dragon Ball manga in the United States. To mimic the naming conventions of the popular anime series, Viz simultaneously publishes the manga from the first chapter as Dragon Ball, and from chapter 195 as Dragon Ball Z.
Also happening this month back in 1998…
Yoshihiro Togashi's HUNTERxHUNTER begins publication in Weekly Shonen Jump, following the young adventurer Gon seeking to follow the footsteps of his long lost father. With over 80 million copies sold, HUNTERxHUNTER is one of the most popular shonen manga, continuing to this day with two animated series, several films, and seven video games.
A major earthquake shakes up Gotham City in Batman: Cataclysm, a crossover event running through every Batman title. The devastating aftershocks lead to the iconic No Man's Land event, where Gotham would be abandoned by the US government and left to fend for itself.
Paige Braddock launches Jane's World, the first queer comic to gain newspaper syndication in the United States.
The final United Kingdom Comic Art Convention takes place in Manchester, after running annually in London from 1985-1997.
50 years ago back in March 1973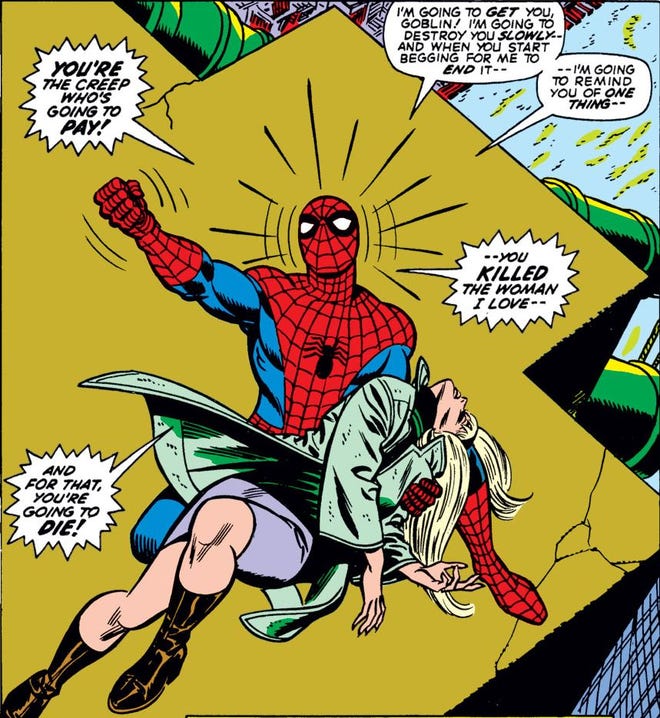 'The Night Gwen Stacy Died!' Peter Parker experiences the greatest tragedy in his early career as Spider-Man when Green Goblin drops Gwen Stacy off the Brooklyn Bridge in Amazing Spider-Man #121.
Also happening this month back in 1973…
Marvel's Daredevil reaches its landmark 100th issue, and introduces sound-based villain Angar the Screamer.
Thor's interstellar viking ship, Starjammer, appears for the first time in Thor #212.
DC publishes The Amazing World of Superman: Metropolis Edition, a comic meant to promote a new Superman theme park in Metropolis, Illinois. The theme park never opens.
Lucy and Linus' youngest brother, Rerun van Pelt, debuts in the Peanuts comic strip.
75 years ago back in March 1948

American general interest magazine Collier's Weekly publishes an essay entitled 'Horror in the Nursery,' the first piece by pop psychiatrist Frederic Wertham about the dangers of comics to American youth. Wertham's catastrophizing of the comics medium would eventually lead to the establishment of the Comics Code Authority.
Also happening this month back in 1948…
Joye Hummel, ghostwriter for Wonder Woman creator William Moulton Marston and the first woman to write the title, finishes the last issue of her tenure on the series with Wonder Woman #29. The issue introduces one of Wonder Woman's oldest recurring enemies, Minister Blizzard.
Early Captain America love interest Betsy Ross makes her first appearance as the superhero Golden Girl in Captain America Comics #66.
Bill Finger and Al Wenzel tell the story of Superboy's first encounter with his future wife in Adventure Comics #128 lead feature, 'How Clark Kent Met Lois Lane!'
In Detective Comics #135, Batman and Robin travel back in time to the 19th century and battle the giant mindless manservant of Baron Frankenstein. They tell the story of their encounter to Mary Shelley, who turns it into the novel Frankenstein.
---
Dig deeper into comics history with previous This Month in Comics History articles.