An exclusive sneak peek into the Odinson family dynamic in Jeffrey Brown's Thor and Loki: Midgard Family Mayhem
Check out two exclusive images and more pages from Jeffrey Brown's newest funny family tale
Jeffrey Brown has been a comics mainstay for decades, but his work catapulted into the mainstream with the hit Star Wars kids book Darth Vader and Son, which spun out into a healthy (and successful) handful of Star Wars comics delving into the little comedies of family (and Star Wars) dynamics through single page comics. Now, Brown is bringing that style to the Marvel universe with Thor and Loki: Midgard Family Mayhem.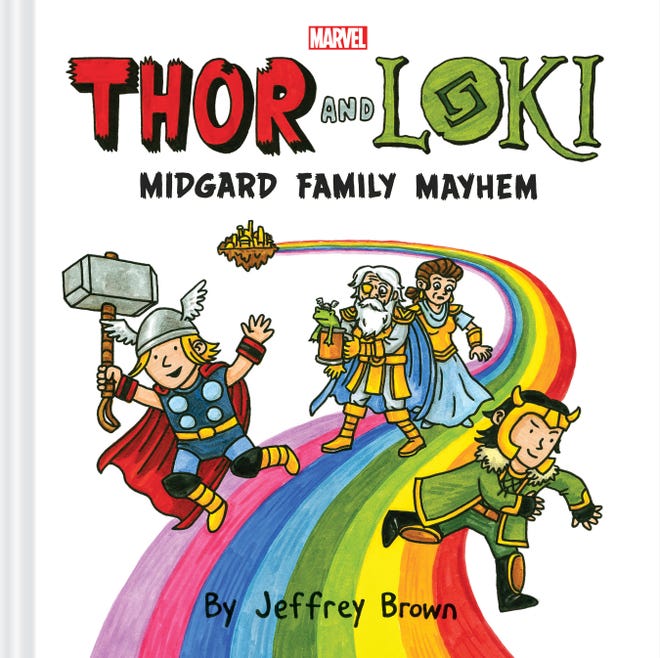 In this book, we see Thor and Loki (along with their parents, Beta Ray Bill, and Throg) in silly situations highlighting the funny parts of being a kid as well as a God of Thunder and a God of Mischief. Adding to the enjoyment of the book, Jeffrey Brown has personal love of Thor.
"Thor was always one of my go-to comics to pick up at the comic shop, and I even had the little Thor Hot Wheels van," Brown says. "Getting to dive in and do my own take on Thor and the other Asgardians was an absolute treat, especially Loki, who's so much fun."
So take a look at the preview images from the upcoming book below (with the two first images exclusive to Popverse) and make sure to get your hands on a copy of Thor and Loki: Midgard Family Mayhem for the mayhem-filled family member in your life.
But that's not all-- fans of Jeffrey Brown's work will have the fun opportunity to see the original art of Thor and Loki: Midgard Family Mayhem at the Cartoon Art Museum in San Francisco from April 15- August 27.
So if you're in the Bay Area, make sure to stop by and check out Brown's hilarious Thor and Loki comics in person. Tickets for adults cost $10, San Francisco Residents cost $7, Students/Senior/Military/Educator (with ID) cost $6, Kids 6-12 cost $4. Kids 5 and younger can visit for free, and the first Tuesday of each month is Pay What You Wish.
---
Thor and Loki: Midgard Family Mayhem is available April 18, 2023 from Chronicle Books. Pre-order your copy on Amazon, Barnes & Noble, or Bookshop.org.
Last year, Popverse had a chance to sit down with Jeffrey Brown and talk about his long comics career, including his new licensed work.