Thunderbolts: Everything we know about release date, cast, creators and more
Everything we know so far about the Marvel's newest team of antiheroes.
In the winter of 2024, a new kind of superteam will arrive in the Marvel Cinematic Universe when Thunderbolts hits theaters, one that may not be as clear cut as previous superteams. Thunderbolts will unite some unexpected Marvel supporting players for their own movie, while also potentially setting the stage for a whole new corner of the MCU. We still have a while to wait before the film hits theaters, but we already know quite a bit of what's coming. From the release date to the all-star cast, here's everything we know about Thunderbolts so far.
When is the Thunderbolts release date?
Thunderbolts will hit theaters on December 20, 2024, going head to head with Sonic the Hedgehog 3.
Like many Marvel Studios projects, Thunderbolts began as an unconfirmed report, the kind of film meant to tie various threads within previous MCU phases into something new, while launching yet another superteam in the process. In the summer of 2022, those reports finally started to firm up into something concrete, and by San Diego Comic-Con that year, Thunderbolts was official.
Is there a Thunderbolts trailer?
Not yet! But keep an eye on this space, and we'll make sure to feature the video here once Marvel Studios releases it.
Is there a Thunderbolts poster?
Not an official one! But Marvel did reveal this cool concept art featuring the cast of the film in their costumes.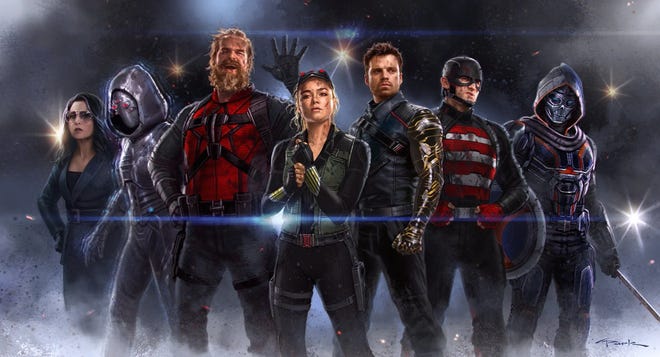 Who are the Thunderbolts creators?
Even before Thunderbolts was officially revealed as part of the MCU's Phase Five in the summer of 2022, we knew the film was firming up because Marvel Studios tapped a creative team to helm the project. In June of that year, we learned that Paper Towns and Beef director Jake Schreier was on board to helm the project, while Black Widow writer Eric Pearson had joined to pen the screenplay, which makes sense given his previous experiences with the MCU underworld and espionage community. The film's full crew hasn't been revealed just yet, but those two names will play major roles in shaping the narrative and giving the film a personality all its own. And of course, MCU mastermind Kevin Feige will be onboard as a producer, as he has for all MCU entries so far.
At the Marvel Studios Hall H panel at SDCC 2022, studio head Kevin Feige officially revealed the film as part of Phase Five of the Marvel Cinematic Universe, which is now underway thanks to releases like Ant-Man and the Wasp: Quantumania and Guardians of the Galaxy Vol. 3. We've got a few more movies and shows to go before Thunderbolts arrives, but the film is officially set to hit theaters on December 20, 2024, as one of the final installments of Phase Five.
Who is in the Thunderbolts cast?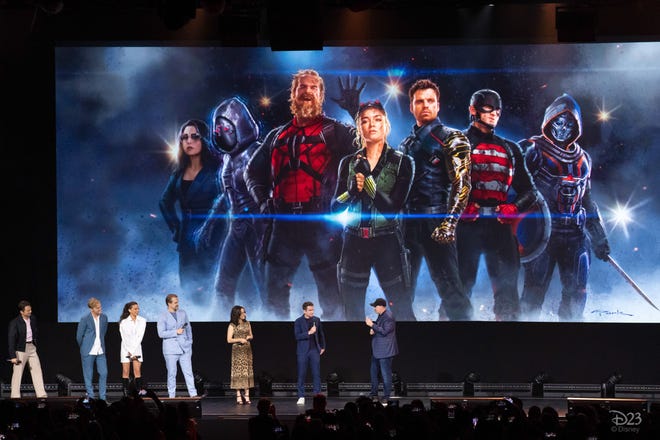 Like their comic book counterparts, the characters leading the Thunderbolts team in the MCU will be a mixture of former supervillains, antiheroes, and misfits who are brought together for missions other heroes just can't do. That kind of description opened the film up to any number of potential stars, and at the 2022 D23 Expo, Marvel officially revealed which characters will form the title team.
Contessa Valentina "Val" Allegra de Fontaine played by Julia Louis-Dreyfus
Yelena Belova/Black Widow played by Florence Pugh
Bucky Barnes/The Winter Soldier played by Sebastian Stan
Alexei Shostakov/Red Guardian played by David Harbour
Ava Starr/Ghost played by Hannah John-Kamen
Antonia Dreykov/Taskmaster played by Olga Kurylenko
John Walker/U.S. Agent played by Wyatt Russell
Thaddeus "Thunderbolt" Ross played by Harrison Ford
Contessa Valentina "Val" Allegra de Fontaine (Julia Louis-Dreyfus) will take on what seems to be her first leading role in the MCU after several major smaller appearances, and she'll be wrangling a team made up of Yelena Belova/Black Widow (Florence Pugh), Bucky Barnes/The Winter Soldier (Sebastian Stan), Alexei Shostakov/Red Guardian (David Harbour), Ava Starr/Ghost (Hannah John-Kamen), Antonia Dreykov/Taskmaster (Olga Kurylenko), and John Walker/U.S. Agent (Wyatt Russell). Overseeing it all as the current President of the United States will be Thaddeus "Thunderbolt" Ross, who will be played for the first time in Captain America: Brave New World by none other than Harrison Ford before popping up in Thunderbolts just a few months later.
What is the Thunderbolts plot?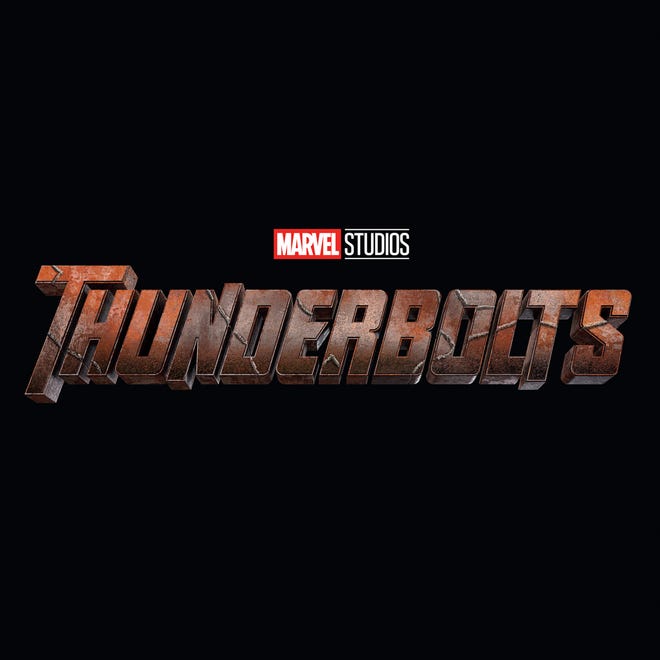 Marvel Studios has not yet released an official, detailed synopsis for Thunderbolts, and of course we haven't been lucky enough yet to see any footage from the still-in-production project. What we do know, though, is that the film version of the team members will take many of their cues from their comic book counterparts, and basically serve as a government-sponsored team of antiheroes who take on missions that the shinier, more noble-seeming superhumans of the MCU just can't get their hands dirty with. Plus, simply based on the context of the cast, we know that the film will likely deal with Julia Louis-Dreyfus' Val and her many schemes to get various heroes and villains to work for her. Is she doing it all for the Thunderbolts project? Is she up to something more? We can't wait to find out.
What do I have to watch before Thunderbolts?
Because Thunderbolts is a team made up entirely of pre-existing characters within the MCU, the movie will make its debut with quite a bit of backstory behind it, which means that if you're not especially up to speed on Marvel stuff, you have a little homework to do.
Three of the characters on the team roster debuted in the 2021 Black Widow film, so you'll want to check that out to see what's up with the new Black Widow, Red Guardian, and Taskmaster. Two of the characters also debuted in The Falcon and the Winter Soldier on Disney+, so stream that series for details on Val and John Walker, as well as the latest developments in the story of Bucky Barnes.
For Ghost's backstory, you'll want to go just a little further back to Ant-Man and The Wasp, where the character made her first and (so far) only MCU appearance. Then of course, there's the upcoming Captain America: New World Order, which will set up Harrison Ford as President Thunderbolt Ross. That film will arrive in May of 2024, so it won't be hard to catch up with those developments before Thunderbolts lands.
And hey, if you're feeling industrious, you don't have to stop there. You can watch the whole Captain America trilogy to get more backstory on Bucky, watch Hawkeye to see a little more of Yelena, and of course, watch Avengers: Infinity War and Avengers: Endgame to keep track of all the major changes in the wider MCU.
What comics are Thunderbolts based on?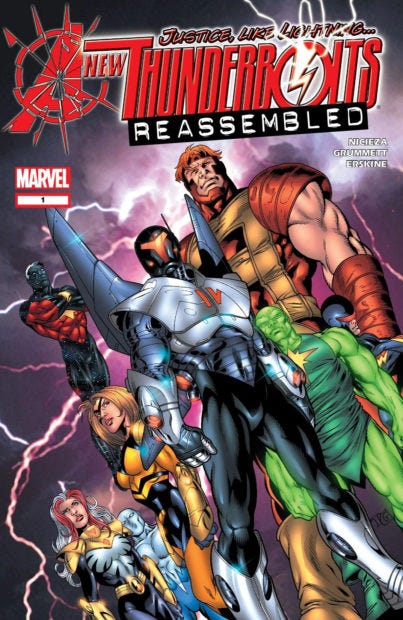 As Marvel superteams go, the Thunderbolts are a fairly new addition to the Marvel universe, having popped up for the first time during the Onslaught/Heroes Reborn era in 1997. Created by writer Kurt Busiek and artist Mark Bagley, the Thunderbolts began as a team formed by Baron Zemo which took the place of the superheroes wiped out during this era, and have since gone through many incarnations with many different lineups and purposes.
So, which comics should you read to prep for the movie? It's hard to tell, particularly since no comic book version of the team aligns with the movie roster, but if we had to guess, Busiek and Bagley's original run on the characters, picking up with Thunderbolts #1 in 1997, would be a good place to start. If you want to look elsewhere, consider the Dark Reign era of the team, featuring Ghost and Black Widow, beginning with Thunderbolts #128, or the launch of a new team led by Winter Soldier in Thunderbolts Vol. 3 #1.
Will there be a sequel to Thunderbolts?
It's definitely too soon to tell if Marvel will be taking the Thunderbolts beyond one film, at least as starring characters in their own team adventure. But, while we wait for news on the future of the team, it's important to remember that this isn't a brand-new group of characters like we got in films like Guardians of the Galaxy and Eternals. Each one of these antiheroes already has their own MCU history, and that history will play into the rest of the MCU's massive tapestry whether the team keeps going or not. So, as we wait for the film's December 20, 2024 release, keep your eyes peeled for more clues as to the future of the Thunderbolts.
---
Need to catch up on superhero movies? Check out Popverse's guide to Upcoming superhero movies: All the next comic book film release dates for Marvel, DC, Netflix, and more