Tim Drake: Charting (and celebrating) Robin and the evolution of his sexual identity
Tim Drake is one of the most popular, pivotal characters to hold the mantle of Robin. Here's how the DC superhero evolved and embraced his true self
Of all the superheroes to wear the mantle of Robin, one of the brightest and most brilliant of them all is Tim Drake. Created by Marv Wolfman and Pat Broderick in 1989's Batman #436, Tim was the third character to hold the Boy Wonder role, convincing Batman that the Dark Knight needed a crimefighting partner to balance out his dour demeanor. Since his introduction, Tim has played a vital role in the Bat-Family while growing up to quietly become one of the smartest sleuths in the DC Universe. And as Tim continues to defend the DCU as Robin, he has recently become honest with his own personal life and come out as a bisexual man, starting a relationship with his longtime friend and classmate Bernard Dowd.
With a new solo series titled Tim Drake: Robin on its way this September, we're looking at the the evolution of Tim Drake and his sexual identity, from his romances in his early days as Robin, to the queer-coding ascribed to his growing role in the DCU, culminating in his triumphant coming out as Tim becomes honest with who he truly is in his recent comic book appearances.
Tim Drake's early romantic history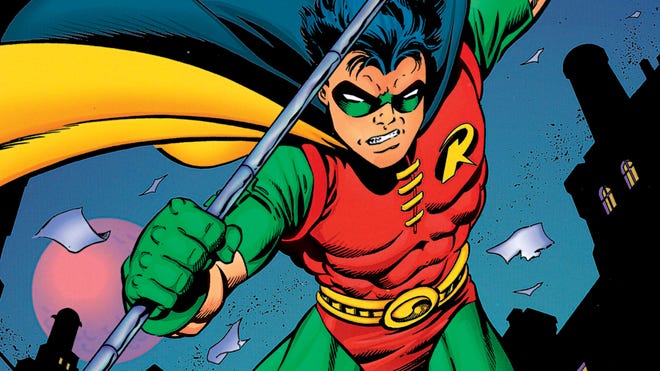 Tim comes from an affluent family, similar to Bruce Wayne, as the son of the wealthy Jack and Janet Drake. Even at an early age, Tim demonstrated a genius-level intellect by deducing Bruce's identity as Batman and Dick Grayson's as the original Robin and eventual superhero Nightwing. While unsuccessful in convincing Dick to reclaim the mantle of Robin and work alongside Batman (at a time when Bruce and Dick's relationship was strained), Tim impressed Bruce and Alfred Pennyworth enough to inherit the mantle of Robin at the age of 14, undergoing rigorous training to fulfill his duties on the Dynamic Duo.
Tim's first serious romantic relationship was with Ariana Dzerchenko, a recent immigrant from the former Soviet Union living in the Ukrainian neighborhood of Gotham. As the two embarked on a teenage romance, Tim's activities as Robin put a strain on their relationship and Ariana grew jealous of him growing closer to classmate Stephanie Brown, unaware Stephanie was the superhero Spoiler, who often worked with Tim.
After Tim and Ariana broke up, Tim began his relationship with Stephanie in earnest, and their romance was the longest either character has had to date. Stephanie and Tim would undergo a temporary break when Stephanie falsely believed Tim was cheating on her with another girl but the two would reconcile only for Stephanie to be apparently tortured to death by the supervillain Black Mask, with Stephanie actually faking her death and recovering elsewhere.
Following the 2005 crossover event Infinite Crisis, Tim and fellow Teen Titan Cassandra Sandsmark mourned the loss of Conner Kent, the cloned Superboy, together. This resulted in an impromptu kiss shared between them but the two agreed not to pursue a romantic relationship, regarding the move as little more than an impulse. The possibility of a romance between Tim and Wonder Girl resurfaced during the rebooted DCU continuity of the 'New 52' era but this relationship similarly didn't last long.
In addition to his relationships with Ariana and Stephanie, Tim has enjoyed brief romances with a number of young characters across the DCU, including classmates Darla Acquista and Zoanne Wilkins, the futuristic superhero Madison Payne, and Lucius' Fox's teenage daughter Tamara. In the non-canonical 1995 intercompany crossover Marvel vs. DC, Tim struck up a brief romance with the X-Men hero Jubilee while their two worlds were connected.
The evolution of Tim Drake's sexual identity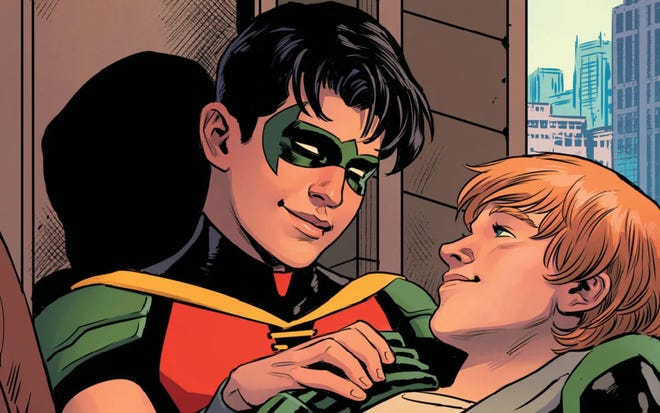 The subject of Tim's sexuality has been a subject of ongoing speculation and debate by the fans for decades, dating as far back as Tim's time on the superhero team Young Justice and his close friendship with his teammate Superboy. This queer-coding of Tim and Conner's dynamic increased after Conner's death during Infinite Crisis, with Tim obsessively overseeing secret cloning procedures in an effort to recreate his friend. Following Conner's eventual resurrection, the two resumed their friendship.
Following Tim's predecessor Jason Todd resurfacing as the lethal antihero Red Hood, fans would speculate and ship a potential romance between the two heroes. This was informed by the deep rivalry exhibited by the two young men and the special interest Jason took in his successor, speculating that this animosity was the product of repressed sexual tension shared between them. Any cursory internet search of Tim with Conner and Jason yields slash fiction of the heroes embarking on a thriving romance though this amorous angle has not been explored in canonical comic books.
Tim's sexuality would be explored in a three-part story that originally ran in Batman: Urban Legends #4-6, collected as DC Pride: Tim Drake Special #1. Written by Meghan Fitzmartin, illustrated by Belen Ortega and Alberto Jimenez Alburquerque, colored by Alejandro Sanchez, Nick Filardi, and Luis Guerrero, and lettered by Pat Brosseau, the story saw Tim leap into action to save his friend and kidnapped classmate Bernard Dowd. As Tim carries out this rescue mission, he realizes he has romantic feelings for Bernard and, following successful completion of this mission, Tim asks Bernard out for a date in his civilian identity, with Bernard accepting. A later conversation between Tim and Stephanie has Tim describe himself as being attracted to men and women, with Stephanie happy at Tim being honest with himself and meeting Bernard for the first time.
The sexuality of Robin and nature of his relationship with Batman has been something speculated over for years, with comic commentators like Frederic Wertham going as far as to weaponize it in his 1954 indictment of the American comic book industry Seduction of the Innocent. Tim Drake embracing his queer identity not only exorcises the homophobic agenda espoused by commentators like Wertham but reaffirms years of queer-coding and fan-shipping by giving the Bat-Family its first openly queer member. Tim's journey towards discovering his true self was by no means a direct one but, like the Green Lantern Alan Scott before him, showcases an evolving DCU. And for the legacy of the Boy Wonder, it's a strong vote of confidence in the importance of love visibly winning out in all its forms.
Tim Drake's story continues this September with an all-new solo series titled Tim Drake: Robin by writer Meghan Fitzmartin and artist Riley Rossmo.
---
Like DC? You'll love our recommended best DC Comics stories of all time.