Titans United: Bloodpact will blur the lines between hero and villain, and Titans TV show and comics
Cavan Scott reassembles DC's young heroes for Titans United: Bloodpact, teasing what readers can expect from the new comic book miniseries
After bringing the classic Titans back together for 2021's acclaimed miniseries Titans United, comic book creator Cavan Scott is teaming up with artist Lucas Meyers for a new miniseries Titans United: Bloodpact. Launching on September 20, the miniseries has Tim Drake awaken in a strange alternate reality after he and the Titans square off against the Fearsome Five. Unsure of what happened to the world and rest of his friends on the Titans, Tim scrambles to undo what has occurred as he learns Raven may have a surprising connection to the Fearsome Five's latest plot.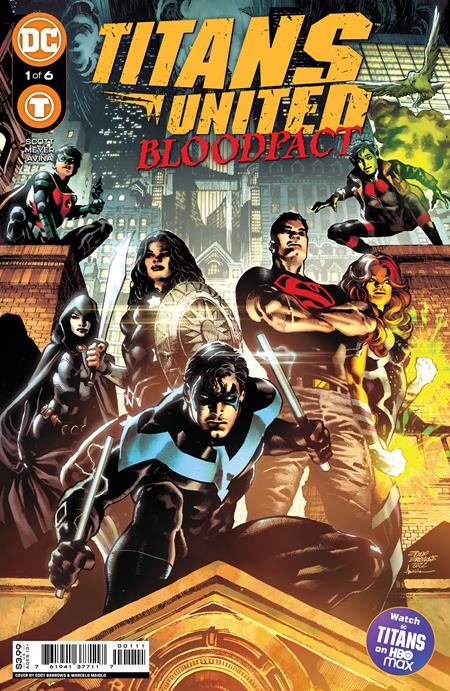 Like Titans United, Bloodpact takes inspiration from the popular live-action Titans television series on HBO Max, albeit while still setting its story firmly within the main DC Universe's continuity. But whereas the previous tale saw the Titans take on an intergalactic army poised to conquer Earth, Bloodpact takes the conflict to much more personal and intimate stakes as Robin finds himself in the middle of a sinister scheme involving one of the Titans' own. Just as Titans United put a focus on Jason Todd, Bloodpact will showcase what Tim uniquely brings to the mantle of Robin as he investigates this reality-bending conspiracy.
In an interview with Popverse, Scott details what he wanted to expand upon with the Titans in Bloodpact, explains why he focused this particular story on Tim Drake and Raven, and hints at what readers can expect from the bloody tale.
Popverse: Cavan, do you remember what your first exposure to the Titans was as a comics fan?
Cavan Scott: Absolutely. It was in the very first DC comic I ever bought; DC Comics Presents #26. Growing up in the UK in the 80s, DC Comics were hard to find, and Marvel UK titles were everywhere. Then, one day I found this comic that had the Green Lantern (even though I had no idea who that was) using an entire planet of Kryptonite to kill Superman! I snapped it up, and inside was Marv Wolfman and George Peréz's short introduction to the New Teen Titans. I was hooked on both DC Comics Presents and the Titans, seeking out my first comic store to dive further into the DC universe. Not having the books everywhere made it feel more like an adventure, seeking out these rare stories.
Check out this unlettered preview of Titans United: Bloodpact #1:
Coming off of the previous Titans United series, what did you want to explore with Bloodpact?
Raven and her link to Brother Blood. Plus, I wanted to have fun shifting the universe around a bit, so not everyone is how we've known them all these years. The majority of the story happens in a reality where the world worships a dark goddess who is strangely familiar…
A lot of this story is told from Tim Drake's perspective. What made him the perfect P.O.V. character for this parallel universe tale?
Because it gave me a chance to look at the relationship between him and his big brother, Dick Grayson, because that's what they are, brothers. I miss Jason being in this version of the team, because Jason was my Robin when I first started collecting comics, but he does have an impact on this story too.
What was it about pitting the Titans against the Fearsome Five for this particular story?
I mean, why wouldn't you? In many ways, they're the anti-Titans. I love the Fearsome Five and hope it's not my last time writing them.
How has it been working with Lucas Meyer on this project?
Lucas is great, such a fantastic collaborator, and so adaptable and talented. He's an artist to watch, mark my words!
Having spent a considerable amount of time working with the Titans and even longer as a fan, what is the unique perspective that you think the Titans bring to the DCU?
It's something they've made of quite a lot in the TV show too. The Titans are a family, especially the original Teen Titans. They found each other and chose to form a group (well, with a bit of prodding from Raven!) That bond is strong. These are heroes who literally worked out who they were fighting together, who finally stepped out of their various mentors' shadows to become the heroes that they were always meant to be.
What else can you tease for readers about Titans United: Bloodpact?
Heroes are villains, and villains are heroes. Oh, and there's romance as well, a rekindling of sorts.
Written by Cavan Scott, illustrated by Lucas Meyer, colored by Tony Aviña, and lettered by Carlos M. Mangual, Titans United: Bloodpact #1 goes on sale September 20 from DC Comics.