Top 5 Gaming Panels From New York Comic Con x MCM Comic Con's Metaverse
You don't need a cheat code to access these panels.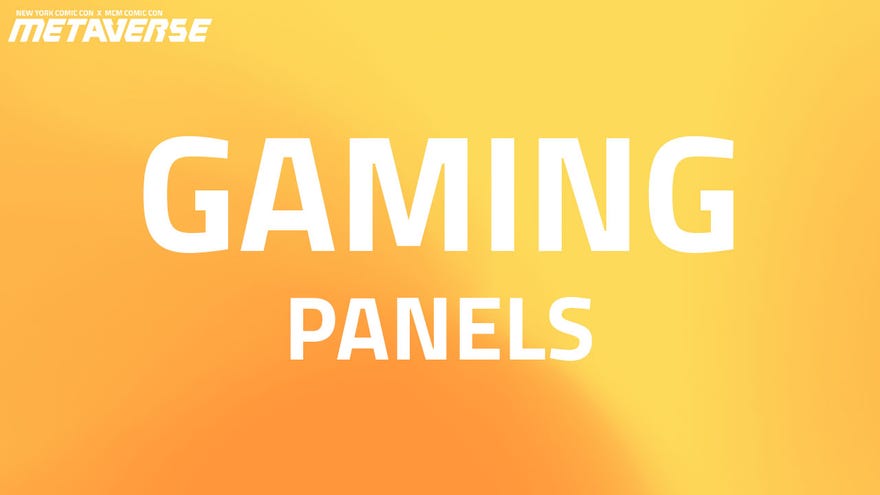 Join your fellow gamers at NYCC x MCM's Metaverse on October 8-11 for some great panels and interactive events! From workshops to live draws, to interviews with a legendary game developer, Metaverse has everything you need to scratch your gaming itch. Check out these panels and more on YouTube.
1. Adult Swim and Polygon Play Tabletop Adventure Tigtone & the Never-Stopping Prophecy
Friday October 9 @ 9:30 PM - 10:30 PM EST
Experience a quest worth questing for! Join the creators of Tigtone, Andrew Koehler and Benjamin Martian, along with co-producer Blake Anderson and Polygon's Jenna Stoeber and Josh Rios for an inside look at the tabletop role playing game set in the fantastical world of Adult Swim's Tigtone.
2. "The Godfather of Gaming" - An Exclusive Conversation with Sid Meier
Saturday October 10 @ 11:50 AM - 12:20 PM EST
Join us for an exclusive talk with one of the most influential game changers in the industry.
For years, video games were regarded as just another form of mindless entertainment, devoid of meaning and entirely mechanical. Today, video games are significant cultural commodities and an acknowledged art form because of the contributions of video game giants. Watch as Sid Meier, the game designer and developer behind the Civilization series, discusses the tales of his video game pioneering in a sneak peek of his upcoming book release.
SID MEIER'S MEMOIR!: A Life in Computer Games (W. W. Norton & Company) takes fans through the life and legacy of one of the most influential creative forces in video game history. The memoir will dive into the challenges he faced and how he influenced the strategy game genre we know today. As part of New York Comic Con's Metaverse, Sid Meier will also be joined in conversation by Soren Johnson (Lead Designer, Civilization IV), as they reminisce about the joys of creation, the excitement of expanding possibilities, and the very heart of playing video games—and of being human.
3. Cyanide and Happiness Draws Comics Live!
Saturday October 10 @ 8:15 PM - 9:00 PM EST
Join the creators, and writers of Cyanide & Happiness as they sit at home in their underwear drawing hilarious comics based on YOUR SUGGESTIONS! Laugh as they save on airfare and hotel accommodations! Marvel as they don't have to ship any pallets across the country! Take solace in the lack of lines, free food (from your own fridge!) and easy access to restrooms! It's going to be AWESOME! And if it's not, IT WAS FREE! SO SHUT UP!
[Comics and discussion are often 18+ in that we draw butts and talk about butts and say every curse word we know.]
Saturday October 10 @ 12:45 PM - 2:15 PM EST
The heroes of chaotic Dungeons & Dragons crew The Oxventurers Guild find themselves once again transported from the fantasy realm of D&D into the sci-fi setting of tabletop RPG Lasers & Feelings. Hop aboard the interstellar scout ship Raptor for this genre-swapping spin-off, with more lasers and feelings than ever before.
Oxventure is a UK-based D&D group formed of Andy Farrant, Ellen Rose, Jane Douglas, Luke Westaway and Mike Channell, seeking adventure and atonement under the auspices of dungeon master Johnny 'Literally Everyone in the World' Chiodini. Born in 2017 as a spin-off of YouTube gaming channels Outside Xbox and Outside Xtra, Oxventure took on a destructive life of its own for which Johnny, video boss of tabletop gaming site Dicebreaker, will surely be held responsible.
Join the cast of D&D crew Oxventure for a Q&A panel at Metaverse! The folks from YouTube channels Outside Xbox and Outside Xtra, along with Dicebreaker's Johnny Chiodini, will be answering your questions live in this special online panel with hardly any derailing whatsoever. Get your Q&A tickets here!
Sunday October 11th @ 4:00 PM EST
The Adventure Zone's Clint, Justin, Travis and Griffin McElroy pass along tips and tricks on their family's favorite game: Dungeons & Dragons. They have lots of secrets they're ready to share! Join them to improve your RPG skills a little, and probably laugh a lot. Have a question about D&D for the McElroy Family? Ask here!
If you're unable to attend the workshop, it will be available for replay until Saturday 10/17 at 12 AM EST. Tickets must be purchased before Monday 10/12 @ 11:59 PM EST to access panel replay.