New York Comic Con 2023's Artist Alley is a showcase of Tumblr creators
Tumblr is like a big convention's artist alley all-day every-day, and this year's NYCC 2023 Artist Alley is showing it goes both ways
Thank you to Tumblr for sponsoring this article.
Looking across the many, many artists appearing at New York Comic Con 2023, there's a shared bond to be found that stretches across media, genre, and methodology — a connection that might not even be immediately apparent to the artists themselves, despite their common enthusiasm for their work and the worlds they move through. When they're not showing up in the Jacob K. Javits Center in New York City, a significant portion of the NYCC 2023 artists share another destination, this time online: they're all on Tumblr.
Yes, Tumblr. For some people, the microblogging platform is one that they still think of for what it was almost a decade ago. But with new owners Automattic and a better sense of what fans and creators want, Tumblr is back - with content guildines more focused on creative freedom and even a monetization platform for creators to utilize. With new facets such as those and the utter collapse of certain other social media platforms in the last few months, and it's easy to see why Tumblr has been undergoing a high-profile comeback over the last year.
It helps, of course, that there are some world-class creators on the platform. Take, for example, DC artist Sweeney Boo (NYCC 2023 Artist Alley table G-35), who — when not wowing fans on the ongoing Harley Quinn series with writer Tini Howard — offers up sketches, fan art, and sneak peeks at their upcoming work. (There's a Wednesday Addams that has to be seen to be believed.) It's a glimpse into the world of one of the more exciting artists at one of the biggest mainstream comic publishers around… but that's just a tip of the iceberg on the platform.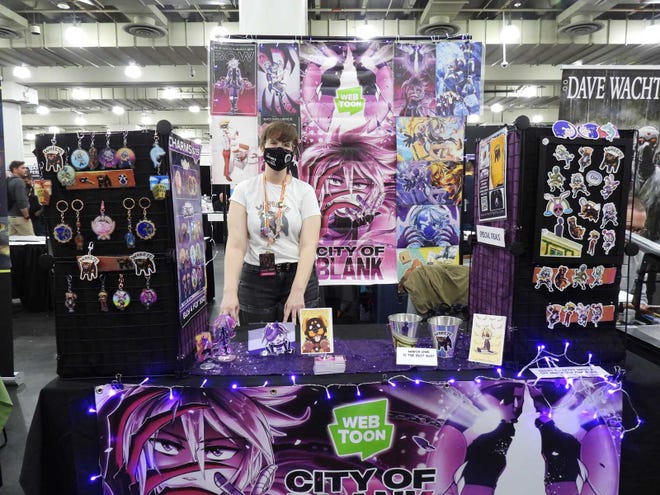 Maybe you're not into the DCU, or superheroes in general; that's cool. Let's look at 66 Shark Teeth (NYCC 2023 Artist Alley table K-35), then, the Tumblr of the creator of Webtoon's City of Blank, 66. Again, there's art and behind-the-scenes material to be found, but for fans of City of Blank, 66 also uses the platform to answer questions and reveal a little bit more about their thinking about the comic. (That Ask Me Anything button is a wonderful thing, especially when it leads to creators revealing just how personal stories have become after they started writing them.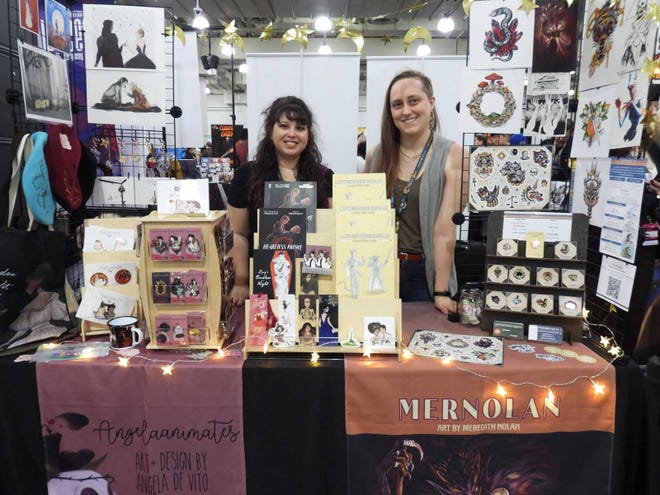 But sure, let's say that you're not into comics at all. Maybe animation is your bag, in that case, I'd like to draw your attention to Mernolan (NYCC 2023 Artist Alley table I-38), who's an animator at Titmouse who shares everything from fan art (of some very horny things, Meredith. We see you) to concept art, art fights, and links to where you can see some of the results of her day job. Wait, did I say fan art? Let's look over to Angela De Vito's blog (NYCC 2023 Artist Alley table I-38, with Mernolan), then; another animator — her animation-tagged posts are genuinely great — who's not shy in sharing her takes on what she loves.
Actually, now seems like a great time to talk about Graham, AKA Babirusa (NYCC 2023 Artist Alley table B-33), who makes plushies based on Our Flag Means Death characters, because, well, the internet will thank me (but more importantly, him) for sharing this. But that's the thing: Tumblr is, once again, a place where people can follow their bliss and find others who share the same passions.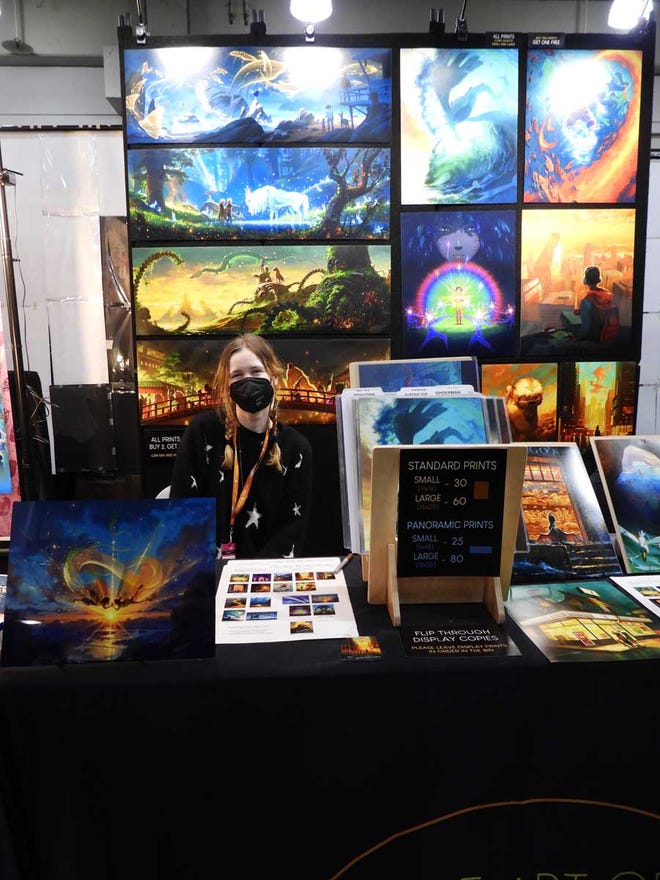 It's so tempting to go on — look at Devin Elle Kurtz's digital paintings (NYCC 2023 Artist Alley table J-40)! Or Janet Sung's work (NYCC 2023 Artist Alley table B-30)! Or Becca Farrow's illustrations (NYCC 2023 Artist Alley table A-33)! I really, really could go on for a long time — but what's perhaps more important than my simply listing the many, many artists who are showing at NYCC 2023 and also have a Tumblr presence is pointing out the following: one of the most wonderful things about a show like New York Comic Con is discovering your new favorite artist in Artist's Alley, and furiously devouring everything available because they're entirely on your wavelength. It's an experience unlike any other, and one that many of us wish could happen over, and over, and over again all year long.
Tumblr is, once again, somewhere where that kind of thing really is possible online, endlessly. Think of it as a virtual artist's alley that you can visit at the click of a button... in fact, there's even Tumblr's Artist Alley - an ongoing program that promotes creators and offers opportunities for them sell work directly to fans - to help with that. See how easy it can be?
---
Popverse will be providing wall-to-wall coverage of New York Comic Con 2023, with an all-star crew of writers, editors, and video producers there all four days (and nights), as well as in advance of the show. You can follow along to this coverage as well as the panels we're streaming with our
NYCC Popverse coverage guide
.