Manga creator TurtleMe makes his first public appearance ever at Anime NYC
After six years of writing, manga creator TurtleMe shows his face for the first time, and reveals his origins and the origins of The Beginning After the End
This weekend at Anime NYC, Yen Press surprised fans with the first public appearance ever of manga writer TurtleMe.
Over the last six years, TurtleMe, who revealed that his name is Tae Ha Lee, has written 168 chapters and almost ten volumes of the online fantasy-adventure manga The Beginning After the End, which tells the story of a king who dies and is reborn as a baby in a world he no longer recognizes. Drawn by Fuyuki23, the comic has received wide acclaim for its well-developed world and plotting. But its origins were far less planned out.
"I started writing this comic on a whim," TurtleMe admitted to the crowd. "I'd read all these stories and I kind of wanted to write one myself. So after work I just sat down in a Starbucks and started writing. And whether brave or stupid, I published it right then and there, anonymously." And that was the first chapter of The Beginning After the End.
As he published on Tapas, the comments from readers inspired him to keep going. Eventually he realized, perhaps he could leave his full time job and just write. "It sort of transitioned to, I can't really do both, and writing is doing pretty well for me, so let's double down on that."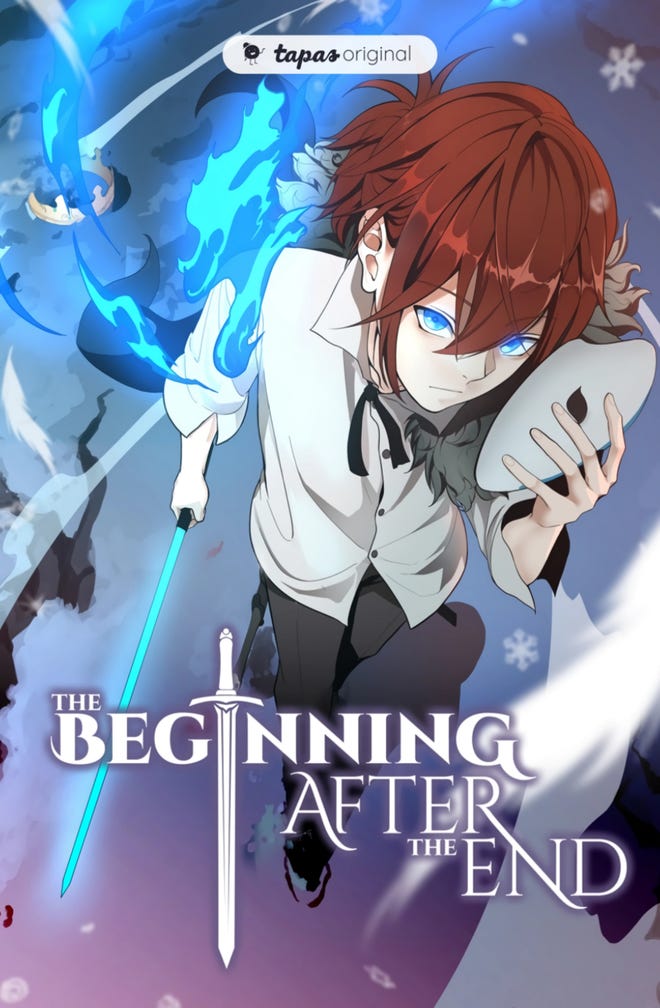 While TurtleMe, who was born in South Korea but moved early on to the United States, was inspired by a lot of different content, he pointed to his introduction to light novels as particularly important. "They took me down a very deep hole," he said, laughing. "These days anime-wise I'm liking the more chill [stories], like SpyxFamily, Ranking of Kings." But having become a creator, his experience of reading manga has changed dramatically. "If I'm honest, I end up kind of studying them. It's hard to realize whether I'm reading this for fun or because I have to study this."
One big question that people have had is about the origins and significance of his name. "I'm sorry to disappoint you," he said, "but it's just kind of a user name that stuck with me when I started publishing. If I had known that I was going to get this big I would have chosen a little bit more carefully!"
In August, Yen Press published the first volume of The Beginning After the End in print. It's the first time the story has ever been printed in hard copy, and at the panel Yen Press announced that it has committed to publishing at least five more volumes. TurtleMe said the experience of seeing the book in print has been powerful. "I started off in a web serial format, so everything was online, anonymous even. I saw people's comments and I appreciated that. But when I got to hold the book in my hand for the first time, that was when I realized, 'Damn, I really am a writer.' It was surreal."
He admits he dreams of seeing The Beginning After The End as an animated or live action series, but he's also got aspirations far beyond that. "The Beginning After the End being my first project and it being received so well, I'm excited but also very nervous for the next series that I put out... I want to be known as a great writer, not a great writer of 'The Beginning After the End.' So my next goal would be to make sure that all the skills of writing and storytelling that I learned through '[The] Beginning After the End' I can bring to my next project, whatever it may be."
Based on his experience, TurtleMe also had some advice for aspiring manga creators. "Start writing. I think getting the first words out there, no matter how bad they might be, is the biggest first step." And he warned people to avoid getting lost in the worldbuilding. "People starting off get so sucked into the world building, especially in the fantasy genre," he said. "If you go down that hole it never ends."
He also kidded that publishing the very first thing that you write is not necessarily a great idea. "I made the silly mistake [of doing that]," he said, "but you don't have to do that. You can edit after you've written it."
---
If you're a big fan of TurtleMe and his work, keep an eye on Popverse's front page. Popverse recently had a chance to talk directly with TurtleMe, and we can't wait to share that interview with you.
---
Attack on Titans's Hajime Isayama brings laughter, revelations (and a few tears) to Anime NYC