It's official: Marvel is relaunching its Ultimate Universe
23 years after it was born (and 6 years after it died), Marvel's Ultimate Universe returns
An Ultimate Invasion is coming to the Marvel Universe later this month, and today in a virtual conference for retailers, Jonathan Hickman, Bryan Hitch, and Marvel Comics editor-in-chief C.B. Cebulski have laid out the plans for what exactly is going to happen in this new series.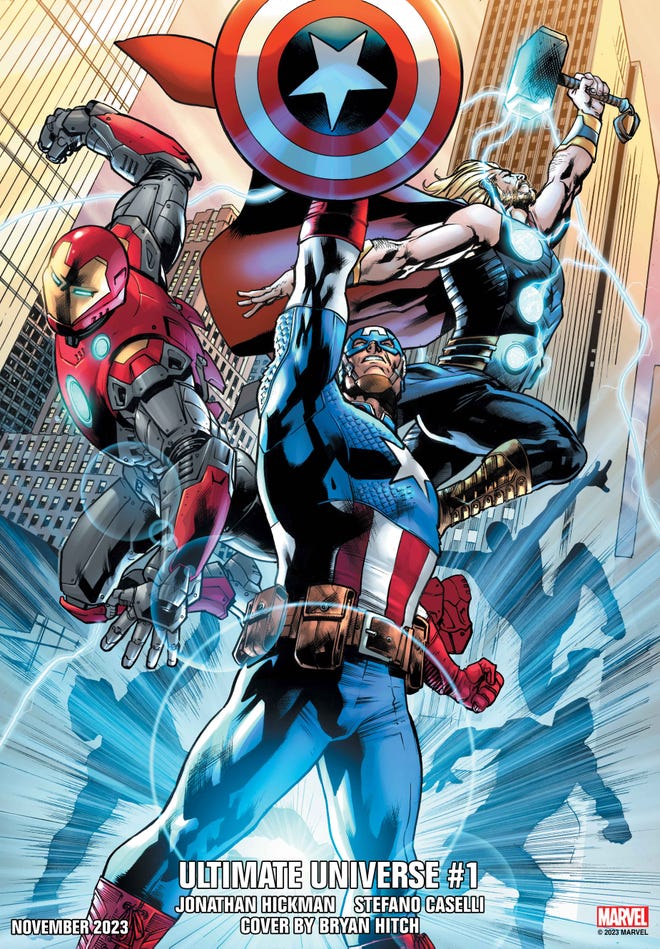 While many believed the four-part event series to be the return of the Ultimate Universe, Ultimate Invasion is actually born out of an attempt by the Maker - the Ultimate Universe's Reed Richards - to restore the Ultimate Universe. It goes badly, and a group of heroes end up caught in a war fought between timelines.
With this war, come a new line of Ultimate comics.
To launch this new line, following Ultimate Invasion's conclusion, will come Ultimate Universe #1 in November. This one-shot will be written by Jonathan Hickman and drawn by Stefano Caselli and feature a cover by Bryan Hitch. Ultimate Universe #1 will serve as an introduction to the new line of Ultimate comics which will feature what a Marvel statement calls "an array of brand-new hard-hitting series" taking place in an "exciting new universe crafted by some of today's greatest comic book visionaries."
"What made the Ultimate Universe originally really interesting was that it was a reflection of the world outside your window, in the moment that you were living in. What does it look like in the world we're living in now?" Hickman said on the retailer call. "It's kind of shocking how much the world has changed in that period of time. The idea of what it would be like to see the genesis of super heroes in a brand-new world is a really fascinating exercise."
As for what series we'll see launched and who will be at the helm? Well, we'll have to wait and see. More information on the new Ultimate Comics to come.
Ultimate Universe #1 will debut in November 2023.
---
While you wait for the new Ultimate Universe, check out our complete guide to Marvel's Ultimate Comics