Vault Comics wants to have the best-selling comic of 2023 - and they're willing to give it away for free to do it
Vault Comics biggest launch yet is Unnatural Order - and they're pulling out the stops to make it that way
Every month (every week even), publishers launch a new coimc book series with a sparkly '#1' on the cover. It's 'new reader friendly,' 'the perfect jumping on point,' etc, etc... but so are all the other #1s out there. While it's fair to say that battleground is those comic shelves, the real battleground is the road to those comic shelves - winning over the comic store owners to give a chance on another new #1 in a sea of new #1s.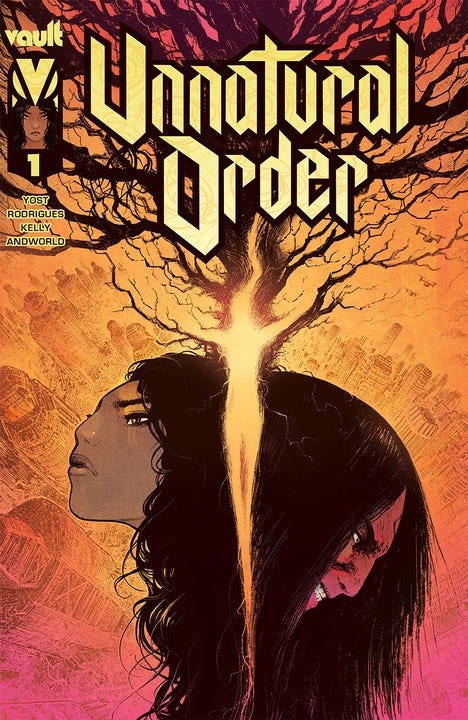 Upstart comic publisher Vault Comics is looking to break from the pack by making it a no-brainer for comic store owners: by making the comic completely free.
That's right, Vault is offering Unnatural Order #1 completely free for retailers - as in no risk for retailers - but with the ability to sell the book to readers at its listed reail price of $4.99. Although comic shops can discount it - heck Vault is even encouraging it!
"We know this has been a tougher than expected year for retailers. So, we're making a game-changing move. We're taking our biggest book of the year and giving it to you for free," says Vault CEO Damian Wassell in the announcement. "Give it away or sell it. It's up to you. What do we ask in return? Simple. Make this the best-selling comic of 2023. Get every copy you order in the hands of a customer within a week. And then, heck, maybe we'll keep up this crazy gambit with all our new comics."
Vault Comics has been around for 7 years, so why are they trying this strategy now, for this new, unheard of comic called Unnatural Order? For one, they've read it, and two, it comes from a pedigreed name in comics and movies - Christopher Yost, writer of Thor: Ragnarok and episodes of the Mandalorian, as well as a variety of comics including X-Force and The Avengers.
"Unnatural Order #1 comes out in October from Vault Comics," says Yost. "It's 30 pages of fantasy/sci-fi/action with a story by me and art by the amazing Val Rodrigues. We're all very excited about it… I've loved comics all my life, but I haven't had a comic in stores in a while… I was just psyched to be back. And then the gang at Vault ran an idea by me. 'What if we gave away the first issue to retailers for free?' I laughed at the obvious joke, because certainly our Corporate Overlords wouldn't allow that."
"But this is Vault. They don't do Corporate Overlords. Vault really wants to do something BIG for the retailers who support all of our work. I don't pretend to understand the business of it, but they LOVE comics. They love their partners. They want all of us to succeed, to celebrate comics."
So while the comic won't be free to fans, comic book retailers are now incentived to give Unnatural Order #1 the best chance it can to succeed.
However, for fans who want something free-- we do have a free five-page preview of Unnatural Order #1 here:
Unnatural Order #1 goes on sale in October, with retailers able to order free bundles of 25 copies. Vault will be selling variant cover editions of Unnatural Order #1 at normal wholesale prices to retailers.