Vault Comics reveals stunning 2024 creator line-up including John Jennings and Slash from Guns N' Roses
The indie publisher is ready to tell you what to expect next year, and it's quite a line-up
We're just days away from New York Comic Con 2023, but Vault Comics is already looking further into the future — to 2024, in fact, and the many talented people it'll be working with during the next year. Popverse has an exclusive peek at some of the big names (some of them very unexpected) that Vault will be publishing in 2024.
Vault has offered the following graphic featuring its creator base for next year, and it's… pretty damn impressive, let's be honest.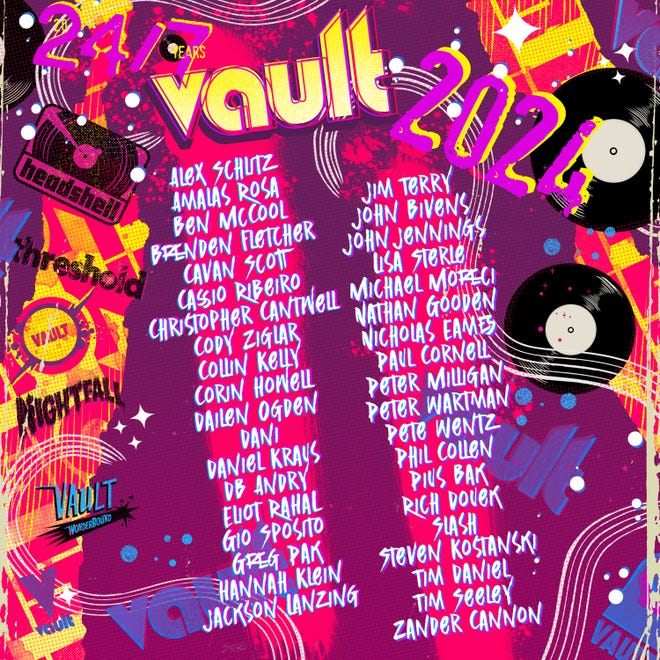 The graphic was accompanied by this statement from Vault editor-on-chief Adrian Wassel, which is at once restrained and suitably bold: "Years of hard work and quiet innovation are about to launch Vault to the top. It's all built around — and in support of — our creators. The list of Vault's next wave of talent speaks for itself, so there's not much for me to say except, keep up."
For those who want to see the full list in a more traditional list form — I'm not judging — here it is:
Alex Schlitz
Amalas Rosa
Ben McCool
Brenden Fletcher
Cavan Scott
Cassio Ribeiro
Christopher Cantwell
Cody Ziglar
Collin Kelly
Corin Howell
Dailen Ogden
Dani
Daniel Kraus
David DB Andry
Eliot Rahal
Gio Sposito
Greg Pak
Hannah Klein
Jackson Lanzing
Jim Terry
John Bivens
John Jennings
Lisa Sterle
Michael Moreci
Nathan Gooden
Nicholas Eames
Paul Cornell
Pete Wentz
Peter Milligan
Peter Wartman
Phil Collen
Pius Bak
Rich Douek
Slash
Steven Kostanski
Tim Daniel
Tim Seeley
Zander Cannon
I'll be honest: I saw Pete Wentz and Slash, I did a double take. But also, there are some fascinating names in that list that I'm very, very excited to see what they're up to: Christopher Cantwell? Zander Cannon? Dani?
Details on individual projects are remaining under wraps for now, but for those attending NYCC 2023, you should go check out Vault Comics on the show floor; they're at booth #3301 and see what you can find out in advance. For everyone else, keep your eyes on Popverse for the latest news as it happens… and look forward to what looks like a very exciting 2024.
---
Popverse will be providing wall-to-wall coverage of New York Comic Con 2023, with an all-star crew of writers, editors, and video producers there all four days (and nights), as well as in advance of the show. You can follow along to this coverage as well as the panels we're streaming with our
NYCC Popverse coverage guide
.