Our Flag Means Death's Vico Ortiz talks Primer Impacto and the power of inclusive Spanish
During the Our Flag Means Death panel at C2E2, actor Vico Ortiz shared what it meant to them to be able to talk about their character and inclusive Spanish on Primer Impacto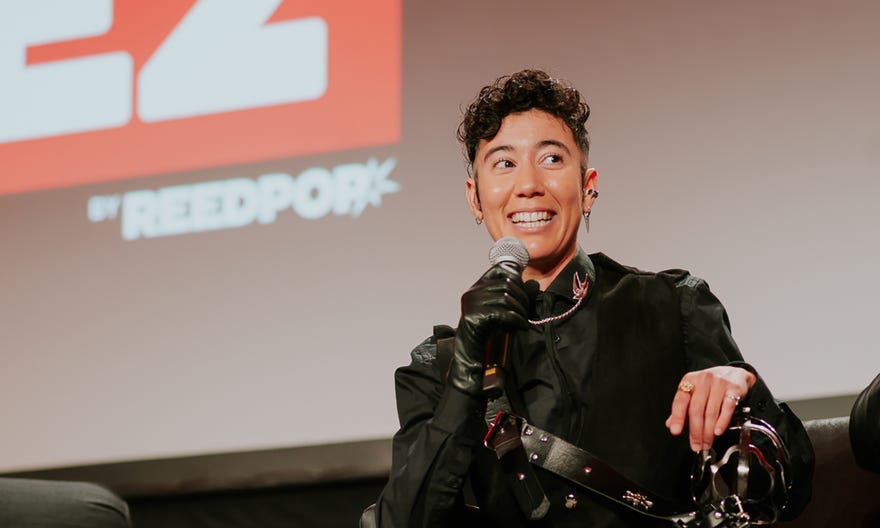 On Saturday at C2E2 2023, cast members from Our Flag Means Death Vico Ortiz, Samba Schutte, and Kristian Nairn took the stage to chat with Popverse's very own Veronica Valencia and answer some fan questions.
During the hour-long panel, the cast chatted ship (as in actual boat) names and ship (as in relationship) names and more, but before Veronica opened the conversation up to fans, she had one last question for Vico Ortiz, who had just won a GLAAD award for an interview they did on Primer Impacto, a long running Spanish language news program.
When asked to talk more about their experience, Ortiz shared, that when Our Flag Means Death launched, they wanted to do press not only in the US, but also in Latin America and the Carribean, to showcase the fact that "there's a trans nonbinary person in this show who speaks Spanish, who's Puerto Rican."
And there was some hesitancy, not about promoting the show, but about how to talk to and about Ortiz and about neutral Spanish. Ortiz shared, "Having Primer Impacto, which is a huge show in Latin America, be super thrilled to not only promote the show, but talk to me and interview me and chat with me and hear me, was amazing because I grew up with the show... My grandma watches this. My aunts and uncles... my family."
"That I was able to promote the show and use Jim as a way to segway into 'This is also who i am, and we've always existsed'-- it was really wonderful to have that and have the support of the network and the show to just go forth and do it."
Ortiz expanded on benefits of neutral Spanish, sharing that, "There are ways to use language to honor who we are. I know that Spanish is a very binary language, but there is an amazing amount of people that are introducing this neutral Spanish-- and it's there, it's accessible, and it's very fun to use. I try to make it as fun as possible, because it is fun. Language and life should be about exploration and being curious."
---
Become a Popverse member to watch the entire C2E2 Our Flag Means Death panel here.
Popverse is at C2E2 this year doing all sorts of reporting, streaming, liveblogging, and more. Check out this roundup of all of POpverse's coverage at C2E2.