The Walking Dead: Dead City's bizarre team-up of Maggie & Negan: "An exercise in intimacy, with the worst possible partner" says Lauren Cohan
A first look at The Walking Dead: Dead City was given to those of us at WonderCon
Walking Dead fans got their first look and taste of the latest Dead spinoff limited series, Dead City at WonderCon 2023. It features Maggie (Lauren Cohan) and Negan (Jeffrey Dean Morgan), and is set for a summer release this June 18 10PM on AMC and AMC+. But what brings them together? What is Dead City is about? Cast members Lauren Cohan, Gaius Charles and showrunner Eli Jorné were in attendance to introduce it to the Wondercon audience and Chris Hardwick hosted.
"It's a post-apocalyptic playground, but it's about grief, trauma and loss," Jorné shared what to expect from the series. "We're asking how does Maggie look at Negan's face and know what he did to the love of his life?"
Negan murdered Maggie's husband, Glenn (Steven Yeun) in Season 7 of The Walking Dead and there is no love lost. So what brings them together? Maggie and Negan (Jeffrey Dean Morgan) walk into utter chaos in search of Maggie's son, Hershel, who has been kidnapped by Zeljko Ivanek's character, the Croat.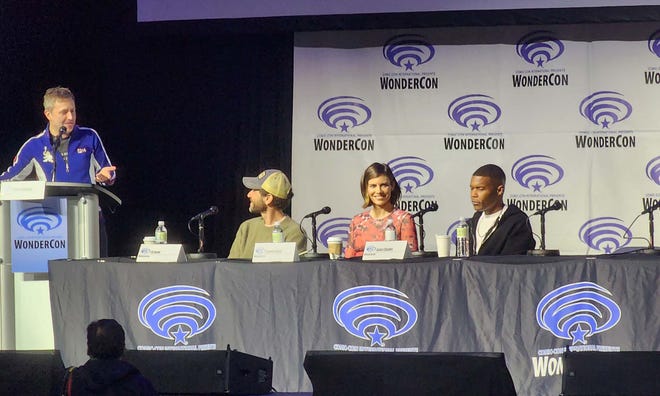 "We are a few years on, Logan Kim is playing Hershel, and is vaguely older than when we last saw him," Cohan explained. "He is retrieved unlawfully and kidnapped. I track these people as far as I can on my own to New York. That's where she needs Negan's help."
"What we see is very unprocessed. The trauma between Negan and Maggie happened. The tension is still present.They're in this [figurative] tunnel that they're trapped in. Negan brings up more things she can run away from, and what he brings up for her, it's been gratifying to know this character for so long. It's like an exercise in intimacy, with the worst possible partner. "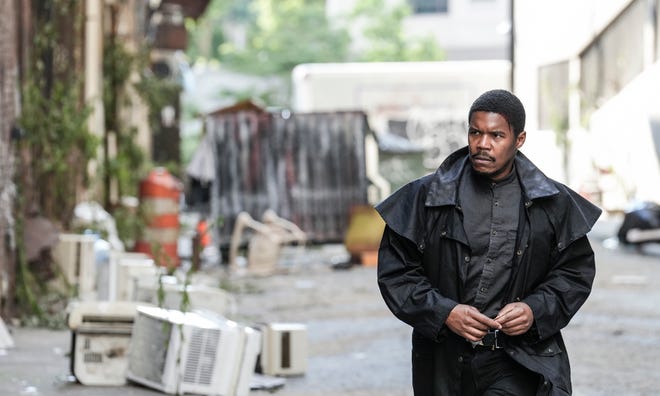 Dead City takes place in New York City, which is as it always is, a character in of itself. Manhattan Island is severed by the mainland many years ago. The concrete jungle is full of dead wandering from all directions, despair is around every corner and there is destitute of the bare necessities.
"We haven't really lived in a city like New York, there's a million and a half walkers," Jorné said. "It's a whole new world that's claustrophobic. It's nothing you've ever seen before. We're going to see some iconic landmarks messed up in a cool way and incorporate them into the story. How to survive in the woods is different from surviving in buildings 20-30 stories high. There might be some zip-lining."
Zip lining? We've come a long way from those farms and forests in Georgia. The landscape for our protagonists is foreign territory. New York presents all new challenges and walkers having different forms of attack. A preview clip was shown that saw Maggie, Negan and Jano ducking walkers in two-piece suits leaping from the rooftops.
"They're ill-equipped for New York because they've never been there before," Cohan stated. "It's a cold stark environment. We got to shut down Wall Street, it's surreal."
Here is a trailer released during the panel:
Dead City introduces new characters too. Besides, Ivanek and Charles, Karina Ortiz (Amaia), Jonathan Higginbotham (Tomasso),Trey Santiago-Hudson (Jano), Michael Anthony (Luther) and Mahina Napoleon (Ginny) begin their run with the Walking Dead Universe.
Every new Walking Dead environment explored has a name for the communities that have thrived in the apocalypse. We've seen the Sanctuary, the Hilltop, Alexandria and the Commonwealth. Well, New York City has theirs and it's called New Babylon.
"New Babylon is a state that tries to put this world back together," Charles revealed. "One of the biggest challenges is getting Negan. Have we ever served justice for what was done to Glenn? My character tries to get that justice… but there's complications. My character pursues law and order, to a fanatical level and there's some psychological and emotional reasons in my background that explain why that is."
The Croat is a character that Jorné created for the series and is excited for fans to see him because he not only brings something new to this universe but also pulls new things out of Maggie and Negan.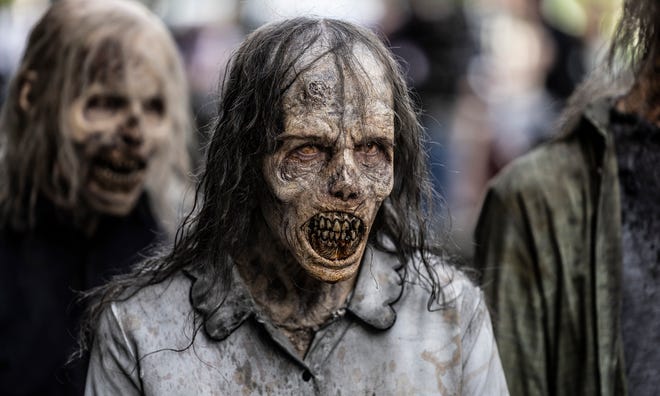 Driven by the second-most important person in her life, Cohan says that if Maggie is to find him and if she saves him, "there's this cold treacherous road that she's inhabiting, that New York embraces."
"We've painted these characters as heroes and villains but [in Dead City] we get to see them painted in all sorts of colors."
The six-episode The Walking Dead: Dead City will premiere Sunday, June 18 at 10:00 p.m. on AMC and AMC+.
---
Confused? Here's how to watch The Walking Dead universe in release and chronological order.