The Walking Dead TV universe is jumping ahead 7 years in Fear: There's a new set of heartless rules to follow" says cast
Kim Dickens, Jenna Elfman, and Christine Evangelista talk about AMC's Fear the Walking Dead season 7
The last time we saw Fear the Walking Dead, we were left with an open ended cliffhanger that could vault viewers anywhere. How does seven years later sound? That's what will happen when the eighth and final season premieres May 14 on AMC and AMC+. WonderCon 2023 got to see the first glimpse of this new vision of the series through a new trailer and exclusive clip that showed Morgan (Lennie James) in a darker, more vengeful mode as he attempts to rescue his daughter, Mo (Zoey Merchant).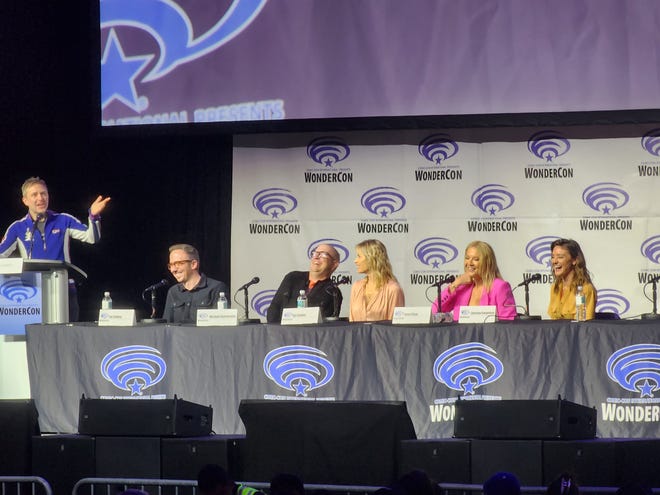 On hand to discuss The Fear of the Walking Dead's final season at WonderCon 2023 were co-showrunner and executive producer Ian Goldberg, director Michael Satrazemis with Kim Dickens (Madison), Jenna Elfman (June Dorie), and Christine Evangelista (Sherry).
"We're so honored to tell these stories and tell this final season." Goldberg says. "We will finally see life inside PADRE, something we've teased since Season 7. We're going to do it in a conceptual way, and we're going to be jumping forward seven years and seeing [our characters'] new realities."
PADRE is a strict community that preaches their way or the highway. They feel like they know how to raise the future generation of survivors, so much so, that they've stolen babies and don't care about their parents. Empathy is not their strong suit and they simply don't take no for an answer.
"There's a new set of heartless rules to follow," Evangelista says. "Early on, it was about making a safe environment for Dwight and Sherry's family. At the time, PADRE was the best option. [Seven years later], Sherry regained some strengths for her family."
"Knowing this was the last season, we had the blessing to write characters to conclusions," Goldberg says. "But we also get to write about their beginnings. They grapple with what they've grappled with since the beginning. It's a full circle journey for our characters, when they're faced with a lot of their ghosts."
Take Morgan for example, who has always wrestled with denial after his wife Jenny was bitten, who then bit his son Duane. He tried to practice channel his violent tendencies in other ways in the apocalypse but he finds his darkness again.
"Morgan is one of the best walker killers and we're going to see him unleashed." Goldberg says. "Visually you can see his evolution by looking at his weapon. He went from a stick, then to a broken stick as a stake, and an axe, which we dubbed the 'st-axe' representing two sides of Morgan."
Whatever your thoughts were on the seventh season of Fear the Walking Dead, one thing was clear. They went bold in the finale, setting up a final season that saves the best for last. Reconciliation, redemption, and character reinvention are all the table.
Fear the Walking Dead welcomes back Kim Dickens' Madison Clark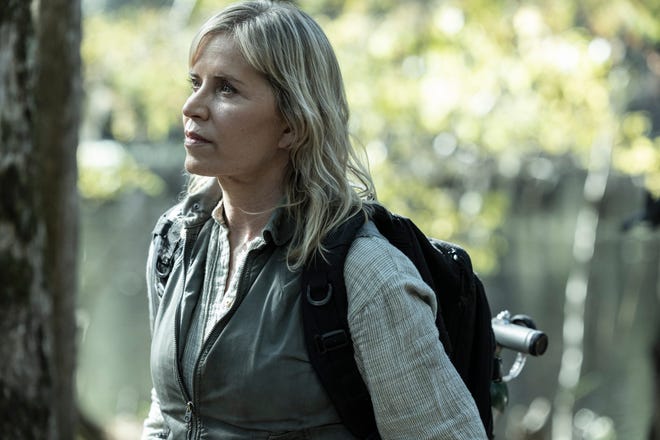 Madison Clark (played by Kim Dickens) returned to Fear and left viewers scratching their heads. How could one of the series most dynamic characters thought to be dead survive, and how did she fall from grace? To recap quickly, Madison was last seen in an arena with thousands of zombies on fire. PADRE rescued her from that harrowing situation and then put her to work by collecting hundreds of babies for whatever their idea of utopia is.
In exchange, she received oxygen to help keep her alive after the smoke from the arena fire damaged her lungs. Madison finally meets Morgan (Lennie James) with baby Mo in his arms. Instead of stealing Mo, Madison makes a pact with Morgan to protect Mo. But PADRE steals Mo anyway, forcing the two new allies to devise a plan to infiltrate the island community.
Goldberg says that we can surmise a sense of what Madison survived, escaping the arena. We can only guess what she endured living under the rule of PADRE. But meeting Morgan put her on a new trajectory – the path to redemption.
"It felt poetic and beautiful," Dickens says fondly. "I was honored to take it across the finish line. She turned the tables with PADRE, saw the light by meeting Morgan and retrieving Mo. It's exciting but harder; I gotta find this new angle. You [pointing at Satrazemis] really pushed me."
On working on the Fear the Walking Dead final season
All of the actors on the panel credit Satrazemis for getting the most out of them.
"Working with the actors on a content-heavy show, the things you have to ask of these humans is tough. So we have to trust each other and the physical stamina required in this environment, the emotional stamina, the preparation–It's insane! I get those emotions; they're free for me. I get to watch a lie become a truth."
"Most shows don't get to have this completion," Satrazemis reflects. "It's beautiful, it's devastating. I'm privileged in the way that Ian and the team wrapped this [series], it feels special, it feels elegant and complete."
As for Strand (Colman Domingo), Goldberg offers two teases: Strand may have the most drastic reinvention when we meet him, so expect a big change. Secondly, Strand went down a dark path in Season 7 losing his beloved tower and whether he can redeem himself remains to be seen.
Elfman is also grateful for being able to explore all the aspects of her character through such extreme situations. And while comedy earned Elfman acclaim early in her career, the dramatic range she has been able to showcase in June's struggles, she felt in debt to the franchise.
"When you have loss after loss, it triggers all the earlier ones. I am full of gratitude to explore all the nuance and evolution of a character. It's been really awesome. I couldn't think of it as the last season because it's all consuming. I love the time jump because that's seven more years of experience in this world. June's gone dark."
"Betrayal is the worst. When you give help and it's betrayed, we find her in that space. She's rogue and she needs to find her way back. When the characters hit bottom some beautiful things happen to them in the chaos and sewage."
"I love the story this year and I can't wait for people to see it."
Fear the Walking Dead season 8 debuts May 14 on AMC and AMC+.
---
Confused? Here's how to watch The Walking Dead universe in release and chronological order.