Read the WandaVision Comic Books The Show is Based On
Welcome to suburbia.
I have to confess: I haven't seen every movie in the Marvel Cinematic Universe. There are a lot of them, and the universe doesn't grip me the way other media does. (I know, I know. It's sacrilege for someone who works on some of the biggest comic cons in the US.) But I'll be honest, WandaVision—the upcoming 2021 series from Disney+—has me very excited.

WandaVision premieres on Disney+ January 15, 2021. Don't have a subscription yet? You can sign up for one here!
What is WandaVision About?
WandaVision's plot is still a mystery. The show looks like a cross between the underrated classic Pleasantville and a Disney fever dream, so it seems Disney+ is doing right by Wanda Maximoff and Vision. If you've read any of my other articles, you know what to expect by now: a plea from me to go beyond the screen, drive down to your local comic shop, and support the industry that made these shows and movies possible. By doing that, you'll be able to uncover more about WandaVision's premise, and get ready for some easer eggs in the show.
Check out the Official WandaVision trailer here.
America's favorite superhero couple has a long history in the comics and I'm here to recommend again: read the comics. Whether it's source material that directly inspired the series or just great featured material, there are some fantastic stories to help you learn more about these two Avengers outside of the silver screen.
Tie the knot on your love for WandaVision with these replica wedding rings, an Entertainment Earth exclusive.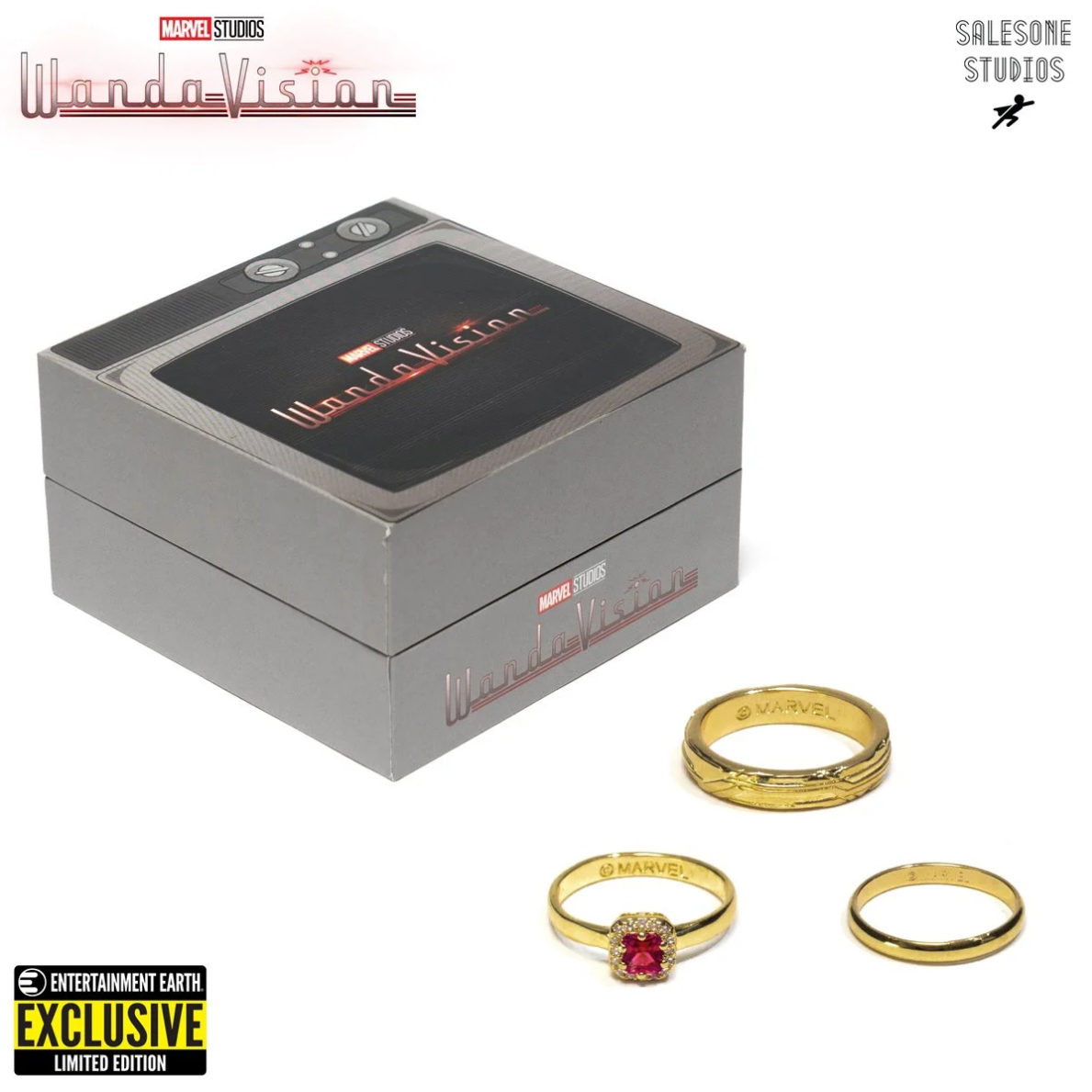 $59.99 (?43.93)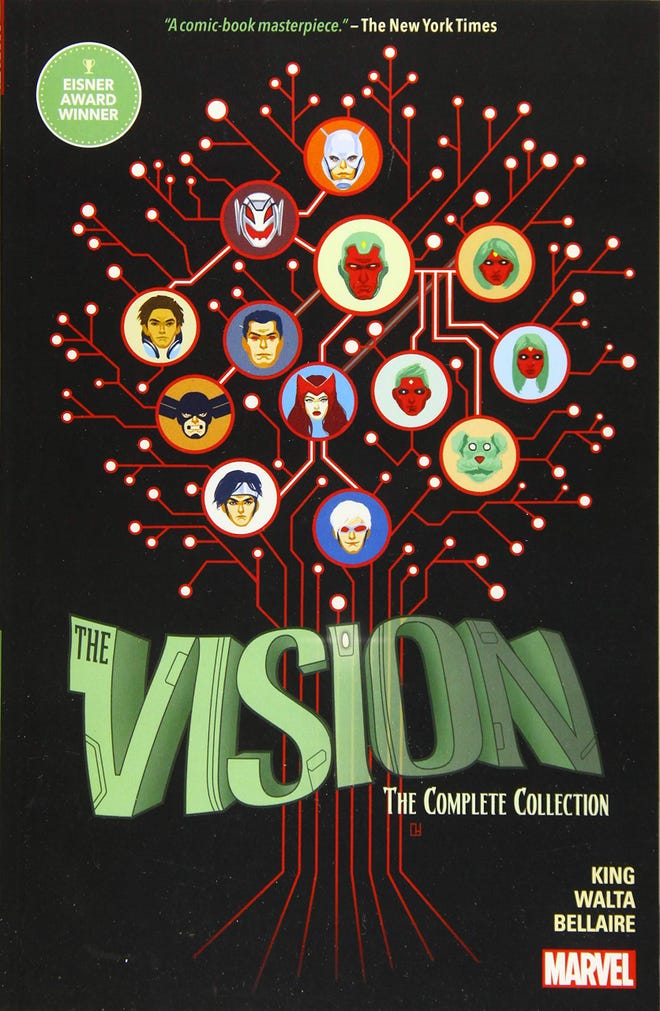 That source material I mentioned? Right here, baby. Before he got his start on our favorite caped crusader, Tom King, along with Gabriel Walta, was having Eisner nominations hurled at him for a 12 issue maxi series called The Vision.
Taking a page out of the playbook from Fraction and Aja's Hawkeye, King & Walta continued the now time-honored tradition of 'What if this B-level superhero was just a normal guy?' That's just the case with The Vision—despite my poking fun, it's a great series.
Vision moves into suburban America with his whole android family, including a dog, and readers get to see them try to adapt to the everyday dullness that is a middle class lifestyle. All hell breaks loose and readers get to experience Walta & King's take on superhero sadness, but the story comes to a satisfying conclusion (you'll have to read it to find out–no spoilers here.. This was one of the first comic series I really clung to when I first started reading and would highly recommend it for anyone excited about WandaVision.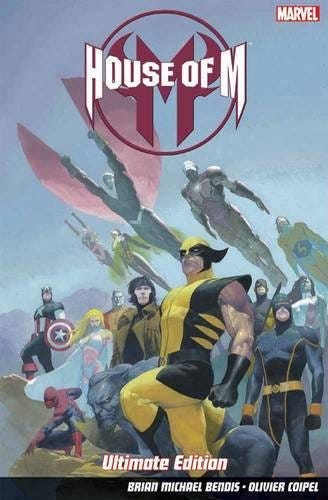 The modern age of comics covers a period of time that seems unrealistic. It's strange that Watchmen from the 1980s and the modern day crossover event take place in the same era.
House of M was not the first major crossover event of the 2000s, but it was one of the most significant. Scarlet Witch suffers a mental breakdown and tries to recreate the children she lost by altering the fabric of reality.
The event crossed over into 15+ books, but Marvel did a really great job putting them together in high quality hardcovers that tell the story in a cohesive narrative.
The first solo series for Wanda came in 2015 with the help of long time industry veteran James Robinson and the ultra talented Vanessa Del Rey. The result? Scarlet Witch on a trek around the world solving magical crimes and trying to fix witchcraft.
The series went for three volumes with a murderers row of talented artists including Leila del Duca and Joelle Jones. A complete collection is coming out February 9, 2021 so it's a perfect time to get those pre-orders in!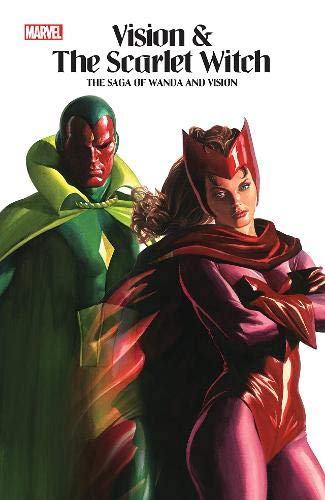 The series that started it all. I always think it's important to go back to the beginning with comics, and in this case, one of the original WandaVision comic books. Not because they're origin stories, which many times they're not, but because it shows you the original creators' vision (pun absolutely intended) and you can gain a frame of reference for each characters' development and story arc.
Published across two volumes, this 1980s series gives you insight into the early days of the couples' family life, their separation from the Avengers (in order to make it a self-contained story) and even Wanda having Magneto as a father.
Compiled nicely in one volume that's available for pre-order now, this is the start of everything I've been writing about so far.
Author's Note: If this price seems high for the physical copy, it's because it's almost 500 pages. At those same links you can grab a digital copy for $14.99 or £16.09.
Want more geeky recommendations? Subscribe to our newsletter and join our Discord server.