Watch: Judge Dredd writer Arthur Wyatt talk Best of 2000 AD at this year's NYCC
Best of 2000 AD, a new quarterly graphic novel series, aims to bring the best of the British comics titan to the US.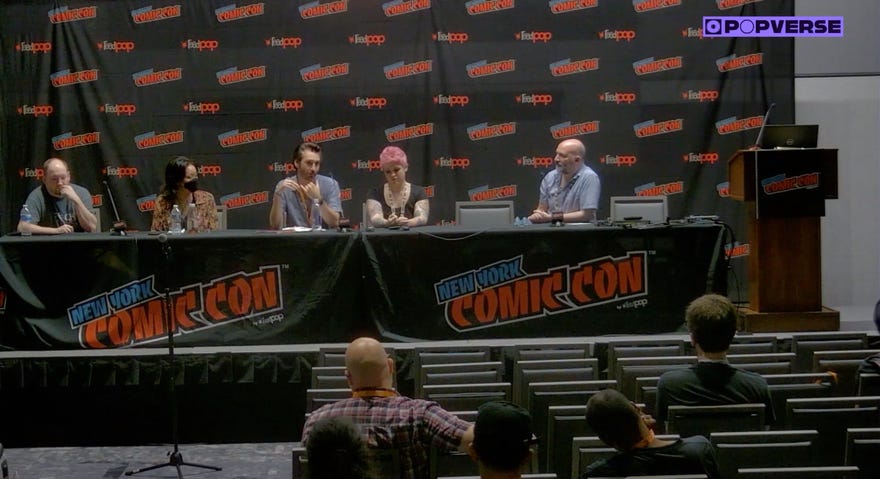 Join Popverse's own Chloe Maveal, Graeme McMillan, and Tiffany Babb in conversation with Rebellion's Owen Johnson and 2000 AD's Arthur Wyatt as they discuss bringing the best of Britain's comics to the US with the Best of 2000 AD graphic novel series. Stream the panel from anywhere in the world, right here on Popverse.
Popverse filmed this and many other panels at New York Comic Con this year (see the complete line-up here), which you can watch in one of two ways - by becoming a Popverse member at the 'Fan' level (or higher), or by buying a NYCC digital ticket. The NYCC digital ticket gives you access to all of the filmed panels from New York Comic Con 2022, as well as access to long-form interviews and original reporting from the Popverse editorial team. The Popverse annual membership does that for the entire year, and would include live video panels from the upcoming MCM London Comic Con, as well as next year's Emerald City Comic Con and C2E2.
Watch the Best of 2000 AD panel with Chloe Maveal, Graeme McMillan, Tiffany Babb, Owen Johnson, and Arthur Wyatt filmed at New York Comic Con 2022:
Subscribe to Popverse to read this article
Become a member and get first access to tickets and badges to our events, photo ops, exclusive content, and more.