Watch the Mortal Kombat Legends: Snow Blind live from the New York Comic Con 2022 stages!
Can Kuai Liang stop the power-hungry Kano from taking over Earthrealm? Find out in the NYCC Mortal Kombat Legends: Snow Blind panel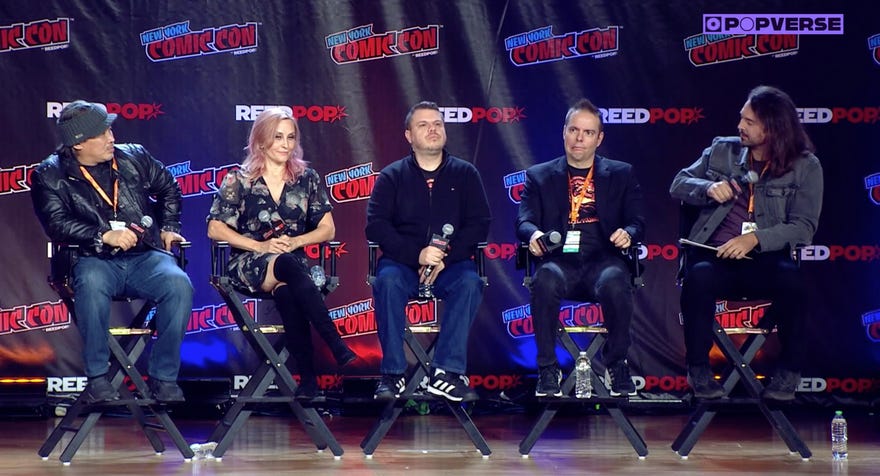 Can you believe it's been 30 years of Mortal Kombat? The franchise shows no signs of slowing down as Snow Blind, the third film in the Mortal Kombat Legends animated feature series heads to NYCC. WB is bringing director Rick Morales, writer Jeremy Adams, and voice actors Courtenay Taylor and Ron Yuan to the Main Stage, so GET OVER HERE and watch it!
Popverse is filming this and many other panels at New York Comic Con this year (see the complete line-up here). Popverse and NYCC are providing these free for everyone to watch live, with the companies hosting the panels only blacking out the screenings, trailers, and new footage - as they intend for it to only be seen by those in attendance in the panel room.
After the panel is finished, you can watch these panels in one of two ways - by becoming a Popverse member at the 'Fan' level (or higher), or by buying a NYCC digital ticket. The NYCC digital ticket gives you access to all of the filmed panels from New York Comic Con 2022, as well as the recent Emerald City Comic Con and C2E2, as well as access to long-form interviews and original reporting from the Popverse editorial team. The Popverse annual membership does that for the entire year, and would include live video panels from the upcoming MCM London Comic Con, as well as next year's Emerald City Comic Con and C2E2.
Subscribe to Popverse to read this article
Become a member and get first access to tickets and badges to our events, photo ops, exclusive content, and more.