Watch the Our Flag Means Death panel from Miami's Florida Supercon with Con O'Neill, Nathan Foad, and Kristian Nairn
Say ahoy to your boys, as the OFMD crew of Kristian Nairn, Nathan Foad, and Con O'Neill had a time at Miami Beach's Florida Supercon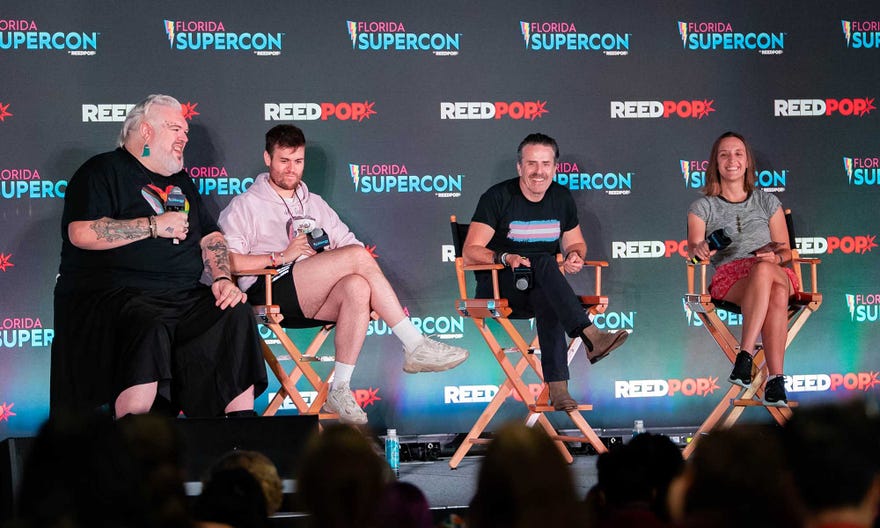 Say ahoy to your boys, as Con O'Neill, Nathan Foad, and Kristain Nairn were parched and debauched in Miami Beach as they took part in the three-day event known as Florida Supercon. As they crossed swords with the always lusty and always kind fanbase of the hit MAX pirate show, many a conversation was had - including an hour-long conversation with Popverse's Ashley V. Robinson in what was the main event of the main stage at Florida Supercon 2023.
If you were there, you know how good it is. If you watched grainy, cellphone footage of it, you know how good it is. But now you can watch for yourself, as Popverse has the exclusive full length Our Flag Means Death Florida Supercon 2023 panel.
Popverse filmed this and many other panels from Florida Supercon 2023. You can watch this by becoming a Popverse members (at Fan level or higher). A paid Popverse membership gives you year-long access to this and many other panels from previous and upcoming Florida Supercons, New York Comic Con, C2E2, Emerald City Comic, and MCM Comic Con. In addition to that, you get Popverse as a completely ad-free experience on the site, as well as exlusive original reporting from the Popverse experts.
Subscribe to Popverse to read this article
Become a member and get first access to tickets and badges to our events, photo ops, exclusive content, and more.