Why Jurassic World Camp Cretaceous has the Finest Dinosaur Act
Just cause it's for kids, doesn't mean it's not great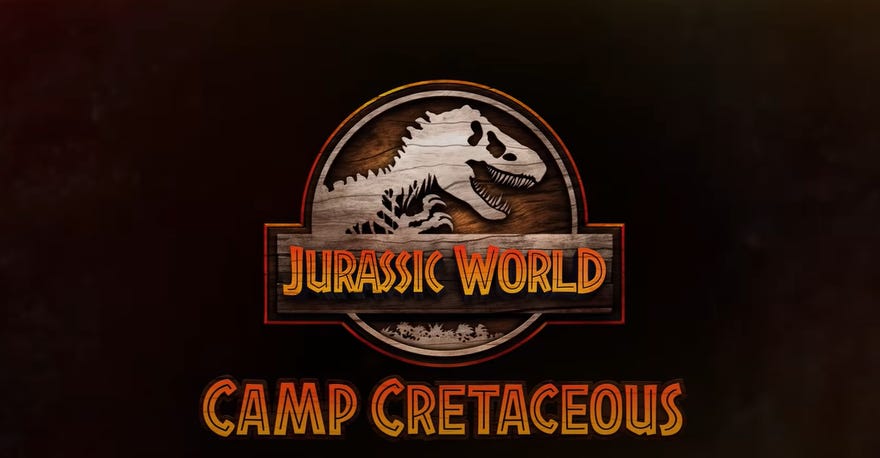 Ever since its on screen debut in 1990, the Jurassic franchise – which spans three Jurassic Park movies, three Jurassic World movies, and a number of assorted spin-offs and tie-ins – has struggled with one basic question: what is it actually about, beyond 'dinosaurs are really big and scary'?
Across the property's 30+ year existence, the six movies that comprise the central canonical narrative have offered a variety of potential answers, including 'an exploration of corporate greed,' 'the abuse of scientific discovery,' and 'placing children in mortal danger as often as possible,' but ultimately fails to follow through on any of them as a result of getting distracted by large scary dinosaurs rampaging through everything leaving destruction in their wake. It's time to face up to the truth: those looking to find greater depth in the Jurassic mythology need to look elsewhere. Specifically, they need to watch the animated series, Jurassic World: Camp Cretaceous.
Kids Rule Okay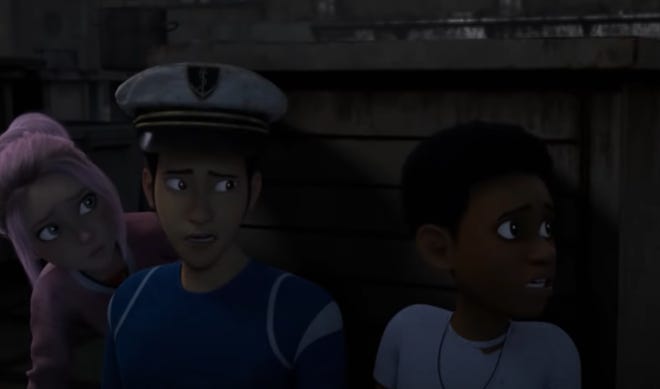 Debuting on Netflix in 2020, Camp Cretaceous initially looked as if it offered little more than an episodic spin on the familiar formula of the movies. Developed by screenwriter Zack Stentz (Marvel Studios' Thor, X-Men: First Class), the show is named for the kid-centric camp on Isla Nublar that the series' protagonists visit just in time for everything to be destroyed by dinosaurs running amuck.
There's far more to the show than simply replicating the carnage of its big screen brethren, thankfully. If there's a running theme to the Jurassic movies, it might be the need for endangered children to be rescued by the movie's leading adult actors – something that proves to be the central conceit behind Jurassic Park, The Lost World: Jurassic Park, Jurassic Park III, and Jurassic World, somewhat staggeringly. Camp Cretaceous instead makes a point of separating the kids from their adult caregivers early in its first season, and never quite gets around to reuniting them, preferring to let them save themselves or die trying. (Spoilers: watch out for children falling from moving monorails.)
In doing so, it defies another central thread of the Jurassic movies' DNA: none of the story's core cast are in positions of power either as staff at the parks or world leaders in the study of dinosaurs. They are, simply, the audience of the show (and the movies) themselves: kids who really like dinosaurs – which makes it a far more interesting exploration of what it means to come face to face with a massive, terrifying prehistoric monster than is more than likely going to try to eat you without warning, as well as something viewers will have an easier time empathizing with.
To follow the throughline of Camp Cretaceous is to get a better understanding of what the "world" part of Jurassic World is actually like. With the arguable exception of the back half of 2018's Jurassic World: Fallen Kingdom, the movies to date have been almost hermetically sealed inside the parks themselves, with the main cast all intimately connected to the parks either professionally or personally. It's a curiously skewed view, which trades the solution to one problem – how do we as filmmakers provide exposition about how dinosaurs and/or the park work to the viewer? – for the creation of another – namely, what does the rest of the world think about defying evolution and nature to clone dinosaurs for use in a theme park?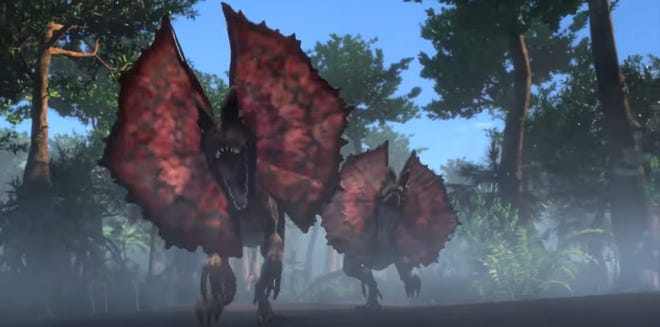 Camp Cretaceous, by contrast, follows five regular kids with different interests and backgrounds – and, as it's eventually revealed, different agendas, as well – and, in doing so, shows us how the rest of the world feels about the existence of cloned dinosaurs. It's an impressive feat of worldbuilding, as the series does more than merely establish a dinosaur fandom personified by the kids in the camp; by the end of its fourth season, it also introduced big game hunters convinced that they can take down dinosaurs for fun and profit, as well as Mantah Corp., a rival corporation looking to do more with dinosaurs than let them hang out in pens for the entertainment of an understandably amazed paying audience seven days a week.
Fans of the Jurassic franchise could, reasonably, point out that such things have been hinted at in earlier movies, but that's actually the point: they've only been hinted at, whereas Camp Cretaceous has both the space and the curiosity to explore them in some depth. With four seasons running between 8 and 11 ~22 minute episodes to date, that's a significantly greater amount of chronal real estate to play with than the five movies to date have enjoyed, especially given that those movies also have to constantly reintroduce the high concept behind the series and carefully place each installment's main characters where they need to be to get the work done.
(One of the reasons why Jurassic World: Dominion feels particularly exciting isn't just that it's the big finale to the story to date, but that it feels as if it's the first movie so far that won't have to spend a significant amount of time reminding audiences what they're watching. By now, surely, everyone knows what to expect in a Jurassic movie, right…?)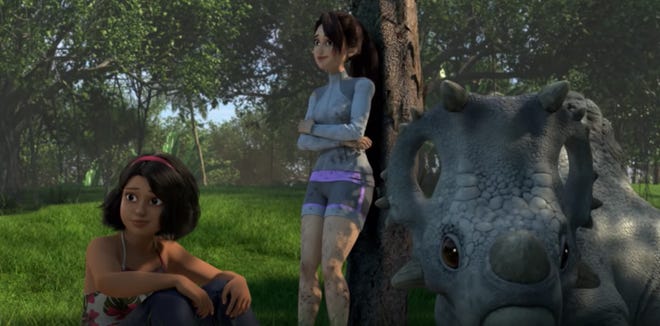 The Modern Day Dharma Initiative
So: breaking the repetitive cycle of child endangerment, taking the action away from those who already have all the answers by their very definition, and spending time to make it feel as if the story doesn't take place in a narrative bubble. Each of these elements mark important (and necessary) evolutions for the Jurassic franchise as a whole, and reasons for Camp Cretaceous to be celebrated inside the confines of the franchise as revolutionary, and forward thinking in a way that the property rarely is. But, you might be asking, what about audiences who don't care about that kind of thing? What about viewers who just want a good story? Does Camp Cretaceous deliver for them?
Oh boy, does it.
It's possible that you've noticed that, to this point, I've avoided sharing plot details about the show; that's an entirely intentional choice. Part of what makes Camp Cretaceous such a pleasure, you see, is the sense of surprise it brings with each and every twist and turn. The best comparison for the evolution of the series may be, of all things, Damon Lindelof and Carlton Cuse's Lost.
Like that show, Camp Cretaceous reinvents itself every season, adding new layers of information and new characters and settings that significantly impact what has come before. That can, at times, mean that entirely unexpected elements pop up, seemingly out of nowhere – there's some genuinely impressive technology on display in the fourth season that feels out of place with what audiences already know about the Jurassic world, if nothing else – but it also means that the show consistently keeps the viewer from getting either bored or complacent, more importantly. In a franchise that can, at times, feel a little too repetitive for its own good, that's a very welcome development, and a sign that there's more to the property than a larger monster threatening to eat even more humans with each and every new incarnation.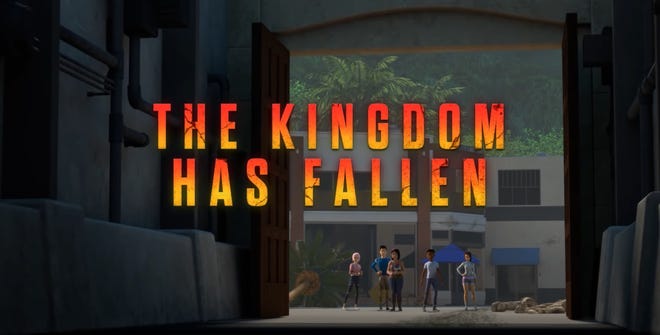 It's also what allows the show to build out the closest thing audiences have seen to a grand operating theory of the Jurassic universe. By continually expanding its scope and shifting its attention from one problem to another – I'm not truly spoiling anything by revealing that the dinosaurs aren't really the greatest threat to the kids' survival throughout the entire series – Camp Cretaceous connects the dots that have floated out there in terms of just what went wrong at the parks, and why; of just why scientists would be experimenting with newer, deadlier dinosaurs, and why those things might have gone wrong beyond, simply, "life finds a way"; and of who stands to profit from the chaos that ensues.
Yes, all of this in a 'kids' show.' Sorry, snobs.
With the larger Jurassic storyline headed towards a conclusion in the imminent Jurassic World: Dominion, it only makes sense that the fifth season of Camp Cretaceous – scheduled to debut July 21 – will be its last. However the series ends, and whatever happens to the kids at the center of the story, one thing is for sure: instead of being an unnecessary spin-off of a more self-important, more famous movie series, Jurassic World: Camp Cretaceous might end up being remembered as the best thing to come from Michael Crichton's very smart choice to write about the poor (fictional) decision to try and genetically engineer dinosaurs from blood preserved millions of years earlier in amber.
Here's a panel from New York COmic Con with the writers of Jurassic World: Camp Cretaceous:
Whether you're a hardcore fan of the movies that it spins out of, or simply someone curious to see what a franchise can do when given the freedom to go all-out without having to deal with the restrictions of a big budget and big stars demanding their hero moments, it's a show that's mysteriously run under the radar for too long, and something well worth checking out. Just watch out for kids falling off monorails. Seriously.
---
Want to learn more about the writing of Camp Cretateous? Check out this recorded panel with the writers room! Or, if you want to learn more about other Jurassic Park shows, books, and more-- check out this article.