8 can't-miss comics for wrestling fans
From WWE to indies and more - we have the wrestling comic books and graphic novels for you!
Wrestling fans are spoiled for choice these days: from AEW to Women of Wrestling, or following their lifelong favorites to Hollywood, fans can tune into any number of networks or streaming services to find their favorite wrestlers throwing down. But what are we to do when we need a break from the screen? Why, turn to comics of course.
Whether your cable's out or you're taking a few days off the grid, there's plenty of incredible comics and graphic novels out there to help you live out your squared circle fantasies. We've rounded up seven great comics – plus one to keep an eye on! – to tide you over between shows. Don't worry, there's something here for everyone, whether you're a WWE or indie diehard or even wish there was a little more romance on the mat. Let's get ready to rumble!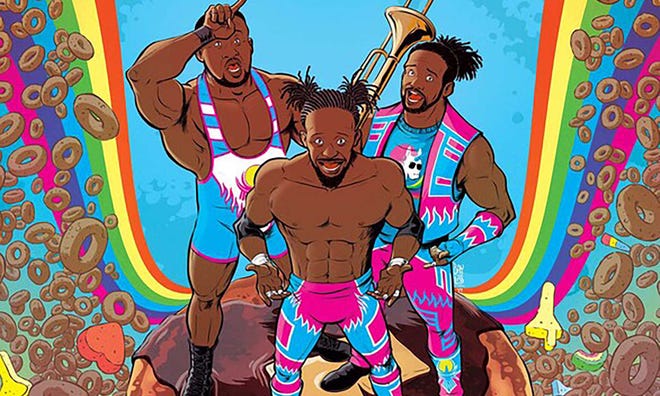 We'll kick things off with one of the most beloved teams in wrestling history: it's The New Day, yes it is! One of the final collected comics released from BOOM! Studios' time with the WWE license, Power of Positivity follows Kofi Kingston, Xavier Woods, and Big E from their early days as wrestlers to finally coming into their own as The New Day.
Writers Evan Narcisse (Rise of the Black Panther) and Austin Walker (Friends at the Table) deliver a heartwarming history of the New Day that perfectly balances the very real frustrations of their early days with WWE with the more farcical tone of the BOOM! Comics. Daniel Bayliss (longtime artist for Mighty Morphin Power Rangers) is the perfect illustrator for this one – somehow, Seth Rollins challenging The New Day to a Philadelphia Flapjack Match to defend the honor of potatoes carries a surprising amount of gravitas in his style. This is a great read for wrestling fans of all ages and a valuable reminder that The New Day does, indeed, rock.
Buy: Amazon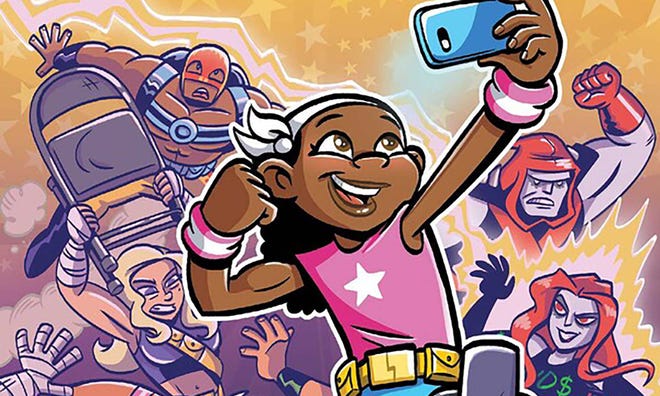 Diving into another all-ages read, Dave Scheidt and Scoot McMahon is the perfect comic to share with the burgeoning young wrestling fan in your life if they're not quite old enough to stay up for those late night main events. Agents of S.L.A.M follows a team of pro wrestlers who work for the President of the United States to protect the world from your run of the mill goons to interstellar interlopers! Young wrestling vlogger Katie Jones gets the chance to tag along on one of their missions – and very unexpectedly finds herself tagged into the action when S.L.A.M.'s rivals get their hands on the most powerful championship belt in the universe.
Scheidt and McMahon (creators of Wrapped Up) have created a vibrant, lively world that turns all the wildest and funnest parts of wrestling up to eleven. N.W.O. and Hollywood Hogan parodies have been run into the ground, but somehow they've managed to find a silly comic book spin without any of the bad vibes of WCW's dying days. McMahon's character designs and colorist Heidi Black's lively colors make every panel feel action-packed, and even if you buy this for a little fan in your life, you'll probably want to sneak a read yourself!
Buy: Amazon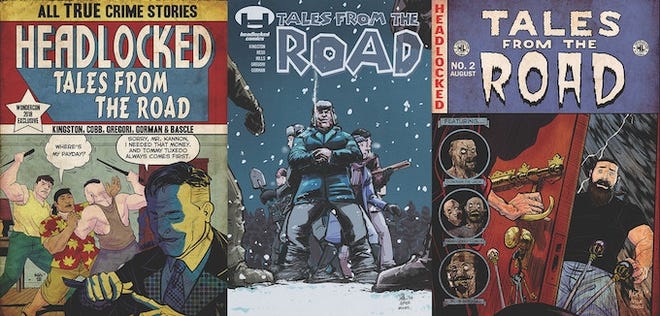 Have you ever wished your favorite wrestler would write their own comic? You're in luck, because they just might have with the help of creator Mike Kingston. Kingston, who has also written four volumes of wrestling drama Headlocked with art from Michel Mulipola, regularly teams up with independent wrestlers to write stories that run the gamut from traditional wrestling tales to "Adam Cole gets sucked into a video game."
Kingston has worked with wrestlers from promotions around the world, past and present, from Cryme Time to The Young Bucks. The wrestlers' works are paired with art from a number of different creators, and the stories can be purchased individually if you're just really itching for Thunder Rosa's tale of The Deadly Dolls or in collected editions if you'd like to roll from The Deadly Dolls into comics by AJ Styles, Effy, Penta El 0M, or even the very nice, very evil Danhausen. And keep your eyes peeled for his latest collaboration with the Switchblade himself, Jay White!
Buy: Big Cartel
Maybe the wild gimmicks of DDT Pro are a little more your jam though, in which case you might like one of these next two…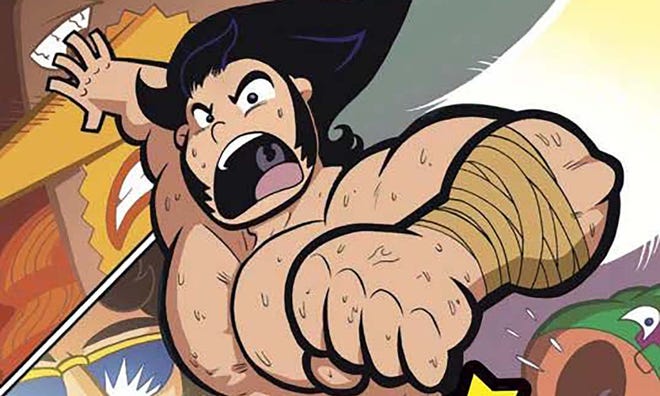 Jarrett Williams' Super Pro K.O.! follows newcomer Joe Somiano in his early days at the bombastic Super Pro K.O. promotion all the way through his rise to the top of the title scene over the course of three volumes. Williams draws on all the bombasity and glamor of old-school pro wrestling with incredible character designs grounded by Joe's (very jacked) everyman vibe.
Super Pro K.O.! has the energy of fighting games like Street Fighter and a similar sense of over-the-top drama where heartfelt scenes between long lost friends are punctuated by superpowered brawls. Williams' style is perfectly suited to this type of action-packed story and all three volumes of Super Pro K.O. are pageturners you won't be able to tear your eyes from (so don't try reading this with any pay per views on in the background).
Buy: Amazon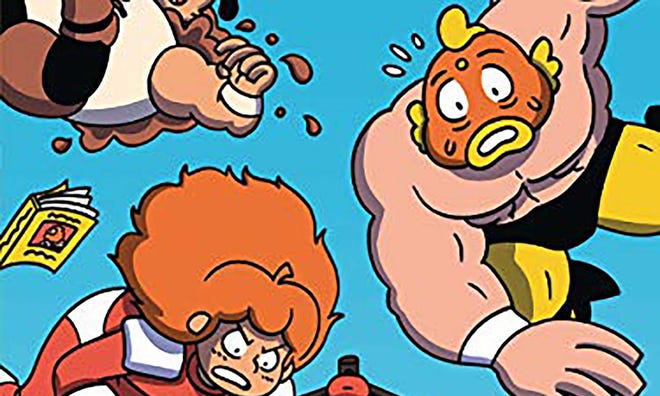 Glorious Wrestling Alliance has a similar exaggerated, cartoonish energy to Super Pro K.O. with a much different underpinning: a tongue-in-cheek approach to the worst carny elements of pro wrestling laced with a profound existential ennui. Josh Hicks introduces us to "the universe's least-professional wrestling company," Glorious Wrestling Alliance. GWA is home to wrestling stars like champion the Great Carp – a man with a carp for a head – and Gravy Train, who is, unfortunately for him, more shaped like a Gravy Boat.
There is of course my personal favorite, Death Machine, a zine-making poet who peddles his wares at small press expos despite living the gimmick at all times. The characters are in turns anxious about their prospects and driven by their passion for the profession, and it's hard not to fall in love with all these deeply neurotic weirdos. In that sense, it's maybe one of the most authentic depictions of pro-wrestling, even if we're several years of scientific advances away from a carp-headed wrestler.
As a bonus, Hicks also wrote a pandemic-era comic exploring the struggles of roomies Gravy Train and Death Machine in the early days of lockdown, Death Machine & Gravy Train Stay Indoors.
Buy: Amazon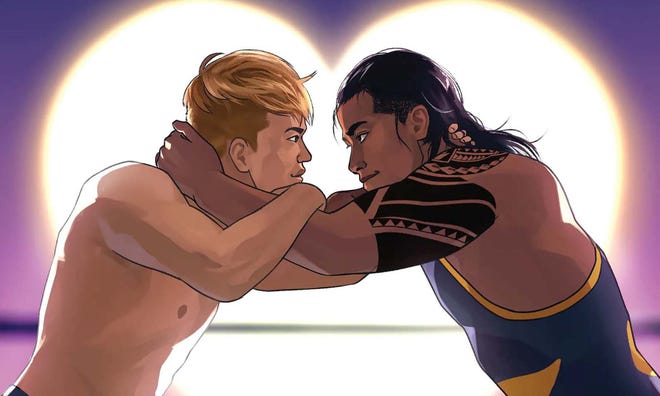 Next up is an incredible book from a genre that's wildly and surprisingly underrepresented in the world of wrestling media: the incredible queer romance graphic novel Rubber Match. Written by Elizabeth Brei with art from Kira Okamoto and letters by Danny Djeljosevic, Rubber Match is the love story of rivals-turned-tag team Scorpion Butch and Ty Curry told through a series of matches, both the titular singles rubber matches and their tag team outings.
Okamoto's designs and the tension and movement they bring to the page are incredible, and Brei and Okamoto craft a compelling romance that highlights what an amazing medium wrestling is for the stories of relationships, and what an amazing medium comics is for more wrestling tales. But especially the romance: more tag team match wins should be celebrated with a kiss.
Buy: Gumroad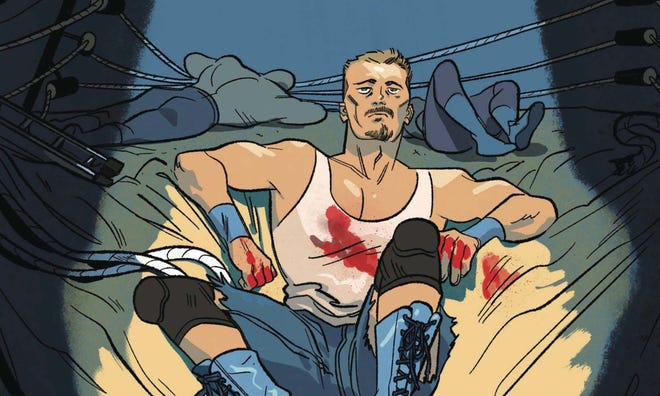 Rounding out this list is a comic that just hit shelves, so many of you haven't read it yet. Former promotion owner and writer Joanne Starer is teaming up with artist Elena Gogou, colorist Andy Troy, and letterer Tom Peyer to bring you The Gimmick through Ahoy Comics this spring. Billed as a Coen Brothers-styled dark comedy, The Gimmick is about Shane Bryant, a man coasting on the most boring gimmick imaginable until he reveals a long-held secret in a live broadcast match with deadly consequences.
On the run from one of the worst matches of his life, Shane is hoping to make a fresh start beneath a mask in Mexico. Unfortunately for him, his past isn't that easy to outrun, and now he's got to face down a gauntlet match of family, exes, and former friends who are all chomping at the bit to take a bite out of him. The Gimmick isn't out until March, but you can pre-order it now at your local comic shop. And lucky for you, there's plenty of fantastic wrestling comics out there to keep you busy til then!
Buy: Amazon
---
Watch wrestling and comics collide with Headlocked with Michael Kingston and the Bollywood Boyz at ECCC 2022.