Get the X-Men experience (with or without Marvel's help): Inside the upcoming mutant con The Uncanny Experience
Get a look behind the scenes of the upcoming Uncanny Experience X-Men fan convention
A Marvel-themed convention has been a dream for many fans for decades. Besides two minor cons in the '70s, the closest we've had to this was the fictional Avengers con in Disney+'s Ms. Marvel - but later this year we're getting it.
But it won't be with Marvel's involvement (or even endorsement).
The Uncanny Experience is a two-day X-Men-themed convention taking place in - of all places - Minneapolis, Minnesota. Organized by a new company called Giant-Size Productions that was founded by a group of X-Men fan podcasters, the Uncanny Experience is part traditional convention - complete with vendors selling back issues and special guests, including legendary X-Men writer Chris Claremont - and part an interactive roleplaying experience - including the opportunity to register for classes and even stay overnight at the "X-Mansion".
Ahead of the Septembet 16 and 17 event, Popverse sat down with Chandler Poling, one of the organizers of the event, to get a better idea of what to expect and some behind-the-scenes info regarding its creation.
Popverse: So let's start with the Uncanny Experience elevator pitch.
Chandler Poling: The Uncanny Experience is a two-day immersive fan convention where we are transforming a historic mansion into the Xavier Institute. We will be having special guests that are giving autographs like a traditional con. We have a vendor hall. There will be cosplay, but on top of that, there's an immersive element where you can enroll as a student at Xavier, attend classrooms, go on adventures. We have a mystery in the mansion. And then at the very end of the weekend, we have a graduation ceremony where you will receive your mutant diploma from Chris Claremont.
You mentioned Chris Claremont, who are some of the other guests that are going to be there? What kind of panels and experiences will be available?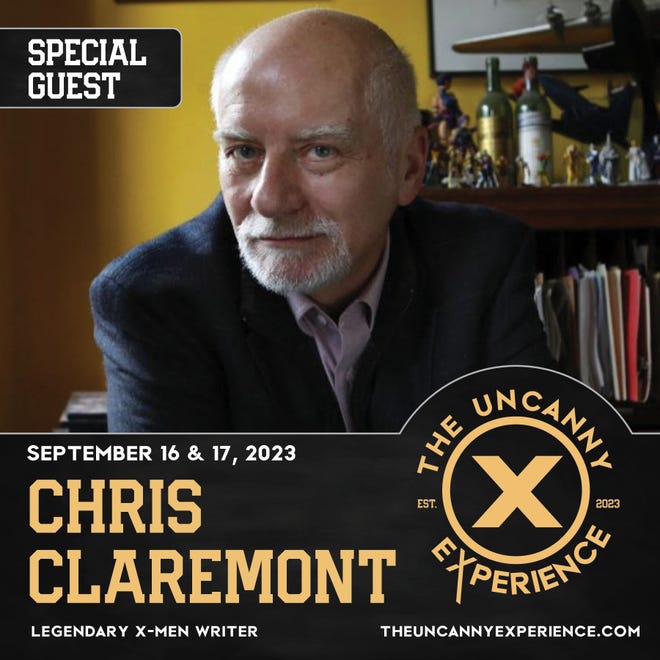 As I mentioned, Chris Claremont is one of our headline guests. He is the godfather of all X comics, pretty much, and in addition to him, we also have a lot of talent from X-Men: The Animated Series. We have the voice actors of Wolverine, Cal Dodd. We have Lenore Zann, who's the voice actor of Rogue, and we have Alison Court - the voice actor of Jubilee. We also have the showrunner and writer team, Eric and Julia Lewald, as well as the director and animation lead Larry Houston. And then in addition to them, we also have Marvel cover artist Nathan Szerdy. And we also have some yet-to-be announced guests as well.
What would you say is the one thing you're most excited about for the show?
Wow. Okay. That's a good question. One thing I tell people constantly is I wish I could just go to this event and have fun and not put it together because everything we're building is so fun and so cool. And I'm a big X-Men fan, so I am building this event with my co-partners Chris [Riley] and Dylan [Carter]. We are building this to be something that we would be so excited to attend.
So on that note, I think I'm most excited about the Dazzler karaoke experience that we're doing on Saturday night. We have a VIP after party, so those who bought VIP tickets or Omega Level tickets are invited to this after party. We have Dazzler coming. We have a local singer, her name's Jillian Rae, and she will be performing as Dazzler (Disco Dazzler, specifically for those interested in the era). And we decided to make it a karaoke experience. So she's going to be singing, but you can sing with her. So if you want to duet with Dazzler, you can. And we also have a Hellfire Club initiation ceremony with our Emma Frost and a free champagne toast. There's all sorts of things going on, but to answer your question, I could go on forever.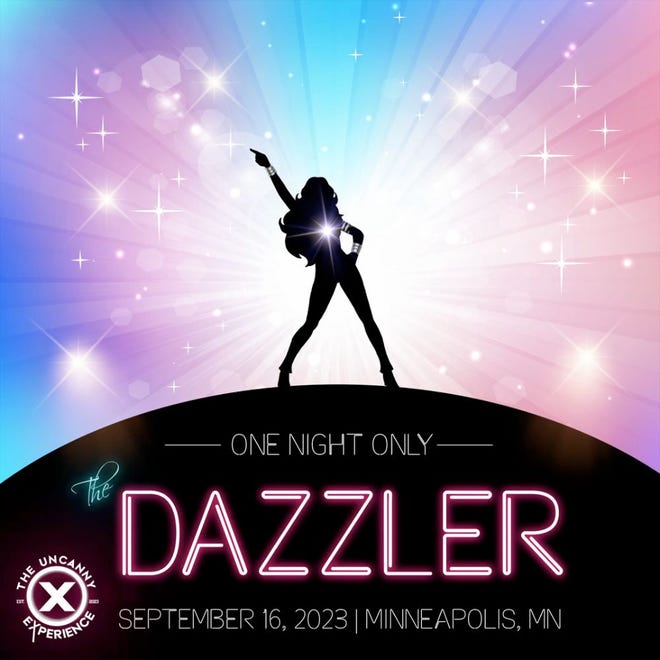 What would you say is the big difference that separates this from the typical convention? Both sort of the quarter bin diving, traditional conventions and the more modern buzzy newsbreaking kind of conventions?
This is a very bespoke experience. This is people that really want to dive into X-Men content. So how we're different is we will be having, like I mentioned, a vendor hall, but it's going to be very small because we're not in a convention center. We're literally in a house, basically. So this is a ballroom that we're setting up tables in, and there will be comics, toys. We've got our convention exclusives. We've got artists, guests. We've got somebody who's coming in with a bunch of props if you want a Cyclops visor or Wolverine claws, stuff like that. So we're just really catering to X-Men people.
And then we have our panels programming, which will be announced relatively soon. The panel programming from conventions. You would expect it's a creative, an actor or somebody talking about their process, or people reflecting about a fandom, but we've kind of gotten more of this immersive classroom vibe. So we will have some traditional panels. But, also Chris Claremont wants to be Professor Claremont, and he's going to instead of just answer questions from a moderator and just talk about what it was like to write the comic, he's going to talk about mutants as if they're real and the history of how they came to be and how they progressed through time up until forming the team and stuff like that. So it's going to be this thing where you get to kind of live in this kind of world as well as just be a fan. So you can show up in jeans and t-shirts and enjoy this. Or you could dress fully in cosplay and be a mutant of your own creation or one that exists in comic pages and enjoy it.
Is Marvel aware of this convention? Do you have their blessing, implictly or otherwise? If not, how are you skirting some of the trademark issues and things like that?
We definitely don't have Marvel's blessing. That would be a big license. Because we are a fan convention and we're not technically using their intellectual property, we are under the radar, so to speak. They are aware of it. I know people that work at Marvel Comics that are coming as attendees, so they're very much aware of it. But because we're fortunate enough that an X inside of a circle is not a copyright image and we don't necessarily use the word 'X-Men' in our marketing, we are a "mutant fan convention", et cetera. You can pick up the pieces from there. But we're thankful, after researching events like LeakyCon that do the Harry Potter fan conventions, there are ways to bring fans together for a property, but without using its existing IP.
I have some experience organizing conventions in the Twin Cities, and well, Chris Claremont is not a cheap guest. I can only imagine what the Minneapolis Club [a highend atheltic club and wedding venue] costs as far as rental fees. How are you kind of going about funding this?
It started initially with a personal investment, so personally investing into a business bank account to kind of help put down deposits and get it moving. And then once we announced ticket sales, we have a very high ticket price because this is a very specific event. So we had to price our tickets high. So a general admission pass, you get two days for $95 plus taxes, or you can go VIP. That's a $200 ticket for the weekend plus tax. And then we have our omega level ticket, which is $550 to go, and the omega level tickets sold out within 24 hours. And that was not what we expected. So I will say that that was a beautiful surprise that we realized that we created something that people really wanted to go in on and spend that high ticket price because we created this experience that they've been craving. There was a drought in X-Men content for a very long time. I think creating this event and setting a high ticket price, we kind of prove the point that people are willing to spend money to have this experience.
Do you have a rough idea of what your expected attendance is at this point?
Well, yes, our capacity is 500. We cannot fit more than 500 people into the building. So basically, that's cash. And so it's not going to be mega crowded, obviously, but it'll feel like a very intimate, unique experience.
You said the show will have a sales floor, vendors, all that kind of traditional con stuff. Are you working mostly with some of the local vendors, the local comics guys? Have you gotten much of a response from our local community here in the Twin Cities, vendors or otherwise, about the show at this point?
Vendor-wise, our most notable vendor is Unknown Comics. They are a comic retailer shop that does a lot of exclusive variants. They are kind of known vendor. Everybody else is local people that met going to various conventions, whether it's CONvergence or Twin Cities Con, we met some vendors down at the Des Moines Comic Con, and we just started networking over the past year and a half, getting to know various vendors. There'll be local artists, there'll be local toy sellers. We have Mind's Eye Comics, which is a Burnsville-based comic book shop that has gone into the vendor hall. So luckily, the local population really came through on the vendor side.
What are the future plans for the show? Is this a one and done thing, or do you want to try to keep this going, go to different locations?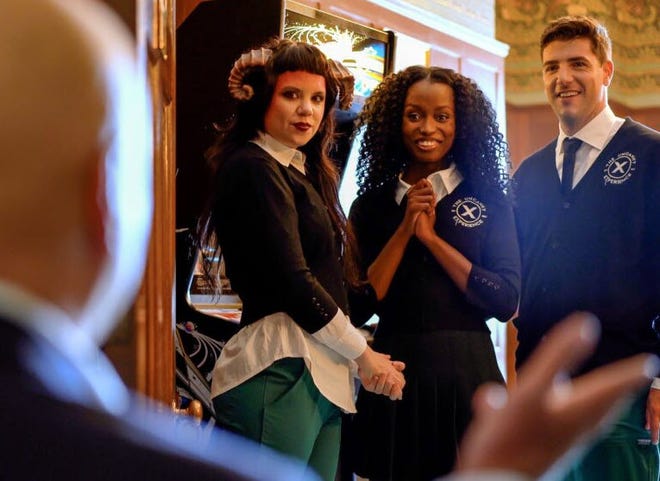 The goal of this is to do it yearly and tour it. Of course, right now we have packaged an event that fits inside the Minneapolis Club, and I think the idea is to do it again, assuming the Minneapolis Club will have us again. This is a first time thing for them. I don't want to commit them to another year without actually having them experience having 500 comic book fans tromping through the grounds. So if all goes well, we will return to the Minneapolis Club.
But the goals and dreams of it is, yeah, that it's a touring thing. It goes to various cities. And internally, we want to do the 'Uncanny Experience: Savage Land' or the 'Uncanny Experience: Asteroid M' and create other worlds that the X-Men go to. And so you can kind of be immersed into a different area. So it's not always this kind of university vibe.
Let's do a few fun ones just to wrap up. Give me your X-Men origin story. How did you get into the X-Men? What made you a fan? Why do you love them?
Happy to. So my first introduction to X-Men was actually through comic books. I was a spinner rack, kind of gas station comic book collector when I was really young, and my parents just let me pick up random issues, and I randomly found, I think it was on Uncanny X-Men #175. It was an issue, a double size issue, of the X Men fighting Madelyne Pryor as Dark Phoenix, and I was introduced to a lot of the characters that way, and I just thought they were super cool.
But what really locked me in was X Men: The Animated Series. Of course, that came out in 1992. It's a big nostalgia engine for a lot of people, but I was obsessed with that cartoon when I was little, and that spawned into the Toy Biz toy lines, I had all the action figures, the collector cards, everything, video games. I was a big fan of the arcade game as well as anything that came out on Super Nintendo and Sega Genesis and all that sort of stuff. So I was deep into X-Men.
Well, we share a good pedigree, because Uncanny #175 is probably my single favorite comic book of all time. It's a great issue because I'm a big Cyclops fan, and that's always my go-to example of "Cyclops is not a loser. He's cool. Read this comic".
You'll see how cool he is in the new X-Men '97 animated series! We got a great sneak peek at San Diego Comic Con, and he is so cool in the show.
I love it, because that animated series did a lot to damage his reputation by making him the square, stickk in the mud. So I'm glad to see they're going to try to rectify that. So who is your favorite member of the X-Men?
Kitty Pryde. It wasn't always that way because she wasn't in the animated series, so I didn't discover her until much later in life. I believe it was Astonishing X-Men that really introduced me to kind of what she was like. And I really loved how she stood up to Emma and how she saved the day, obviously, by phasing a bullet through the planet and everything. So I just was like, she's obviously the best superhero of all time. And I started going into all of her origin stories. And when she's young, she's so funny and fun. And then her incredible transformation in the Wolverine and Kitty Pride miniseries into a deadly ninja assassin. I've been a big fan of Kitty Pride for a long time.
Who would be the one guest you'd love to have at a future show? I mean, Chris Claremont is pretty big and is a nice get for your first show, but was there one person that you tried to get and you couldn't or just felt too far out of reach or that you just have a special fondness for, that you'd love to find a place for in a future show?
This is a very easy answer, and it's going to never happen, but it's Hugh Jackman. Wolverine is one of my top five favorite characters, and Hugh Jackman did a great job as Wolverine across, like, ten films, I think, and he's just a legend. So if you're going to give me that question, I'm going to give you Jackman.
Thanks so much for taking the time to talk to me. Any closing thoughts, details about the show that you want to share?
There's so much about the show and I don't even know where to begin. So what I'm going to say is I really encourage people to go to the website, which is theuncanyexperience.com we have a lot of our activations kind of highlighted. As you scroll down, you will see information about our danger room activation, the after party that I mentioned, Hellfire Club, all of that sort of stuff is outlined in detail on the website. So I'm just going to drive people there. You can sign up for a newsletter to kind of be updated on as things kind of progress within the show and learn about when tickets go on sale for the next one.
---
Relive the mutant movie era with our X-Men movie watch order.