Previously On X-Men: History of The X-Men '97 Theme Song
What's up with the lawsuit against X-Men: The Animated Series theme song, and what impact might it have on the MCU?
As a '90s kid, there are few musical cues that can trigger the nostalgic elation of falling in love with superheroes quite like the theme song for X-Men: The Animated Series. In a decade full of iconic intros (Power Rangers, Ducktales, Darkwing Duck, Pokemon, etc!), the X-Men theme is one of the '90s most memorable– a delightfully metal rush to battle, with an outro riff straight out of early Daft Punk, and so many high hats Neal Peart is jealous. The song is so indelibly tied to Marvel's merry mutants that two recent MCU features (Doctor Strange in the Multiverse of Madness and Ms. Marvel) plus the impending X-Men '97 reboot have returned the track to the spotlight 30 years after debuting.
In recent years, though, the creation of the theme has courted controversy in the form of a 2019 copyright lawsuit leading to questions surrounding the song's creation, history, and status as a central component of the Marvel Cinematic Universe's inclusion of the X-Men franchise. Likewise, as the earworm's pop culture significance continues to elevate with each new MC-clue, how is the song being credited, and is it being appropriately tied to its creator?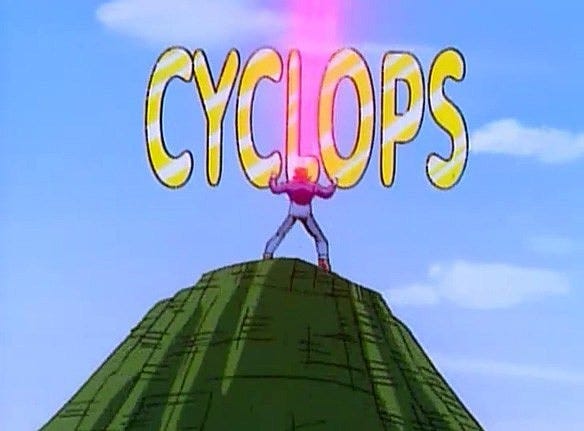 Mutant Genesis: The Creation of the X-Men Animated Theme Song
In the early '90s, prior to the debut of 'Night of the Sentinels, Pt. 1' on October 31, 1992, composer Ron Wasserman wrote a variety of theme songs for Saban Entertainment, including the X-Men animated series theme song and the similarly lauded Slayer-meets-Megazord theme song for Mighty Morphin Power Rangers.
Of his inspiration for X-Men at the time, Wasserman says, "In this case, Ron Kenan, the then head of music for Saban had an idea to modify a bass line from a song he had written. It's a bit of a blur, but I'm sure that bass groove inspired me to work out the rest of the theme."
Unlike a mutant ability simply emerging with adolescence, the X-Men '92 theme song didn't emerge from the genetic markup of the animated series; it had to be created! From there, Wasserman says the song's creation was all his doing: "I only work alone. My brain gets so overwhelmed with ideas that having the distraction of any person, or a phone breaks my flow. By the time X-Men was written, I'd learned to play or emulate any instrument so I would have played every part. Just me, a MIDI keyboard, and a computer."
As fans of the series grew up and took the time to reflect on their enjoyment, Wasserman began to see more of the impact of his work. "It was about 15 years after the show aired that I started getting emails and messages describing what people felt about the theme. As with my other work I was deeply flattered and felt very lucky to have influenced anyone with my work…. It's just my day job."
Wasserman is similarly delighted with the song's current moment as part of the MCU: "This blows my mind. It's that simple. To have created something where so many years later is seeing a bit of a resurgence is amazing."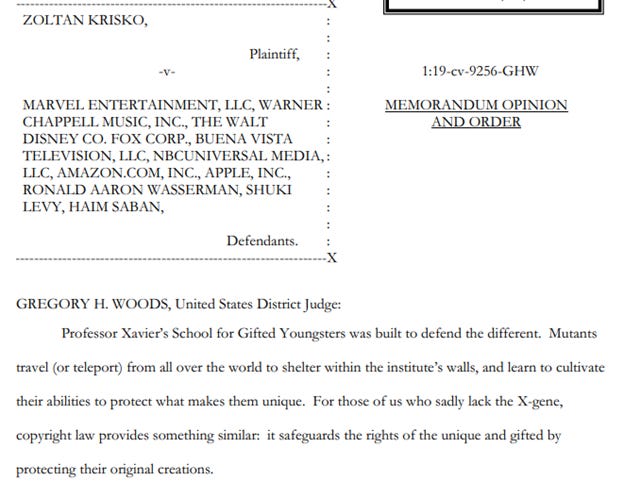 Sinister Secrets: Alleged Copyright Violations
In 2019, a lawsuit alleged the X-Men: The Animated Series' theme song copied music from an '80s Hungarian series titled Linda. While it's not the first time fans have noticed musical similarities between the theme and other songs (Whitney Houston's "I'm Your Baby Tonight " and La Bouche's "Be My Lover" incorporate arguably comparable melodies), it is the first prominently reported lawsuit tied to the song.
The plaintiff, Zoltan Krisko, who acquired the rights to the Linda theme in 2013, alleged that the two themes were so strikingly similar that he could prove copyright infringement. In doing so, Krisko included all major players tied to the X-Men theme, including Marvel Entertainment, Disney, Fox, Amazon, Apple, Ron Wasserman, and Shuki Levy and Haim Saban (co-founders of Saban Entertainment) as defendants (Krisko could not be reached for comment).
Despite the two songs' uncanny resemblances, armchair analysis at the time anticipated massive difficulties proving copyright infringement of an obscure theme written in Hungary and a popular theme written in California. According to Jeff Trexler, interim director for the Comic Book Legal Defense Fund, "Such cases tend to be hard to win. Many wouldn't survive even a motion to dismiss for failure to state a claim."
This did not prove insurmountable, though, as in July 2020, New York District Judge Gregory H. Woods ruled the defendants' motions to dismiss the case were granted in part and denied in part. In a ruling joyously riddled with X-Men references (My personal favorite: "A complaint need not be as solid as adamantium to survive a motion to dismiss"), Judge Woods asserted that Ron Wasserman could be removed from the list of defendants, but that the case could move forward.
Primarily, Wasserman's motion to dismiss the case is granted due to the New York district's lack of jurisdiction for his songwriting in California, and Judge Woods is discernibly annoyed that "Krisko was not diligent in choosing a proper forum for his case."
As Wasserman says, regarding the status of the lawsuit, "All gone. Over. I was removed from it early on."
While true, this does not address the remaining 10 pages of the ruling that find that the copyright infringement claims are adequately pleaded to continue pursuing the case. "Most copyright cases that start out with a pro se filing - that is, a case brought by the plaintiff representing themselves without an attorney - don't go anywhere: more often than not, it's slam dunk vs. the plaintiff, no settlement," says Trexler. "This one, though, kept rising like Phoenix - a lawyer was brought in and the complaint was amended twice, each time stronger."
It should be emphasized there is not a ruling on actual copyright violation, so much as an acknowledgment that the case is reasonable enough to be considered further.
Following this ruling, in January 2021, the lawsuit was officially settled, with sparse details of the settlement included in the court order. Presumably, this action satisfied Marvel and company's legal teams enough to encourage this year's resurgence of the X-Men animated theme song without fear of legal retribution. According to Trexler, "The settlement specified dismissal with prejudice - Any attempt to revive the suit elsewhere would be challenged & dismissed on collateral estoppel grounds."
As always, another plaintiff could attempt a similar case. "This applies between the parties. If there were another plaintiff with a viable legal interest, they could still try," says Trexler.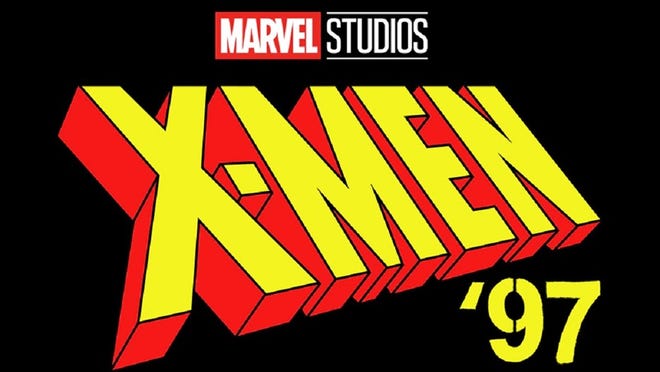 Reborn Like a Phoenix
So far in 2022, the Marvel Cinematic Universe has twice used the theme song's riff to underscore the first appearances or mention of mutants since Disney's acquisition of Fox in late 2017 (the merger wasn't officially completed until March 2019). The first came with Sir Patrick Stewart's return as Professor Charles Xavier in Doctor Strange in the Multiverse of Madness. The second was more surprising, coming in the very final moments of the Disney+ series Ms. Marvel, with Bruno telling Kamala Khan, "There's something different in your genes… like a mutation," followed by an easy-to-miss quick-fire righteous lick.
While the Doctor Strange in the Multiverse of Madness moment led to theories that this variant of Professor X could be from the animated X-Men universe, the implication that the MCU's Kamala will be a mutant (instead of an Inhuman like she is in Marvel Comics) suggests this may well be the theme song for any instance of mutants moving forward.
In either scenario, both instances of the song are credited as the X-Men '97 theme, composed by Haim Saban and Shuki Levy. With issues of creative credit a long-running concern in the world of comics, it's easy to imagine Wasserman might want his name in the credits instead, but he appears at peace. "Working at Saban was like getting paid to go to college. Haim and Shuki took full ownership, rights and revenue for what all their composers wrote. They were up front about the deal from the beginning. Three of my six years there I wrote hundreds of things for them. I left in 1995 and have always been properly credited on all projects since then."
After some tumultuous years, the song finally appears controversy-free, and set to score the incredibly exciting arrival of mutants in the MCU. So the legacy of the rebranded X-Men '97 theme lives on, resurrected like a Krakoan for what appears to be a significant role in the MCU.
As for Wasserman, when asked about whether he's involved with the upcoming X-Men '97 reboot, he says, "No. But I'd love to be involved. I'll start calling up connections in September to see what Marvel is thinking."
---
Mutant and proud! A discussion on the psychology of the X-Men from C2E2 2022