Mel Valentine Vargas on adapting Yaqui Delgado Wants to Kick Your Ass into a graphic novel
"I tried to keep the story as similar as possible to the original because it was already so good. It's a timeless book, really."
Mel Valentine Vargas' art is evocative, endearing, and true to life. Their recent adaptation of the Pura Belpre award-winning novel, Yaqui Delgado Wants to Kick Your Ass, is just as relevant to teens now as it was ten years ago when Meg Medina first authored it. From the adaptation's first page, Valentine Vargas draws readers into the vulnerability and relatability of Piddy Sanchez's story.
Yaqui Delgado Wants to Kick Your Ass tells the story of Piedad "Piddy" Sanchez, your normal 15-year-old. Once her mom relocates them to a new part of Queens, Piddy's had to switch schools, move houses, and separate from her best friend. Amongst those issues, Piddy is learning how to navigate her Latinidad, deal with the repercussions of her absent father, and there's just another tiny problem: Yaqui Delgado hates her.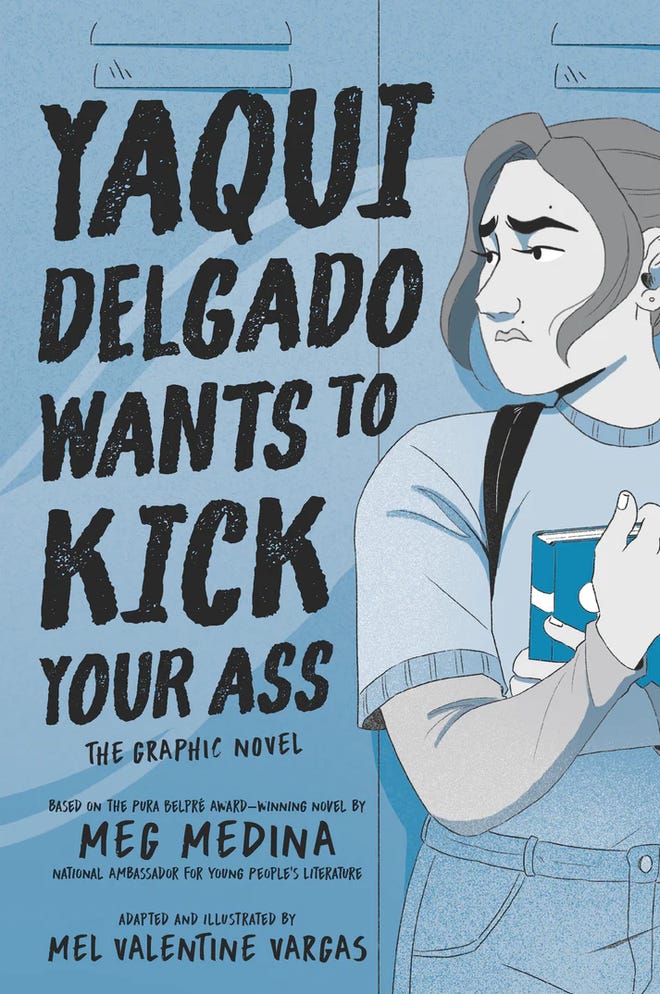 Popverse had the chance to chat with Mel Valentine Vargas about how they came to adapt Yaqui Delgado Wants to Kick Your Ass, their journey into illustrating, and their advice for teens who are going through bullying.
Can you tell me about how you came to illustrate Yaqui Delgado Wants to Kick Your Ass?
Valentine Vargas: So my agent actually reached out to me with this opportunity from Candlewick, who originally published the original chapter book version of this book about ten years ago. They wanted to create a graphic novel version for the ten year anniversary because they wanted to revamp the fan base of this book. People already loved this book so much, and they really thought that it needed this new coat of paint.
I always say this, I did not know that this book existed before [Candlewick] came to me with the opportunity. I think when [the novel] came out, I would have been the perfect age to pick up this book and love it. So [Candlewick] sent me over a chapter book version. I read it and I loved it, and I agreed immediately to adapt it and turn it into a graphic novel. And that's kind of how that started.
That's awesome. I know I had never heard about it either until I decided to review it, and I fell in love with this graphic novel version. And so now I have to go back and read the chapter book version.
Yeah, I mean, the chapter book is so good. It's different in a lot of ways, but I tried to keep the story as similar as possible to the original because it was already so good. It's a timeless book, really.
Yeah, it definitely is. And one thing that stood out to me was how well you were able to capture Piedad's emotional journey throughout the book. I know cyberbullying was certainly the main focus of her story, but she was also struggling with her Latinidad and her relationship with her absent father. How did you go about creating these difficult moments in Piddy's life, but visually?
It was kind of hard for sure, because I feel like chapter books have such an incredible way of writing something and making it universal because they don't add enough details to where you can kind of separate yourself from the story. So I think they add this perfect level so that you can still see yourself within this character's life.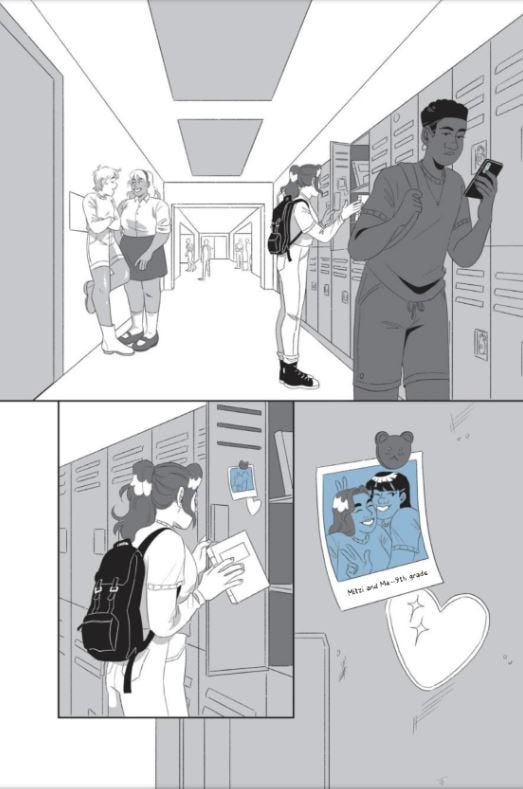 And that's hard for graphic novels to do because you are now visually seeing this story. And so it could become slightly harder for you to relate to something that doesn't involve you directly. At least when you're reading a chapter book, you can imagine. But again, Meg Medina, who is obviously the original writer of the book, just did such an incredible job of already writing these super impactful moments with [Piddy's] mom and her best friend that she's getting more distant with.
It's hard to transform those [moments] into comics, but I don't think it's impossible. When you really take these moments that Meg paid so much attention to and you're like, 'This is a moment where I really have to zoom in on Piddy's face because we have to know exactly how she's feeling in this moment.'
And these moments where I'm going to zoom in on this object because this object is important to this part of the story. The audience can infer how these characters are feeling. It's like a jigsaw puzzle deciding what each panel will hold to really continue that feeling and sensation of the scene. Sometimes it's a lot of me deciding how blank I want to make the page because I feel like making pages mostly blank in graphic novels is such a powerful move, and it's important sometimes to draw less.
As you mentioned, Yaqui Delgado Wants to Kick Your Ass is the celebration of the ten year anniversary of Meg Medina's book. It feels like this graphic novel is just as relevant, if not more so, than it was ten years ago when her novel was first published. Why do you think that is?
Unfortunately, bullying is still a thing. I experienced [bullying] when I was a child. I think it's rare to come across somebody who wasn't bullied in some way or another by their peers, let alone by other people in their lives. And then on top of that it's struggling with your identity, which again, who hasn't gone through that, whether you're Hispanic or not. It's struggling with your friendships and feeling more distant from your friends who you once were super close with. Again, who hasn't been through that. First crushes, first jobs, school, it's such a timeless book because it really is a culmination of so many things that we all go through.
I always say - it's important in all the ways we're similar and it's important in all the ways we're different, too, because it's great for somebody who isn't a Hispanic teenage girl dealing with these problems to pick up this book and understand this point of view, the same way that it is important for a Hispanic teenage girl to pick up this book and see herself within this novel.
Yeah, the scene where Piddy is dealing with the aftermath of Yaqui Delgado fighting PIddy, then everything was posted online afterwards for the whole school to see — how does a young Latine girl recover from that? It was very impactful.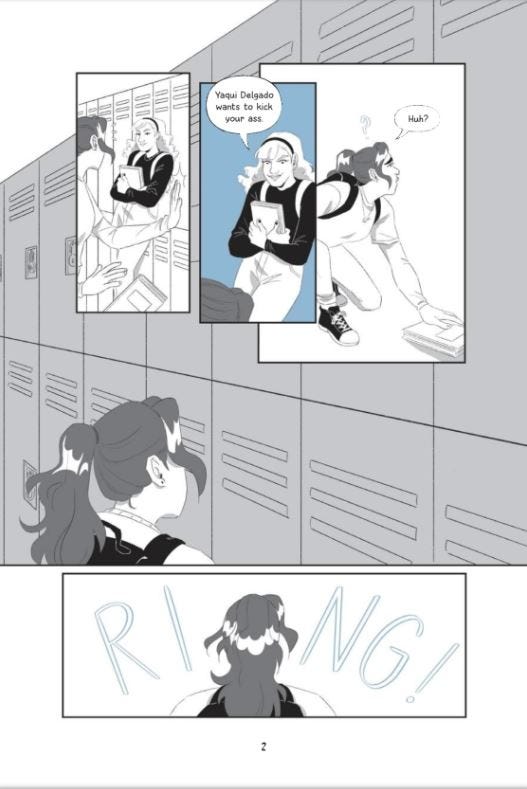 I know this graphic novel was just published, but I was researching a little bit about the novel itself. I saw instances where Meg Medina had spoken about book banning in relation to Yaqui Delgado Wants to Kick Your Ass. I was wondering if you've already had instances of discussion around book banning with your graphic novel.
So the book just got released September 5th, so I have not experienced any banning with it. I have thought about the possibility of that happening because people really are banning books just for showcasing minority voices. I know it can happen. I wouldn't be surprised, unfortunately.
I'm a stereotypical Cuban from Miami because my parents came from Cuba and I was born in Miami. I've lived in Florida my entire life until I moved to Chicago for college. And Florida is a leading state in book bans. I wouldn't be surprised if it got banned in my home state.
I've seen a lot of really, really good books get banned because they're showcasing somebody's culture that isn't White™. There's this children's book about making dumplings that got banned. I'm like, why?
So I haven't dealt with that. But obviously Meg and I are very against book bans, and I would be the first to speak out about it if it did happen. I'm outraged enough that it happens to other people's books.
What advice would you give to young readers of Yaqui Delgado Wants to Kick Your Ass?
Honestly, it sounds cheesy, but tell somebody if you're going through something. I know that's always so hard. Because again, who hasn't been through bullying? I got bullied in school, and I think it really is just such a relief when you're able to tell somebody. Unfortunately, it's not always the solution, because it really depends on who you tell.
There's adults who will try their hardest to help you, and there's adults who don't care, unfortunately, for lack of a better word. It's a battle of wanting to be heard. It's important to tell people what it is that you're going through, whether it's a teacher, a counselor, your parents.
I also went to the NBF with Meg, who does the National Book Festival in Washington, and our book talk was specifically in the kids programming. A lot of the kids asked me art questions, which made me very emotional. The advice I was telling the kids is to continue to do what it is that you love even though you think you're bad at it.
They were like, 'My art doesn't look the way I want it to look.' And I was like, that's okay. That happens to me now. So I think it's important that if you want to do comics or if you want to write stories: continue to do that and you'll get better. Nobody is born being good at something like that.
I love that. How did you get started into writing graphic novels?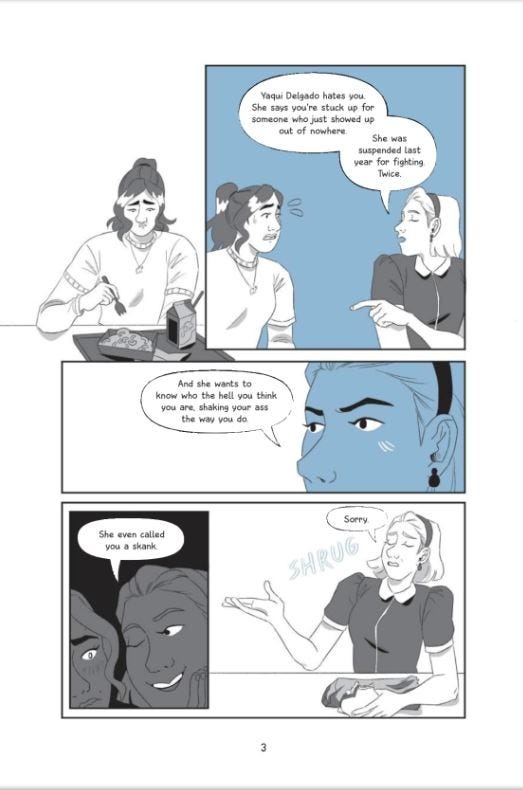 I actually didn't know that I wanted to do this. I want to say that until I graduated high school, I always knew that I liked to draw and write stories and create universes or characters. I used to do costuming for a theater for seven years. That was my major because I went to an arts magnet school.
I love the drawing process of designing the costumes. And to this day, drawing clothes is one of my favorite things to do for the characters. In college, I would come home from class and all I wanted to do was draw.
And originally I was going to college because I was getting a biology degree. And I was just like, all I want to do is draw and read comics and something has to change in my life, because if I'm coming home and I'm not really loving what I'm doing at school and all I want to do is draw, obviously that's what I should be doing. So I kind of went feral one day and just started looking up art colleges. I was going to community college at the time, and I started looking up art colleges that still had applications open. And I got lucky enough that Columbia College, Chicago had their applications open. I left Florida, which I've lived in my entire life, and moved over there, which was one of the best decisions of my life. I've met incredible people and have really poured my heart and soul into this career. I've moved up my entire life to go and follow this thing and I've loved it.
I've made zines, I've done things for newspapers, I've done other books, and have had other opportunities with conventions. And it's all been around drawing comics. And I've loved every second of it. It feels like what I'm meant to be doing, which feels really good.
Here at Popverse, we celebrate the best in TV, movies, and comics. And I was wondering what Latine TV, movies, shows or comics are you loving right now that you're not currently working on?
I'm sure that other people from minority groups can relate, but sometimes I watch the media and I don't really relate it to the minority that I am, I just watch a show.
But I watch a lot of media that I categorized as queer because I'm queer. Survival of the Thickest is a show on Netflix that's really good. It's about this fat woman who just got cheated on and she's like 30-something and she's trying to live her life. She's a fashion stylist. That show was so good and so funny. It's just beautiful. Watch it.
---
Yaqui Delgado Wants to Kick Your Ass is available from Amazon, Barnes & Noble, and Bookshop.org.
Popverse celebrates Hispanic Heritage Month!