Abrams ComicArts Talks Publishing in 2022 and Beyond at NYCC 2022
The publisher has had a big year but they are just getting started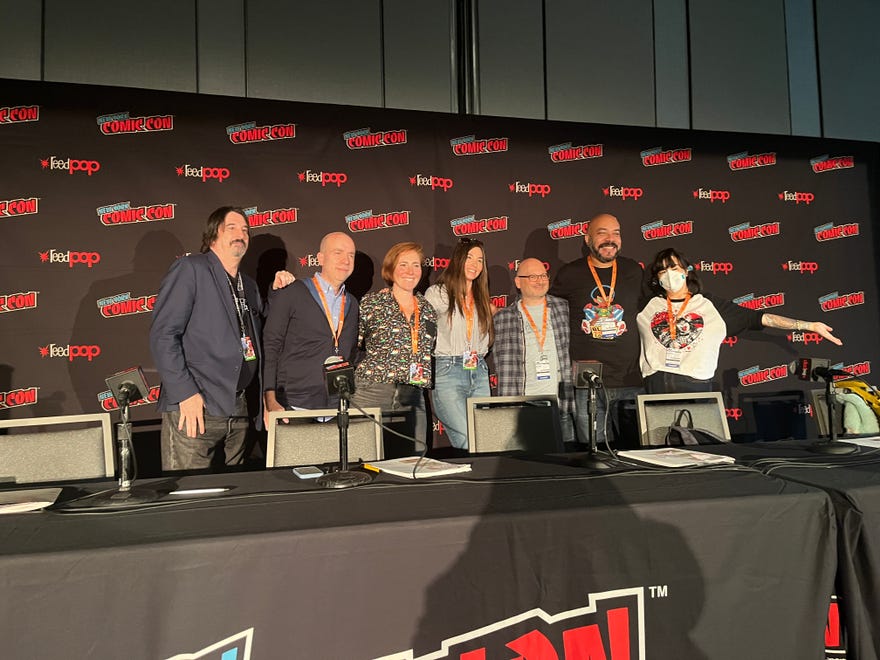 Abrams Comics Art has been around since 2009 and already they have won nine Eisners and ten Harvey Awards. Their New York Comic Con panel on Saturday acted mostly as a recap of their line over the last few years with a slight look to the future. Joining them on the panel was Mariko Tamaki, John Jennings, Marjoeie Liu and Stephan Franck to discuss their new work for Abrams as well.
Up first was Mariko Tamaki who is curating a line for Abrams called 'Surely' that focuses on LGBTQ books by LGBTQ creators. Tamaki highlights two works specifically, Mimosa from Archie Bongiovanni, a work that shows the complexity of growing older within a queer community and Grand Slam Romance, a title described in its solicit text as "a queer graphic novel where the balls are fast, the smooches are spicy, and the girls . . . magical" and that Tamaki herself describes as "dirty and delightful." Grand Slam Romance is planned as an ongoing series.
Next up, John Jennings discusses Megascope, an imprint focused on people of color, speculative fiction and crime stories. The line has seen successful with the publications of After the Rain, Across the Tracks, Black Star and Hardears. Jennings is looking forward to the impact that will be felt by The Eightfold Path, an afrofuturist retelling of the Canterbury Tales through a Buddhist lens, The Keeper, a story about what happens when children are forced to fend for themselves in an unforgiving world and Queenie, a historical fiction crime story about Harlem's legendary mobster, Stephanie Saint-Clair.
Jennings also highlights The Last Count of Monte Cristo, an afrofuturist take on the original story that respects Aleandre Dumas' Afro-Carribean heritage.
"We wanted to reclaim the heritage of this story," says Jennings. "It's basically still a pirate story but it's also talking about climate change... I think it's gorgeous."
Marjorie Liu discusses her latest collaboration with Sana Takeda, Night Eater. It is the first book in a trilogy, a story about family trauma and being raised by immigrant parents. Liu says that our parents' lives are always secrets to us and that was something she wanted to explore through the framework of a horror story. And she is thrilled to have Takeda as a collaborator again. Liu feels that Takeda was really able to tailor her style for each specific piece of work that they have collaborated on together.
"Her art has a new voice for Night Eaters," says Liu. "The charisma of her work has not changed."
Stephen Franck who supervised Marvel's "What If...?" show and worked on Iron Giant and Despicable Me speaks next to discuss the rerelease of his book Silver. The new edition will be released on October 25th. "It's a big adventure story with elements of the supernatural," shares Franck. "The tone is pretty light. We're in the business of telling the biggest stories in the weirdest ways possible." Book two will be out next Fall.
Another one of Abrams recent titles is Alex Ross' Fantastic Four Full Circle, which has become a National Bestseller. "This was a story that he wanted to tell for the 60th anniversary of the Fantastic Four," says Abrams ComicArts's Editorial Director Charles Kochman "He tells this amazing style in a very different style than he's ever done before."
Ross will be helping curate the rest of the Marvel Arts line.
Future releases from Abrams will include Phenomena, a sci-fi adventure from Brian Michael Bendis and Andres Lima Araujo, The Last Mechanical Monster from Brian Fies inspired by Max Fleischer Superman cartoons, The Art of Living by Grant Snider, Joseph Smith & the Mormons by Noah Van Sciver, and a Jurassic Park Trading Card Series book with an afterword from Jurassic Park logo designer Chip Kidd. 2023 will see the release of Black & White: The Rise and Fall of Bobby Fischer by Julian Voloj and illustrator Wagner Willian, Drafted by Rick Parker and The Bomb by Alcante and LF bolleé, illustrated by Denis Rodier.
---
Get fully immersed in NYCC with Popverse's wall-to-wall coverage of the event. From filmed panels to backstage interviews, on-the-floor coverage, news, cosplay galleries, and more - we're tracking it all in Popverse's New York Comic Con 2022 round-up.