Ahsoka: The Star Wars spin-off's trailers, release date, cast & more ahead of its Disney+ debut
Star Wars fan favorite Ahsoka Tano is getting her own show this year, and we've got the deets!
The Star Wars streaming universe just keeps bringing the wow: After a 2022 that saw Boba Fett, Obi-Wan Kenobi, and Cassian Andor all getting their own series or mini-series, 2023 will see Ahsoka Tano take her place as a solo star with her own live-action series.
Here's what we know so far about Disney+'s Ahsoka show, debuting in August 2023.
Who is Ahsoka Tano?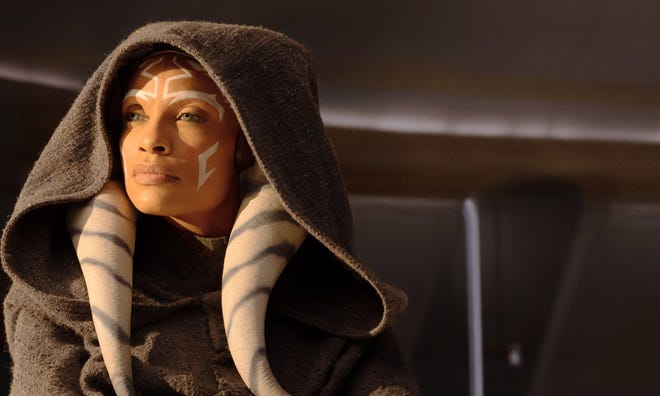 Ahsoka Tano is the breakout character from the Star Wars animated universe. First appearing as Anakin Skywalker's 14-year-old padawan in The Clone Wars movie, Ahsoka slowly grew to be the heart of the seven-season series, and the moral compass of both Anakin and the Jedi order.
When she was falsely accused by the Jedi of bombing the Jedi Temple at the end of season five of Clone Wars, Ahsoka left the order and has never returned, instead choosing to help the Rebellion and the people of the Star Wars universe on her own terms.
Ahsoka has since had big appearances in the pre-Episode IV animated series Star Wars Rebels, with actress Ashley Eckstein continuing to voice the role, and in the recent mini-series Star Wars: Tales of the Jedi, which includes some stories from Ahoska's early and Clone Wars days.
In 2020 the character made the leap to live action with Rosario Dawson in the role, and she has since appeared in seasons two and three of The Mandalorian and The Book of Boba Fett.
For more about the character, read our expansive Ahsoka Tano guide.
What's the Ahsoka show about?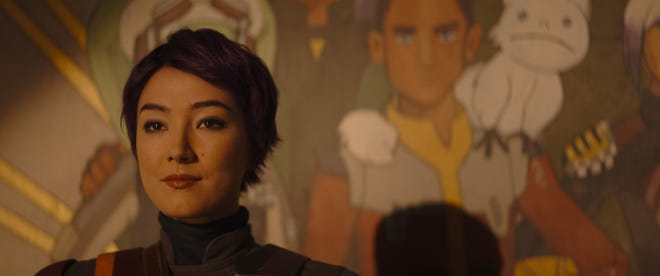 Here's the official pitch: "Set after the fall of the Empire, Ahsoka follows the former Jedi knight Ahsoka Tano as she investigates an emerging threat to a vulnerable galaxy."
Here's what else we know: Star Wars Rebels ended with Jedi padawan Ezra Bridger leading a pod of gigantic hyperspace-traveling whales (aka purrgils) against the Imperial fleet of Grand Admiral Thrawn. The animals destroyed Thrawn's fleet, then latched onto his own ship with Ezra still inside it and hyperjumped away.
Live feed from every Star Wars Rebels fan at that moment: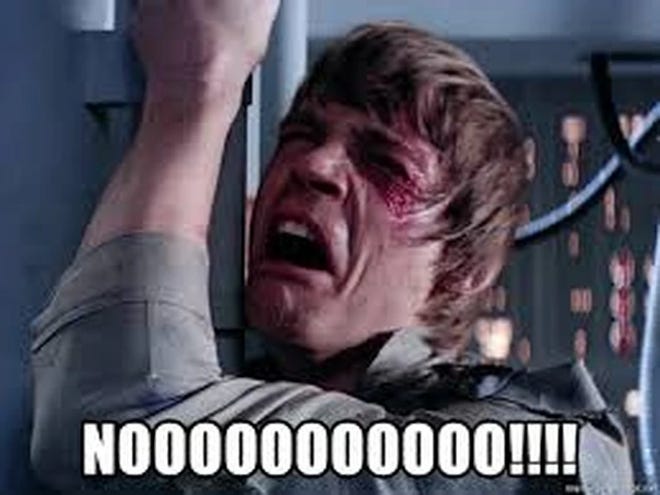 But in an epilogue that takes place years later, after the original trilogy and the Battle of Jakku officially ended the Empire, Ahsoka flies off with Ezra's Rebel shipmate Sabine Wren (seen above in a shot from the series) to go find him and bring him home.
It looks like the Ahsoka series will tell that story, with Rosario Dawson saying at Star Wars Celebration that in the series "Her relationship with Ezra is top of mind for her." Creator Dave Filoni has said the miniseries involves Ahsoka pursuing some sort of goal in one continuous story.
What is the Ahsoka release date?
Disney+'s Ahsoka series will debut August 22 at 6pm Pacific Time / 9pm Eastern Time. This is a slight nudge up fom the previous release date of August 23.
Who is in the Ahsoka cast?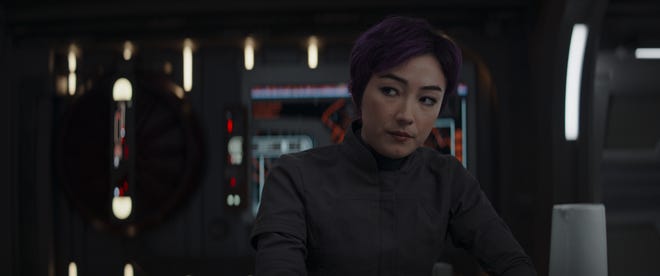 In addition to Rosario Dawson, the cast of Ahsoka also includes Australian actress Natasha Lui Bordizzo (Crouching Tiger, Hidden Dragon: Sword of Destiny) as badass Mandalorian fighter/graffiti artist Sabine Wren, marking that character's first live action appearance; American Eman Esfandi (King Richard) as Jedi padawan Ezra Bridger; Mary Elizabeth Winstead will be playing Hera Syndulla, captain of the Star Wars Rebels team and one of the leaders of the Rebellion. At Star Wars Celebration, it was announced that Diana Lee Inosanto will reprise her role from The Mandalorian as Morgan Elsbeth.
British actress Savannah Steyn (House of the Dragon) will also appear as a younger version of Ahsoka; and Ukrainian-American Ivanna Sakhno (Pacific Rim Uprising) and Northern Irishman Ray Stevenson (Vikings) are to appear in undisclosed roles. Lars Mikkelsen will be reprising his Rebels role as Grand Admiral Thrawn.
Oh, and some guy named Hayden Christensen is also scheduled to appear.
What color is Ahsoka's lightsaber?
Ahsoka currently has two white lightsabers of slightly different lengths, which she tends to hold in a reverse grip with the blades facing behind her. During the Clone Wars, Ahsoka had green light sabers, then blue ones. After she left the Jedi she created her current set, with their white color meant to indicate she is not affiliated with the Jedi or Sith.
How does Ahsoka tie into The Mandalorian?
So far Ahsoka has appeared twice in the Mando-verse. In The Mandalorian Chapter 13 (aka season 2, episode 5), Din Djarin comes to the planet where Ahsoka is seeking information about Thrawn and Bridger, having been told he will find a Jedi there to whom he can return his foundling, aka Baby Yoda. Communing with the child through the Force, Ahsoka learns that his real name is Grogu and that he was raised at the Jedi temple on Coruscant.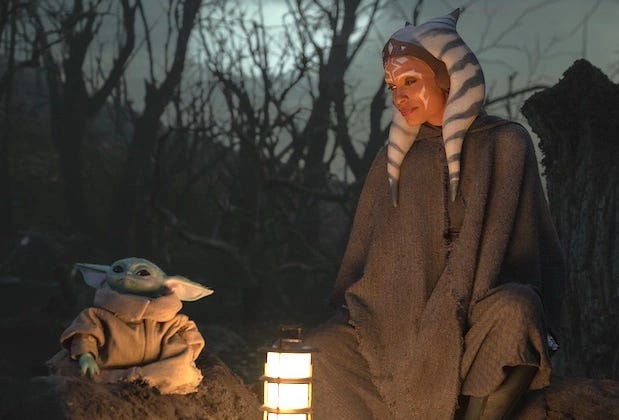 But instead of taking Grogu, Ahsoka directs Djarin to the ruins of a Jedi temple where she believes the child may be able to contact a Jedi better suited to help him through the trauma he's experienced (aka everyone's favorite Tosche Station-stan, Luke Skywalker).
Ahsoka then reappeared in episode six of the Mandalorian spin-off The Book of Boba Fett, hanging out on the unnamed planet where Luke Skywalker is building his temple school to train young Jedi. When Djarin comes to bring a gift to Grogu, who is now training with Luke, Ahsoka slowly convinces him that visiting the child will only make things more painful for him. It's revealed in that episode that Ahsoka has also served as something of an advisor to Luke; as the only one left who knows what the Jedi Order was like, what the fall of the Republic was like, and what Luke's father was like before he went Dark, she's got a lot to offer.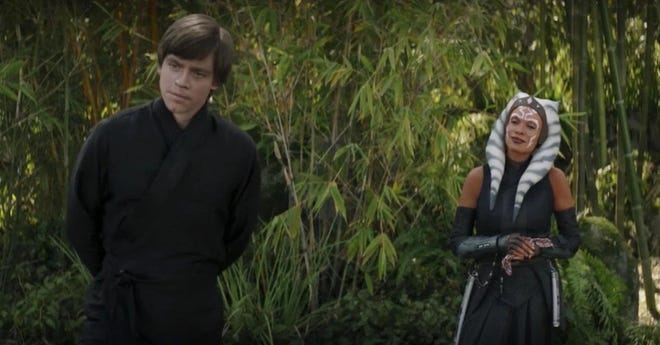 But before the episode is over she's on her way to parts unknown.
What any of that means for Ahsoka's future with the Mandalorian is anyone's guess. But it is worth mentioning, Ahsoka has been present for much of Mandalore's recent history, including the liberation of Mandalore which marks the end of Clone Wars. Her travel partner Sabine is also a Mandalorian. So it certainly seems possible that their paths will cross with Din Djarin again.
When is Ahsoka set in the Star Wars timeline?
Here's a handy summary from Austin Gorton about the overall Star Wars timeline.
By all accounts, Ahsoka will take place after the character's appearances in the Mandalorian and The Book of Boba Fett, almost 10 years after the final episode of Rebels and 5 years after the epilogue sent her and Sabine in search of Ezra.
But what have she and Sabine been doing all that time? Good question! I guess we'll see!
Is there an Ahsoka poster?
Yes! There is an Ahsoka poster. Several in fact. Check it out here: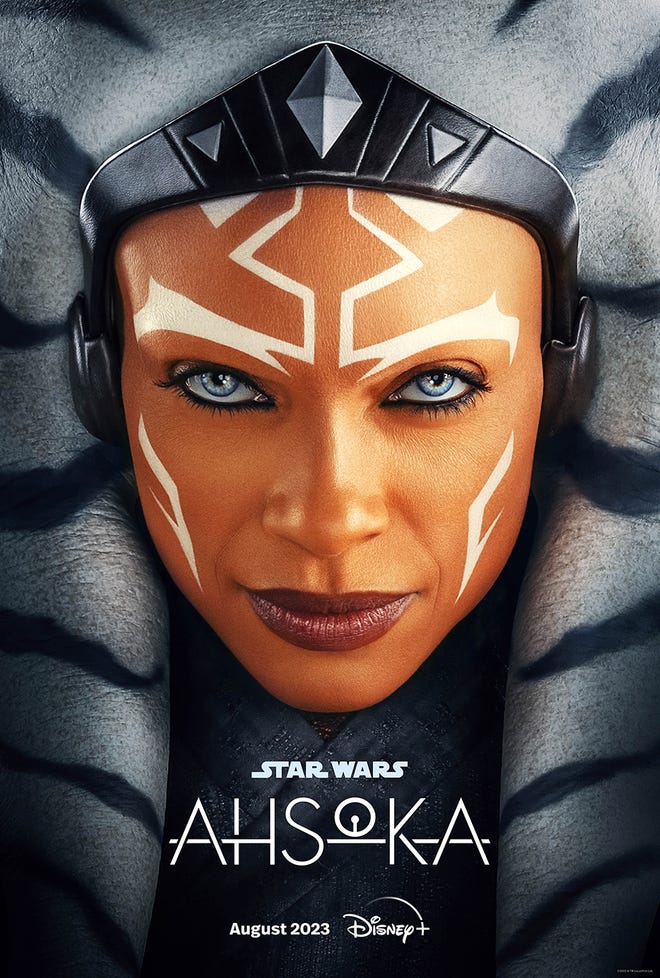 Are there Ahsoka character posters?
You bet. Check out the three Ahsoka character posters below.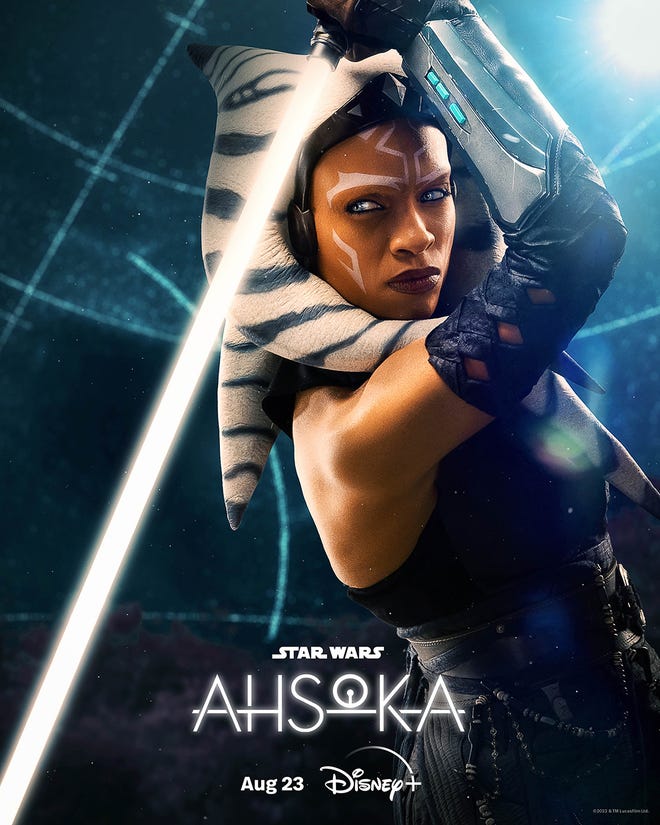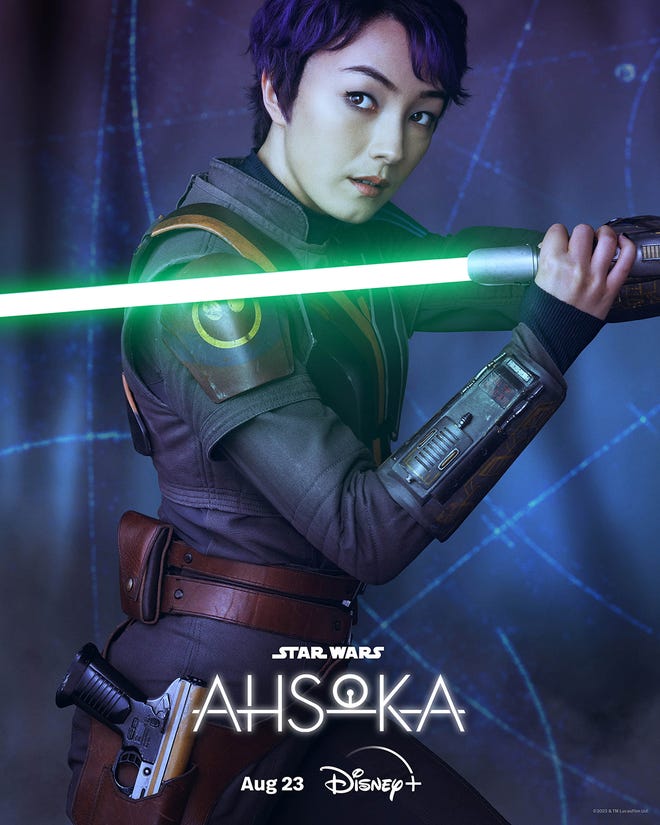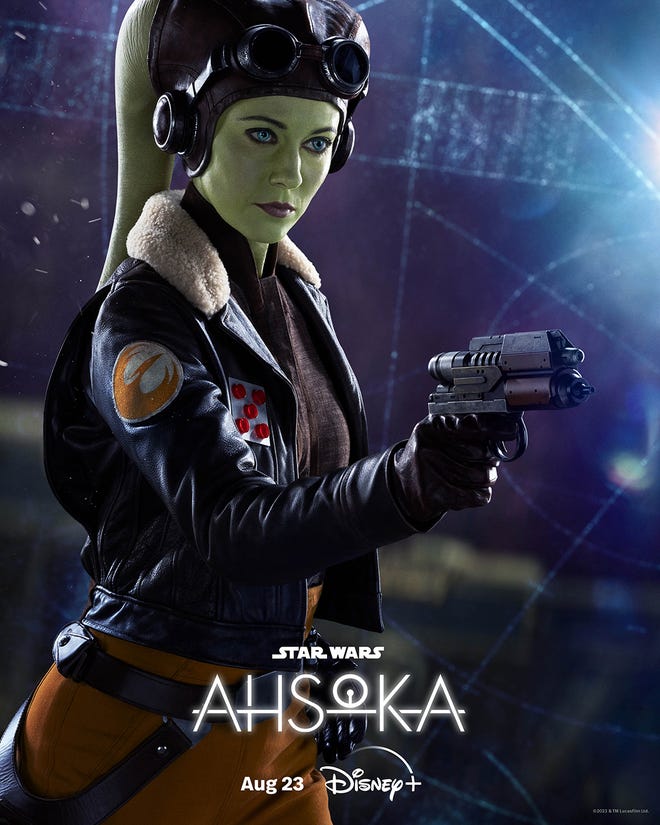 Is there an Ahsoka trailer?
Here is the first trailer from Disney+'s Ahsoka, which debuted at Star Wars Celebration:
But wait, there's more - a second trailer released on July 11: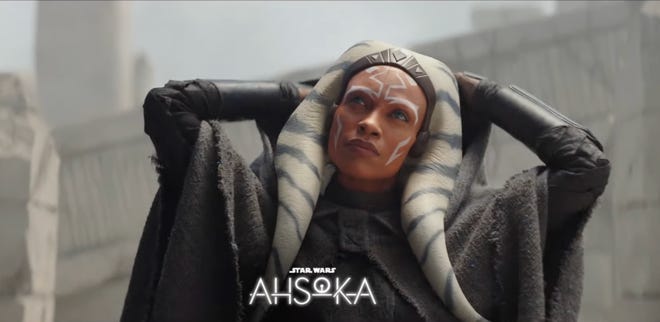 How many Ahsoka episodes are there?
You're asking all the right questions! There will be eight episodes in Disney+'s Ahsoka season 1, beginning with a two-episode premiere on August 23, 2023.
How can I watch Ahsoka?
The only place you're going to find Ahsoka is Disney+. So if you haven't already, get that account up and running. It's $7.99/month with ads, $10.99 monthly or $109.99 yearly without.
Will there be a Ahsoka season 2?
While it has been described as a mini-series, eagle-eyed fans have noted that in its most recent earnings statement Ahsoka was described as in "Season 1," leading some to believe there may be more stories to tell.
For now, all we can do is wait and see!
---
Dive headlong into the galaxy far, far away with our Star Wars watch order.