Marvel warns fans to avoid Amazing Spider-Man spoilers, then officially confirms them hours later
Images that spoiled the climax of the next issue of Amazing Spider-Man have leaked online
Spoiler warning: this story discusses spoilers of the Marvel's promised "shocking" death coming in May 31's Amazing Spider-Man #26. Anyone who wants to stay entirely spoiler-free for the issue — which won't be released for two weeks — should stop reading right now.
For months, Marvel Comics has been teasing a shocking event in the upcoming Amazing Spider-Man #26, set for release at the end of this month. Over the past day or so, rumors — and what claims to be a photo of the climactic page from the issue — circulated on social media, leading Marvel to officially announce the ending of the issue weeks before its release.
As shared on Reddit, a photo that appears to be the final page of May 31's Amazing Spider-Man #26 features Peter Parker cradling what appears to be the dead body of Kamala Khan, AKA Ms. Marvel, while the Fantastic Four, Mary Jane Watson and others look on. The image was quickly shared on Twitter and elsewhere, and it's safe to say that the response has been… not particularly positive from fans.
Beyond those complaining about the death of such a high profile character — who's set to make her big screen debut in November's The Marvels, alongside Captain Marvel and Photon — especially in a title that belongs to another hero, there was also some sense of disbelief that the image being shared was real… which made the fact that Spider-Man editor Nick Lowe tweeted that spoilers had leaked online all the more curious.
"ASM SPOILERS ARE OUT IN THE WORLD!" Lowe tweeted. "If you don't want to be spoiled on May 31st's ending, AVOID THE INTERNET SOMEHOW!"
Lowe's tweet was taken by many online as confirmation that the image is genuine, and that Marvel is publishing a comic killing off Ms. Marvel, although it's worth pointing out that the tweet purposefully wasn't confirming anything. Shortly after Lowe's tweet, the official Marvel account tweeted its own warning, "WARNING 'Amazing Spider-Man' #26 spoilers are online. Avoid the web (or don't) at your own risk."
Curiously enough, what were apparent attempts to minimize the spread of the spoilers by behalf of Marvel were undercut just hours later when Entertainment Weekly ran official confirmation of the spoilers, complete with high quality images of pages from the issue, including the final page shared in the earlier leak. The EW piece also included the news that July 12 will see the release of a special issue titled Fallen Friend: The Death of Ms. Marvel, featuring stories written by G. Willow Wilson, who co-created the character, Saladin Ahmed, and Mark Waid.
A subsequent press release for Fallen Friend was released by Marvel, revealing the art team for the issue as Humberto Ramos, Takeshi Miyazawa, and Andrea Di Vito. The publisher's PR describes the issue as "a crucial chapter in the Marvel mythos and serve as both a farewell for Ms. Marvel and a glimpse of her death's impact on all of Marvel's heroes," and adds, "The heart of the Marvel Universe has stopped beating. Now join the other heroes of the Marvel Universe, the creators of Ms. Marvel, and comic fans everywhere in honoring and remembering one of Marvel's brightest stars!"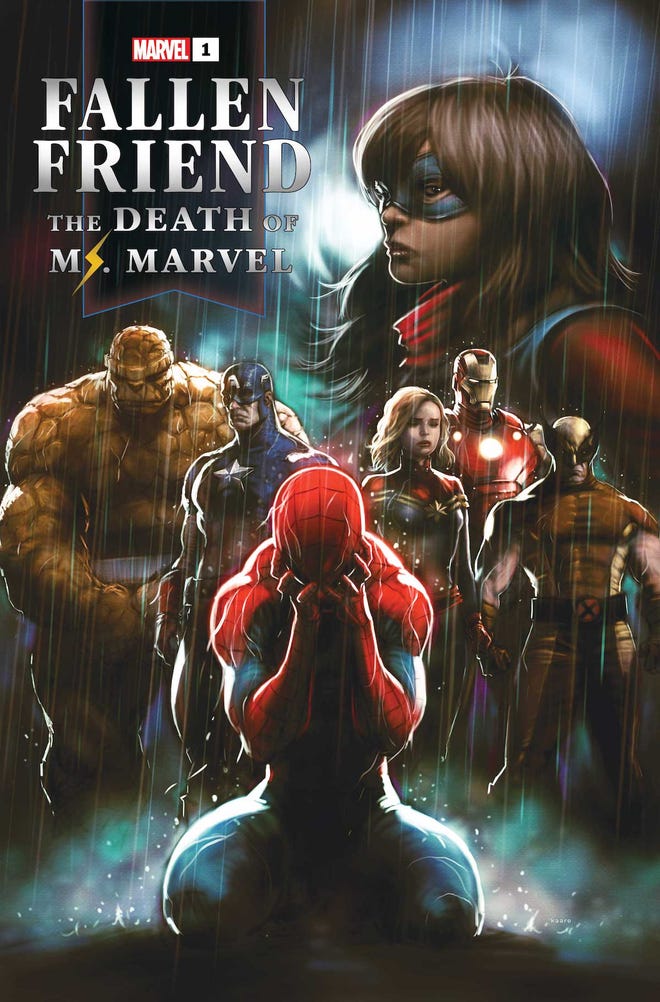 Talking to Popverse last month, Amazing Spider-Man writer Zeb Wells said about the upcoming issue, "I can tease that many people will be very mad at me. I can tease that Nick [Lowe, editor] told me not to do any comic conventions after this issue comes out [laughs]. People will be upset."
Kamala Khan has been an irregular supporting cast member of the current volume of Amazing Spider-Man since 2022's Amazing Spider-Man #7; in her civilian identity, she works alongside Peter Parker at Norman Osborn's Oscorp. As part of the extended Spider-Man family of characters, she was part of 2022's Dark Web crossover with her own Dark Web: Ms. Marvel miniseries, which was also the last time she headlined her own series. Cynically, if the character does die in Amazing Spider-Man #26, the event lays the groundwork for a rebirth in time for November's The Marvels, and her own comic book series to celebrate the character's 10th anniversary in 2024.
The Amazing Spider-Man #26 comes out on May 31, and can be bought at Amazon, Barnes & Noble, Bookshop, or your local comic shop.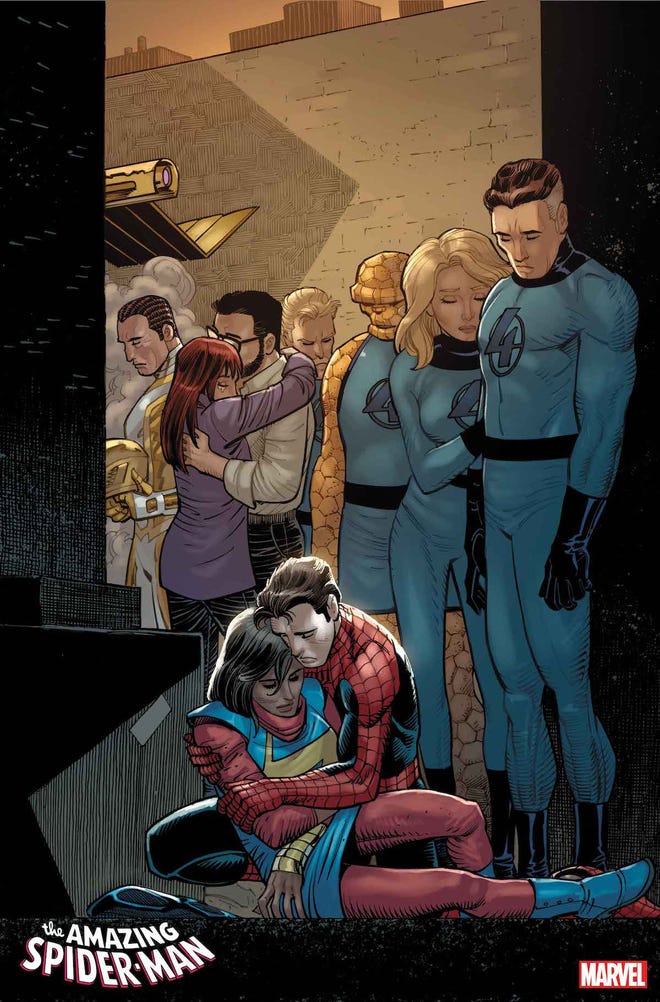 ---